Have you been attacked as a lone worker and need to find out more about claiming compensation? Did your agency or employer fail to take the adequate steps to protect your safety and wellbeing whilst working alone? Did this directly result in you being harmed?
If so, this guide can offer you the advice and guidance to seek the compensation you may be owed. At Accident Claims, we understand that you may feel that the process of claiming is daunting. If you speak to one of our sympathetic advisors in complete confidentiality, they may be able to connect you with a solicitor provided you have a valid claim.
Please get in touch by:
Select A Section
Can You Claim If Attacked As A Lone Worker?
Protecting lone workers is part of an employer's duty of care to their staff. The Health and Safety At Work etc Act 1974 requires all employers to take all reasonably practicable steps to reduce or remove risks and hazards to the health or well-being of their staff.
There are realistic limits to what an employer can do. It may still be possible to be attacked as a lone worker in circumstances that did not come about as the result of a breach of duty of care. For example, if your employer took all reasonably practicable steps to protect you, and you were harmed anyway, this would not be the basis of a successful claim.
But there are other types of accident, injury, or criminal injury scenarios where inadequate health and safety application could play a part. This might include:
A late-night kiosk or petrol station attendant being injured in a robbery
Care workers suffering assault in the home of a client
Public transport operators who face physical assault
Fast-food restaurant workers left alone at night with knife crime risks
Lack of CCTV or security panic button devices
Inadequate staffing rotas
With this in mind, any shortcoming or failure to support the lone worker and fulfil the obligations outlined in health and safety law could make that employer liable if the employee suffers assault and is attacked as a lone worker at work.
The Criminal Injuries Compensation Authority (CICA)
A UK government executive agency called the Criminal Injuries Compensation Authority (CICA) can make damage payments for crimes of violence, including physical assault and sexual abuse. This includes those attacked as lone workers if they meet the criteria for making a claim.
These amounts that can be claimed are taken from their own tariff of award brackets as they relate to each specific injury. Furthermore, when applying for CICA compensation in this way, it is not necessary for your attacker to be prosecuted or even identified.
However, part of eligibility requires that:
It's reported to the police and you have a crime number
The crime happened in England or Wales
It has taken place within the last two years
You can claim beyond this two-year period if extenuating circumstances apply; you can speak with our team for more information.
Other eligibility criteria also apply. It's also important to note that if you were attacked as a lone worker you could start a private action against the perpetrator(s) if they have the funds to pay you compensation. Cases like this could receive a larger damage award than when pursuing compensation through the CICA. Speak to our team for advice.
What Are The Risks Of Working Alone?
As a solitary or lone worker, it is possible to be at greater risk of assault or attack. Opportunistic individuals may see that you are working alone and exploit this vulnerability. As a lone worker, risks can be different, as can the way in which the employee might have to respond to them. Therefore employers should give closer attention to these needs.
For instance:
Is communication with the lone worker regular?
Has the employer conducted a risk assessment to highlight the risks and hazards attached to the role they want the employee to perform alone?
Are staffing levels adequate and appropriate for that role?
Are there contingency plans if a member of staff calls in sick, leaving a worker alone?
Is training on security alerts given?
A valid claim for compensation will rest on your ability to show that the duty of care was breached and this directly led to you being injured.
Which Job Has The Greatest Risk Of Workplace Violence?
According to statistics for work-related violence from HSE for 2019/20, 688,000 incidents were reported. 299,000 of these were assaults and 389,000 were threats of assault.
38% resulted in a physical injury. Elementary administrators were most impacted with 2,944 cases, followed by carers and personal service providers with 2,939 reported cases.
Employers' Duty Of Care To Prevent Workplace Violence
Because of the risks associated with working alone, the employer should take all reasonable precautions to put safeguards in place to avoid injury. The Health and Safety Executive (HSE) provides detailed guidance on the steps that employers and employees can take to safeguard themselves while working alone. They should:
Train, supervise and monitor lone workers
Keep in regular touch with them during shifts
Liaise with other employers about risk and control measures when working on other sites
Assess the level of risk or violence in that workplace
Assess that employee's medical suitability to perform that task alone
Ensure that high-risk roles never have just one employee doing them
Apply these principles to those who work at home as well
Lone Worker Attack And Assault Statistics
HSE statistics also detail what areas of employment carry a greater risk of assault: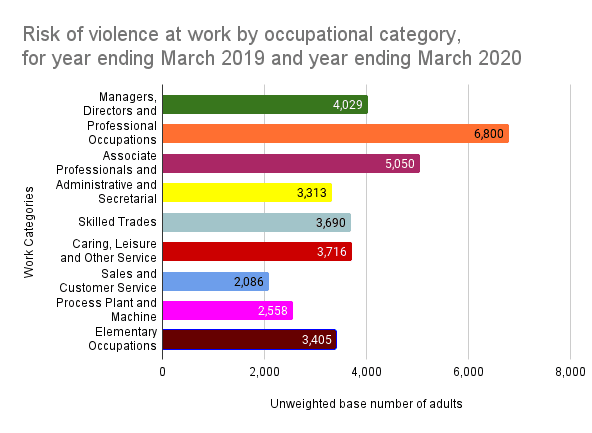 How Much Could I Claim If Attacked As A Lone Worker?
It's important to note that evidence is crucial for your claim. You may need to attend an independent medical assessment as part of the process of claiming. The medical report will reveal how serious your physical or emotional injuries are.
This report will then be compared with injuries listed in the Judicial College Guidelines and the associated guideline compensation brackets. This is a tool to help assess potential general damage compensation amounts. General damages are the part of your claim that reflect:
Pain and suffering
Long term health damage
Impact on personal relationships
The chart below takes excerpts from these guidelines. Please be aware that they do not represent guaranteed compensation amounts:
| Area of Injury | How Severe? | JC Guideline Figures | Notes |
| --- | --- | --- | --- |
| Face | (b) Multiple facial bone fractures | £13,970 to £22,470 | Causing permanent deformity |
| Face | (c) Fractures of Nose or Nasal Complex | £9,990 to £21,700 | Multiple and serious fractures that need surgery |
| Face | (d) Fractured Cheekbone | £9,570 to £14,810 | Requiring surgery and leaving nerve damage in the cheek |
| Face | (e) Fractured Jaw (i) | £28,610 to £42,730 | Very serious multiple fractures needing prolonged treatment |
| Teeth | (f) Damage to Teeth (i) | £8,200 to £10,710 | Serious damage or loss to one or more front teeth |
| Eye | (e) Injuries Affecting Sight | £46,240 to £51,460 | Complete loss of sight in one eye |
| Wrist | (c) Wrist Injuries | £11,820 to £22,990 | Cases that create a permanent disability such as stiffness or pain |
| Arm | (c) Less Severe Arm Injuries | £18,020 to £36,770 | Despite disability, a substantial degree of recovery will be expected |
| Psychiatric harm | (a) Severe | £51,460 to £108,620 | Marked mental health problems with a very poor prognosis |
| Post-Traumatic Stress Disorder (PTSD) | (a) Severe | £56,180 to £94,470 | Permanent effects that stop the victim from living life at anywhere near pre-trauma level |
As well as this, you may be able to present proof of how you suffered financially after being attacked as a lone worker. Special damages can also be included in your claim if you have the receipts and bills to prove that you incurred out-of-pocket expenses as a direct result of the injuries you sustained. You could be eligible to request money back because of:
Loss of earnings
Medical bills
Travel expenses to hospital or work
Childcare provision
Adaptations to your home or car
Damage to personal items during the assault
Counselling costs
Scar treatments or other procedures unavailable on the NHS for free
Our team can offer further help on special damage eligibility if you're not sure. Alternatively, we can also help if you need to claim for costs like these through the CICA.
Get Help With Attack And Assault Claims
At Accident Claims, we may be able to provide you with a lawyer from our panel if you have a valid claim. They can assess your claim expertly and possibly take it up under a No Win No Fee agreement today. There is a three-year time limit to claims such as this, or two years if claiming through the CICA, so it's important to start as soon as you feel able.
No Win No Fee agreements can allow claimants to have excellent legal representation whilst not requiring any upfront fees or any fees needed as the case moves forward. There's also no charge at all if the case does not win. If you are awarded compensation, a maximum 25% of the settlement you receive goes to your lawyer as a success fee. This means you always receive the bulk of the payout.
Why not consider funding legal representation this way?  Get in touch by:
Related Violent Assault Claims
In addition to details on claiming if you were attacked as a lone worker, please find:
Guide by JW
Edited by FS