By Joanne Jeffries. Last Updated September 15th 2021. Here, you'll find our guide to accident claims solicitors for Aberdeen claims, where we explain what to look for in personal injury solicitors covering Aberdeen.
If you are looking for accident claims solicitors covering Aberdeen who could help you to claim compensation for an accident causing an injury which was not your fault, our panel of accident claims solicitors could cover this area and could help you. Our panel of experts are adept at helping people to make successful accident claims and personal injury claims in many different circumstances. Whether the accident took place at work, when driving or travelling on the roads or in a public place, if someone else was responsible for the accident or incident which caused your injuries, our panel of personal injury solicitors could help you.
Our panel of accident claims solicitors have handled many different accident claims and do so on a no win no fee basis. From start to finish, your claim could be conducted by a no win no fee solicitor. They will stay in contact with you during the duration of your claim and keep you informed of any progress as it happens.
In this guide, you can learn more about when and how you could make a personal injury claim. Get your accident claim started today by calling us on 0800 073 8801.
Choose A Section
What Is An Accident Claims Solicitor Covering Aberdeen?
Accident claims solicitors or personal injury solicitors covering Aberdeen are a type of solicitor specialising in personal injury law. They act on behalf of a claimant who has suffered unnecessarily due to a negligent third party to claim compensation. Our panel of accident claims solicitors who could cover the Aberdeen area are not based in Aberdeen but through the telephone and email can conduct claims here as if they were around the corner.
When we talk about accident claims in Scotland (or anywhere else in the UK) we are looking at cases involving 'personal injuries'. This is the term which is used to describe circumstances in which a person sustained an injury, became sick or had an existing illness or injury made worse due to the negligence of a third party who owed them a duty of care. We will also cover criminal injury cases which are slightly different as they are not caused by accidents. There is an accident claims time limit of three years in which most claims need to be made. There are exceptions please call our advisors for more information.
If you are unsure whether you have grounds to make a compensation claim, contact us and a member of our team will handle your query with sensitivity and professionalism.
RIDDOR Injury At Work Statistics For Aberdeenshire
In the table below, we use the information provided by the Health and Safety Executive (which is published in a PDF here) to illustrate occurrences of workplace injuries in Aberdeenshire in 20190/20. Please note that this information does not illustrate how many workers filed compensation claims for their injuries – it merely shows the number of workplace injuries reported in Aberdeenshire.
| Location | Total - non fatal injuries | Total - non fatal injuries per 100,000 workers | Fatal injuries |
| --- | --- | --- | --- |
| Aberdeenshire | 198 | 219 | 1 |
For additional information on the volume and types of work injuries which are reported in Scotland and additional health and safety information, please see the resources available at this HSE page covering Scotland. The key facts can be found below for incidents in Great Britain for 2019/20.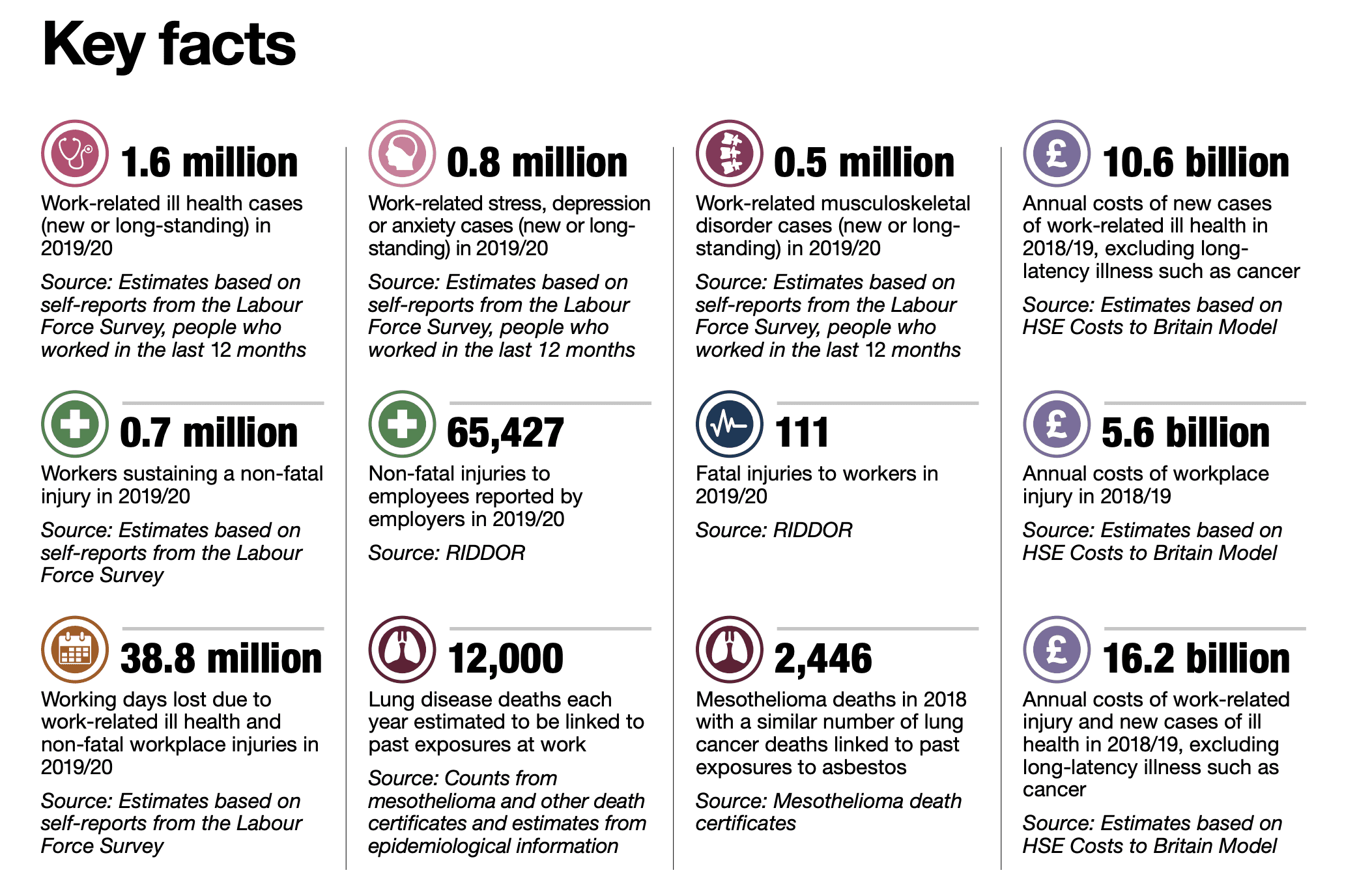 Accident Claims For Work Injuries
If you have been injured at work through no fault of your own, or if it was only partially your fault, you may be able to claim compensation. If you were harmed (being injured or suffering an illness) because your employer or workplace did not follow appropriate safety procedures, did not train you properly or failed to provide you with the correct personal protective equipment, you may have an accident claim case. Whilst it may be a harder claim to make, even if you were partially responsible for or caused an accident at work, you may still be able to claim compensation if your injury was made worse due to faulty equipment. If this describes your circumstances, or even if you're unsure, talk to us today for accident claims advice about whether or not you could make a claim.
You could also make an accident claim in Aberdeen if an accident at work led to existing illness or injury being made worse. All employers have a duty of care to make sure that employees are safe in the workplace. This means that they must provide you with training and safety or protective equipment where necessary. They must carry out risk assessments and follow the recommendations of these and provide you with a safe system of work.
Public Place And Public Liability Accidents
Whether a public space is maintained by a local authority, a council, a national body – such as Highways England, a retailer such as a supermarket or other business, or another private party, they have a duty of care to make sure that their premises are safe for people to come if they are providing a public service.
Such owners or operators owe a duty of care to anyone visiting their premises as a public space. This could include a member of the public, an employee or other person visiting the premises. If they neglect to maintain a property to a safe level, accidents may happen and people may be injured as a result. In such cases, claims may be made against the organisation's public liability insurance.
Public liability insurance claims examples may include those for:
Slips and falls caused by defective flooring or lack of signage warnings about hazards.
Accidents at a gym caused by faulty equipment.
Accidents in a supermarket caused by items falling from shelves for example.
There are of course many other public liability insurance claims examples for which people could claim compensation. Talk to an accident claim solicitor today if you have been harmed due to third-party negligence in a public place.
Road And Car Accident Compensation Claims
If you have been injured in a car crash or road accident, either as a driver, passenger or pedestrian, you may be eligible to make a road accident compensation claim if the accident was not your fault. To do so, you may think that you need to find 'road accident claim solicitors near me', but this is not necessarily the case. In fact, one of our panel of personal injury lawyers covering Aberdeen could assist you in your claim.
If another party was responsible for the car crash or road accident in which you were injured, you may be eligible to file a compensation claim. All road users and perhaps motorists, in particular, are expected to adhere to rules and regulations of the road to ensure the safety of all road users.
To learn more about car accident compensation claims, see our more detailed car accident guide.
Accident Claims For Trips And Falls
Have you been injured in a slip or fall accident which was not your fault? You could have been harmed whilst walking along the pavement, or injured in a slip and fall accident at work. The crucial thing to be able to make a claim is that you were injured because of the negligent actions of another person.
If you have a slip and fall accident you could be injured due to uneven or broken pavement, potholes or other damage in the surface of the road. You could also slip over due to a spillage which has not been cleared up. Who the claim could be brought against depends on the party responsible for maintaining the area where you fell over. A claim may be made against an employer, a retailer, the local council, the highways authority or any other owner or operator of public place land provided their negligence contributed to your accident and the injuries you sustained.
Negligence Or Neglect In Medical Care
In clinical negligence or medical negligence claims, a solicitor has to prove the liability of a medical practitioner. They do this by evidencing that a similarly qualified medical practitioner would have acted differently and would thus have avoided the negligent acts which led to the patient's unnecessary suffering.
To see how our panel of accident claims solicitors could help if harmed due to medical negligence, view our medical negligence guide here.
Compensation Claims For An Assault Or Criminal Injury
If you have been harmed in any way by a criminal assault, sexual assault or other forms of attack, you could be eligible to claim to the Criminal Injuries Compensation Authority (CICA) through our panel of solicitors. The CICA is a government body who deal with compensation claims filed by victims of violent crime. If you have been injured by criminal's activity (e.g. an assault) you will know that this could be a very distressing set of circumstances. You could have suffered trauma affecting you either physically or psychologically.
Whether psychological or physical, you could be eligible to make an accident claim in Scotland if harmed by a criminal assault.
No Win No Fee Accident Claims Solicitors Covering Aberdeen
You may have heard or seen the term 'no win no fee solicitors'. We even use the term in this guide. But, what does it mean for you as a claimant? The simplest explanation is that a no win no fee solicitor works under a 'conditional fee agreement'.
This type of contract allows you to claim compensation without having to pay any upfront fees to a solicitor. You will only have to pay your solicitor in the event you successfully win your compensation claim. At this point, you would need to pay the solicitor a set percentage of this award. This percentage is limited in law. If your accident claim solicitor did not secure you compensation, there is nothing to pay them.
We could help explain the no win no fee agreement in detail and provide you with advice on when legal fees could be payable. We could also explain what happens if a claim is unsuccessful.  Whether you're claiming for road traffic accidents, or other injuries, or a loss of someone you loved in a fatal accident, we could explain legal costs in detail.
How To Claim Compensation
To make a personal injury or accident claim you can get in touch with our specialist claims management team. You may do this by calling 0800 073 8801. Alternatively, fill out the 'Start Claim' form. We can help people to make accident claims in Scotland. To get started call us on the number above, or click the button to contact us.
Frequently Asked Questions
So far we have provided you with information about different types of accident claims which you could make. However, we also understand that you may still have other questions which you would like an answer to before getting in touch with us. Below, we answer some of the most frequently asked questions which our team are asked.
How Do Personal Injury Claims Work?
One of the most frequently asked questions we are asked is 'what is a personal injury claim and how do they work?' The term personal injury or accident claim is a term used for an illness or an injury which has either been caused or exacerbated by third party negligence. 'Criminal injury' may include injuries sustained as a result of another's criminal behaviour. In circumstances where another party is deemed to have caused your injuries either through negligence or criminality, you could be owed compensation.
To make an accident claim, you need to show that the party you are claiming against was responsible for your accident and subsequent injuries. You also need to make sure that you bring your case and start it within any applicable time limits. The general time limit for making a personal injury claims is three years, but there may be exceptions to this in some circumstances.
Do I Need Accident Claims Solicitors In Aberdeen?
If you do not want to you do not have to use a solicitor based in Aberdeen or even based in Scotland to make an accident claim in Aberdeen. The only important thing is that they have the necessary qualifications, experience and knowledge to make this type of accident claim in Scotland. Our panel of solicitors could cover Aberdeen and can handle your compensation claim.
Do You Always Need A Medical Exam?
As part of helping you to claim accident compensation, accident claims solicitors covering Aberdeen may request that you have a medical examination carried out by a doctor.
Even if you only had minor injuries or think that you have been fully diagnosed, a medical assessment or examination could highlight additional injuries which were missed before. It also allows your personal injury lawyer to learn more about the extent of your injury. They may then be better able to estimate how much you could claim using a personal injury claims calculator.
This is why your examination is an important part of the compensation claims process. The solicitor who handles your personal injury claim in Aberdeen will ensure that you get this assessment of your injuries.
Where Will My Medical Exam Take Place?
You may have already had your injuries treated by your local GP or hospital as appropriate, but this report can help to build on existing medical evidence. A local medical expert is:
Mark Innes Burgin
The Aberdeen Clinic,
Regus House,
1 Berry Street,
Aberdeen,
AB25 1HF
What types of medical negligence could accident claims solicitors covering Aberdeen help with?
There are many different examples of what type of clinical negligence and medical negligence claims our personal injury solicitors covering Aberdeen could assist with. Here, we give you a few examples:
Drug interactions- if you have been given or prescribed medicines that interact with other medicines that you are known to be on, this could lead to you suffering a reaction. If you can prove negligence on behalf of the pharmacist or doctor or whoever prescribed or dispensed the medicines to you, you could have a claim for compensation.
Wrong prescription/dosage – if a doctor or pharmacist dispenses or prescribed the wrong medication or at the wrong dosage, this could cause serious unwanted consequences. You could make a claim for being given the wrong medicine, or the wrong dosage if it causes you undue harm.
Misdiagnosis-unfortunately, doctors and other healthcare professionals could make a mistake and misdiagnose you with a different illness to what you have, and this could lead to you suffering harm. If you have suffered in this manner, please give us a call and we will be happy to assess your claim.
Missed injury-if you have presented to, for example, an accident and emergency department with a suspected broken bone, and they fail to Xray you or fail to spot the fracture, this could lead to your injury getting worse. This could also lead to a claim for compensation.
This is not by any means an exhaustive list. You could claim against a dentist, a private NHS hospital, or any other medical or healthcare professional whose dereliction of their duty of care to you led you to suffer harm. Please don't hesitate to give us a call if you think you could have a claim for clinical or medical negligence.
My child was injured in a no fault accident, could accident claim solicitors covering Aberdeen help?
Whether your child was injured on a school trip, at school, in a nursery, play park or as a passenger in a car, if the accident wasn't their fault they could be eligible for compensation. However, an adult would have to claim on their behalf, or they could claim themselves once they turned 18 years old. We would be happy to give you guidance and support to help you make the decision on whether to claim now or whether to wait.
For More Information Check These Resources
In this guide, we have looked at how our panel of accident claims solicitors could help you to claim compensation in a variety of different circumstances. For more information, we have also included several local resources below in addition to those found in the article above.
How To Report An Accident At Work – This is a guide from the HSE on how employers should record and report employee accidents.
Risks To The Public At A Leisure Centre – Leisure centres are public places where you may be injured. See examples of risks here.
Report Non-Emergencies In Aberdeen – See how to report non-emergencies to police in Scotland here.
Aberdeen Sheriff Court – If your accident claim is going to court, it may be heard here.
We hope you found this guide on accident claims solicitors covering Aberdeen interesting. Now you'll be aware of what to consider when using personal injury solicitors for Aberdeen claims.