By Joanne Jeffries. Last Updated September 6th 2021. Here, you will find our guide to accident claims solicitors covering Bishop's Stortford. In the sections below we explain why you don't have to use personal injury solicitors covering Bishop's Stortford that are based locally.
A personal injury could turn your life upside down. Alongside the trauma of the accident itself, there is fear of what the future may hold and whether the cause of the accident could have been avoided. If the accident was caused through third party negligence you may be entitled to make a personal injury claim.
Our personal injury lawyers have up to three decades of experience in handling accident claims across the country. You could make a successful accident claim in Bishop's Stortford with our team even though we are not based in the area. We offer an expert accident claims service and free legal advice to those harmed in an accident caused by another person.
Throughout this guide will be accident claims advice on how to bring a personal injury claim against the third party responsible. When you feel ready to begin your claim, contact our specialist accident claims solicitors on 0800 0738 801.
Choose A Section
What Is An Accident Claims Solicitor Covering Bishop's Stortford?
The term 'accident claims' describes a legal case brought against a third party responsible for causing an accident that has harmed another person. Generally speaking, this could take a variety of forms, some of which we will discuss in greater detail to help better your understanding of what is deemed valid under the applicable accident claims time limit.
An accident claims solicitor, also known as a personal injury solicitor, is a legal expert who specialises in personal injury law  and helping blameless victims who have suffered harm as a result of negligence claim for compensation. To have the best chance of securing the highest possible settlement for your claim, you may want to consider the services of a legal expert.
During the accident claims process, the validity of your case will be assessed against the applicable accident claims time limit. This may vary from case-to-case, but typically the threshold to make a claim is a 3 year period. In addition to this, a personal injury solicitor will also collect vital evidence to support your claim and provide an estimate of your potential compensation pay-out through a personal injury claims calculator. In the event liability is not accepted or a settlement cannot be agreed upon by both parties the personal injury or accident claims solicitor will represent the claimant in a court of law.
Work Accident Compensation Claims In Bishop's Stortford
If your employer fails to meet their responsibilities, or uphold reasonably expected standards of health and safety within the workplace, then you could make a work accident compensation claim if you are avoidably harmed due to the breach in the duty of care.
Common causes for workplace injuries and accident at work claims include:
According to the HSE's 2019/20 report, these were the most common causes of workplace injury during the period.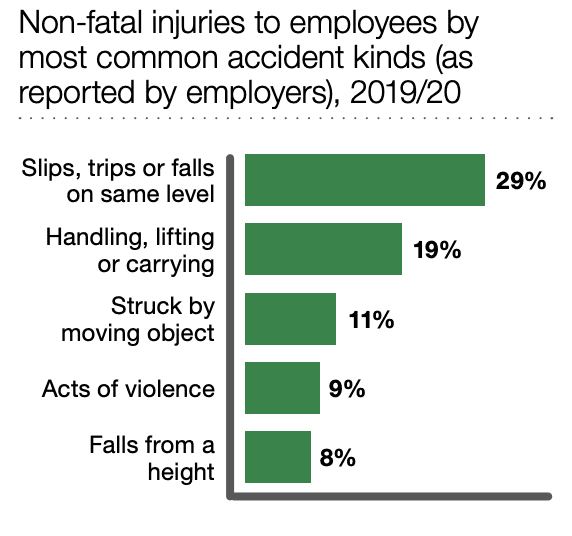 According to guidelines produced by the Health and Safety Executive, in order to avoid workplace injuries, an employer must provide:
A clean environment.
Well-lit stairs, corridors, outside areas, at workstations and generally good lighting in the workplace.
Safe passages for workers, pedestrians, and vehicles alike.
Comfortable conditions.
Work Injuries Reported In Essex
To better illustrate the rate of workplace injuries, both fatal and non-fatal, we have created the table below. The statistics provided demonstrate how many injuries there were and the rate of non-fatal injuries per 100,000 workers.
| Location | Total – Non Fatal Injuries | Total – Non Fatal Injuries 100,000 | Fatal Injuries |
| --- | --- | --- | --- |
| Essex | 1128 | 224 | 1 |
You can download the PDF guide produced by the Health and Safety Executive by clicking here. In this report, you will find additional statistics on other locations across the country.
Traffic Accidents In Bishops Stortford
Our panel of accident claims solicitors have settled countless road traffic accident claims across the country. If you have suffered an injury on the part of a negligent road user, our expert team could provide you with free, impartial road traffic accident claims advice and guidance in making a personal injury claim.
The important factor when deciding if you can pursue a road accident compensation claim is whether there is a liable party. Could have the accident which lead to the injury been avoided?
Contacting a solicitor as soon as you have been involved in a Bishop's Stortford traffic accident could ensure you do not miss the opportunity to make a personal injury claim as there is an accident claim time limit. Accident claims solicitors will assess the extent of your injuries and the causation and can tell you if you have a valid claim. This could be for injuries such as:
Airbag injuries
Seatbelt injuries
Fractures
Internal bleeding
Brain damage
For accident claims advice on a car accident, motorcyclist accident, or any other type of road traffic accident in Bishop's Stortford, contact our accident claims solicitors.
Trip, Slip, Fall Accidents
A trip, slip or fall accident is quite prevalent in public places and workplace environments. Such accidents could result in severe complications for the individual involved.
While there are many causes of slip, trip and fall accidents, there are just as many prevention tips that seek to avoid such circumstances.This section of the guide will look at what each accident type is and how it could be prevented, according to the Health and Safety Executive.
Slips
There are a number of reasons that cause for slips accidents to happen. This could be caused by a person's footwear, the environment, the flooring, or cleaning contamination. They could be prevented by warning signage, maintenance and cleaning spillages straight away.
Trips
A trip is usually caused by obstructions or uneven surfaces. This could include loose wires/mats that have not been fixed down properly. It is often simple and cost effective to present these accidents by keeping walkways obstruction free, designing and maintaining the environments layout and providing consistent housekeeping,
Falls
A fall is likely to occur from either a slip or trip, as detailed above. When such events arise, a person could suffer severe harm. However, the prevention guidelines set out by the Health and Safety Executive (above) ensure that these accident types can be avoided.
Compensation Claims If Affected By A Criminal Injury
In addition to the various areas of personal injury claims our accident claims solicitors covering Bishop's Stortford can help those who have suffered due to violent crime. The Criminal Injuries Compensation Authority also known as the CICA could award compensation to blameless victims of violent crimes.
If you have been a victim of a crime, you will understand how traumatic it could be. Although a compensation claim may not be your initial thought after suffering from a criminal injury, the compensation awarded could help you to obtain rehabilitation. We could help you receive a compensation pay-out which may fund various forms of treatment to get you on the road to recovery.
Injuries In Public Places
A public space can encompass a heavy flow of traffic at any given time, both by pedestrians and road users. It is, therefore, possible for accidents to occur if the body/person/company or business responsible for the space in question has ignored their duty of care. For the purpose of making a claim, this could encompass any area which can be entered as a member of the public.
Public liability is when a party responsible for the public's well being ignores their duty of care which leads to an accident and subsequently an injury or illness. A public space can mean an area that is managed by the local council such as the nearby park, car park, village green, pavements, roads but it can also mean spaces that are owned by private companies such as restaurants, supermarkets, play centres etc,
If you have suffered from injuries due to negligence in public spaces within the applicable accident claims time limit, contact our accident claims solicitors today.
Medical Negligence Compensation Claims
Finally, you could also receive personal injury compensation for an injury caused by medical negligence. A healthcare professional owes you a duty of care to uphold reasonably expected standards of treatment. Failure to do so could lead to severe complications for the patient, in the form of new injuries or the worsening of an existing one.
For those looking to bring forward a personal injury claim for medical malpractice, they must meet the criteria set out by the '4Ds of Medical Malpractice'. These include:
Duty: If a medical professional does not meet certain expectations of treatment, then they are breaching their duty of care. For example, this could be seen as failing to diagnose a condition which they would reasonably be expected to diagnose which allows the patients symptoms to worsen unnecessarily.
Derelict: This means that the healthcare practitioner in question has broken their duty of care. It may take the form of a misdiagnosis, failing to diagnose a patient or dispensing the wrong medication.
Direct Cause: Your injuries/illnesses must have been caused by medical malpractice.
Damages: What damage you have suffered and to what extent must be detailed. This includes physical and psychological injuries as well as monetary expenses.
For more information, read our guide on medical negligence.
No Win No Fee Accident Claims Solicitors Covering Bishop's Stortford
Regardless of the type of accident claim you would like to make, a no win no fee solicitor could be one of the more affordable options as a claimant. One of your chief concerns may be how to finance your claim, which is why we believe a No Win No Fee agreement could significantly reduce the financial risk when pursuing a personal injury claim.
A solicitor will undertake the work on the basis that their legal fees will be paid by a percentage of the claimant's compensation only if their case is successful. What percentage will be put aside to settle the fees will be discussed prior to beginning the accident claims process. If the accident claim is unsuccessful, then the final bill for the solicitor's fees will not fall upon the client.
Talk To Our Team
To begin your claim, call us on the number at the top of this guide or click here for alternative contact methods. It's as simple as that.
Once you contact our accident claims solicitors, they will help you establish whether you have a valid claim for compensation. Form here our specialist solicitors will begin to assemble your claim. When your case makes important developments, your lawyer will contact you with regular updates.
Although our officers are not based in Bishop's Stortford, we have an expert team of accident claims solicitors covering Bishop's Stortford.
Commonly Asked Questions
This section will look at the most frequently asked questions to our panel of accident claims solicitors. If you cannot find your question listed, then feel free to contact our expert team of advisors for free legal advice.
Is My Accident Claim Valid?
You may have a valid basis for an accident claim if your injury and/or illness resulted from third party negligence. As discussed above this could be for a range of different circumstances, ranging from a work accident injury to a crash on Bishop's Stortford roads. To be valid, your claim must be pursued within the accident claims time limit otherwise it may be a missed opportunity for compensation.
Will I Claim With A Local Solicitor?
If you need to make a claim after an accident, your first instinct may be to search for a solicitor close to you. However, we believe that a suitable personal injury lawyer could be located anywhere in the country, not just in your local area. This is why we recommend all claimants looking to make accident claims in Bishop's Stortford to widen their online search from 'solicitors near me' to 'accident claims solicitors covering Bishop's Stortford'. In most cases, your solicitor will communicate with you via telephone, email or post.
Will I Need To Visit A Doctor?
To help your accident claim progress in the right direction, you may be asked to undergo a medical assessment. The purpose of this exam is to detail to what extent your injury and/or illness has impacted your life. This will also provide additional evidence to support your case.
Will The Doctor I See Be Based In My Area?
Your medical examination will be conducted by a medical professional from our panel of doctors. In the areas surrounding Bishop's Stortford, this panel includes:
Christopher Parry
4th Floor,
Victoria House,
Victoria Road,
Chelmsford
CM1 1JR
Shehzad Hanif
Holiday Inn – Colchester Abbotts Lane,
Eight Ash Green,
Colchester,
C06 3QL
Sajive Bansal
90 Copse Hill,
Harlow,
CM19 4PP
How do you go about making sure you find the right accident claims solicitors for Bishop's Stortford claims?
If you have been injured in an accident that was not your fault or you have lost a loved one due to negligence, you might wish to work with experienced personal injury solicitors covering Bishop's Stortford claims. Some people may well assume that they are only going to have the possibility of working with a professional in their local area, but this is not the case. There are lots of good solicitors across the UK, and you could work with any of them.
However, the get the most appropriate lawyer for your injury claim, you might want to make sure you narrow down your search carefully. It could be wise to make certain that your solicitor is authorised and regulated by the Solicitors Regulation Authority, and that they're registered to practice in England and Wales. Aside from this, you may want someone who is experienced and has expertise working on cases similar to yours. It might also be important for them to communicate effectively and offer to work on a No Win No Fee basis. This means you would not need to pay legal fees until your payout came through.
At Accident Claims UK, we tick all of these boxes. If you would like to discuss your claim, all you need to do is pick up the phone and give us a call today.
Could accident claims solicitors covering Bishop's Stortford help if I want to claim because I've lost a loved one?
If you have lost a family member or a loved one because of a fatal accident that was caused by someone else, there is the possibility that you could make a claim for compensation. The money you receive may help toward funeral costs, as well as compensating you for the loss of your loved one. It is also possible that you could receive a payout to cover the household income loss that has been experienced due to the person's passing, especially if you relied on their monetary contribution.
We could assist with claims like this. We could also help if you want to make a claim on the behalf of your child. If a child was injured in an accident and it was not their fault, you could act as their litigation friend, which means you will make decisions in their best interest. If you would like to discover more about this and how it works, please do not hesitate to get in touch with our friendly team today for more information.
Bishop's Stortford Area Information
How To Control Risks At Work
Guidelines set by the Health and Safety Executive suggesting how to safely manage accidents, incidents and diseases.
Court And Tribunal Finder For Your Area
How to find and contact Hertford County Court and Family Court.
Bishop's Stortford Town Council
Important information about your local council services, what to do, where to stay and about the town itself.
Hertfordshire Constabulary
Information about keeping people safe and reducing crime.
Building Site Accident Claims
Free legal advice about how you could receive maximum compensation for a building site accident.
Accident Claims For Gym Injuries
A guide to making a compensation claim for injuries suffered in a gym.
Syringe And Needle Stick Injury Claims
If you have suffered from a needle stick injury at work, you could be entitled to compensation.
Thank you for readint this accident claims solicitors covering Bishops Stortford guide. We hope we've helped you choose personal injury solicitors for Bishops Stortford claims.