By Daniel Sisko. Last Updated 1st June 2022. Welcome to this guide on accident claims solicitors covering Bradford West Yorkshire. In it, we explain what to consider when choosing personal injury solicitors for Bradford claims. We offer insight into choosing serious accident lawyers for Bradford claims, and why you don't need to use injury claim solicitors in Bradford to make a claim for a Bradford car accident or another road accident in Bradford today.
What Can Injury Claim Solicitors For Bradford Claims Help With
If you've been involved in any type of accident that was caused by somebody else whom owed you a duty of care and it left you injured, then you might be able to pursue a claim for compensation. Choosing the right accident claims solicitors covering Bradford could be tricky and it may not always be clear who the right legal team for you are. We've written this guide to help you understand what you can claim for and how we could help you begin a claim as well as how solicitors work on claims and could affect the amount of compensation you'd receive.
During this guide, we'll provide examples of accidents you could claim for such as an accident claim for a slip and fall, an assault in Bradford, or a workplace accident and how no win no fee solicitors covering Bradford could help you.
Here at Accident Claims UK, we offer free claims advice with no obligation so if you'd like to discuss how we could help you today, please call 0800 073 8801 to speak with a specially trained advisor from our team.
To find out more before beginning your claim, please continue reading.
Choose A Section
What Is An Accident Claims Solicitor Covering Bradford?
If you've been involved in an accident that wasn't your fault, those who provide legal services will tell you not every accident will result in a compensation claim. In many cases, where nobody was to blame, you'll find accident claims solicitors will inform you you are not eligible to claim compensation. The following 3 statements will usually need to be true for a solicitor to consider your case:
You were owed a duty of care by another person, party or business;
They breached that duty of care which caused an accident; And
You suffered undue harm that was caused by the accident.
The accident will need to have happened within the claims time limit which, in most cases, is 3 years from the date of the accident or from when your injuries were diagnosed.
How Will Injury Claim Solicitors Covering Bradford Help?
When a solicitor does agree that you have a valid claim and takes on your case, they will usually provide the following services:
A free, no-obligation, assessment of your claim.
Assist you with evidence gathering, including obtaining an independent medical report.
Handling the communication with the other party, their solicitor or the insurer that is dealing with the claim.
Our panel of accident claims solicitors offer all of the above and provide accident claims management services too so that you don't need to deal with any questions or objections from the other party on your own.

Bradford Accident At Work Statistics
According to the Health and Safety Executive (HSE), it is reported that 142 workers were killed in workplace accidents in 2020/21 with many more injured.
You can see other key figures below: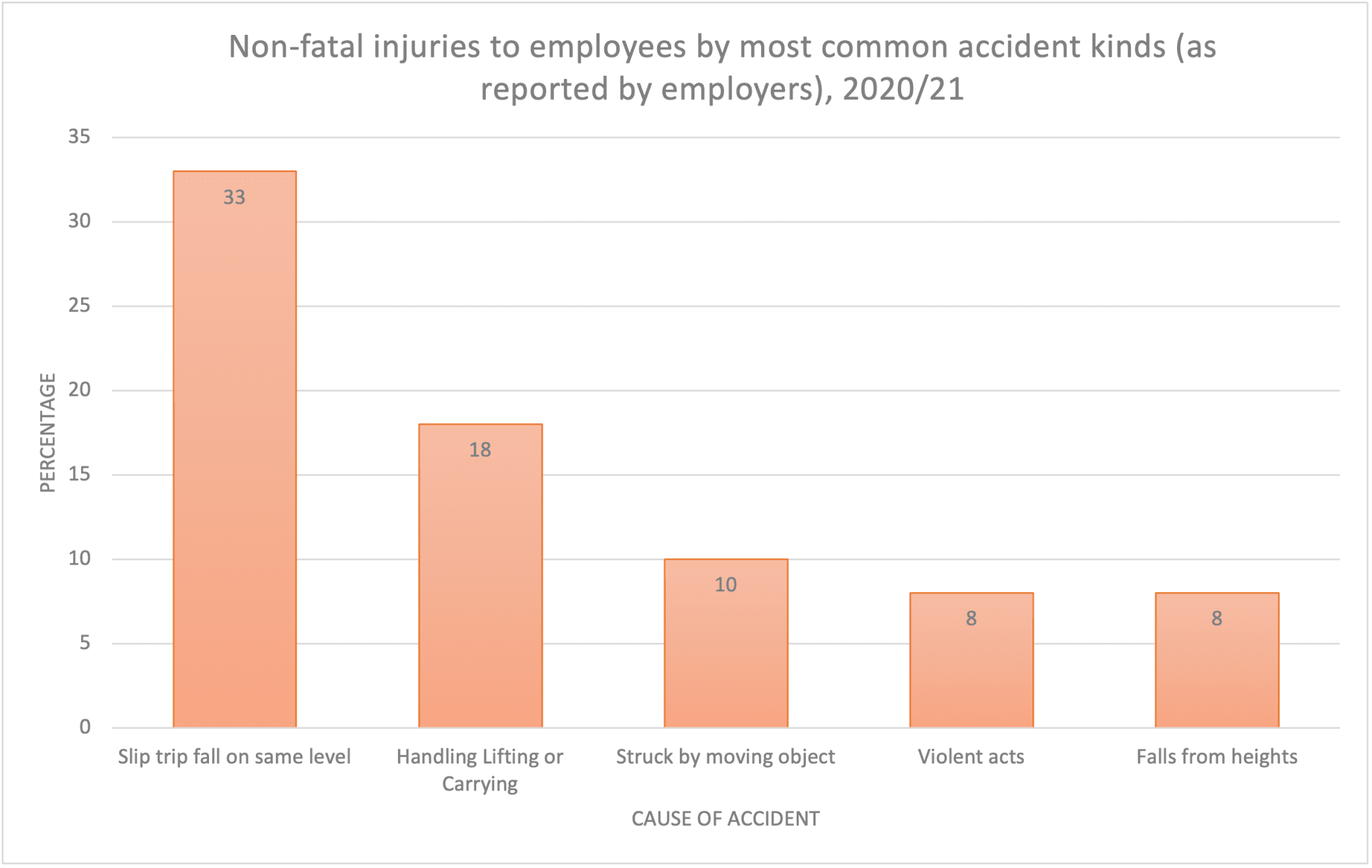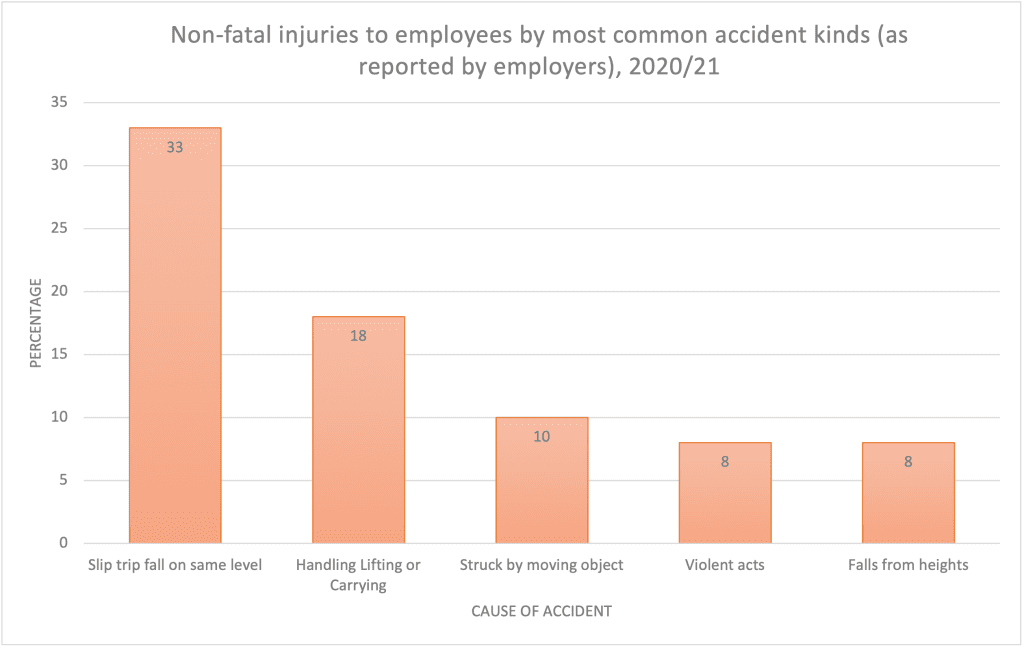 | Region | Total - Non Fatal Injuries | Total - Non Fatal Injuries per 100,000 empoyees | Accidents Resulting in Fatal Injuries |
| --- | --- | --- | --- |
| Bradford | 498 | 263 | 0 |
The information in the table was found in a report produced by the HSE which provides statistics from across the whole of the UK.
Compensation Amounts For Accidents In Bradford
If negligence has caused you to be injured in an accident in Bradford, you may be entitled to compensation. This section focuses on the potential value of such a claim. Of course, there are many factors that may be considered when it comes to how much compensation you stand to receive, as each claim is different.
A settlement can also be made up of more than one figure. The two heads of claim are known as general damages and special damages.
General damages is the amount awarded to you to compensate you for the pain and suffering caused by your injuries. Legal professionals use a few different resources to aid them in the calculation of this figure. As well as any medical evidence you can provide, they also turn to the Judicial College Guidelines (JCG). The JCG is a publication that was last updated in 2022. Within is a list of injuries and what their value could be in general damages.
We've included some excerpts from the JCG in the table below. This way, you can gain a better understanding of its layout. Remember, the figures are not guarantees for your claim.
| Injury | Description | Amount |
| --- | --- | --- |
| Brain/head | (a) Brain damage of a very severe nature. | £282,010 to £403,990 |
| Sight | (b) Total blindness. | In the region of £268,720 |
| Sight | (d) Completely blind in one eye. | £49,270 to £54,830 |
| Post-traumatic stress disorder | (a) Worst cases of injury will include one lung being removed or damage to the heart. | £100,670 to £150,110 |
| Digestive system | (a) A traumatic injury that causes lasting discomfort/pain. | £43,010 to £61,910 |
| Kidney | (c) When one kidney is lost, but the other is not damaged. | £30,770 to £44,880 |
| Neck | (b) Moderate – (i) Possible need for spinal fusion due to injuries such as dislocations or fractures. | £24,990 to £38,490 |
| Shoulder | (e) Fracture of the clavicle. | £5,150 to £12,240 |
| Wrist | (e) Colles' fracture without further complications. | In the region of £7,430 |
There is also the matter of special damages. If eligible, this is when the financial impact of your injuries can be acknowledged. In other words, you can be reimbursed for losses and expenses associated with your injuries.
For example, you could be compensated for:
Loss of earnings
Medical expenses
Additional care costs
Property damage
Make sure you have receipts or other evidence to prove these costs. Get in touch for more information, and for the opportunity to be connected to one of our personal injury solicitors for Bradford if you've been involved in an accident caused by negligence.
Bradford Workplace Accident Claims
Any employee is protected by acts such as the Health and Safety at Work Act 1974, which is government legislation that sets out what employers need to do to try and ensure staff safety.  Any breach in health and safety procedures that results in staff injuries or illness could be deemed negligent. This means staff may be able to sue their employer for any suffering caused due to neglectful actions or inactions.
Examples where accidents might have been caused due to breaches in the law having occurred include:
When staff haven't been trained fully in their tasks.
If safety equipment, such as protective clothing, isn't provided.
Or if equipment is poorly maintained or damaged.
We could provide free legal advice and help you get the compensation you deserve.
Road And Car Accident Claims In Bradford
If you have been injured in a road traffic accident that wasn't your fault, then you may be eligible for compensation whether you're a driver, passenger, cyclist, motorcyclist or even a pedestrian.
Claiming For A Bradford Car Accident – Could Serious Accident Lawyers Covering Bradford Help me?
The car accident claims process is very similar to all other types of road traffic accidents, you should try and gather as much evidence as possible before leaving the scene. This can include asking the other driver in the road accident for their personal and insurance details. You should also try to photograph the scene and gather witness details.
Common injuries in road traffic accidents include whiplash, bruising, fractures, and concussion.  You should always seek medical advice following a road traffic accident. Not all injuries, such as whiplash, are immediately obvious and it usually takes a 24 hours for symptoms to present themselves.

Accident Claims For Slips And Falls
One of the most common types of claims accident claims solicitors deal with are those that happen as a result of a slip or fall. They're common because they could happen just about anywhere. This includes schools, offices, shops, gyms, public highways, and private property. If a slip, trip or fall is caused because somebody else was negligent, then you might be entitled to seek compensation.
When Could Injury Claim Solicitors Covering Bradford Help?
Common scenarios where somebody else might be to blame include:
Where broken lighting means you trip on a hazard that wasn't visible and injure yourself.
If you slip on a wet floor or polished floor where no warning signs were in use and you sustain an injury.
If a defect in the road causes you to suffer an injury. This could be a pothole, tree roots or a raised paving slab.
Some claims will be made against business owners whereas public highway claims will likely to be made against the local authority. If you'd like help beginning a personal injury claim, then please get in touch with us today.

Criminal Injury Assault And Abuse Claims
You might not realise it, but if you have been the victim of a criminal act that leaves you with either physical or mental injuries you could be eligible to make a claim for compensation.
The Criminal Injuries Compensation Authority (CICA), is a government scheme that allows compensation payments to be made to victims of violent crimes.
There are strict guidelines on who can or cannot claim which we are able to help you understand. Please get in touch if you're a victim of crime and would like advice on how to claim.

Claim For An Accident At A Public Place
Accident claims solicitors covering the Bradford area can help with many claims for accidents that have occurred in public places. Obviously, that's only the case if the accident was caused by a negligent act and caused you an injury.
In general, public places are locations that you are allowed to access, use or pass through without gaining permission first. This could be a shopping centre, a public highway and private or council run car parks amongst other places.
Proving who's responsible for paying compensation can be a little tricky in some cases. This is because there are a couple of legal entities, the owner or the occupier, who could be to blame.  If either, or both, argue that they were not responsible then using an accident claim solicitor who knows which piece of legislation will support your claim and will make sure the correct evidence is presented to prove liability maybe useful.
Our panel of accident claims solicitors have dealt with public place injury claims for many years and fully understand how to demonstrate liability to back up your claim. Please get in touch to discuss your claim with one of our specialists and for free accident claims advice today.

Claims For Medical Negligence In Bradford
Medical professionals, whether NHS or private providers, have a duty of care to protect their patients. They do this by sticking to approved or recommended procedures, using the correct equipment for the job and maintaining good hygiene standards when performing procedures.
Any breach of their duty of care could be deemed negligent. If the negligence causes a patient an avoidable injury, then a compensation claim might be possible.
Medical professionals could include doctors, midwives, nurses, surgeons, hospital staff, dentists, GPs and care home staff. Clinical negligence claims are possible for medical treatment which causes you a preventable injury as well as for any cosmetic procedure that go wrong.

No Win No Fee Accident Claims Solicitors Covering Bradford
You might think that the cost of hiring a personal injury lawyer could be expensive, and this might put you off claiming but using a No Win No Fee solicitor will remove that worry and reduce the financial risks involved with making a claim for compensation.
When you make a claim using a no win no fee agreement you don't pay any money upfront, and you will not pay your solicitor if they lose. If they do win your case on your behalf, you won't have to pay them yourself as their success fee is deducted from the claims settlement figure automatically (by law this is limited to 25%).

What Should I Do Next?
If you'd like to begin your claim for an accident in Bradford and would like us to help then you can get in touch by calling 0800 073 8801 today, filling in our accident claim form or by using the live chat feature on our website. One of our friendly advisors will listen to your case and help you decide what to do next.

Frequently Asked Questions About Injury Claim Solicitors Covering Bradford
To save time, we've answered a few questions that we're asked on a regular basis below. If you have any other questions, please feel free to call and ask one of our expert legal advisors.
How Can Your Team Help Me?
When choosing accident claims solicitors covering Bradford, we know you might not know who to choose. Our accident claims solicitors are happy to speak with you for free and offer no-obligation advice.
If you have any questions, please don't hesitate to call and discuss how we could help.
Do I Have To Use A Local Personal Injury Solicitor?
When looking to hire a personal injury solicitor for accident claims in Bradford, you aren't necessarily tied to local law firms. Many modern solicitors are happy to provide accident claims advice and handle the claims process over the phone and via email which means where they're based isn't an important factor.
Even though they are not based in Bradford, our panel of accident claims solicitors can help with an accident at work claim, car accident claims in Bradford, a criminal injury claim and any other accident claim that you might need to make.
Do My Injuries Or Illness Need Assessing?
To help your accident claim solicitor prove the extent of your injuries, you'll need to undergo an independent medical assessment. This will also be used to show how the injuries might affect you in the future.
Can Injury Claim Solicitors Covering Bradford Organise My Medical Exam?
If you contact us to help with your personal injury claim, our solicitors will ensure you don't have to travel too far for your medical assessment because we have a panel of medical doctors around the UK, including those local to the Bradford area. Here's a sample of some we could use in your case:
Qamar Lodhi
29 Bridge Street,
Bradford, BD1 1HX.
Florian Dhimitri
2 Thornton Road,
Bradford, BD1 2DH.
Kirsty Hollinworth
6 Royalsdale Way,
Bradford, BD4 6SA.

What should you look for when choosing accident claims solicitors covering Bradford to handle your personal injury claim?
It could be said that your solicitor is one of the most critical ingredients when it comes to making a personal injury claim of any nature. This is why many people choose personal injury solicitors covering Bradford with great care. Contrary to what could be considered popular belief, there is no requirement to use a local solicitor. You could work with an accident solicitor based anywhere in the UK, which opens you up to many different options and gives you the best chance of finding the most appropriate solicitor for your case.
To do so, it makes sense to find someone who has handled cases similar to yours before. Their overall experience is important, but you also want to make sure that they have experience in the sort of accident that you have been involved in. Furthermore, it would be wise to do a little due diligence to make sure the law firm or solicitor is authorised and regulated by the Solicitors Regulation Authority, and that they are registered for practice in Wales and England. We also advise that you opt for a No Win No Fee approach, as this means that you will only need to pay the solicitor's success fee if your claim is a success.
Here at Accident Claims UK, we believe we tick all of the boxes mentioned above and more. To discuss your case in further depth, please do not hesitate to pick up the phone and give our friendly team a call.
What kind of accident at work claims could accident claims solicitors covering Bradford help me with?   
According to the Health and Safety at Work etc 1974 Act, all employers have a legal responsibility to ensure workers are protected from any work or workplace-related illnesses or injuries. There are various ways your employer can go about this, including providing PPE and assessing all of the risks within the workplace on a regular basis, and of course, taking the required steps to reduce these risks.
If your employer has failed to uphold their responsibility and you have been injured as a consequence, there is a chance you will be able to make a claim.
Some examples include claiming because your employer has not protected you from an assault in the workplace when they could have, injuries caused due to hazards in the workplace that were not removed or signposted, as well as workplace injuries caused due to inadequate or a lack of training.
These are just a few examples. If you would like us to assess your workplace injury claim, all you need to do is pick up the phone to speak to our team.
I was in a road accident in Bradford today – how can I contact injury claims solicitors covering Bradford?
If you were in a road accident in Bradford today, you can contact our team immediately. We would be able to assess your case and connect you with injury claim solicitors covering Bradford, who could help you start a claim if you're eligible.
What are the benefits of using experienced serious accident lawyers for Bradford claims?
The benefits of using experienced serious accident lawyers for Bradford claims are many. Firstly, you would not have to take care of the legal legwork of making your claim. You could also have peace of mind that your solicitor could use their professional knowledge and experience to put your claim together. They could also negotiate for compensation on your behalf.
Are there benefits to using injury claim solicitors in Bradford for a Bradford car accident claim?
As we mentioned, you can get the same benefits from using injury claims solicitors outside of Bradford as you can for those that work in the area. You could even find a lawyer based outside of Bradford for a car accident claim that specialises in claims for your kinds of injuries. We would be happy to provide you with a lawyer that could help you.
Could serious accident lawyers covering Bradford get me future loss of earnings compensation?
Serious accident lawyers covering Bradford would work to achieve the highest possible compensation settlement for your claim. If you are eligible to claim for future loss of earnings, solicitors would be able to include this within your claim.
Additional Information Relating To Injury Claim Solicitors For Bradford Claims
Thanks for reading our guide about finding accident claims solicitors covering Bradford. To help you further, we've linked to some more resources below which we believe you may find useful.
Accident At Work Reporting – Information for employers about when they need to report, and the type of accidents covered by regulations.
Bradford Combined Court – Details of the local court including contact numbers and opening times.
Workplace Accident Claims – Information on how a personal injury lawyer could help with accident at work claims.
Car Accident Claims – Further information on how our solicitors could assist with making a claim for a car accident that you were involved in.
Personal Injury Claims Calculator – A useful guide that explains how accident compensation is calculated by personal injury solicitors.
We hope this guide on accident claims solicitors covering Bradford was useful. Now, we've explained what to consider when choosing personal injury solicitors for Bradford claims.