By Jo Jeffries. Last updated 24th May 2021. Do you need to understand more about accident claims in Darlington, and how accident claims solicitors covering Darlington can help you by processing a claim for you? If so, read on, as this online guide covering compensation payouts for accidents and injuries suffered in Darlington is for you. Once you have finished reading it, you should understand a lot more about the claims process, and the reasons why accident claims and personal injury claims in Darlington could be made. We also explain why you don't have to search any further for personal injury solicitors for Darlington claims, as we could help you.
Personal injury claims in Darlington – getting help
We have tried to answer many of the general questions that people have about making a claim in this guide. All claims are unique though, with their own circumstances that could affect the outcome of the case. If you do have questions about personal injury solicitors covering Darlington that this guide doesn't answer, our team is available 365 days a year, 24 hours a day to answer them. You can contact us on
0800 073 8801
.
Choose A Section:
What Is An Accident Claims Solicitor Covering Darlington?
Do you know what a solicitor will do when they process a claim for you? Or what are the other kinds of help and assistance that they can provide? If you have never had dealings with a legal firm, there is no reason why you should.
A solicitor will help you make a claim, by providing all of the accident claims advice you need to prepare for making your claim. They will also value your claim for you, and let you know how much compensation a sensible target would be. They will also act as your legal representative when they process your claim for you, and attempt to get you a suitable compensation settlement.
If you would like to know more about the ways that our panel of accident claims solicitors can assist you in getting any compensation you could be entitled to, please use the number at the bottom of this page to speak to our claims team.

Accident At Work Compensation
When you are on-site at work, you should be kept safe from harm. All employers have to take adequate steps to ensure workplace hazards are mitigated to the best of the employer's ability. This is enforced by general legislation and Health & Safety standards. Mistakes can be made though, and compliance protocols can fail or not be implemented correctly. This can lead to workplace hazards, such as:
Slips, trips and falls (31%).
Lifting, carrying and manual handling accidents (21%).
Struck by a moving object (10%).
Falls from a height (8%).
Acts of violence (7%).
The percentages are based on statistics from the Health & Safety Executive. If you are injured by these hazards, or any other hazard at work for which your employer was responsible, but failed in their duty of care to prevent we could be able to help you to make a claim for accident at work compensation.

Rates Of Injuries At Work In Darlington
In the table below, we have presented statistics related to occurrences of workplace injuries for the period 2013/14 – 2017/18, in the Darlington area.
| Location | Total - non fatal injuries | Total - non fatal injuries per 100,000 workers | Fatal injuries |
| --- | --- | --- | --- |
| Darlington | 122 | 246 | 0 |
You can find further detailed information about the period 2013/14 – 2017/18, at the following link:
Car, Road Accidents And Whiplash Injuries
According to the Department of Transport (DoT), there were many casualties of road traffic accidents in the UK, during the year ending June 2021.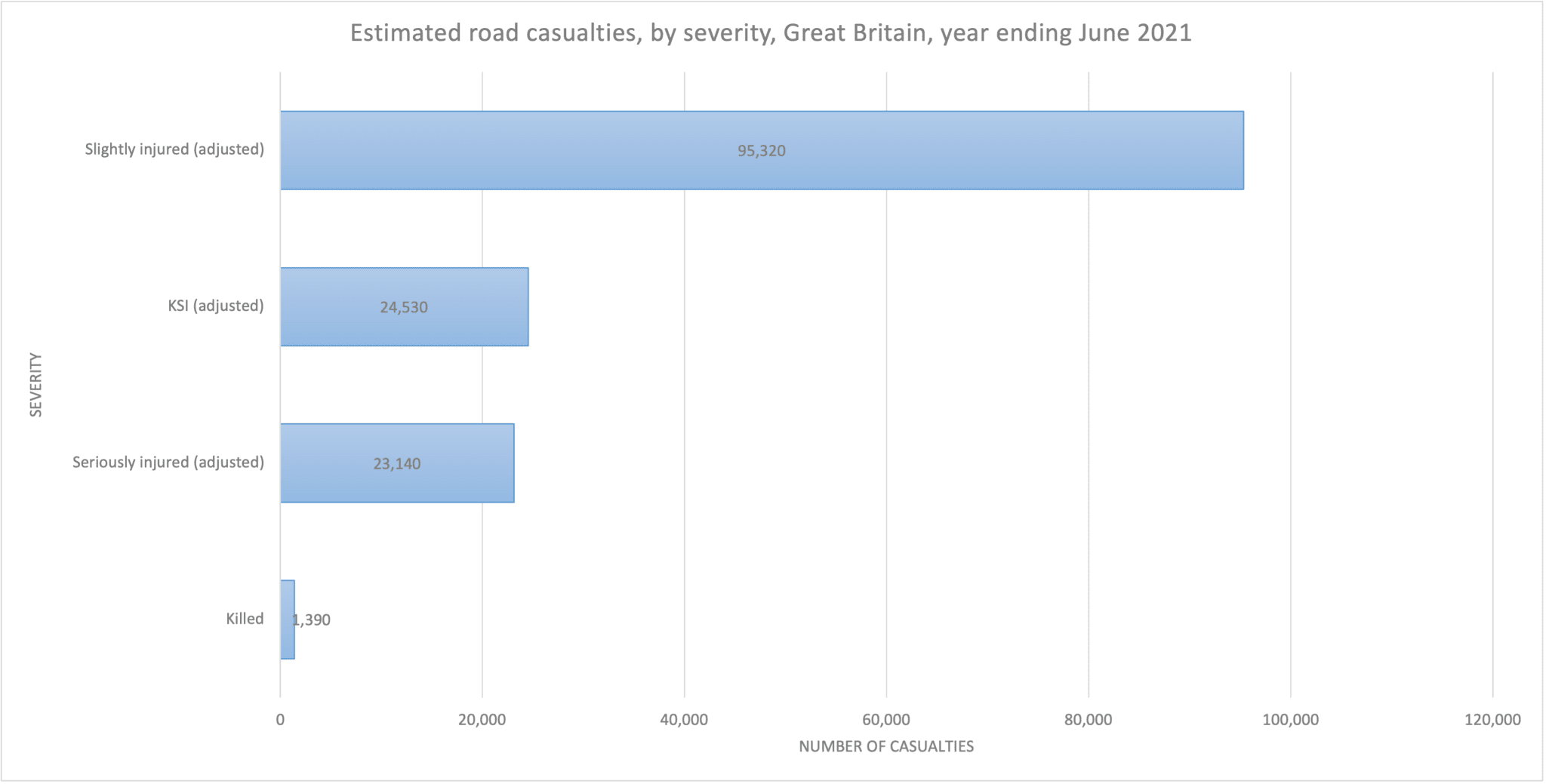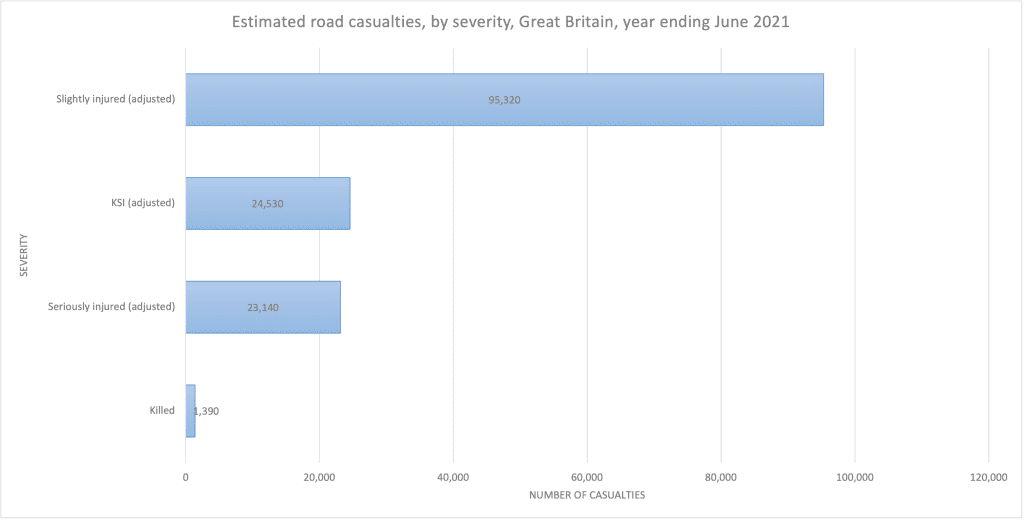 And of course, there were many more accidents that did not result in casualties. RTA claims are the most common type of accident-related claims in the UK, with whiplash being the most commonly claimed for injury.
All kinds of road users could be in a position to make a claim, whenever they are harmed due to the actions of another road user. For example:
A cyclist is hit when a driver is turning right as they failed to see the cyclist.
The driver of a car is shunted from the rear, by a person who was following too closely.
A pedestrian is hit by a vehicle while crossing at a zebra crossing, because the driver of a vehicle failed to stop.
If you have been injured in a road traffic accident, due to the actions of a third party, our accident claims solicitors could be able to help you to make an accident claim for the harm you suffered.

Slip, Trip, Fall Compensation
Slips, trips and falls are a very common type of accident in the UK. So common, that the Health & Safety Executive has published a checklist for employers, that will help them to minimise the risk of slips, trips and falls in the workplace. This checklist covers:
Outdoor areas.
Doorways and entrances.
Corridors and offices.
Stairs and ramps.
All of these are hazardous areas, if steps are not taken to maintain them in a safe fashion. If you are injured in any kind of slip, trip or fall that a third party was responsible for causing, an accident claim solicitor could be able to help you to make a slip trip fall compensation claim for the injuries you suffered.

Criminal Injury Compensation
Victims of violent crime can suffer both psychological and physical harm. Violent crimes include assault, murder, rape, sexual assault, and even aggravated robberies or burglaries. According to the Office of National Statistics, the following statistics related to violent crimes for the period ending March, 2019 are as follows
14% of all crimes reported to the police were flagged as domestic abuse.
There was a 4% increase in homicides.
13% of all crimes were flagged as sexual offences.
There was an 8% increase in knife crime, and a 3% increase in gun crime.
If you become the victim of a violent crime in the UK, a personal injury solicitor could be able to process a criminal injury claim for you. The Criminal Injuries Compensation Authority (CICA) provides compensation for victims of violent crime. A Government-run organisation that compensates victims of violent crime when no other route to compensation exists. This is something our team can help you with. Talk to one of our claim advisors to learn how we can help you to make a CICA claim.

Accidents At A Public Place
What happens if you are injured in a public place when you are not on premises that are owned or operated by a third party such as a business? Who is responsible for keeping you safe in places such as:
On a public road or footpath.
In a public building such as a court, library or council offices?
In a public park or playground?
In these cases, it is the local council that has the responsibility of maintaining these places to a safe standard. When the local authority fails to keep public places safe, and this injures a member of the public, then accident claim solicitors could be able to help victims to make compensation claims.

Clinical Negligence Compensation Claims
Every medical professional that works in the UK, in a professional capacity, for either the NHS or a private healthcare company, has a duty of care towards patients, never to cause undue harm. When it comes to claiming in Darlington for clinical negligence, the following needs to be true:
The patient must have suffered some kind of harm.
A medical professional with a duty of care towards the patient caused this harm.
The harm the patient suffered was unnecessary and could have been avoided.
This is a basic definition of what could be construed as medical negligence, that could leave the victim be in a position for making a medical negligence claim. We can help victims of clinical negligence to claim any compensation that they could be eligible for.

No Win No Fee Accident Claims Solicitors Covering Darlington
There is a way for you to have your claim processed, without exposing yourself to unnecessary financial risks. We can provide you with a No Win No Fee solicitor. This means that:
You won't be charged to start a claim.
You won't be charged to process your claim.
You won't be charged by your solicitor if your claim is unsuccessful.
You only pay your solicitors legal fees when your solicitor has actually received a compensation payment for you. They will then take their fee out of this money, and give you what is left over. Speak to a member of our claims team on the number below, to learn more about the way this service works.
Using Our Accident Claims Solicitors Covering Darlington
At the point you suffer an injury in an accident you didn't cause, you're probably not going to be wondering how much compensation you might be paid. However, there may well come a time where you consider whether you should be paid damages because you've suffered injuries. If that's the case, you might start looking for accident claims solicitors in Darlington. An alternative to that is to call our free advice line because we offer a nationwide service which means our personal injury solicitors can process claims in Darlington. Our key selling points are that we specialise in personal injury claims (with decades of experience) and process all accepted claims on a No Win No Fee service. Local law firms may not be able to say the same.
To make our service as efficient as possible, we don't ask you to waste time visiting our offices. Instead, we deal with your claim online, by email and over the phone. Just because we work differently from some companies doesn't mean you won't be receiving expert legal representation. Importantly, we are registered with the Solicitors Regulation Authority.
What happens when you are appointed personal injury solicitors for Darlington claims?
If we agree to take you on as a client, a solicitor will be appointed to work with you. They'll start by looking at your case with you so they can understand how you've been affected. The next part of the process is to collate evidence to support your claim including witness statements, photographs and hospital records. Additionally, your suffering will need to be documented by an independent expert. Therefore, your solicitor will arrange a local medical assessment for you.
When ready, your solicitor will forward your claim to the defendant's representatives. So that you're not asked to answer complex legal questions, your solicitor will handle all communication. They will also try to counter any arguments or objections raised by the defendant over liability for your injuries. Where needed, they'll supply additional evidence.
While we could settle your claim the minute a compensation offer is made, your solicitor will review any settlement amount with you before accepting it. Where it appears to undervalue your injuries, a higher compensation amount will be fought for.
To discuss whether our accident claims solicitors covering Darlington could help you, please get in touch with one of our advisors today.
Talk To Our Team
Do you already believe that you have a valid reason to make a claim? Or do you need some general claims advice or specific information such as what the accident claims time limit is? No matter what help and assistance you need, our claims team is waiting to provide it. Just give them a call on 0800 073 8801, and they will go over your claim with you, and advise you on the best steps to take.

FAQs For Accident Claims In Darlington
The sections below provide some additional information on the claims process that a personal injury lawyer will follow when they help with your claim.
How Are Claims Started?
Starting a claim for accident compensation is very simple, all you need to do is follow this simple three-step process:
Talk to our claims team on the number above.
Our claims team will evaluate your claim for you.
If you have a valid claim, one of our solicitors will be able to process it for you.
If this isn't straightforward enough, just take the first step, and speak to one of our claims advisors today. They will then walk you through our new claims process.
Are Local Solicitors Best To Claim With?
You don't need to use a local legal firm to make Darlington accident claims. You can use any legal firm you wish. Consider using a team of solicitors that specialises in accident and injury claims, such as the service that we offer our clients. We cover the whole of the country, and can help you no matter where you happen to be located.
Do I Need To Have A Checkup?
You may have already used an online personal injury claims calculator to get a rough idea of how much you might be able to claim. However, to get a more accurate estimate, a solicitor will have to value your claim. In order to do this, the solicitor needs information related to how severe or mild your injuries are, and also whether you will suffer in the future. Therefore, you will need to undergo a medical examination, to prove the extent of your injuries.
Where May A Medical Assessment Be Carried Out?
If you have suffered an injury in Darlington, we can arrange an appointment for a medical examination locally, from the following doctors:
| | | | |
| --- | --- | --- | --- |
| Manish Singh | 63-65 Bondgate | Darlington | DL3 7JR |
| Rizwan Shafiq | Darlington Regus Office | Darlington | DL3 7PL |
| | 20 Woodland Road | | |
| Ian Watson | 20 Woodland Rd | Darlington | DL3 7PL |
If you want us to go ahead and do this for you, talk to our claims team on the number above today.

How can I get guidance on compensation payouts for accidents and injuries suffered in Darlington?
If you were looking to get estimates on compensation payouts for accidents and injuries suffered in Darlington, you could look at the table below. We have provided guideline figures corresponding to certain injuries. The figures have been provided by the latest edition of the Judicial College Guidelines, published in April 2022.
However, these are only rough estimates, your actual settlement will vary to what's listed below.
| Injury site | Severity | Guideline Bracket |
| --- | --- | --- |
| Neck | Severe (i) | In the region of £148,330 |
| Back | Severe (i) | £91,090 to £160,980 |
| Elbow | Moderate or Minor Injury | Up to £12,590 |
| Finger | Fracture of Index Finger | £9,110 to £12,240 |
| Knee | Moderate (i) | £14,840 to £26,190 |
| CRPS (Complex Regional Pain Syndrome) | Severe | £52,500 to £84,010 |
| Face | Multiple fractures of facial bones | £14,900 to £23,950 |
| Face | Less severe facial scarring | £17,960 to £48,420 |
| Ankle | Minor | £7,270 to £12,590 |
These figures only relate to the general damages head of claim which accounts for the pain and suffering caused by your injuries. If you suffered costs and losses because of your injuries, such as loss of earnings, for example, you could claim for these too.
If you don't see your injury in the compensation table, please don't hesitate to call us. We could also give you a rough guide as to how much compensation for other injuries could be. Also, we could provide further guidance on making personal injury claims in Darlington.
Do I need to use personal injury solicitors in Darlington?
If you're looking to make a personal injury claim after an accident in Darlington, you don't need to use a solicitor in the same area. Instead, you could focus on finding an experienced solicitor to help you make your claim.
Our personal injury solicitors for Darlington have experience handling claims similar to your own. For more information on how you could work with them, please get in touch on the number above.
Local Information For Darlington
These additional links provide information that may be relevant to your claim:
How To Report A Workplace Accident
Darlington County and Family Court
You may also like to go over these other guides on our site:
Making A Claim For An Accident In ASDA
How To Claim If You Are A Chef Or Waiter Injured At Work
Thanks for reading about how our personal injury solicitors and accident claims solicitors covering Darlington could help you claim. For a free review of your case, please feel free to call today.