By Joanne Jeffries. Last Updated September 9th 2021. Welcome to this guide covering accident claims solicitors for Eastbourne accident claims. Here, we explain what you need to know about finding personal injury solicitors for Eastbourne claims.
At Accident Claims UK we specialise in helping people to make personal injury claims for a variety of different circumstances. Our panel of accident claims solicitors includes those who have years or even decades of relevant experience and we could help you receive compensation for an accident that wasn't your fault.
Our accident claims solicitors are able to conduct claims directly on behalf of the victim of an accident. However, they could also help family members who need to claim on behalf of another person, such as a child or elderly relative in a care home.
Accident claims solicitors covering Eastbourne could help you to claim for injuries caused by a number of accident types, such as an Eastbourne airport accident, a road accident in Eastbourne or a cyclist accident among many others. Whilst we are not based in the Eastbourne area, we can still help you make a claim.
To find out how our accident claims solicitors could help you, please read the guide below and if you have any questions you can always talk to our team.
Choose A Section
What Is An Accident Claims Solicitor Covering Eastbourne?
Accident claims or personal injury solicitors are legal experts who specialise in helping people to claim compensation for harm due to the negligent or even deliberate actions of another person. In addition to helping with accident claims advice, they can lend their expertise to a number of different accident types to help you receive compensation for your suffering. You can learn more about what a solicitor could do for you in our FAQs section at the bottom of this guide.
For example, our accident solicitors covering Eastbourne will guide you through the process of making a claim. They will look to gather a range of evidence to support your claim, such as medical reports, witness statements, photographs, etc. to build a strong case on your behalf. They also work with a panel of medical experts to arrange your medical assessment close to your area.
Common Work Accident Examples
You could be injured in any workplace environment, such as in an Eastbourne office building accident, on a building site, as a member of the emergency services or in any other workplace. If you have been injured in an accident at work you may have had to take time off to recover or, in some instances, be unable to return to your previous job role.
If you have been hurt in an accident at work your claim could compensate you for any costs that you have had to pay out for, including medical bills. A successful claim could also compensate you for income that you have lost and if a relative has lost income because they had to take time off work to care for you. In such circumstances, your relative would be required to keep a diary in order to prove this.
Statistics For Rates Of Injuries At Work In Eastbourne
To help illustrate how many people have been injured due to accidents in the workplace, we have created the table below. In this, we have used data which is collected by the Health and Safety Executive.
The table looks at how many people have been injured in this area at work (either as employees or as someone self-employed), the rate of injuries in the workplace per 100,000 workers and whether any people have suffered a fatal injury at work in this area. If you want to find out how many people have been injured in an accident at work in another area, you could find the data in this spreadsheet.
| Location | Total - non fatal injuries | Total - non fatal injuries per 100,000 workers | Fatal injuries |
| --- | --- | --- | --- |
| Eastbourne | 98 | 251 | 1 |
Fatal injury statistics from 2020/21 from the HSE show the industries that people suffered a fatal injury at work in during this period.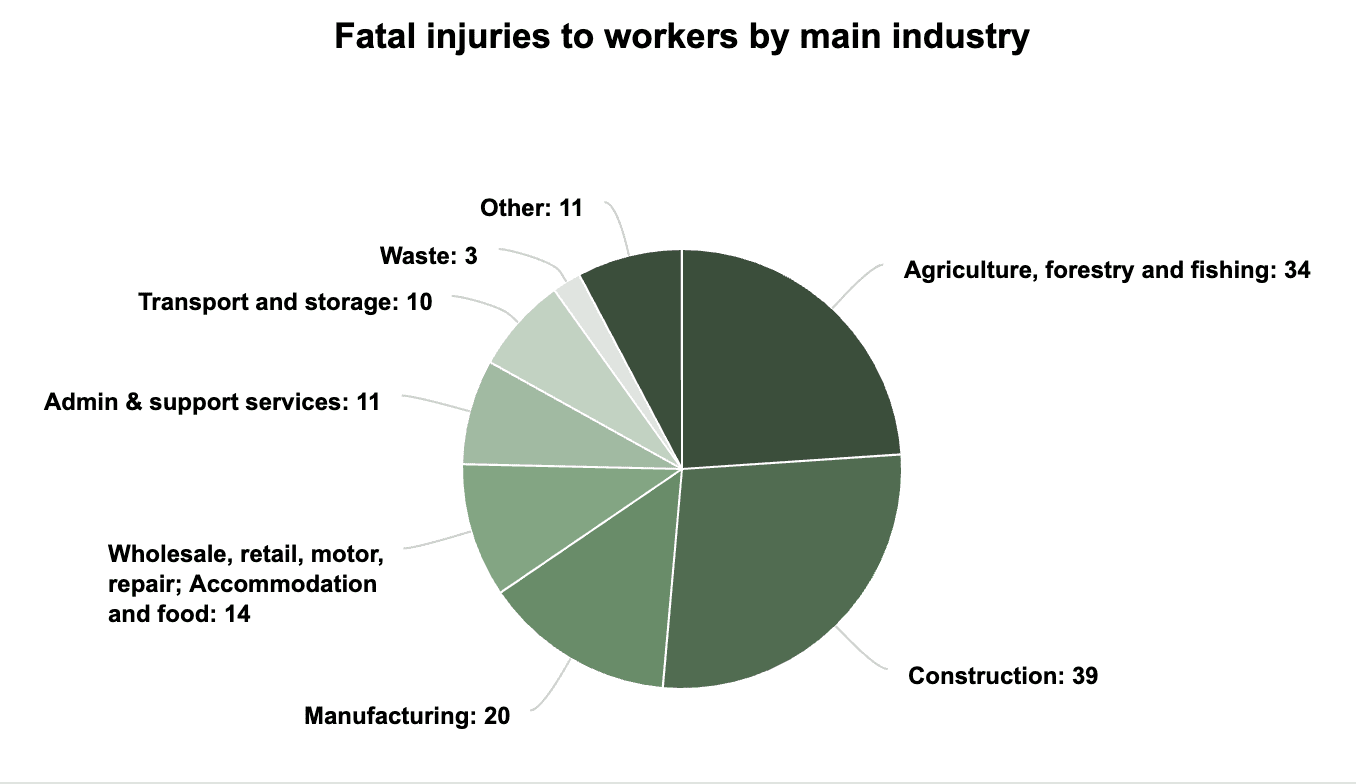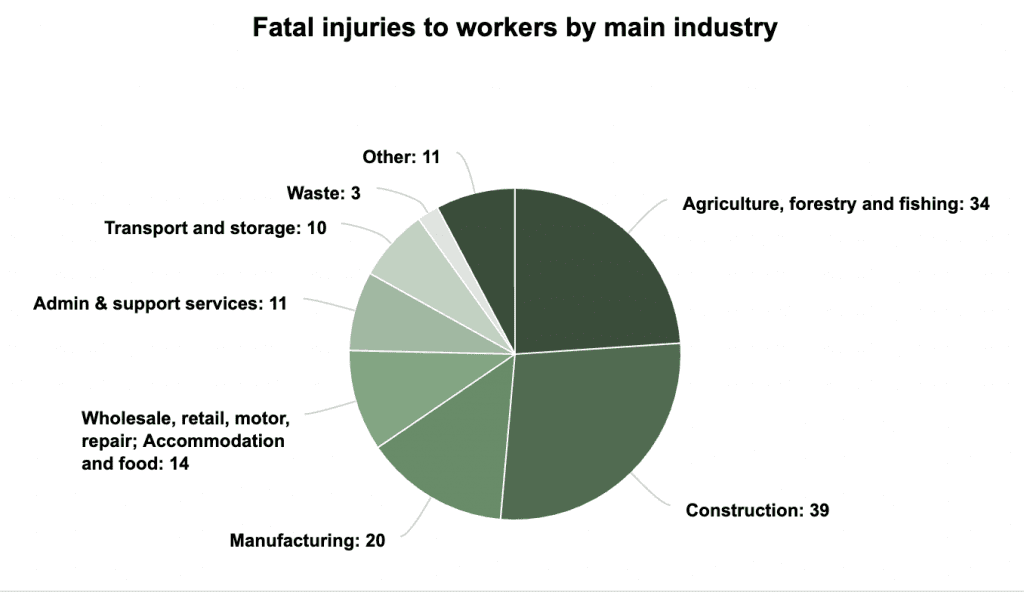 Road Traffic Accidents In Eastbourne
If you have been injured in a traffic accident in Eastbourne which was not your fault, there may be grounds on which to claim compensation. As a road user it is possible to be involved in a range of different accidents, such as a cyclist accident, as a horse rider on the road, whilst the passenger in a vehicle or have been a driver whose vehicle was struck by another in a car accident that could range from minor to severe. If we can show that the other road user was to blame for your accident, then accident claims solicitors covering Eastbourne could help you.
Being involved in a traffic accident in Eastbourne could be a traumatic experience and you could be left with physical injuries, mental injuries or both. If the accident in which you were injured was the fault of another road user, you would usually be able to claim compensation. You may even be able to claim for a road accident in Eastbourne if you were partially at fault.
Tripping Or Slipping Accidents
Slips or falls are shown to be one of the simple most common causes of major workplace injuries in the UK, according to the HSE. During the winter months especially, they can be one of the leading reasons for people needing to visit the A&E or requiring medical care. The could leave people with injuries ranging from the minor to the very serious.
Examples of injuries which could be claimed for after a fall or trip accident in Eastbourne could include any of the following:
Breaks or fractures.
Damage to your knees, ankles or wrists.
Head and brain injuries.
Sprains and muscle strains.
Cuts, lacerations and bruising.
Claim As A Victim Of Crime
Our solicitors covering Eastbourne are not limited to handling claims for injuries caused by third-party negligence, they could also help you to claim assault and attack compensation. If you have been the victim of abuse or any form of attack, you could make a settlement claim. There is a 2-year accident claims time limit for this type of claim.
Each year thousands of people are victim to criminal assaults, attacks and abuses for which they may be able to claim compensation. Circumstances in which a no win no fee solicitor could help you to claim compensation could include being the victim of an unprovoked attack, a sexual assault or a violent mugging among others.
There are two ways in which you could make claims for criminal injuries suffered in Eastbourne. The first is through the government body, the Criminal Injuries Compensation Authority (CICA) and the second is through a civil claim at court. In our guide to criminal injury claims, you can see a personal injury claims calculator to estimate how much you could claim.
Negligent Medical Care
If you are being treated by any medical or healthcare professional or are seeking medical advice from a doctor, you have to place a high degree of trust in the person whom you are under the care of. Whist most care received will be good, there are times when substandard and negligent care or mistakes could cause you life-changing injuries. In such circumstances, our accident claim solicitors could help you.
If you or a member of your family has been harmed due to negligent medical care our team could help you begin a clinical negligence claim for compensation. There are lots of different types of medical negligence and we could ascertain who you could claim against.
Public Liability Accidents
Have you been injured in a negligent accident which occurred in a public space? If so, you could be entitled to claim compensation from the party who is responsible for maintaining the area. This is to be considered the party who owns the area or who operates it. This party has a duty of care to make sure that, if the public can enter the space, that they are safe while they do so. If they have not and you are injured, you may be able to make a claim against their public liability insurance.
Perhaps the most common public liability accident claims involve injuries caused by slips or trips. The causes of which could include damaged paving slabs, broken floors in shops and car parks, broken paving in a public park or other hazards.
No Win No Fee Accident Claims Solicitors Covering Eastbourne
Before we get to answering some of your most commonly asked questions related to accident claims, we shall look at the most common query that people using accident claim solicitors have, namely: "How could claims be funded?" and "How could a no win no fee solicitor help you?"
Accident and injury claims can often be made through a no win no fee agreement. This is a type of contract which states you do not need to pay your solicitor's fees if the claim is not successful.
Before taking on your case, a personal injury lawyer will assess your claim. They will only take on your claim if they think that there is a good chance of you being able to win it. If you do win your claim and are awarded a settlement, you will need to pay the solicitor. This fee will be listed in the agreement as a 'success fee'. It is usually a percentage of the final settlement and there is a legal limit to how much (as a percentage) that the solicitor could charge; which is capped at 25% for a no win no fee service.
Contact Us To Lodge A Claim
We aim to make the accident claims process as easy and stress-free as possible and to support you at every stage of the personal injury claims process, from initial enquiry to legal advice from our personal injury panel getting your settlement.
There are several ways in which you could get in contact with our team either to begin a claim or for additional accident claims advice. You could call us now on 0800 073 8801 or you could fill in the enquiry form to the right of this page. You could chat to us using our online support facility or you could send the outline of your accident and injury to our team by email at Office@AccidentClaims.co.uk.
Whichever method you choose to contact us through, we are here to help you start your injury claim.
Common FAQs
If you are making a personal injury claim with a law firm you could have a variety of different questions which you would like to ask before making a claim with a law society personal injury solicitor. We answer some of your most frequently asked questions below. If we have not answered your question you can get in touch with our team using the methods above and talk to a member of our accident claims team.
How Could Your Team Assist Me?
Our panel of accident claims solicitors could help the victims of accidents which were not their fault in a variety of different ways. The most obvious of these may be that they bring legal knowledge and expertise to the case. They could identify exactly how much compensation you could be eligible to claim and how to construct a solid case against the party liable for your accident/ injuries. They could assist in gathering evidence to support your accident claim and they or our team could organise for you to be examined by a doctor.
Do I Need A Solicitor Near Me?
It is tempting to think that you either need to have or should have a solicitor based close to you. In fact a common search term which is used by those looking for an accident claim solicitor is 'solicitors near me'. People may think that they require or should choose a personal injury solicitor from their local area because they may need to see the solicitor in person.
Whilst we can not guarantee your claim will not require you and a solicitor meeting in person it is highly unlikely that you will need to. In most cases, you and your solicitor can keep in touch over the phone, by email and important documents could be posted if necessary. If you are seriously injured and need to see the solicitor in person, it may be possible to organise a home visit for you.
Does My Health Need To Be Assessed?
When you make a personal injury claim you need to clearly prove that the accident you are alleging you were injured in took place and that you were indeed harmed. In such cases, an important part of the personal injury claims process will be you visiting an independent medical expert who can assess and examine your health. Whilst you may have already had your injury treated seeing this doctor will produce a medical report which can be used as evidence in conjunction with records from your own doctor. They may also spot additional injuries or recommend other treatment options for you.
Where May I See A Doctor For A Medical Exam?
If you have been injured or even seriously injured our team of accident claims solicitors understand that you may not be able to travel a long distance to see a doctor. As such we partner with a panel of medical experts and doctors across the country who can carry out medical examinations. We will always try to ensure you see the doctor closest or most convenient to you.
Our panel of doctors covering this area includes the following.
Kashif Aziz
Physio Plus,
18 Gildredge Road,
Eastbourne,
BN21 4RL
Muhammad Ather
18 Gildredge Road,
Eastbourne,
BN21 4RL
Jihad Salloum
The Sleep Hotel,
Lansdowne Terrace,
Eastbourne,
BN21 4EB
Please be aware that you may see a different doctor based at a different location depending on availability.
How do you find good accident claims solicitors covering Eastbourne?
There are a lot of different things that you may be looking for when it comes to choosing a good solicitor to work with on your case. Here are some of the questions that we would recommend asking in order to find the most appropriate personal injury solicitors covering Eastbourne for your claim:
How long have you been working on personal injury cases?
What sort of personal injury claims do you specialise in?
Do you work on a no win no fee basis?
How will you communicate with me throughout the case?
Are you registered England and Wales?
What sort of bodies are you regulated by? Are you authorised and regulated by the Solicitors Regulation Authority?
What is your track record? How many cases have you won?
These are the sorts of questions you might want to ask in order to find a quality accident claims solicitor. Here at Accident Claims UK, we have an experienced team who can assist you with any sort of accident that you have been involved in.
Can you make a claim if an accident was partly your fault?
Some people may not get in touch about making a claim because they fear that they will not be eligible for compensation. One of the main reasons for this is if they have been partly to blame for what has happened.
We can understand why this may make you apprehensive, but this does not necessarily mean that you will not be able to claim compensation. Every case is different and it will be assessed as such. Therefore, if you were partly to blame for what has happened, you may be able to make a claim yet your payout could be reduced to reflect your involvement.
Of course, if it turns out that you were fully to blame for what has happened, it is unlikely you will be able to make a successful claim for compensation.
It could be that, at the moment, you are unsure as to how much responsibility you hold for what happened to you. The best thing to do is simply get in touch and we will be able to evaluate the strength of your case and give you our realistic verdict. Our advice is free, so you have nothing to lose by getting in touch and finding out more about your case prospects.
There have been numerous examples of people receiving compensation although they were partly to blame for an accident, so do not rule out your chances of claiming due to this.
Get Additional Local Information
If you have been harmed in an accident which was not your fault you may find that you need to contact different local or national bodies to report your accident. In a small number of cases, a claim does need to go to court for accident compensation to be awarded and settled. Below you will find resources relevant to those making accident claims in Eastbourne.
HSE Guidelines On Accident Reporting – Information about how accidents in the workplace should be correctly reported.
Sussex Police Incident Reporting – Find out how to correctly report a road traffic incident or accident to the Sussex police force.
Brighton Court – In the rare instances that your accident compensation claim does need to go to court, your personal injury lawyer may have to conduct the claim here.
This marks the end of this guide covering accident claims solicitors for Eastbourne accident claims. Now you should know more about finding personal injury solicitors for Eastbourne claims.