By Joanne Jeffries. Last Updated September 6th 2021. Here, you will find our guide to accident claims solicitors for Glasgow claims. In the sections below we explain why you don't have to use personal injury solicitors for Glasgow claims that are based locally.
The number of injuries and accidents that occur every year in the UK could be quite startling to some people. There are risks almost everywhere – on the roads, at work and even in public parks. If you have been injured and it was not your fault, this could be very frustrating and your accident could cause you financial issues, especially if you can't work because of your injuries.
If an accident that wasn't your fault happens and you've suffered injury as a result, you may be entitled to compensation. If it can be proven that your injuries were the result of third party negligence then you may be eligible to pursue a claim for damages. Furthermore, you don't have to use Glasgow-based solicitors to handle your claim – you could actually use a lawyer based anywhere as long they are able to practice Scottish law.
When it comes to securing compensation through the accident claims process, the first thing you might wish to do is determine whether you actually have the basis for a successful personal injury claim. The first thing you will need to do is make sure you can prove that someone else whom owes you a duty of care is to blame for your injuries. You may need to show that they made an error or acted negligently, which resulted in the injury that occurred.
Aside from this, it could be wise to have seen a doctor, as you may need their medical report to make a Glasgow accident claim. The date of the accident or injury could also be important because there is a three-year accident claims time limit on most personal injury claims, although there are a few exceptions. These could relate to incidents whereby the injuries you have sustained have occurred over time, in which case you could have three years from the date of your diagnosis instead. There are some other exceptions as well, so please do not hesitate to call our accidents claims advice line for more information and free legal advice on this.
Below, we will provide an overview of the important things you need to know about the accident claims process and accident claims solicitors.
Choose A Section
What Is An Accident Claims Solicitor Covering Glasgow?
An accident claims solicitor is someone who has knowledge of personal injury law. A good lawyer would know the ins and outs of what it takes to make a successful accident claim and they would provide you with their professional opinion on whether you have the basis for a valid claim. Such personal injury specialists would also give you information on how to gather evidence, as well as helping you step-by-step through the process. Claiming with a personal injury solicitor who covers the Glasgow area could mean that your claim may have a better chance of reaching its full potential. Specialist personal injury solicitors or personal injury lawyers could help whether you've been injured in a work accident in the city centre, or in rental accomodation on the outskirts of Glasgow.
Statistics Showing Rates Of Workplace Accidents In Glasgow
Below, we take a look at the statistics for workplace accidents in Glasgow.
| Location | Total - non fatal injuries | Total - non fatal injuries per 100,000 workers | Fatal injuries |
| --- | --- | --- | --- |
| Glasgow | 887 | 205 | 2 |
Source: www.hse.gov.uk/statistics/tables/ridreg.xlsx
We also give you some key statistics from the HSE's 2019/20 report below.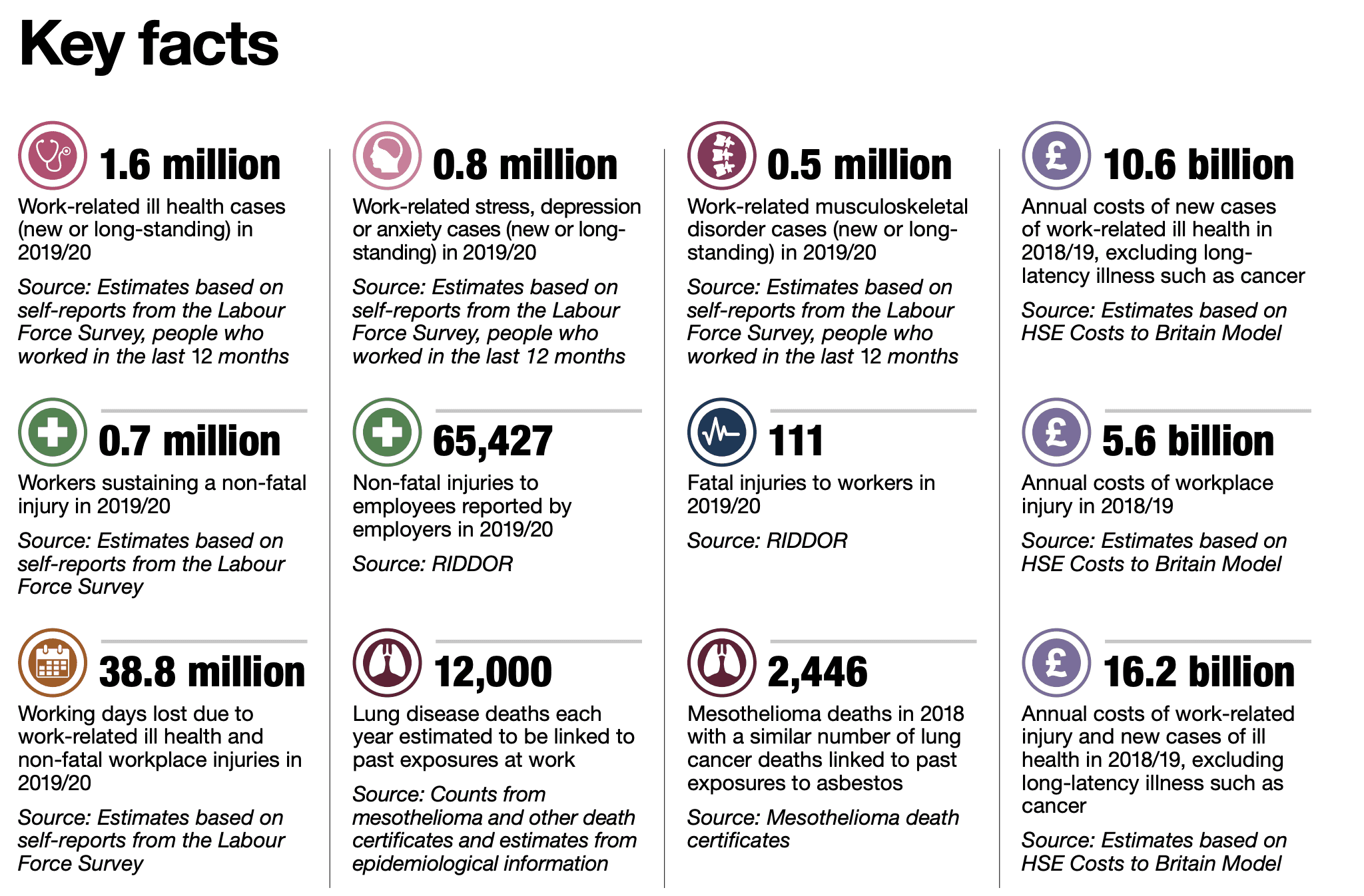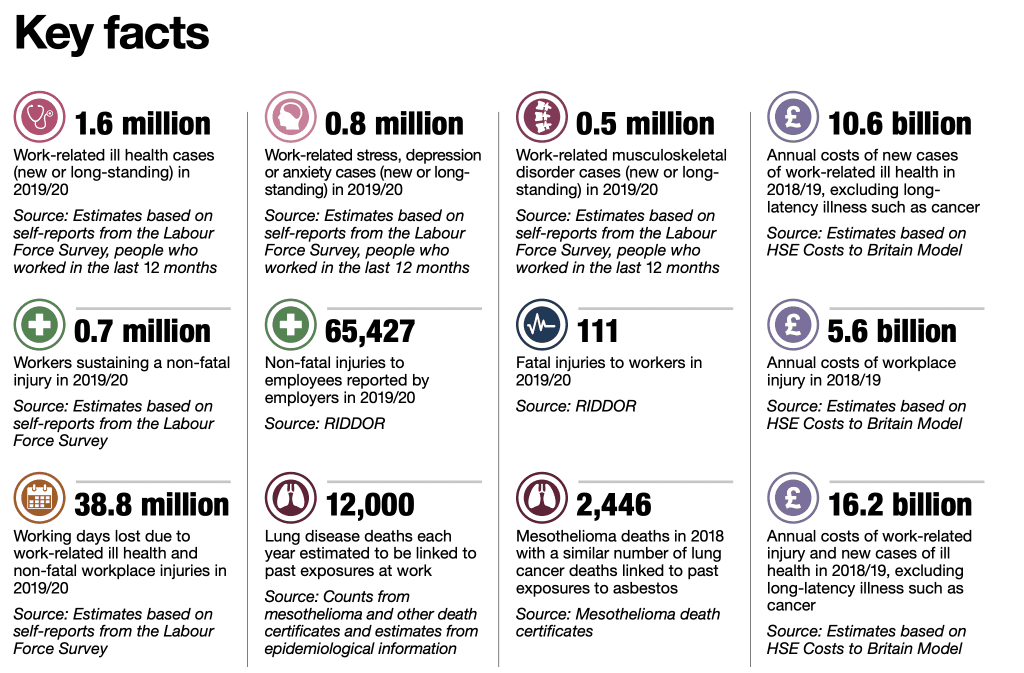 Claims For Accidents At Work
From product liability claims to car accident claims in Glasgow, there are many different incidents and injuries that could be valid grounds for a personal injury claim. Another common type of accident claim is cases of workplace accident. If you have been involved in an incident in the workplace and you feel your employer is to blame, there could be a chance that you could be entitled to Glasgow workplace accident compensation.
Some people may worry about making an accident at work claim, though, as they may fear they could cause bad feeling between themselves and their boss. However, an employer is legally required to treat you fairly during your personal injury claim. From construction accidents to a repetitive strain injury, there are many different scenarios that could justify making a work accident compensation claim. They would also have an insurance policy in place to cover the costs, as they are required to have this by law.
The only thing you may need to do is make sure you handle the situation correctly. What does this mean? Well, firstly, you may need to be certain that your employer is to blame for the accident. It would not be wise to lodge a claim against them if it was your fault. Thus, you would be required to prove that your employer made a mistake or acted negligently and this resulted in your injuries. They could have failed to carry out necessary employee training, for instance, or maybe they did not provide protective safety wear which would have prevented your injury.
Furthermore, it is also important to inform your employer or manager of the accident as soon as possible. You should look to inform them of what occurred, as they will need to record this in their accident book. This is something that all employers are legally required to have. By doing this, you could ensure that everything is handled smoothly, and there are no hurdles when it comes to the claim process, as there is already a record of the accident.
Claims For Road Traffic Accidents In Glasgow
Car accidents that could occur in Glasgow could happen for many different reasons, some could be due to dangerous driving, some drivers may not have acted with due care and attention, pedestrians may have stepped out into the road causing a collision, some may be the fault of no one. The following is a mere handful of examples of different road accidents;
Car crashes
Public transport accidents
Incidents involving uninsured drivers
Motorbike accidents
Cyclist accidents
Incidents involving untraced drivers
Passenger injuries
This should give you a better understanding of the sheer scope of road traffic accidents that could possibly occur in Glasgow and could result in road traffic accident compensation. The main thing you need to be able to prove is that someone else, another road user or third party through negligence is responsible for both the incident and your injuries.
Accident Claims For Slips Or Trips
If you have slipped, tripped or fallen and it was someone else's fault, you could make a personal injury claim for any injuries you have suffered. Have you tripped on a broken pavement? Did you slip on a wet floor that had no wet floor sign? To be eligible for personal injury compensation you must be able to prove that your injury was caused through third party negligence and that with the right procedures in place it could have been avoided.
Claims For Criminal Injuries And Assaults
Could I make a claim if I was not the intended victim of the crime?
If you have witnessed a violent attack and it has left you suffering psychological injuries such as PTSD you could pursue a claim through the Criminal Injuries Compensation Authority.
Could I still make a claim if I have not reported the incident to the police?
All criminal activities against you need to be reported if you want to pursue a claim for criminal injuries. The Criminal Injuries Compensation Authority (CICA) has very stringent criteria in place when it comes to this.
Is there a deadline for making this type of compensation claim?
When it comes to most personal injury claims you have three years to make a claim from the date of the accident. However, when making a criminal injury accident claim to the CICA, you usually only have two years to make your claim. Rare exceptions are made when the circumstances mean that you had a very valid reason for making a delayed claim, such as historical cases of sexual abuse.
The police have not taken any action about the crime, could I still make a claim?
Yes, so long as you have reported the incident to the police you could make a compensation claim irrespective of whether someone has been prosecuted or not.
Accidents In A Public Place Or As A Pedestrian
Have you been injured in a public place? If so, this could fall under 'public liability' and could mean you are likely to be entitled to compensation if it can be proved that your accident which caused your injury is due to third party negligence. After all, every public place must be run properly and maintained. This covers everything from pavements and roads, to shops and offices. Therefore, public liability accidents could happen in many different ways, from tripping on an uneven pavement to banging your head on an overhead sign. However, certain cases may require a particular criteria to be met in order to make a valid claim, such as the size of a defective pavement. It may be worth investigating your chances of compensation further, which is exactly what Accident Claims is here to help you with. We will assess your case thoroughly and match you to a specialist no win-no fee personal injury solicitor if necessary from our panel.
Clinical Negligence Claims
We could also assist you when it comes to clinical negligence claims. This could relate to situations whereby medical professionals have acted in a certain manner (or failed to take action) and this has resulted in an injury or illness or a worsening of a condition you already had which could have been avoided. Examples could include avoidable birth injuries, mistakes made during surgery and dental negligence.
No Win No Fee Accident Claims Solicitors Covering Glasgow
There are an abundance of different accident claim solicitors to choose from, all of which work on separate agreements for their fees to be settled on. When it comes to searching for a personal injury solicitor, you could benefit from opting for a solicitor that works on a no win no fee basis.
This type of agreement states that your chosen solicitor's fees will only be settled on the basis that the claim is successful. Their fees are resolved with a pre-agreed percentage of the final compensation amount, which is legally capped at 25%. If, for whatever reason, your claim is unsuccessful, you will not be held accountable for your solicitor's fees.
By doing this, you will only need to pay legal fees if your case is a success. This minimises the monetary risk by a significant degree.
The Next Steps
If you are ready to make a claim, all you need to do is get in touch with us for more information.
FAQs For Those Making An Accident Claim
How Could Accident Claims UK Help Me?
From managing the entire claims process to simply providing free advice, we are here to assist in any way you need.
Do I Need To Choose A Local Solicitor?
A lot of people believe they have to find a solicitor in Glasgow. Because of this, they search for car accident solicitors near me, or something similar. However, with modern technology, claims can be handled via email and telephone today, so you could work with someone based anywhere. Call us today on 0800 073 8801 for more information.
Do I Need A Medical Assessment?
Gathering evidence is essential for any claim. This could mean a medical assessment is needed.
Could This Assessment Be Carried Out Close To Me?
Your solicitor could help to organise a medical examination with someone in your area. For instance…
Mark Innes Burgin
The Glasgow Station Clinic,
6th Floor The Connal Building
34 West George Street near Princess
Glasgow
G2 1DA
Mohammed Ahmad
170 Hyndland Rd,
Glasgow
G12 9HZ
Reheela Khand
151 West George Street
Glasgow
G2 2JJ
What should you be looking for accident claims solicitors covering Glasgow?
If you want to make an accident claim, you might want to search for personal injury solicitors covering Glasgow who are reputable and good to work with. However, as we've mentioned, you do not need to work with someone who is based locally. The legal services industry has progressed considerably over the years, and this is a service that can be handled digitally in many cases, so you can work with solicitors based anywhere in the UK, giving you much more choice than if you solely look locally.
There are some different things you might need to consider when looking for a solicitor, though. You might want to make sure that they have plenty of experienced and they are registered for practice in England and Wales. It could be wise to check that the lawyer or law firm is authorised and regulated by the Solicitors Regulation Authority. Aside from this, you might want to make sure that they have a good track record, and find out more about their payment terms. A No Win No Fee approach could be considered a good option, because you only pay legal fees (the success fee) if your case is a success.
If you would like to be connected with an experienced and reputable personal injury solicitor, all you need to do is pick up the phone and give our team at Accident Claims UK a call.
What kind of road traffic accidents could accident claims solicitors covering Glasgow help me with?
There could be a chance that you may be able to make a claim for compensation if you have been involved in a road traffic accident and you were not to blame. There are a lot of different examples here. For example, if a car bumped into the back of you, resulting in broken bones or whiplash, you may be able to make a claim.
You may also be able to make a claim if you were crossing the road using a zebra crossing and a car came through speeding and hit you. From hit and runs to uninsured driver claims, there are many different types of road traffic accident incidents that could result in compensation.
If you have been injured on the road, whether in the UK or abroad, and you would like some free legal advice, please do not hesitate to get in touch.
Additional Information
Reporting Accidents In Leisure Facilities
Reporting A Car Accident In Glasgow
Criminal Injury Compensation Claims
Hopefully, you've found our guide to accident claims solicitors for Glasgow claims enjoyable. Now you could have further insight into choosing personal injury solicitors for Glasgow claims.