By Joanne Jeffries. Last Updated August 26th 2021. Welcome to our guide on selecting accident claims solicitors covering Harrogate. Here, we explore why you don't need to use local personal injury solicitors for Harrogate claims.
If you've been injured in an accident which was caused by somebody else, then you may be able to seek compensation for your injuries. This guide aims to help you if you're looking for accident claims solicitors covering Harrogate for accident claims in the Harrogate area. During this guide, we'll provide some examples of when a claim could be made, what you should do in the event of an accident and how we could help with your claim.
Our panel of accident claims solicitors aren't based in Harrogate, but as we'll explain later in this guide, could still help you make a no win no fee claim. If you're ready to discuss how we could help you, please get in touch on 0800 073 8801.
To find out more about accident claims in Harrogate before contacting us, please continue reading.
Choose A Section
What Is An Accident Claims Solicitor Covering Harrogate?
There are many types of accidents which could lead to a personal injury claim. You might be seeking compensation for a personal injury after an assault, compensation for medical malpractice or compensation for a work injury.
To make a claim though, you'll need to be able to demonstrate the following:
That the defendant (the company or individual you blame), owed you a duty of care; which
They breached which caused an accident to happen; and
You suffered an injury or illness in the accident.
If the above are true, then you could be able to seek a claim through a no win no fee solicitor. It's also just as important that your claim is made within the accident claims time limit. This is either 3 years from the date of the accident or the date you were informed of your injuries. Cases involving children are different, so please contact our team for advice.
When using accident claims solicitors to make your claim, they'll usually offer to:
Help with the collating of any evidence to support your claim. This might include hospital records, witness statements, accident reports or CCTV footage.
Compile and submit your claim.
Deal with any communication with the defendant or their legal team.
In very unusual cases, where the claim can't be settled, the solicitor will represent you in court.
Making a claim with the help of an experienced accident claim solicitor who offers all of the above could give you a better chance of securing the correct level of compensation for your injuries.

Road Traffic And Car Accident Compensation
Any road user is owed a duty of care by other road users. This means they should drive or act carefully to ensure others aren't injured by negligent actions. Pedestrians, cyclists, drivers, passengers, motorcyclists or any other road user could all seek compensation if they're injured in a road traffic accident caused by somebody else's negligence.
Common injuries in road traffic accident include:
Head injuries including concussion.
Neck injuries including whiplash.
Broken hands, feet, ankles or wrists.
Ligament damage and soft tissue damage.
Accidents could lead to a claim if an accident was caused because the other road user wasn't paying attention, pulled out when there wasn't time, acted dangerously or was deliberately negligent and you were injured by their actions.
We could help you make a claim even if a driver doesn't stay at the scene (hit and run), isn't insured or committed a crime to cause your accident (drink driving for instance). There is an insurance industry road accident compensation fund which we can help you claim through. If you've been injured following an accident on a Harrogate road, please call to discuss your options.

Slip Trip Or Fall Compensation
A very common claim that accident solicitors covering Harrogate might handle are those for slips, trips and falls. These types of accident can happen almost anywhere and lead to some serious, long-lasting injuries.
Proving a slip or fall was caused by somebody else's negligence will require some evidence to support the claim. We advise that you should:
Photograph the cause of your fall before it is moved or repaired.
Ask witnesses for their details.
Obtain any CCTV footage if there is any.
Report the accident to staff if your claim is for an accident in a shop, office, bar, restaurant or other business that has to record accidents.
Seek medical treatment where required.
Acting quickly to gather evidence might not be your first thought following an accident but it could make the difference between winning or losing your case.
Below are scenarios where it might be possible that a third party is liable if a person injures themselves this way :
Damaged or broken handrails.
Slippery or wet floors that did not have any warning signs.
Trip hazards which weren't visible because of poor lighting.
Cables trailed across walkways.
Accident At Work Compensation
Your employer, whether a multinational organisation or a small family business, owes you a duty of care to ensure you are safe at work. This means they need to:
Risk assess the workplace and tasks.
Make necessary changes to reduce the risks.
Train staff fully on tasks and health & safety procedures.
Ensure equipment or machinery is maintained and fault free.
Provide safety equipment if needed.
If they fail to do any of the above, and you're injured during an accident at work, then they could be in breach of their duty of care under or Health and Safety at Work Act 1974. If you believe this is the case, you could begin an accident at work compensation claim. Please get in touch to discuss how we could help.

Instances Of Work Injuries Reported In Harrogate
To show how many accidents at work occur in Harrogate, we've produced the table below. It came from this government report which covers all areas of the UK.
| Location | Total - Non Fatal Injuries | Total - Non Fatal Injuries per 100,000 workers | Fatal Injuries |
| --- | --- | --- | --- |
| Harrogate | 153 | 238 | 0 |
Below, we include some data on how common work-related illnesses are in the UK, according to the HSE's 2019/20 statistics.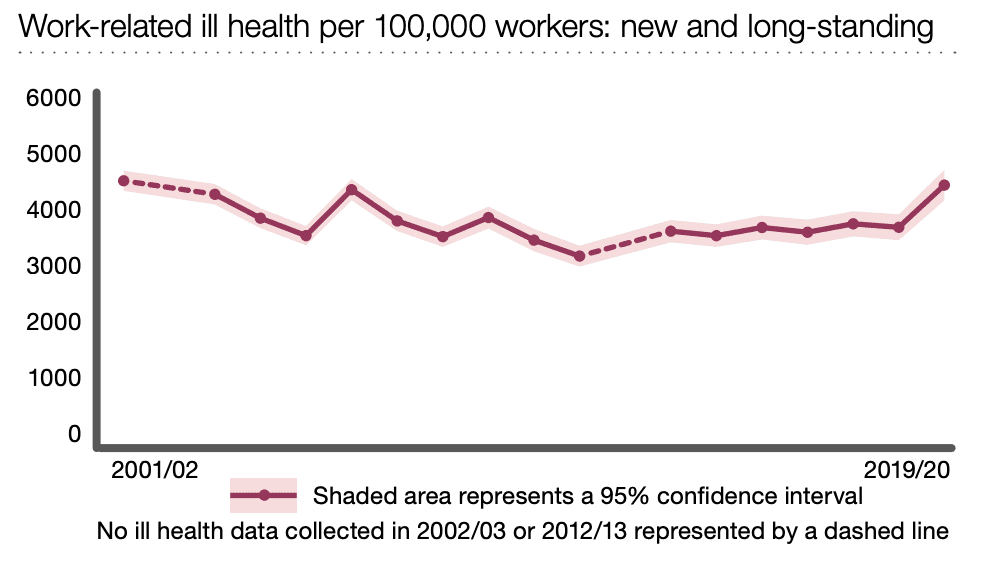 Criminal Injury And Assault Compensation
Another type of claim that can be made, is one for injuries sustained during a crime. This is not a normal personal injury claim because it's not made against the criminal. The claim is made through the Criminal Injuries Compensation Authority (CICA).
CICA is a government run scheme which has its own rules and time limits which are different to a standard accident claim.
We can help you submit a CICA claim to ensure it's made correctly and to try and help you ensure you receive the correct level of compensation from the scheme. Please contact us today if you'd like to discuss claiming from the CICA scheme.

Public Liability Accident Compensation
Injuries caused by accidents in public places can be tricky to claim for if it's not obvious who owns the land or property. It can also be difficult if the owner denies liability or blames the tenant instead.
Our panel of accident claims solicitors have the knowledge of supporting legislation to determine who is at fault and who might be liable for any injuries sustained in a negligent accident. Our team also have experience and the tools required to help identify who owns a property or piece of land even if it's not immediately clear.
These types of claims could be for accidents on the public highway, in a shopping centre, a park, on a footpath, a riverbank or in publicly accessible green spaces to name a few.
Please get in touch if you've suffered an accident in a public place which you believe was caused by somebody else' negligence.

Solicitors For Medical Negligence Compensation
When you need to undergo medical treatment, or choose to undergo a cosmetic procedure, the medical professional will owe you a duty of care to ensure you're safe while they treat you.
This means they should:
Explain the procedure to you along with any known risks.
Ensure they follow the correct medical or industry procedure.
Maintain hygiene standards throughout the procedure.
If you are harmed by a medical professional in a way that could have been prevented had the necessary procedures and health and safety policies been adhered to then you may have a case for medical negligence. This could be against the NHS or private healthcare providers.
Medical professional could include GPs, nurses, care workers, hospital staff, surgeons, dentists, anaesthetists and paediatricians.
Contact us today if you'd like to discuss beginning a medical negligence or clinical negligence compensation claim.

No Win No Fee Accident Claims Solicitors Covering Harrogate
The cost of hiring a personal injury lawyer can worry some people. That's why our accident claims solicitors choose to work on a no win no fee basis.
With no win no fee agreements, you'll sign to say that there's nothing to pay if the solicitor doesn't win the case. The agreement will also state what percentage of your compensation will be used as the solicitor's success fee should they win the case. Success fees, by law, can be no more than 25% of your compensation. They are deducted automatically from your compensation which means you won't have to find any funds to pay the solicitor yourself.
Using the no win no fee option makes your claim less stressful as it reduces the financial risk involved.

Contact An Accident Claims Solicitor
You've now come to the end of this guide about accident claims in Harrogate. If you would like to speak with us about beginning your own claim, please contact us on 0800 073 8801 today. Alternatively, we could call you back if you fill in our accident claim form.

Accident Claims FAQs
When we're contacted by new clients, they'll often ask very similar questions about their accident claim. Therefore, to save time, we've answered a few of them in the next few sections of this guide.
Why Choose To Claim With Accident Claims UK?
Here at Accident Claims UK, we have a helpful, professional and friendly team of advisors who are at hand to provide free accident claims advice. They offer a free assessment of your claim and, if they believe you have a strong case, could introduce you to one of our panel of accident claims solicitors.
Some of our accident solicitors have been dealing with accident claims for up to 30 years. This means they know how to compile a claim professionally and efficiently. They are committed to ensuring that any client they help receives the correct amount of compensation for their injuries.
If you'd like to discuss making a claim today, call our advisors right away for a free initial assessment or to ask any questions that you might have.
Why Won't Choosing A Solicitor From Anywhere In The UK Affect My Claim?
As we live in a modern world where communication is much easier than in the past, many modern solicitors' firms are happy to conduct claims remotely. Using email and telephone could be more convenient for a lot of people. This all means that you can choose accident solicitors covering Harrogate, rather than those based there.
I Have Already Had My Injuries Treated, Will I Need To Have Them Assessed?
One of the roles of a personal injury solicitor is to demonstrate how serious your injuries were. They also need to show how they might affect you in the future. To do this, they use medical assessments. We have a panel of independent doctors and medical specialists across the UK to carry out medical assessments as part of any claim.
To seek accident compensation, you will require an assessment, but we'll try to ensure it is done locally. Please see the next section for details.
Will I Have My Assessment In My Local Area?
To help you save money and time, we'll try to send you for an assessment in the Harrogate area. Here are a couple of specialists we could use:
Kashif Waseem
1-3 Robert Street
Harrogate, HG1 1HP.
Ayaz Abassi
1 Rippon Road
Harrogate, HG1 2SY.

Could accident claims solicitors covering Harrogate assist with low value whiplash claims?
If this is the question that is on your mind, you might already know that there have been changes to the method of claiming for road traffic accidents that cause low value soft tissue injuries. These injuries could include whiplash. If you've been involved in a road traffic accident that was not your fault and you have sustained what is termed a low value injury (below £5000), your claim would be dealt with differently to how it once was.
From the end of May 2021, there has been a ban introduced on settling such injury claims without adequate medical evidence. In addition to this, your compensation will be calculated based on the tariff issued by the government for such injuries.
Usually, you would be compensated for the length of time you suffered from the injury. Further to this, the reform program introduced the inability for claimants to collect legal costs from the at fault party. Our personal injury solicitors covering Harrogate could still help you with low value soft tissue injury claims, and we would be happy to speak to you about what the programme means for your claim.
Could accident claim solicitors covering Harrogate still help with hit-and-run claims?
Whether you are a pedestrian who has been hit at a crossing by a hit-and-run driver, or you've been injured as a passenger in a car that has collided with a driver that fled the scene, you may be worried about whether you'd be able to obtain a compensation settlement. If the driver that caused the accident fled the scene and could not be traced you may think there is no way for you to obtain compensation. Even if the driver is caught, they may not have valid insurance, which would usually pay for such claims. Luckily, there is a method through which you could receive compensation for uninsured or untraceable driver claims. Our personal injury solicitors covering Harrogate could assist with claims through the Motor Insurers' Bureau. This organisation not only helps to reduce uninsured driving in this country, but it also helps by compensating personal injury victims who have been caused injury because of uninsured/untraceable drivers.
If you believe you could have a claim for hit and run compensation, please don't hesitate to get in touch. We could talk you through how to make your claim, and could provide you with a No Win No Fee solicitor to help you.
Harrogate Area Resources
Now that we've covered hiring accident claims solicitors covering Harrogate, we've included some other resources which might help with your personal injury claim below.
Road Traffic Accident Reporting – Guidance from North Yorkshire Police about when and how to report an RTA.
Harrogate Court – If you need to visit the local court at any point, this site will provide you with contact details and opening times.
NHS Whiplash – Information on how whiplash is treated and the symptoms to look out for.
Slip, Trips and Falls – A more detailed look at slip, trip or fall compensation claims that could be made.
Medical Negligence Claims – Detailed information on when a medical malpractice solicitor could help you if you've been injured by a medical professional.
Fatal Road Accident Claims – How to claim compensation for the death of a loved one in a road accident.
If you have any further queries about accident claims solicitors covering Harrogate, please call one of our friendly advisors.
This marks the end of our accident claims solicitors covering Harrogate guide. We hope you now know more about using personal injury solicitors for Harrogate claims.