By Joanne Jeffries. Last Updated 29th June 2022. Welcome to our guide covering accident claims solicitors for Leeds claims. Hopefully, this will help you understand what personal injury solicitors covering Leeds claims could help with. We explain in detail why accident solicitors covering Leeds could help you with your compensation claim, as well as how No Win No Fee solicitors for Leeds claims work. Further to this, we discuss the role of an accident solicitor in Leeds, and explain how we can help find personal injury claims solicitors for Leeds claimants.
Do you need no win no fee solicitors for Leeds accident claims?
Throughout the UK, there could be many people that would have been entitled to personal injury compensation if they had actually looked into making a personal injury claim. One of the reasons why so many people might fail to make an accident claim is because they may not realise they have the basis for accident compensation in the first place. This is because the term personal injury is so general, and thus people may not know whether their incident counts as a personal injury or not.
Proving your claim – How solicitors help Leeds claimants get what they deserve
The truth is that the type of incident may not matter when it comes to determining whether you have an accident claim. You may simply need to prove that you were injured because of someone else's error or negligence, that the person or entity involved had some sort of duty to ensure your safety and failed in this duty, that the incident happened in the last three years (for the most part) and that you suffered injuries due to your accident. If you could do this, you may have a chance of getting compensation, irrespective of whether you were involved in a car crash or a workplace incident.
To illustrate this point further, let's take a look at some examples of injuries and accidents that could lead to hiring an accident claims solicitors covering Leeds…
Construction accidents
Product liability cases
Laser treatments gone wrong
Criminal injuries
Repetitive strain injury
Car crashes
Vibration white finger
Industrial deafness
Motorbike accidents
Cycling accidents
Poor health and safety in the workplace
Slipping on ice claims
Food poisoning
Travel accidents
Passenger injuries
Waxing treatments that have gone wrong
Medical negligence
… And more
Hopefully, this has given you a better understanding of the sheer scope of different injuries and accidents that could result in an accident claim. If you think after reading this that you may have the basis for a claim, you could get in touch with us and we will provide free confidential legal advice. Below, we provide advice on no win no fee accident claims in Leeds. If you still have queries by the time you finish reading this guide, please do not hesitate to get in touch. 
Choose A Section
What Is An Accident Claims Solicitor Covering Leeds?
A personal injury solicitor is someone who may handle the entire legal claims process for you.  Accident claims solicitors covering Leeds could be used even if they're not based in the area. Here are the sort of things you might want to be looking for when finding accident claim solicitors:
Someone who will work to a no-win, no-fee payment structure – This could be vital because the monetary risk is reduced when you choose a no-win, no-fee personal injury lawyer. This is because you are only going to pay your solicitors legal fees if your case is a success, meaning you would have your compensation to cover the costs.
Someone who is experienced, particularly in the sort of accident you have experienced – You may need someone that has successfully worked on many accident claims similar to yours in the past. It could also be vital to ensure that they have experience in the sort of claims relating to your accident and injury, in particular.
Someone who has a great reputation in the industry – Finally, it might be good to read reviews about the accident claim solicitor on the Internet to make certain that they have an impeccable reputation. If you come across an abundance of negative comments, you would know that you need to look elsewhere.
Statistics Highlighting Injuries At Work In Leeds
Below, we take a look at some of the statistics regarding injuries at work in Leeds. .

| Location | Total - non fatal injuries | Total - non fatal injuries per 100,000 workers | Fatal injuries |
| --- | --- | --- | --- |
| Leeds | 783 | 189 | 0 |
Click
here
to download and view the source of these statistics.
Sadly, some accident at work cases could lead to fatal injuries. We illustrate the causes of such accidents for 2020/21 from the HSE website below.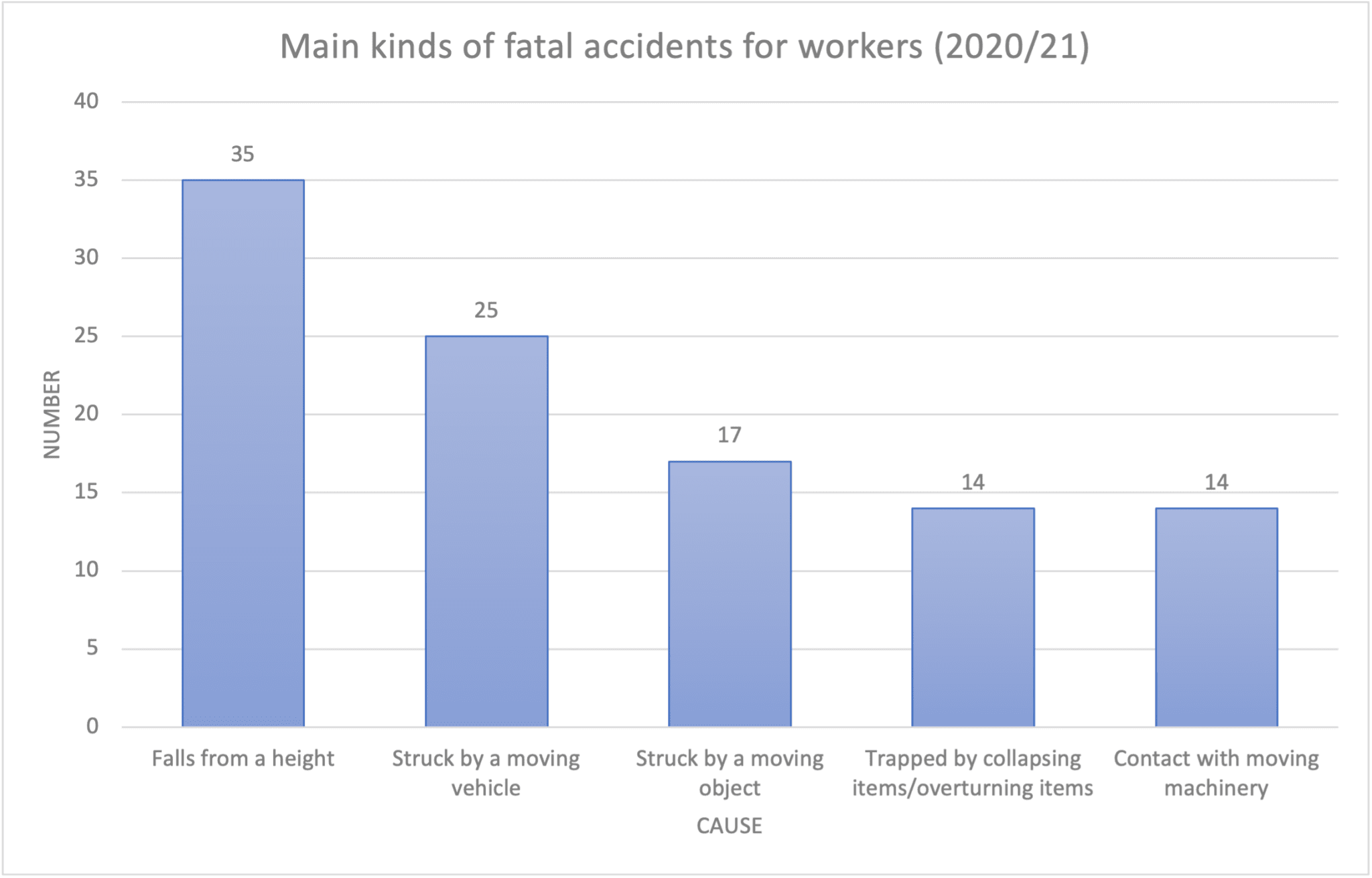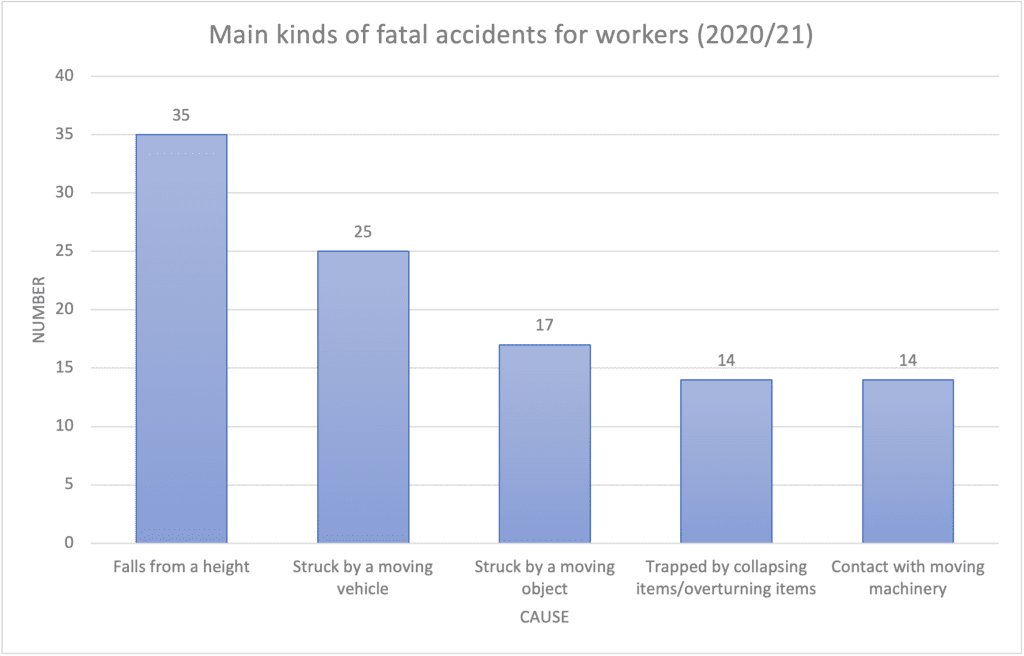 Accident At Work Solicitors Covering Leeds
When it comes to making workplace accident claims in Leeds, a lot of victims may be worried about the impact this could have on their job. They could fear their employer will be angry with them, and that this could lead to them losing their position at the company. It is understandable to feel this way. However, if you have been injured and your employer is to blame, you may deserve compensation, and this is something they may recognise. They may also have insurance in place to cover the costs. You don't need to fear making a personal injury claim, but you may need to handle everything in the correct manner.
If you have obtained an injury at work, it is imperative to report it straight away. Your employer is required to have an accident book by law, and all injuries and incidents must be recorded in this. If you do not report the incident, you might only create obstacles for yourself later down the line.
Aside from this, we may advise people to keep proof of any expenses incurred because of your accident at work. You could be able to claim for these as special damages, but you might need to have proof in order to do so. Common examples include the likes of prescription costs, treatment expenses, counselling costs, loss of income, travel costs and childcare expenses.
Car Accident Solicitors Covering Leeds
If you have been unfortunate enough to be involved in a car accident in Leeds, there could be a chance that you could be entitled to compensation, so long as you did not cause the incident. Keeping that in mind, read on to discover everything you need to know about the car accident claims process.
Before starting your personal injury claim, there are several things you might need to do. Firstly, you might need to be able to prove that someone else is responsible for the road traffic accident, and consequently your suffering. You certainly won't be able to claim if you caused the crash due to your own negligence. However if you are partially to blame you may still be able to claim.
You might want to also get the contact information of the person that caused the incident. Ask for their name, telephone number, address and the details of their insurer. It might also be worth jotting down their vehicle make, model and registration number.
Did anyone else witness the accident? If so, you could try to get their contact details too, as witness statements could really help to strengthen your case.
You might also need to keep proof of any costs incurred because of your injuries; this includes everything from travel costs and prescription expenses to loss of income and vehicle repair costs. You might be able to claim for these as special damages.
Slip Or Fall Claims Services
Slips, trips and falls are extremely common when it comes to personal injury claims. From tripping over a broken pavement to slipping on an unmarked wet floor, there are various different ways this type of accident could occur. If you want to make this type of accident claim in Leeds, you may be feeling unsure about who the claim is going to be made against. However, this is something that we could assist with, so please do not hesitate to give us a call.
Claiming Compensation For An Assault Or Other Criminal Injury
This relates to any incident where a person has been injured as part of criminal activity, whether they were the intended victim or not. Needless to say, this could be an extremely distressing and worrying time. You might need to inform the police of what has occurred as well in order for a claim to be put to the Criminal Injury Compensation Authority CICA. It is worth pointing out that the criminal injury time limit could often be shorter for this – at two years. There are exceptions for historical abuse. 
Accidents In A Public Place
When it comes to public place claims, one of the most vital aspects might be establishing who is responsible. In most instances, you may be making an accident claim against the local council or a business owner. For example, if you were injured in a restaurant, you might need to make a personal injury claim against the owner. However, if you tripped on a public pavement, it may be likely that your local council would be responsible for this area. Don't panic if this has left you feeling a little confused, as it is something we could assist you with when you give us a call.
There are certain steps you could take to ensure you gather relevant evidence of the incident. These are as follows:
Report the incident to the responsible party.
Take the names, telephone numbers, and addresses of any witnesses.
Take photographs of your injuries.
Take photographs of the area where the accident occurred.
Keep proof of any costs encountered because of the incident.
Clinical / Medical Negligence Leeds
Aside from the claims that have already been mentioned so far, another type of claim could include clinical and medical negligence. This could happen when someone in a medical position takes a certain negligent action or lack of action and this causes an injury or illness that could have otherwise been avoided had the right medical procedures been followed. It could also result in an existing condition getting a lot worse. There are different examples of this. This includes dental negligence, cases of avoidable birth injury, surgical negligence, and GP negligence.
No Win No Fee Accident Claims Solicitors Covering Leeds
"I don't have any money to make a claim. Is there anything I could do?" Yes! If you go for a no win no fee personal injury solicitor you will not need any money to start your case. The payment structure of this service is entirely different. You will pay based on the outcome of your case, which also reduces the risk. Here at Accident Claims UK,  all of our accident claims solicitors that we could provide work on this basis.
How To Start Your Claim
We could assist with accident claims by helping connect you with an accident claims solicitor covering Leeds who can then help take your case forward. We're also happy to answer any questions you might have on accident claims. All you need to do to get started is get in touch with us on 0800 073 8801 when you're ready, and we'll be glad to assist.
FAQs If Injured In An Accident Which Was Not Your Fault
What Ways Could Your Team Help Me?
Whether you are simply looking for some free advice or you want us to help you navigate the entire claims process, or team of personal injury advisors can assist. Making a claim is not as simple as filling out an accident claim form. Personal injury cases could be complex, and whether you've had an accident on the road or at work, it could be wise to get legal advice.
Do I Need To Find A Solicitor In My Area?
A lot of people assume that their only option is to search for the best accident claims solicitors in Leeds when making compensation claims. However, you do not need to work with someone based in Leeds if you do not want to. You could work with a personal injury lawyer based anywhere in the country. This means you can choose based on expertise rather than location.
Do I Have To Undergo A Medical Assessment?
An error a lot of people might make is failing to see a doctor. If you have sustained a minor injury it could often be tempting to cope with it alone. After all, many people may not like taking a trip to the hospital. However, if you do not do this you could really struggle to make a claim. However, you will see a medical expert after the incident as part of your claim, and your solicitor will arrange this for you. Whether you've suffered spinal injuries, head injuries or want to make compensation claims for another type of injury case, it's important that you get medical evidence to help you with your claim.
Where Will This Assessment Be Carried Out?
There are many independent doctors covering Leeds, including:
Abdul Wahab
Regus Leeds,
City West Business Park
Gelderd Road, Building 3
Leeds
LS12 6LX
Masroor Ahmad
KBH Sports and Physical Therapy
27 Melbourne Street
Morley
Leeds
LS27 8BG
David Pearce
White Rose House
Suite 2b, 2nd Floor, 8 Otley Road, Headingley
(Buzzer for Nephos-Solutions)
Leeds
LS6 2AD
Could accident claims solicitors covering Leeds help me if my child has been injured in an accident?
Personal injury solicitors covering Leeds could assist you with claims on behalf of a child you are responsible for. You could register to act as their litigation friend in such cases. This would mean you'd make decisions on cases that involve them. You could help them to get the compensation they deserve along with our personal injury lawyers. Of course, you could leave it until they turn 18, and they could make a claim for themselves. However, in some cases this may mean evidence is harder to get hold of. This could affect their claim.
We understand that this may mean do you have a difficult decision to make about their claim. Do you claim on their behalf or do you wait and let them do that for themselves? Only you can make that decision, but we are held here to help guide and support you in doing so. Please do not hesitate to contact us for assistance. Our specialist solicitors are on hand to help you get the compensation your child deserves, and we do not charge for telephone advice from our personal injury team.
What should I be looking for in accident claim solicitors covering Leeds?
Making a claim for compensation does not require you to use a lawyer. The idea that it is a legal requirement is a common misconception. However, many people prefer to use someone with legal experience such as law firms or solicitors to help them with their claim. There are benefits for doing so, which could include the solicitor being able to pull together a stronger case. They could also have experience in negotiating for the maximum compensation possible. Of course, there are lots of different lawyers and solicitors out there, and while they may be registered in England and Wales, and authorised and regulated by the Solicitors Regulation Authority, some of the legal services they provide, especially when it comes to customer care, could differ.
It would be wise to search for a solicitor with years of experience. Not only this but they should have relevant experience to your case. You could ask them whether they would be able to give you free legal advice, and whether they work on a no win no fee basis. Here at Accident Claims UK, we would be happy to answer any questions you might have about the services we provide. We prefer you to make a well-informed choice about who to use for your personal injury claim.
How much could accident solicitors for Leeds claims get me in compensation?
When you look for accident solicitors for Leeds claims, one of your first questions might be 'How much compensation can an accident solicitor for Leeds get me?'. Unfortunately, it would not be possible to accurately obtain a compensation figure in advance of your claim being settled. However, our advisors could talk to you about the guidelines for compensation for your injury. 
Below, you'll see a table containing compensation values for different injuries. These are from the Judicial College Guidelines. We have used the April 2022 release of this publication to populate the table. However, these are only guidelines and cover the general damages part of a claim (compensation for pain and suffering of your injuries). If you would like to speak to us about claiming for an injury that doesn't appear in the table, please call our team.

| Injury | Compensation | Additional information |
| --- | --- | --- |
| Wrist Injuries | £47,620 to £59,860 | Loss of Function |
| Wrist Injuries | £12,590 to £24,500 | Less severe |
| Mental Anguish | £4,670 | Fear of imminent death |
| Shoulder Injuries | £12,770 to £19,200 | Serious |
| Shoulder Injuries | £19,200 to £48,030 | Severe |
| Neck Injuries | £24,990 to £38,490 | Moderate |
| Neck Injuries | In the region of £148,330 | Severe |
| Back Injuries | £91,090 to £160,980 | Severe |
| Back Injuries | £27,760 to £38,780 | Moderate |
What other damages could No Win No Fee solicitors for Leeds help me claim?
There are other damages that you could be eligible to claim for, as well as damages for pain and suffering. These are known as special damages. They relate to the financial impact of the injuries or illness you've suffered. They could include income losses, care costs, medical and travel expenses, for example. 
Our No Win No Fee solicitors covering Leeds could help explain what evidence you'd need to claim for such damages. Rest assured, our claims solicitors who assist Leeds claimants would work hard to ensure you receive all the compensation you are eligible for.
Learn More
How To Go About Reporting Accidents In Leisure Facilities
Reporting A Car Accident In Leeds
We hope this accident claims solicitors covering Leeds guide has been useful. Now you'll know what kinds of claims personal injury solicitors covering Leeds could assist with.