By Joanne Jeffries. Last Updated September 9th 2021. Welcome to this guide covering accident claims solicitors for Liverpool claims. Here, we explain what you need to know about finding personal injury solicitors for Liverpool injury claims.
On this page, you will read a guide to using a solicitor to process accident claims in Liverpool for you. Within this guide, you should learn everything you need to know, in order to start making informed choices about your own personal injury claim. We will cover many of the kinds of accidents that people need to claim for, and why they could be eligible to make a claim.
You won't find a personal injury claims calculator on this page. We prefer to give personalised estimates of how much you could claim, rather than use a generic tool. To find out how much you could possibly claim, as well as to get answers to questions such as which accident claims time limit will apply in my case? Please speak to a member of our claims team on 0800 073 8801. They will answer any questions you have and also explain to you how our no win no fee claims service could be the perfect vehicle for making your claim successfully.
Choose A Section:
What Is An Accident Claims Solicitor Covering Liverpool?
In order for a person to be eligible to use a solicitor to process an accident claim for them, they must have suffered some form of harm that was at least partially caused by a third party. This could be financial harm, physical harm or both.
It could also be possible to make a claim if the injured party contributed to the accident in some way. In these circumstances, the two legal teams representing the claimant and the defendant will negotiate a percentage of liability. This percentage will then drive any compensation settlement that is offered. If you are unsure who you need to make a claim against, we can help. Speak to one of our claims advisors on the number at the end of this guide. They will be able to tell you whether you are eligible to make a claim, and who you would claim from. It may also be of use to you to know that we have solicitors who are based in the Merseyside area.
Statistics – How Common Are Accidents At Work In Liverpool?
The table below, shows data that relates to occurrences of a Liverpool accident at work.
| Location | Total - non fatal injuries | Total - non fatal injuries per 100,000 workers | Fatal injuries |
| --- | --- | --- | --- |
| Liverpool | 625 | 212 | 2 |
You can find more information about this kind of data at the following link:
Below, we reveal what the HSE say are the most common causes of injuries at work in 2019/20.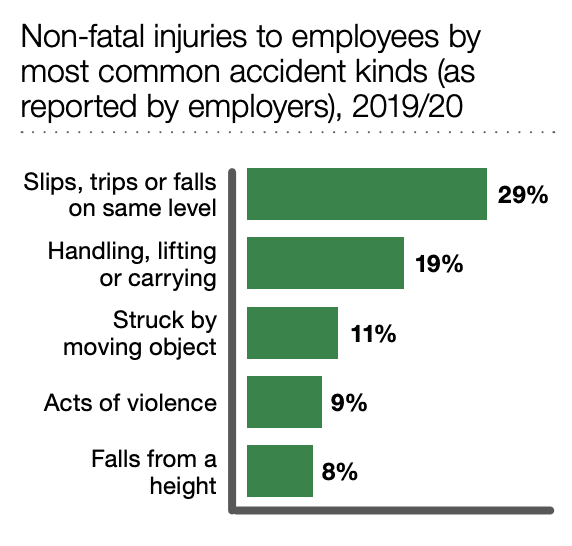 Claims For An Accident At Work
Every company in the UK must comply with all legislation and Health and Safety Executive directives related to the industry they work in, at all times. This includes the Occupiers Liability Act 1957, that also covers public safety. These rules and regulations are in place to ensure that the workforce is kept safe at all times, even when they are working offsite. When compliance fails, it can expose a member of staff to risk, resulting in an accident at work. Some of the most common workplace hazards and injuries can include:
Exposure to high levels of noise.
Soft tissue injuries and muscle strain.
Falling objects injuring a member of staff.
Long-term health issues such as Repetitive Strain Injury (RSI).
Vehicular collisions.
Severe cuts, lacerations, bruises and fractures.
Exposure to harmful chemicals.
When this kind of hazard or injury is caused by the employer, then it could be possible for the injured party to make an accident compensation claim for the unnecessary harm that they have suffered. A team of accident claim solicitors could be able to process a claim for them.

Claims For Road Traffic Accidents
Arguably of all claims in the UK, one of the most common types of accidents claimed for, is road traffic accidents. Claims can be made by a driver, passenger or even a pedestrian that has been hit by a moving vehicle in a road traffic accident. Claims will generally be made against one of two kinds of legal entities:
Another road user – this could be a driver, a pedestrian, or in some cases even a passenger that has contributed in some way to an accident that harmed the claimant.
An organisation – that was responsible for the hazard that caused the accident. For example, if a road is in disrepair, and this causes a vehicle to crash, it could be possible to claim against the local council.
If it can be proven that a third party was even partially responsible for the accident, our claims service could be able to help you to make a claim. Speak to one of our claims experts on the number below to proceed. Even if you're injured in an accident that wasn't your fault entirely, but you were slightly at fault we could assess your case, and offer legal advice to you. We could then provide solicitors who work on a no win no fee basis to help you.

Claims For Trips, Falls Or Slips
As well as claims for road traffic accidents,  slips, trips, and fall claims are fairly common in the UK. These simple accidents can happen anywhere, and at any time, and are caused by hazards such as:
Water or food spilt on the floor of a restaurant, café, fast food outlet, etc.
Broken kerbstones and paving slabs on a public road.
Cleaning or maintenance equipment left blocking a public walkway.
Damaged floor coverings such as torn carpets, cracked tiles and warped flooring in a publicly accessible building.
Hazards such as these (and many more) can result in a member of the public coming to harm. Injuries can range from simple cuts and bruises, trough to traumatic injuries such as a fractured pelvis, or even death in the most extreme of circumstances. If you become the victim of such an accident, it could be possible for our accident claims solicitors covering Liverpool to process a claim for you. Our personal injury lawyers are authorised and regulated by the Solicitors Regulation Authority. They could help you get the compensation you deserve for the difficult time, pain and suffering you've experienced.

Claims For Assault And Criminal Injuries
Assault is a criminal offence, and if the perpetrator can be identified, they could be prosecuted. However, alongside the criminal case, the victim of assault could potentially make a claim for the physical and/or psychological harm that they have suffered. However, it is very likely that the person who was the wrongdoer in the assault, will not have the financial means to compensate the victim. This is where the Criminal Injuries Compensation Authority (CICA) comes into play. CICA is a Government organisation, that maintains a fund that is used to compensate victims of violent crimes. Making a claim through CICA is something that our panel of accident claims solicitors can assist you with. Please use the number at the end of this guide to learn how.

Accidents In A Public Place
Accidents that occur in a public place, resulting in injuries to a person visiting/ passing through that area could result in a claim being made against the public or private entity that is responsible for the maintenance of the area. It is also their responsibility to reduce or eliminate and risks associated with the area in question.  For example, hazards that could lead to such claims are:
Faulty equipment at a children's playground causing an accident.
Damaged walkways in a supermarket car park causing a trip accident.
A cracked or broken mirror in a public toilet causes an injury.
A torn carpet in a public library causes a trip accident.
In the case of accidents in a public space such as a park, road, council car park, etc. it could be the local authority that you pursue for damages. In other cases, such as the supermarket car park example above, it would be the operator of the premises that you pursue for damages. If you are unsure who you would need to claim against, a member of our accident solicitor advisory team would be able to tell you. You can contact them on the number at the bottom of this guide. They can also explain how our panel of personal injury solicitors covering Liverpool can help you by processing your claim on your behalf.

Medical Malpractice Claims
Despite rules and regulations that are in place to protect patients, and despite the best intentions of medical professionals, patients can be harmed as a result of clinical negligence. For you to be eligible to make a claim of this nature, the following three statements would need to be true:
A medical professional had a duty of care towards the patient making the claim.
The medical professional failed in this duty of care in some way, and this indirectly or directly resulted in some form of harm to the patient.
The failure to meet the duty of care could have been avoided in some way.
If all of these statements are true in your own case, you could be eligible to make a claim for compensation. Speak to one of our claim advisors to find out how or click here for medical negligence information.

No Win No Fee Accident Claims Solicitors Covering Liverpool
Our claims service is a simple and effective way for you to gain access to the services of a team of No Win No Fee solicitors covering Liverpool. When you use the services of a No Win No Fee solicitor, you don't pay them anything when they start working on your claim for you. You also don't pay them anything while they are processing your claim, or if they don't manage to get you any compensation. When they are successful, they will take their fee out of the compensation payment they receive on your behalf, before forwarding the remainder to you. To find out more about the benefits of utilising a No Win No Fee agreement, please do not hesitate to contact us.

Take The Next Steps
Whether you simply need some accidents claims advice, or you are ready for one of our accident claims solicitors to begin working on your claim, your next step is to speak to a member of our claims team on 0800 073 8801, even out of office hours or fill in one of our enquiry forms. They will answer any questions you have, evaluate your claim for you, and if appropriate, recommend the course of action you should take.

Accident Claims FAQs
How Could Accident Claims UK Help Me?
When you use our panel of accident claims solicitors, you will be dealing with a legal team that specialises in assisting claimants to make compensation claims. They will always keep you in the loop, in a transparent manner, updating you on what they are doing on your behalf. They will do all they can to ensure that we get you the most compensation we can, and will always be no further than a phone call away if you need help or advice.
Should I Choose A Solicitor Near Me?
There is no legal requirement for you to use a local law firm to make accident claims in Liverpool. But you may be pleased to know that we have solicitors who are based in the Merseyside area and are able to assist you in making a variety of compensation claims.
Do I Need A Medical Assessment?
Having a medical examination is something that you can do to assist your personal injury solicitor when they process your claim. The resulting report can be submitted in support of your claim, to prove the severity of the harm you have suffered, and the effect it has had on your life.
Where Could My Medical Assessment Be Carried Out?
Our team of accident claims solicitors covering Liverpool can arrange for you to have a medical examination local to Liverpool with one of our panel of doctors:
| | | | |
| --- | --- | --- | --- |
| Jahanzeb Noor Ali | 88 Rodney Street | Liverpool | L1 2TQ |
| Marta Molinero | 72 Rodney street | Liverpool | L1 9AF |
Finding the right accident claims solicitors covering Liverpool to work on your personal injury case
If you are thinking about making a claim for compensation, finding good personal injury solicitors covering Liverpool is one of the first steps you may wish to take. While you could make a claim by yourself (there is no law that requires you to hire a solicitor), this could affect your claim negatively. You wouldn't normally get a second chance to make a claim and you could put yourself at a disadvantage by going into proceedings with experienced legal counsel. This could see you take a much lower payout, or you could miss out on compensation altogether.
So, hiring a solicitor could be highly beneficial but it is also important to make sure that the solicitor is experienced and has a good reputation too. Take the time to read reviews that have been left by others. You should also ensure that the solicitor is willing to offer their services on a no win no fee basis. Plus, they should be easy to communicate with and have a good track record, as well as being registered in England and Wales and being authorised and regulated by the Solicitors Regulation Authority.
Making a compensation claim for housing disrepair illnesses – could accident claims solicitors covering Liverpool help?
If you have experienced an illness or injury due to the condition of the house you reside in, there could be a chance that you may be able to make a claim. Of course, someone else needs to be responsible for the property in order for this to be the case. You would not be able make a claim if you are the homeowner, unless someone has done some shoddy construction work and you want to take action against the person who carried out the work. When we are talking about housing disrepair, we are talking about landlords and housing associations that owe you a certain standard of living. Basic health and safety is a legal (and moral) requirement, after all.
There are a lot of different health problems that can arise due to issues in terms of property condition. For example, if there is mould in the property, you could end up suffering from asthma or a lung condition. Alternatively, if there is something wrong with the structure of the house or there is a fire that breaks out due to a hazard, these are all incidents that can cause serious injuries. Gas checks are also required yearly to ensure you do not sustain carbon monoxide poisoning. Failure to carry out such checks or perform repairs in a timely manner could lead to injury or illness. If this has happened to you, why not call our team to see if you could claim.
Resources And Information
These additional links could be of some use:
How To Report Workplace Accidents
How To Report An Accident At A Leisure Facility
You may also like to read these guides:
Injuries Caused By A Broken Chair
This marks the end of this guide covering accident claims solicitors for Liverpool claims. Now you should know more about finding personal injury solicitors for Liverpool injury claims.