By Joanne Jeffries. Last Updated September 1st 2021. Welcome to our accident claims solicitors covering Luton guide. Below, we show you why you don't need to use local personal injury solicitors for Luton accident claims.
Have you suffered an injury or an illness that was caused by the actions of a third party? Would you like to know a) whether you have a valid claim, and b) how to start a claim? If so, read on, this guide will help you by providing information and advice about the claims process. We will look at many of the causes of accident claims, and how accident claims solicitors covering Luton could help victims to make a claim for compensation.
Even though we have tried to include the right kind of information that will help the majority of people with a cycling accident, fatal accident or medical negligence claim, your accident claim in Luton might have a unique aspect that this guide does not cover. If this is so, you can talk to one of our claims team any time of the day or night at our registered office on 0800 073 8801. They will address your questions, and also explain to you how our no win no fee accident claims solicitors can process your claim for you.
Choose A Section:
What Is An Accident Claims Solicitor Covering Luton?
We always advise using an accident claim solicitor when it comes to personal injury as they have the know-how when it come to laws and legislation, but do you know the kinds of things your solicitor is going to help you with? When one of our panel of accident claims solicitors handles your claim for you, they can:
Evaluate your claim and tell you how much compensation you could be able to get.
Assist you in preparing documented evidence to support your claim.
Process your claim for you.
In the case of an accident claim going to court, your solicitor will represent you to help you claim compensation.
To learn more about the many ways that our solicitors can be of assistance, please use the number at the end of this guide to contact our claims team.

Luton Accident At Work Statistics Taken From The RIDDOR
The table below shows statistics related to workplace accidents in the Luton area, for 2014/15 – 2019/20.
| Location | Total - non fatal injuries | Total - non fatal injuries per 100,000 workers | Fatal injuries |
| --- | --- | --- | --- |
| Luton | 147 | 175 | 0 |
You can find further detailed information about the period 2013/14 – 2017/18, at the following link:
Causes of workplace injuries can be seen in the graph below. You can see the full published statistics for 2019/20 here.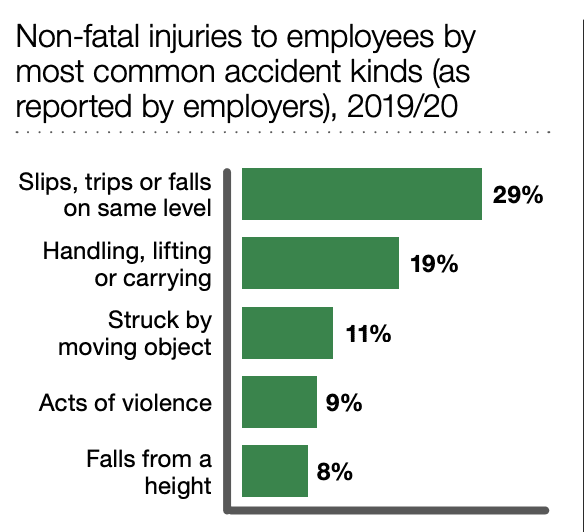 Workplace And Occupational Injury Claims
Have you been injured in an accident at work? Do you realise that your employer is supposed to provide you with a safe and healthy working environment? If your employer has failed to make their best effort to remove all workplace hazards, and this has resulted in you being injured in some way, you could be able to make an accident claim.
There are many ways that an employee can be injured in an occupational accident. Slips, trips and falls, vehicle accidents, manual handling accidents and fires to name but a few. If the employer is responsible for the accident in any way, a personal injury lawyer could be able to process a claim on behalf of the injured employee.

Road Traffic Accident Claims In Luton
When it comes to road traffic accident claims, Luton residents who are injured by the actions of another road user, could have a basis for making a claim for their road traffic injuries, for reasons such as:
A driver following too closely, crashes into the rear of the victim's vehicle.
A cyclist is forced off the road by a driver passing too closely.
A car driver is forced to swerve due to a building works obstruction in the road, causing them to crash.
All of these are examples of how a road user can be injured due to no fault of their own, in a way that could leave them eligible to make a claim. We can provide solicitors that are accident claim specialists, Luton residents can trust to do everything possible to process a claim successfully.

Slip, Trip And Fall Accident Claims
One of the most common kinds of accidents in the UK each year, are slip, trip and fall accidents. A slip trip and fall can be caused by a myriad of very simple hazards, for example:
A person using a public bathroom could slip on spilt water with no warning signs.
Whilst dining in a restaurant, a patron could slip on food that has been dropped on the floor and has not been cleaned up.
While they are walking down the street, a member of the public could trip on a broken paving slab or a pothole.
A cleaner could leave cleaning materials or equipment in a hotel hallway, causing a guest to trip over.
In each of these examples, the accident was caused by a hazard that a third party was responsible for. It could be possible for accident injury solicitors to process a personal injury claim on behalf of the person who was harmed.

Injury And Assault Claims
Injuries suffered by the victim of a violent crime can be both psychological in nature (depression, anxiety, PTSD, etc.) or they can be physical in nature. Violent crimes include:
Physical assault.
Sexual assault.
Rape.
Mugging or other forms of aggravated robbery.
Murder
In some cases, the victim may never know the identity of their attacker. However, it is still possible for the victim to make injury & assault claims. What happens is, that the personal injury solicitor will make a claim through the Criminal Injuries Compensation Authority (CICA). This is a special organisation that is run by the UK Government, that provides compensation for victims of a violent crime when there is no other way for them to claim.

Public Place And Public Liability Claims
There are two main types of areas in which public liability claims could be split into. The first are general public places run by the local council, such as a park, playground, car park, library, etc. The second is a publicly accessible business premises such as a shopping precinct, a train station, or an airport. In both cases, the premises owner/operator must have a valid public liability insurance policy, that the victim of an accident could seek compensation from, when they make a public liability insurance claim if they are injured in such spaces due to negligence.
You may not always know who is responsible for the premises or location you are injured in. If you are on a public street, you know that the local council is responsible for maintaining it to safe standards. But what about if you are injured in an accident at a shopping mall? Who owns the shopping mall, and who is responsible for maintaining it to safe standards? We can help you work out who you need to make a claim against, and then one of our accident claim solicitors could be able to process a claim for you if you have a valid case.

Medical Carelessness And Negligence
Did you know that every medical professional is expected to undertake their duties in a way that never causes harm to a patient unnecessarily? This is known as the duty of care. When a medical professional fails to meet this duty of care due to a mistake, medical carelessness, or some form of oversight, and a patient is harmed as a result, the patient could be able to make a claim. In order for a claim to be possible, the following must all be true:
The patient suffered some form of harm due to the negligent actions of the medical professional.
The medical professional had a duty of care towards the patient.
A failure to meet the duty of care could have been avoided but wasn't, and this resulted in the patient being harmed.
If your own situation ticks all of the boxes above, then you could be in a position to make a clinical negligence claim. If you speak to one of our claim advisors on the number below, they will be able to tell you how we can provide you with a personal injury solicitor who you can rely on to process a medical negligence claim diligently for you. Our panel of accident claims solicitors are not based in Luton but can cover all of the Luton area.

No Win No Fee Accident Claims Solicitors Covering Luton
You have probably heard the phrase No Win No Fee solicitor in the past. But do you really know what it means? A solicitor working under this kind of fee agreement won't expect you to pay anything for your claim to be taken on, or during the time it takes for the solicitor to process the claim for you. You also won't be expected to pay anything to them if the claim is unsuccessful. In fact, the only time you have to pay anything to your solicitor, is once the solicitor has received a compensation payment for you. The fee is taken out of this payment, and the money left is given to you. If you have any questions about how this kind of Conditional Fee Agreement (CFA) works, just talk to a member of our claims team on the number below, they will explain everything to you in more detail.

How To Claim Damages And Compensation
Are you ready for a solicitor to start working on your claim for you? Or perhaps you are unsure of whether you have a valid claim or not, and need some accidents claims advice? No matter what help you need, you can contact our claims team on 0800 073 8801, 24 hours a day, 7 days a week. They will be ready and waiting to provide you with any assistance you need.

Common Issues People Need Answers To
The sections below gives additional information and further clarification of the process that you could to follow to claim damages.
How Could Your Accident Claims Team Help Me?
When we provide you with an accident claim solicitor, they will help you in a number of ways. They will offer you advice on how to overcome the common issues associated with making a claim. They will also provide you with key information, such as the accident claims time limit that will apply, within which you must begin your claim. They will value your claim, and then process it, with the aim of securing you the most accident compensation possible for your case.
Should I Claim With A Personal Injury Solicitor In Luton?
You don't need to use a local firm of solicitors if you do not want to when making accident claims in Luton. looking for a legal firm that specialises in the kind of claim you need to make maybe a more sensible option. Don't worry about where they happen to be located. For example, we offer a nationwide service, that focuses on injury and accident claims. We could be able to assist you, no matter where you live in the country.
Are Medical Examinations Always Necessary?
To get a more accurate estimate of the level of compensation that you could be able to claim than a personal injury claims calculator can give, your claim needs to be evaluated by a solicitor. This means having yourself examined by a medical professional, to judge how bad your injuries are, and whether there will be any long-term effects such as disability.
Where Will I Be Medically Examined?
If you need to make accident claims in Luton, we can organise a medical examination for you by these local doctors:
| | | | |
| --- | --- | --- | --- |
| Adnan Saad | Consulting Rooms | Luton | LU1 1BW |
| | 1st Floor C/O Accident Claims, | | |
| | 167 Dunstable Road, | | |
| Adnan Majid | Maxet House, | Luton | LU1 1RS |
| | Liverpool road | | |
| | Luton | | |
Speak to one of our claim advisors when you are ready to proceed with this.

How could I choose from all the accident claims solicitors covering Luton out there?
There are lots of law firms and lawyers covering Luton injury claims, but how do you choose on that could help you get the maximum compensation possible for your claim? Obviously, you'll want to check they're registered in England and Wales, even though they could be based anywhere in the UK. For personal injury solicitors covering Luton, you might also want to ensure they're authorised and regulated by the Solicitors Regulation Authority too. But aside from this, what should you be considering? Here are a few things we believe it might be worth checking, in order to narrow down your search:
Do they have lots of years of experience in helping claimants with a wide range of injury claims?
Do they have specialist solicitors who have a proven track record in securing compensation settlements/awards?
Would they assist you on a No Win No Fee basis, under a No Win No Fee agreement?
Could they provide an eligibility check free of charge?
Might they also be able give you specialist legal advice over the phone?
Do they keep claimants updated throughout the claim process?
Can you find independent reviews that are positive about their legal services?
We could help you narrow down your search. When you call the team at Accident Claims UK, we'll assess your case and provide you case-specific advice and eligibility checks. Once we have confirmed whether you could have a valid claim, we could connect you with one of our No Win No Fee solicitors to help you start your injury claim.
Could accidents claims solicitors covering Luton help with child accident claims?
If your child has been injured in an accident at school, out on the street or while travelling in a car, we could help you make a claim on their behalf. You could have up until they turn 18 to make a claim as their litigation friend. This means you'd make decisions about their injury claim on their behalf. You could work with a personal injury solicitor that could secure a payout for your child. The payout would normally be held in a trust for the child. However, applications could be made to the court to release some funds, for example if they were needed for medical treatments. To talk to us about making a child accident claim, please call our team.
Further Accident Claims Information
These external links contain more information that could be useful:
How to report an accident at work
Safety advice for the leisure sector
Reporting an RTA to the Bedfordshire Police
These other guides might also be a useful read:
How to make a claim against a hairdresser
Claiming for an accident in a shop
A guide to making a claim for a manual handling accident
Hopefully, you've found our guide to finding accident claims solicitors for Luton claims useful. Now you'll know why you don't need to use local personal injury solicitors for Luton claims.