By Joanne Jeffries. Last updated 10th September 2021. Welcome to this guide for those seeking accident claims solicitors for Oxford claims. Below, we explain what you may need to know about personal injury solicitors covering Oxford.
If you are looking for accident claims solicitors covering Oxford to help you claim compensation for physical or psychological injuries that were inflicted upon you by someone else then this guide could be useful to you.
There are many types of incidents in which a compensation claim could be made providing it has resulted in a physical or psychological injury. This can range from accidents on the road and in a public place to injuries through medical negligence.
Our panel of accident claims solicitors could help you make a successful accident claim despite not being based in Oxford. Throughout this guide we will provide you with examples of where compensation could be claimed for an accident, alongside frequently asked questions and accident claims advice including how to find a solicitor with whom you could have a good solicitor client relationship and what you should look for in a claims management company.
If you feel that you are ready to talk to an accident claim solicitor, call our specialist team on 0800 073 8801.
Choose A Section
What Is An Accident Claims Solicitor Covering Oxford?
An accident claims solicitor covering Oxford is a legal representative who possesses the capabilities to claim compensation on your behalf for a range of different accident types, even though they are based elsewhere in the county. They may also be known as a 'personal injury solicitor' or 'personal injury lawyer' too.
As solicitors are able to cover accident claims from almost anywhere in the country, we recommend for all our clients to broaden their search from 'car accident solicitors near me' when searching for an accident claim solicitor.
Generally, an accident claims solicitor will also:
Assess the validity of your claim and ensure it is correspondence with the accident claims time limit.
Assist in the gathering of evidence for your case.
Progress your claim until its conclusion.
Highlighting Oxford Accident At Work Statistics
Unfortunately, there are a variety of different ways that a person could be harmed in the workplace. In the UK there are 1.6 million people suffering from workplace-related illnesses, and as of the period of 2019/20  a further 65,427 injuries to employees were reported. Additional information can be found here, and the statistics for causes of accidents during this period could be seen below.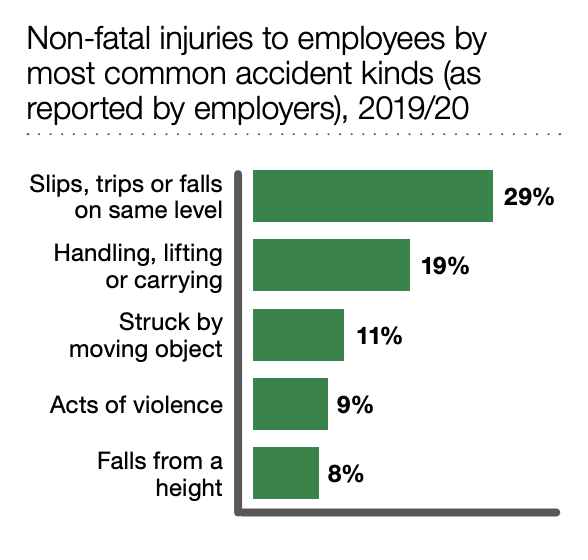 In the table below, the total number of fatal and non-fatal workplace injuries in Oxford is illustrated, as well as the rate per 100,000.
| LOCATION | TOTAL – NON FATAL INJURIES | TOTAL – NON FATAL INJURIES PER 100,000 WORKERS | FATAL INJURIES |
| --- | --- | --- | --- |
| Oxford | 193 | 157 | 0 |
You can download a PDF guide to further annual statistics for other areas of the country through the Health and Safety Executive.
Claiming For An Accident At Work
A workplace accident or injury claim could be brought by accident claims solicitors covering Oxford for injuries caused by unnecessary accidents at work. If an employer has acted in a negligent way, either by ignoring safety guidelines or failing to provide correct training on how to conduct daily activities, such claims could be brought forward.
To avoid the potential for occupational injuries to arise, employers should:
Ensure a safe working environment is provided.
Provide any necessary safety equipment, such as personal protective equipment.
Train employees in a safe manner to ensure their job role is carried out correctly.
Our panel of solicitors could help you claim accident compensation for a workplace injury from an accident at work.
Claiming For Accidents In Public Places
When we raise the topic of accidents in public places, we are referring to a number of different spaces within the public domain. The areas in which any person could freely enter as a member of the public could include a local part, a shop/shopping centre, or leisure centre.
It doesn't matter if the space in question is operated by a public body or private owner either. An accident claim can be brought against both parties all the same. For example, if a local authority overlooks the maintenance of a pavement or a local park and you injure yourself because of this, you could have grounds for compensation.
Speak to a member of our specialist team today for advice about accident claims in public places.
Claiming For Car Accidents And Accidents On The Road
You may want to consider speaking to our panel of accident claims solicitors if you feel that you have grounds for a car accident claim payout in the UK.
If you are unsure about what qualifies to claim for road traffic accidents, this section may be of use to you. Whether they are another car driver, moped driver, cyclist or pedestrian, if a third party has acted negligently and caused you to suffer harm, it could qualify for a claim.
For more information about claiming for car accidents and accidents on the road, check out our online car accident claims guide or call one of our advisors.
Claiming For Falls And Trips
As slip and falls are either one of or the most common ways in which people are injured in the UK, according to data from the Health and Safety Executive, accident claim solicitors may be incredibly experienced in these areas.
Some slip and fall settlement examples that injuries could be caused by include:
An icy pavement that hasn't been properly maintained.
Potholes in the road have causing pedestrians to trip and fall while crossing the road.
Footpaths that have been obstructed by someone negligently leaving items and thus causing a hazard.
These causes could lead to sprains, fractures or other types of musculoskeletal injuries. if you've been involved in an accident involving a slip, a trip or a fall, we'd be happy to speak to you.
Claiming For A Clinical Blunder
If you are looking to use accident claims solicitors covering Oxford to assist you with medical negligence and clinical negligence claims then our panel of no win no fee solicitors could be able to help you claim for negligent medical treatment.
Clinical blunders may occur when a healthcare professional fails to deliver reasonably expected standards of care to a patient that leads to harm of an existing injury or the development of a new injury. This could involve any form of medical professional, from a dental nurse to a private cosmetic surgeon.
Anyone providing you with healthcare services has a legal obligation to uphold a minimum standard of care under professional guidelines. By failing to do so and causing an injury in the process, or commonly referred to as 'avoidable harm', the healthcare professional in question could be considered to be breaking the law.
A personal injury claim could be brought against healthcare providers that are part of the NHS or anywhere in the private sector, providing they have caused you harm. This harm could take the form of:
Misdiagnosed cancer
Permanent disfigurement
Syringe infections
Amputation of the wrong limbs
Damage to healthy teeth
Cosmetic treatment complications
For a more in-depth look at medical negligence and what circumstances have grounds for claims of this nature please read here.
Claiming Criminal Injuries Compensation
Alongside the examples of accident claims that we have already mentioned, our accident claims solicitors could also help you make claim compensation for a criminal act that has caused you to suffer from deliberate harm.
A definition of criminal injuries compensation is 'a settlement paid to the victim of criminal actions which has resulted in physical harm or psychological trauma'. You could be entitled to claim damages for a broken bone or PTSD, even if it presents itself at a later stage.
In circumstances where blameless victims of violent crimes have been injured purposely by another individual(s), the Criminal Injuries Compensation Authority (or CICA) is a government organisation that provides compensation to victims throughout the UK.
If you or someone you know have suffered from a violent crime which has led to physical or psychological injuries at any point in your life, you may be entitled to apply for victims of crime compensation under the Scheme. Check the compensation guidelines for personal injury here.
No Win No Fee Accident Claims Solicitors Covering Oxford
As we have already shown you, there's no need to limit yourself to solicitors purely based in Oxford, even if your accident occurred in the Oxford area. Our panel of accident claims solicitors offer a nationwide service and can assist you in making a claim no matter where you are in the country.
What's more, we offer no win no fee agreements to our clients as we believe this is the most affordable in which you can fund your claim. This type of agreement is beneficial as it allows clients to begin their legal process without having to worry about the financial restraints. If your claim is successful, your no win no fee solicitor's fees will be covered by a pre-agreed percentage from your settlement. If not, you won't have to pay for your solicitor's services. It's that simple. For more information regarding this, please do not hesitate to contact us.
Contacting Our Accident Claims Team
Now that we have come to the end of this guide, your next step could be to contact our specialist team of personal injury solicitors who could help you make a no win no fee claim. Our panel of specialist solicitors are able to cover the Oxford area even though we are not based here.
To begin your claim with one of our no win no fee solicitors, call us on the number at the top of this guide , fill in our contact form or click here to our other contact methods.
Frequently Asked Questions
To help you get additional information about accident claims advice, we have answered some frequently asked questions below.
Why Should I Claim With Your Team?
Our panel of accident claims solicitors have up to three decades of experience in handling countless claims. Where some legal firms offer generalised personal injury claims calculator totals of the amount of compensation you could receive, our specialist advisors could give you a specified estimation of the amount of damages you may receive. With our lines open 24 hours a day, we could offer you a no win no fee agreement for your injury claim.
Does It Matter If I Don't Have A Solicitor Near Me?
With so many different methods of communication available nowadays, it's easier than ever to stay in contact with your solicitor by phone, email or through the post. This means that you could use the services of any legal provider across the country for your accident claim.
Do I Have To See A Doctor?
One important aspect of the accident claims process is a collection of medical evidence to support your claim. This report will be an impartial assessment of the injuries you have sustained and how this has impacted your health. The report will also look into what treatment you require and your future prognosis.
Where Could I See A Doctor?
We work with a panel of doctors who are more than capable of covering various areas across the country to ensure your medical exam for accident claims is carried out. In Oxford, these doctors could include:
Ayubur Rahman
Clarendon Centre – Clarendon House,
52 Cornmarket St,
Oxford,
OX1 3HJ
Alba Sanchez Mascunano
Onsey Mead,
Oxford,
OX2 0ES
Paul Millard
45 Raleigh Park Road,
Oxford,
OX2 9AR
Could accident claims solicitors covering Oxford claims assist if I caused an accident?
If you caused an accident at work or a road traffic accident, and there was no one else to blame, you would not be able to make a personal injury claim. However, it may not be apparent who was to blame at the scene of an accident. This is why we would advise people not to admit fault at the scene. Even the act of saying sorry at the scene could be seen as an admittance of fault. If you believe someone else could be partially at fault for an accident in which you've been injured, it may be that you could still make a claim.
Personal injury solicitors covering Oxford could assist with such claims. These could be known as split liability claims whereupon you may still receive compensation. However, it could be likely that your compensation payout would be reduced. Courts and lawyers could determine the percentage of fault you had for the accident, and reduce your compensation by that amount. If you would like to call to discuss making a split liability claim, we would be happy to help you. Our expert team of advisors could offer you free legal advice during an initial consultation over the phone.
How do I know whether accident claims solicitors covering Oxford would be an appropriate choice for my claim?
When you search for an accident claim solicitor for an Oxford accident, you might notice that many law firms advertise that they are authorised and regulated by the Solicitors Regulation Authority, and that they are registered in England and Wales. This, however, does not mean they all offer the same level of legal services. It could be important, therefore, to make a few extra checks when making your shortlist of law firms and solicitors to use for your claim. Some of the things you might want to look into could include how many years experience they have in assisting claimants with cases like yours. You might also want to ask them whether they offer to assist with claims on a no win no fee basis. Another consideration could be whether they could offer you any free legal advice specific to your case, and what other claimants have said about their services.
All this could help you to determine whether you're choosing a reputable, professional law firm or solicitor for your case.
Get Additional Information
Head Injury Compensation Claims Experts
What constitutes as compensation for a head injury
Car Accident Compensation Claims
Expert advice about car accident compensation claims and how you could be entitled to damages.
Reporting Workplace Accidents
How to report a workplace accident and what precautions to take.
Report A Council Accident
A guide to the processes of reporting a council accident
Courts In This Area
What courts are local to you?
We hope this guide for those seeking accident claims solicitors for Oxford claims has been helpful. Now you should have more information about choosing personal injury solicitors covering Oxford for your claim.