By Joanne Jeffries. Last Updated 2nd September 2021. Welcome to this accident claims solicitors Portsmouth claims guide. Here, we discover why locally based personal injury solicitors for Portsmouth claims are not your only option.
Have you been injured in an accident that wasn't your fault? Are you looking for accident claims solicitors covering Portsmouth? Are you unsure who to use to help make your Portsmouth injury claim? If any of the previous questions are true, then this guide could help. We're going to cover claims such as slip and fall at work accidents; Portsmouth road traffic accidents and other accident claims in Portsmouth throughout this guide.
Even though we're not based in Portsmouth, our panel of accident claims solicitors can cover the area which we'll explain in more detail later in this guide. If you'd like to discuss how we could help you begin a no win no fee claim, please call one of our specialist advisors on 0800 073 8801 today.
If you'd prefer to find out more about hiring an accident claim solicitor, please continue reading this handy guide.
Choose A Section
What Is An Accident Claims Solicitor Covering Portsmouth?
An accident claims solicitor is also known as a personal injury claims solicitor are there to provide advice, support and legal representation to those who want to pursue a claim for any injury or illness they have suffered due to third party negligence. They tend to work on a no win no fee basis which means they might not take on riskier claims where the chances of success aren't high enough.
To establish whether a personal injury lawyer might take on your case, see if you can answer yes to these 4 questions:
Were you owed a duty of care by the defendant?
Did they breach their duty and cause an accident to happen?
Were you injured or made ill during the accident?
And did the accident happen within the accident claims time limit of 3 years?
The time limit could also begin from the date your injuries were diagnosed. There are exceptions of course so please call our expert advisors for more information. These questions are an indication of what a solicitor might ask before agreeing to offer a no win no fee service.
If they do take on your case, your personal injury solicitor will usually:
Guide and help you with the collection of supporting evidence.
Hire medical specialists to assess your injuries.
Deal with any communication with the defendant, their solicitor or their insurance.
Provide advice about any compensation offers they receive on your behalf.
Our accident solicitors offer all of the above for cases they take on, whether they're providing a legal service for a slipping or tripping accident or a medical negligence claim. We can help you to begin your claim by assessing it for free and introducing you to an accident claim solicitor if we believe you have a strong case. Our team from our registered office are happy to provide free accident claims advice for Portsmouth ad the surrounding area and answer any questions that you may have.

How Many Accidents At Work Happen In Portsmouth?
The table that follows shows the number of accidents in Portsmouth workplaces. It shows the total, the total per 100,000 employees and the number of fatal workplace injuries. To see the data in comparison to other areas, please take a look at this report.
| Location | Total - Non Fatal Injuries | Total - Non Fatal Injuries per 100,000 workers | Fatal Injuries |
| --- | --- | --- | --- |
| Portsmouth | 194 | 199 | 0 |
Alarmingly, according to statistics release by The Health and Safety Executive (HSE), over 38 million days were lost due to workplace illnesses and injuries in 2019/20 alone. Below, you can see other key facts.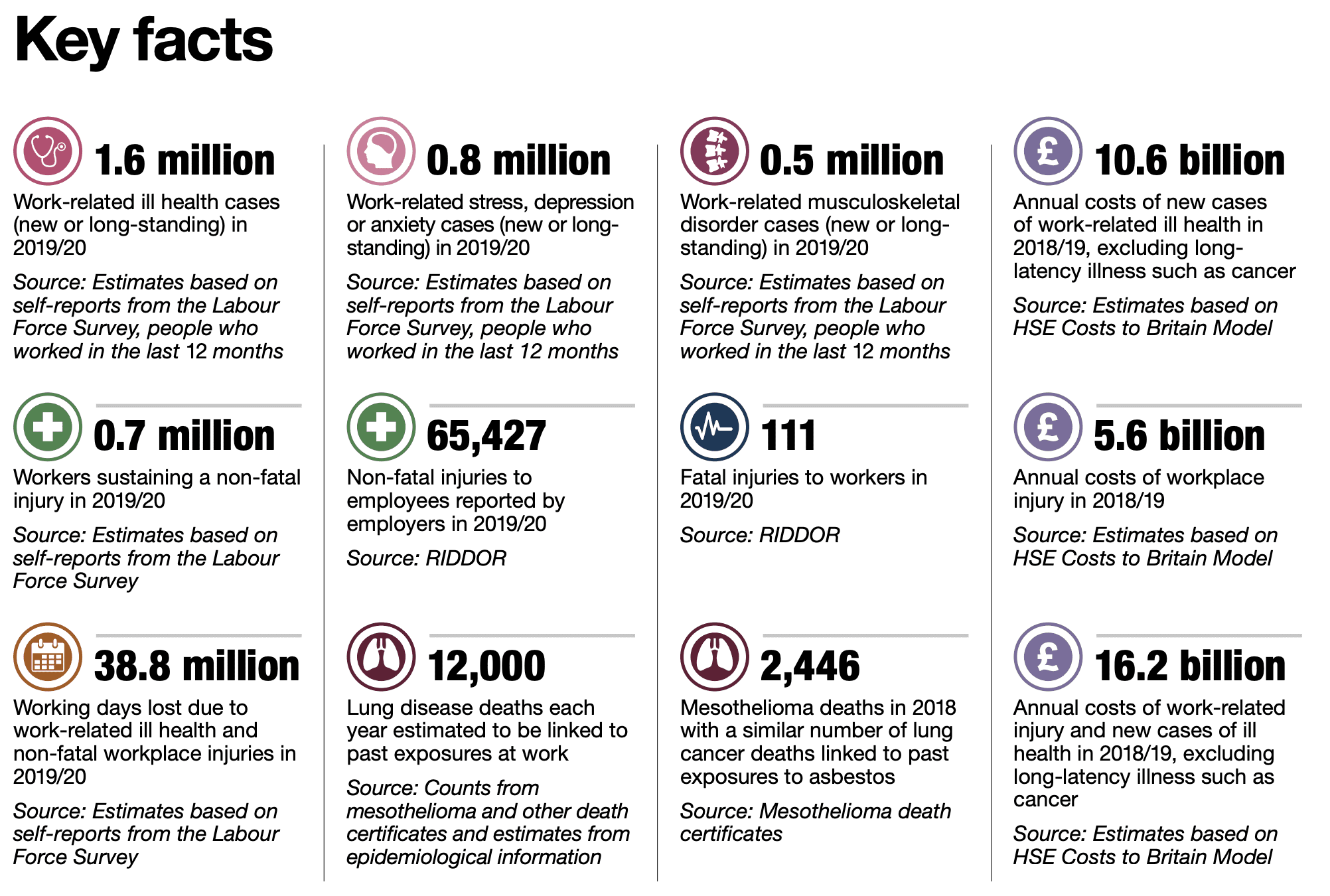 Accidents In The Workplace
All employees regardless of the type of employment are owed a duty of care from their employer that they will be working in an environment that is healthy and as safe as possible. If you are injured while at work because your employer has not adhered to obligated legislation to do with workplace safety then you may have grounds to make a personal injury claim. Accidents at work claims can also take into account industrial disease that can develop due to unsafe working practices. Employers must risk assess all tasks they ask their workforce to partake in so that any foreseeable injuries, illnesses and accidents can be reduced or eliminated.

Trip, Fall And Slip Accidents
It's quite common for a trip, slip or fall to occur just about anywhere in everyday life. That doesn't automatically mean you'll qualify for compensation if you're injured though. The fall would need to as the result of somebody else's negligence.
Some common injuries which happen during a fall include:
Head injuries.
Soft tissue damage.
Ligament damage.
Fractured bones such as a broken hand or wrist.
Back injuries.
Muscle tears.
Proving that somebody else was the cause of the accident requires evidence. If you're injured in a fall, try to photograph the cause of your accident. For instance:
Take a picture of a wet floor if you slipped on it because there were no warning signs.
Photograph a broken handrail if it caused you to fall down the stairs.
Or take a picture of a door mat at the entrance to a building if it was out of position and the cause of your injuries.
Claims For Injuries Caused By Assaults
There is a compensation scheme to help victims of violent crimes which many people don't know about.  The Criminal Injuries Compensation Authority (CICA) was set up by the Government to help those affected by crime.
It's not the same as a personal injury claim as compensation amounts can differ (especially with multiple injury claims). There are different reporting requirements and time limits too. Claims can include compensation for injuries and suffering as well as financial expenses.
It's important that your claim is filed correctly to ensure you receive the right level of compensation for your suffering. Therefore, if you've been injured in a Portsmouth criminal assault, please get in touch and let us help you make a CICA claim.

Portsmouth Road Traffic Accident Claims
You're probably aware that medical claims for a car accident are possible if another vehicle causes an accident in which you're injured. Commonly, this could be for whiplash or other similar injuries.
Pedestrians, cyclists, motorcyclists, passengers and drivers could all seek compensation if their injuries were caused by another road user. This could be through lack of attention, careless driving, dangerous driving and even criminal acts such as drink or drug driving.
There are even schemes in place to help you claim if the driver was uninsured. Please call our accident claims department to discuss whether you could make a claim today.

Medical And Clinical Negligence
Any medical professional could be liable for medical negligence if they cause a patient to become avoidably ill, suffer a preventable injury or if their existing condition is made worse because of a mistake or negligent act.
Claims can be made against those performing medical treatment or cosmetic procedures in both the NHS and private healthcare establishments.
You could claim for:
Surgery on the wrong body part.
Suffering caused by a negligent misdiagnosis which means your treatment was delayed which caused your health to suffer unnecessarily.
Infections caused by poor hygiene standards.
Illnesses caused by the wrong medicine being prescribed or administered.
A medical professional or health care worker could include; GPs, care workers, cosmetic surgeons, dentists, anaesthetists, midwives and paediatricians.
If you would like to discuss a medical or clinical negligence claim, please contact an advisor today.

Accidents Which Happened In A Public Place
If you're injured in an accident in a public place due to third party negligence, it can be tricky to determine who's responsible.  Some cases are more straightforward, such as accident claims against the local authority because you've been injured by a pothole, but others can be much more difficult.
If a public place is owned by one party but occupied or used by another (a shop for instance), then both parties might deny responsibility for your accident and blame the other. Without proper legal support, trying to handle their objections can be tricky, especially without knowledge of relevant legislation to back up your claim.
Luckily, our panel of accident claims solicitors understand this area very well and could help you determine who is responsible and direct the claim accordingly.

No Win No Fee Accident Claims Solicitors Covering Portsmouth
When hiring a no win no fee solicitor you are removing a lot of the stress involved with claiming and the financial risk. No win no fee agreements are offered by many accident claims solicitors covering Portsmouth. They mean that:
The solicitor won't ask for any up-front payment to allow the case to start.
They won't be paid by you if they fail to receive any compensation.
If they win the case, they will deduct a success fee (limited to 25%) from your compensation to cover their services.
All of our accident claims solicitors offer no win no fee services for any claim they help with.

Making An Application For Accident Compensation
If you'd like to discuss making accident claims in Portsmouth today, then you can get in touch with a specialist on 0800 073 8801 right away. If you would like us to call you back when it's convenient, then you can fill in this accident claim form.

Commonly Asked Questions
Because we often get asked similar questions by new clients, we've decided to answer some of them here.
How Could A Solicitor Help Me Make An Accident Claim In Portsmouth?
Our accident claims solicitor's specialise in accident compensation claims and are happy to assess your claim to help you decide whether you have a claim or not. Some have up to 30 years' experience in making claims and can help with; slips, falls and trips; road traffic accidents and many other types of accident claims in Portsmouth.
Our advisors are friendly yet professional and keen to ensure every client receives the correct amount of compensation for their injuries.
Will I Have To Claim With An Accident Solicitor In Portsmouth?
With the modern world we live in, many accident claim solicitors are now willing to provide their service over the telephone and email which means you don't have to be tied to choosing local solicitors to make your accident claim if you do not want to.
Our panel of accident claims solicitors are not based in Portsmouth but can cover the Portsmouth area and offer a no win no fee service for any claim they take on. If you would like free accident claims advice or would like to begin a personal injury claim, please get in touch today.
Medical Assessments And Examinations Explained
For any accident claims in Portsmouth, you'll need to be assessed by a doctor or medical specialist. They will provide a report for your personal injury solicitor which will explain how your injuries have affected you. It will also set out any future impact the injuries are likely to cause.
To prevent you travelling too far if you choose to let us help you with your claim, we have a panel of doctors across the UK, including in Portsmouth.
Where Will I Have A Medical Exam?
Here are some of the specialists we could use in the Portsmouth area to undertake your medical assessment:
Aybur Rahman
Imperial Medical,
2 Spur Road,
Portsmouth, P06 3EB.
Alba Mascunano
Western Road,
Portsmouth, PO6 3EN.
Ana Ruiz
Queen Street,
Portsmouth, PO1 3HS.
This is sample of the doctors and medical specialists we could use in the Portsmouth area.

What do I need to consider when choosing accident claim solicitors covering Portsmouth?
When you look for accident claims solicitors covering Portsmouth as we've already mentioned, he wouldn't have to necessarily choose a locally based solicitor. While this could be of benefit to your case, as it gives you much more choice, there are lots of law firms and solicitors out there that all seem to promise the same kind of service. Differentiating between all of the personal injury solicitors covering Portsmouth claims could be very difficult indeed. Therefore, there are some considerations that we believe could help you to make your choice.
We have already mentioned that location doesn't matter. However, you should make sure that your chosen solicitor is registered in England and Wales to practice. They should also be authorised and regulated by the Solicitors Regulation Authority. Other considerations you might want to take into account include how many years experience they have, whether they have handled lots of different claims, or any like yours before and whether they offer a no win no fee service. Some other questions you might want to ask them is how they keep you updated throughout the course of your claim, whether they could offer you any free legal advice, and whether that legal advice comes with any obligation to use their services.
Here at Accident Claims UK, we like to think we represent a great choice for claimants looking to make a range of personal injury claims. Please get in touch to ask us any of these questions, as we would be delighted to answer them.
Could accident claim solicitors covering Portsmouth help me if I've suffered an allergic reaction?
if you have consumed an allergen unknowingly due to a food business' negligence, you could claim compensation for the resulting allergic reaction. Most people who have food allergies take great care when they are purchasing and consuming food outside of the home. They want to avoid consuming the allergens they are allergic to so that they don't have an allergic reaction. However, if a food business does not take their responsibility to provide allergen information seriously enough, and they provide incorrect information or do not provide the information that they legally need to, this could result in someone unknowingly consuming allergen.
Allergic reactions could range from minor to severe. Some may even be life threatening, such as anaphylaxis. No matter how severe the allergic reaction you've suffered was, please give us a call to check your eligibility to claim.
Extra Information
Now you've reached the end of this guide about accident claims solicitors who can cover the Portsmouth area, we've decided to provide you with some more resources, below, which you might find useful.
Portsmouth Court – Details from the local court including contact details and opening times.
Leisure Centre Accident Reporting – Information on how to report accidents in public leisure centres.
Road Traffic Accident Reporting – A website from Hampshire Police where you can report car accident in Portsmouth.
FAQs – A more comprehensive set of personal injury claims and accident claims questions and answers.
Car Accident Claims Process – This guide gives more information on how to claim following an RTA.
We hope this accident claims solicitors Portsmouth claims guide was useful. Now you could understand why local personal injury solicitors for Portsmouth claims are not your only option.