By Joanne Jeffries. Last Updated 6th September 2021. Welcome to this accident claims solicitors Southport guide. Here, we explain some things you could consider before choosing personal injury solicitors covering Southport for your claim.
Below is a guide that will attempt to give you all of the background information you need about making an accident claim in Southport. The information provided in this guide should help you make informed decisions about your own circumstances and understand how a personal injury lawyer could be able to help you by processing a claim on your behalf.
You can contact our claims team on 0800 073 8801 24 hours a day. They will be able to give you answers to any specific questions you have. They will also explain how our service works and how our team of no win no fee accident claims solicitors covering Southport could be able to help you receive a settlement amount for your damages.
Choose A Section:
What Is An Accident Claims Solicitor Covering Southport?
If you have never had dealings with a solicitor before, you may be unclear of the role one will play when you make an accident claim. Your lawyer will provide help, advice and information about making a claim. They will also be responsible for processing your claim for you. For example, your solicitor will:
Tell you the accident claims time limit which applies in your case.
Value your unique claim for you more accurately than a generic personal injury claims calculator.
Help you prepare for making a claim and get your evidence in order.
Process your claim for you and attempt to reach a settlement.
Of course, depending on the circumstances of your claim, your solicitor may need to undertake other tasks as well. If you would like to know how our panel of accident claims solicitors can help you to make your claim, please speak to one of our claims team on the number at the bottom of this guide.

Accident At Work Claims For Compensation
It is estimated that in 2019/20 the number of working days lost due to work-related ill health in the UK was 38.8 million. Every employer in the UK must, by law, take all sensible measures to mitigate health hazards in the workplace. The Health & Safety Executive in the UK is responsible for monitoring workplace safety, ensuring employers comply with all H&S regulations. Unfortunately, despite the best efforts of both the HSE and employers, workplace accidents can and do still occur. When these accidents are caused by employer negligence, it could be possible for the employee that was harmed to make an accident at work claim.

Below, we show you the most common types of accident at work causes as per the HSE 2019/20 statistics.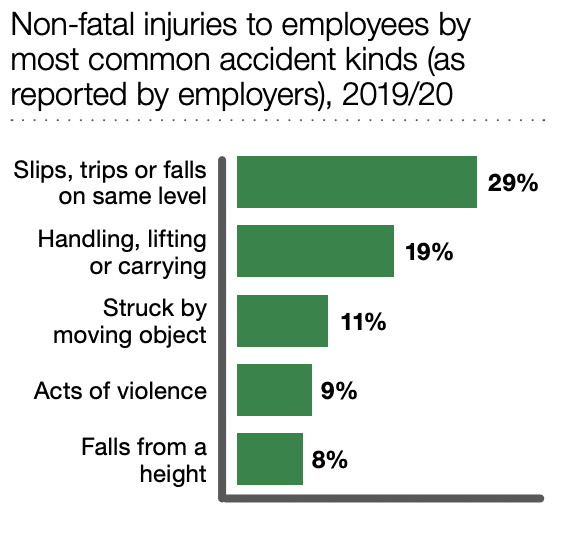 Reported Injuries At Work In The Merseyside Area
The table below relates to the Merseyside region, and shows the number of occurrences of fatal and non-fatal workplace accidents for a period of a number of years.
| Location | Total - non fatal injuries | Total - non fatal injuries per 100,000 workers | Fatal injuries |
| --- | --- | --- | --- |
| Merseyside | 1515 | 276 | 3 |
You can find further detailed information about the period 2014/15 – 2019/20, at the following link:
Compensation Following Road Accidents And Whiplash Injuries
According to the UK Government, in 2016 alone, there were 181,384 casualties caused by road traffic accidents across the country. In fact, road traffic accidents are the most common of all accidents that UK residents make claims for. And of all of these claims, the single most frequent injury that is claimed for is whiplash. It isn't only drivers that can make a claim for an injury caused in an RTA, all of these entities could be able to make a claim.
A person riding a horse.
A person riding a motorcycle.
A cyclist.
The driver of a vehicle.
A passenger in a vehicle.
A pedestrian.
Any other road user.
If you are injured in an accident on a public road, then as long as a third party was at least partially to blame for causing the accident, our solicitors could be able to help you to claim compensation for any injuries following the road traffic accident.

Slip, Trip Or Fall Compensation
In this section, we look at some of the reasons people make a claim for a slip trip or fall personal injury. Slips, trips and falls are a very common kind of accident, they are also the most frequent workplace accident. They can be caused by hazards that include:
Dirty or wet floors (that were not signposted as a hazard, or cleaned promptly).
Uneven pavement surfaces (such as cobblestones, potholes, or broken paving slabs).
Floor coverings that are damaged (cracked tiles, torn carpets, etc.)
Obstructions (such as stock left on the floor of a shop, or cleaning materials left in a hotel hallway).
There are a great many hazards that can cause a slip, trip or fall. If the hazard was the fault of a third party whom owed you a duty of care then it could be possible for you to make a claim.

Criminal Injury Compensation Cases
Violent crimes don't only cause physical injuries, they can also result in serious psychological problems such as post-traumatic stress disorder (PTSD) or depression. In some cases, the psychological damage can be worse than the physical harm the victim suffers, having a long-term effect upon the victim's life.
In criminal injury compensation cases, the claimant may not always be able to bring a claim against the perpetrator. What happens then, is that a claim can be made through a special Government run body, the Criminal Injuries Compensation Authority (CICA). CICA provides a way for victims of violent crime to receive compensation. Our solicitors have experience in processing such claims for our clients and they could be able to help you too. Speak to one of our claim advisors on the number below to learn how.

Public Liability Accidents
What happens if you suffer an injury in Southport in a public place that could have been avoided?  Who could be responsible?
Public spaces such as roads, playgrounds, parks, and also public buildings such as the town hall, or the local court, may fall under the remit of the local authority. Therefore, if you are injured in an accident in such a place, and it can be shown the local council failed in its responsibility to keep it safe for use, our accident claims solicitors could be able to help you make a claim against the council for any injuries suffered.

Clinical Negligence
Every medical professional in the UK is supposed to provide treatment in a way that will not harm a patient unnecessarily. They are expected to uphold this duty of care at all times. No medical professional sets out to cause unnecessary harm as they are there to help those whom are suffering, if negligence does occur it can present in the following ways;
A late or misdiagnosis resulting in a patient's health becoming worse.
A mistake during a surgical procedure could harm a patient.
Drugs are wrongly prescribed, causing a health problem for the patient.
Inadequate care on a hospital ward leads to a health problem such as bedsores.
Medical negligence can be complex and that is why it is always advised to use a medical negligence solicitor when it comes to dealing with such claims. Our claims team will be able to tell you more, please talk to them on the number below.

No Win No Fee Accident Claims Solicitors Covering Southport
There is a way for you to gain access to the services of accident claim solicitors, in a way that means you won't need to pay the solicitor anything unless your claim is successful. You can use a No Win No Fee solicitor. There wouldn't be any initial fee to begin handling your claim, and there wouldn't be any fee charged during the period of time the claim is being processed. If no compensation is forthcoming, you still don't pay any fee to your legal team. You do pay a fee when the solicitor has managed to secure a compensation payment for you. This fee will be taken from the money received. If you would like to learn more about this kind of service, our claims team can tell you more on the number below.

Talking To A Specialist
Whether you have suffered a minor injury, or you need to make a serious injury claim, our team can help you to do so. We can provide you with important accidents claims advice, and explain to you how our solicitors will assist you in claiming accident compensation, if you contact our team on 0800 073 8801.

Accident Claims FAQs
Below, we have included some additional information that will help you to prepare for making an accident claim.
What Steps Should I Take Next?
There are some things you can do to prepare for making a personal injury claim, before you contact a personal injury solicitor. These include:
Get proper, professional medical treatment for your injuries.
If applicable, follow the correct accident reporting procedure (filling in a company accident book for example).
If you can take photographs of the cause of the accident, do so.
If anyone saw the accident take place, get their contact details.
Start to keep a record of any financial losses you suffer due to the accident or your injuries.
These will all help injured people to prepare for making a claim. One of our advisors will be able to offer you more advice on the number above.
Will I Need A Solicitor Near Me?
You don't need to use a local legal firm to make accident claims in Southport if you do not want to, the choice is yours. You can use any specialist personal injury solicitor you choose, without their location being an important factor in choosing them. Our team can cover the entire of the UK, and can be contacted by phone, email or webchat, making communicating with them very easy, no matter where you happen to be in the country.
Is It Necessary To See A Doctor?
In order to value your claim effectively, an accident claim solicitor needs to know how bad your injuries are/were, and whether they are going to have an ongoing effect on your work and private life. This means that you would need to have a medical examination carried out, to provide this information, in the form of a medical report.
Where Could I See A Doctor?
As part of the service we offer to claimants, we can organise a local medical examination close to Southport. Some of the closest doctors to Southport that we deal with are:
| | | | |
| --- | --- | --- | --- |
| Mohammed Safdar | Marsh Lane | Preston | PR1 2YF |
| Rasheed Hashmi | Meeting Room 5, The Ringway | Preston | PR1 3AU |
| Zaighum Sharif | Holiday Inn Preston | Preston | PR1 3AU |
| | Ring Way, | | |
What do you need to think about when looking for accident claims solicitors covering Southport?
When you are searching for accident claim solicitors covering Southport, you do not need to go down the local route. Some people feel like this is their only option. However, as the service can be handled digitally nowadays, you do not need to be limited in this way. This means that you have a much broader selection of personal injury solicitors for Southport claims to choose from, which can only be a good thing. Nevertheless, you will need to take the time to choose your legal representation with care.
It is important to ensure that your solicitor is registered for practice in England and Wales. In addition to this, they should be authorised and regulated by the Solicitors Regulation Authority. Some other areas you need to take a look at include the level of experience the solicitor has, the sort of claims they have handled over the years, and whether they provide a no win no fee service. We also recommend that you ask them if they can offer free legal advice before you decide whether or not to proceed with your claim, as well as how they will keep you updated if you do decide to move forward with their service.
Here at Accident Claims UK, we believe we provide an exceptional service for clients looking to make a personal injury claim. Please do not hesitate to get in touch for more information.
 Could accident claims solicitors covering Southport help me if an accident was partly my fault?
Some injured parties may wonder whether or not they are going to be able to make a claim for compensation if the accident in question was partly their fault. For example, let's say you were in a car crash and the other person was speeding and under the influence of drugs, yet you were also a little bit over the speed limit. What would happen in a scenario like this?
Well, usually, you would be able move forward with making a claim, and your compensation could be reduced to represent that you were partly to blame for what has happened. The level of reduction will, of course, depend on your level of involvement. The best thing to do is simply give our friendly team a call, and we will be more than happy to assess the strength of your case and determine whether or not you are like to receive compensation. Our solicitors, working on a no win no fee basis could assist with split liability claims, where there is blame on both sides, to help you get the compensation you deserve.
Southport Area Resources
These external links have some excellent information:
The Accident At Work Reporting Procedure
How To Find A Court Near Southport
Also, we have published these other guides on our site, which might be useful for you to read:
How To Make A Claim Against Thomas Cook For A Holiday Accident
A Guide To Making A Claim For An Accident At Work As An NHS Employee
Making A Claim, If You Have Been Injured In An Accident Caused By A Pavement Hazard
We hope you've found our accident claims solicitors covering Southport guide usefull. Hopefully you now know how to choose personal injury solicitors for Southport claims.