By Joanne Jeffries. Last updated 16th September 2021. Welcome to this guide to accident claims solicitors for Wallasey claims. Here, we discuss why you don't need locally based personal injury solicitors for Wallasey claims.
If you have been injured in an accident, on the road, in public, while at work, and you have reason to believe it wasn't your own fault, then you may be eligible to claim for accident compensation. You can make a personal injury claim through an accident solicitor for a financial sum which will compensate you for the injury or psychological harm you suffered as a result of your accident and any effect it may have had on your quality of life as well as covering expenses such as medical or therapy bills and lost earnings from inability to work. This article will aim to detail the different types of claims for compensation that you can make and how our panel of accident claims solicitors covering Wallasey can help you to claim. We have solicitors that are based in the Wirral area for your convenience but as much of what we do can be completed over the phone or via email your location is really not important. We could help you claim the maximum compensation possible for your case, and we could help you understand more about the claims process, providing a free initial consultation as well as explaining our legal services.
Choose a section
What Is An Accident Claims Solicitor Covering Wallasey?
Our accident claims solicitors specialise in cases where they help accident victims fight for compensation and have up to thirty years of legal experience.
Wallasey Accidents In Work Claims
You could be eligible to make an accident compensation claim if you have suffered an injury in an accident at work that you feel was caused by a lack of safety measures put in place by your employer. Your employer is bound by law not to allow you and your colleague's workplace to be unsafe. Risk assessments need to be carried out; staff members need to be made aware of risks and provided with the appropriate safety equipment and safety training. You will have grounds to make an accident claim if these things have not been provided and you have suffered an accident in the workplace as a result. You can also have grounds for an accident claim if you have suffered from work related stress or if you have been assaulted at work as a result of a lack of security in your workplace.
Statistics For Injuries At Work In The Wirral Area
In the table we have laid out below you can see the figures for injuries in the work place in Wallasey. These figures include the total number of reported workplace injuries as well at the rate of workplace injuries per 100'000 workers and finally the number of people who have been fatally injured in workplace accidents in Wallasey. This will give you an idea of how common it is for people to be injured at work in your area and if you follow this link you will see the statistics for the rest of the UK to see how common it is for people to be injured at work compared to your area.
| Location | Total - non fatal injuries | Total - non fatal injuries per 100'000 workers | Fatal injuries |
| --- | --- | --- | --- |
| Wirral | 252 | 258 | 0 |
Below, you can see some key HSE 2019/20 workplace illness and injury statistics.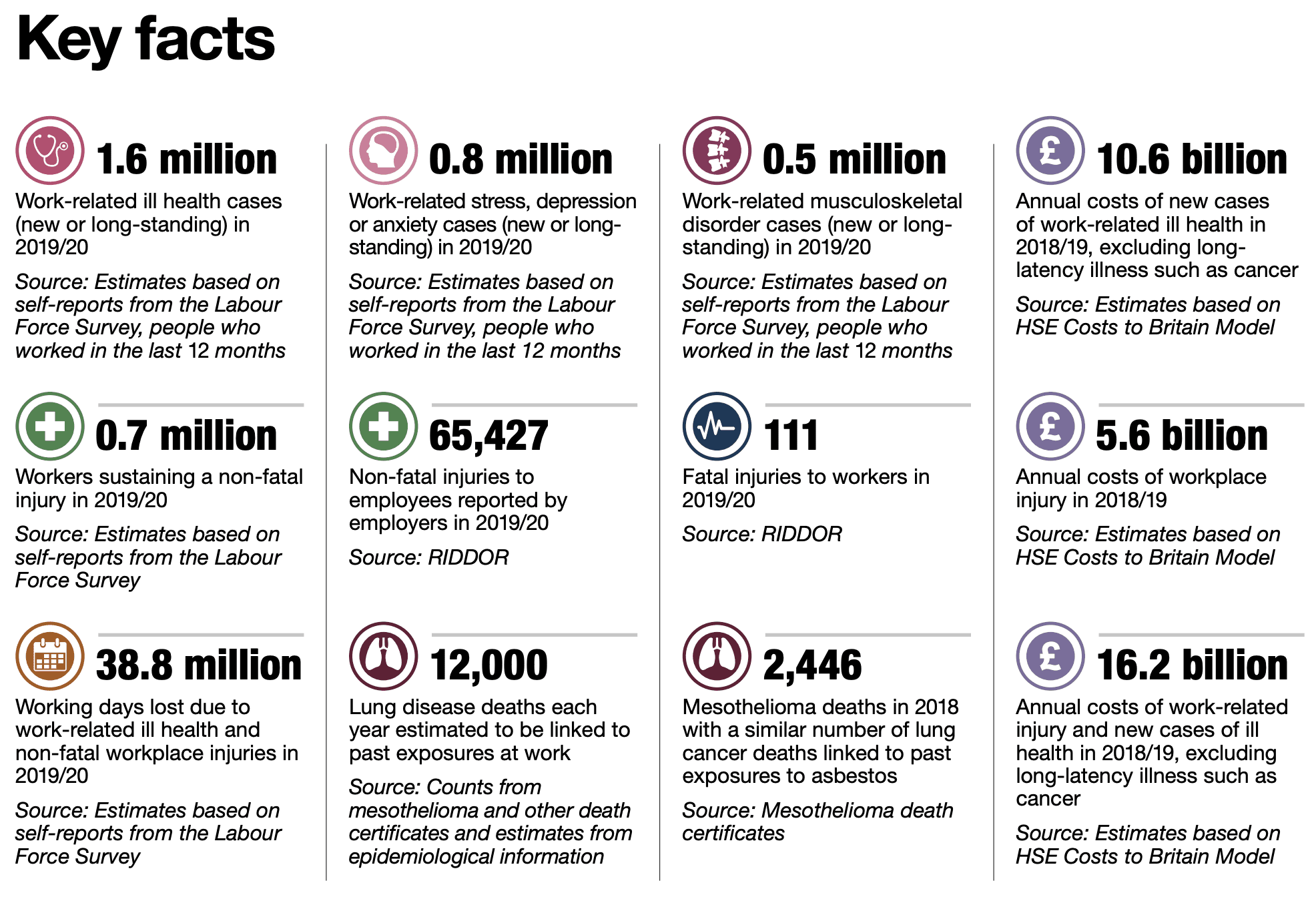 Wallasey Traffic, Car And Road Accidents
You could make a claim for an injury you have suffered in a Wallasey traffic accident if you are sure that you can prove that it was another road users fault and not your own.  If you were a driver or a passenger in a vehicle that was struck by another vehicle, or if you were forced to swerve to avoid a cyclist or pedestrian, or if you were knocked down by a vehicle while walking or cycling then you might be eligible to make a compensation claim. Please visit our websites page regarding car accident compensation claims for more information on making a claim with our panel of accident claims solicitors and how much compensation you may be entitled to. We also have a separate page for whiplash compensation claims with a personal injury claims calculator.
Trip And Slip Accident Claims
Accident compensation can be awarded in cases where someone has tripped, slipped and fallen and injured themselves in a public place. Tripping and falling over may seem like a minor issue to make a claim over, but such accidents can cause severe injury, especially if the person falling over is elderly. Any property owner has a responsibility to make sure that their premises are safe from tripping or slipping hazards. This applies to both public and private property owners, one example of an accident claim that you could make for a falling injury against a public authority would be if you were to slip and hurt yourself on a stretch of pavement that had been improperly gritted during icy weather.  Another example of claims against private property owners might include, tripping on wires that have been left out, slipping on a wet patch of floor that had not been cleaned up or marked with a warning sign, tripping on a step that had not been marked out with a warning sign and so on. If you want more information about slip accident claims and how to make an accident claim with our panel of accident claims solicitors, please visit our websites page on trip and slip accident claims.
Criminal Injury Compensation Claims
In addition to accident-related injuries, our panel of accident solicitors can also help you claim for criminal injury compensation which is compensation for injuries or psychological trauma that you may have sustained as a result of being assaulted. The Criminal Injury Compensation Authority (CICA) is a government-approved program that aims to provide a monetary settlement in situations of this nature. A conviction of the person who carried out the assault is not required for you to be eligible for criminal injury compensation through the scheme. Claims for criminal injury compensation can include being the victim of rape and sexual assault; you can read more about these types of raoe claims on our website here.
Accidents And Injuries In Public Places
Any accident that happens in a public place might potentially be grounds for an accident compensation claim if you could prove that the injuries you sustained were caused by the negligence of the party responsible for the property where your injury took place. This kind of accident claim could be made against either a private business or a public authority. Public place accidents are any accident that happens in public premises, such as a park, a shop or a restaurant that occurs as a result of the owner failing to ensure that their property is safe for the public. Examples of this could include furnishings and equipment used by the public not being safe for use, i.e. gym equipment, supermarket shelves, and furniture. Customers being scalded by hot drinks in a restaurant or being cut by scissors while receiving a haircut. Trip and fall claims are also a kind of public place accident claim that has its own section later on in this article.
Clinical Malpractice And Medical Negligence Claims
In a small minority of cases, people can be injured or develop infections as a result of poor quality treatment while receiving health care or staying in hospital. People can also suffer worsening health as a result of a medical misdiagnosis or being given an incorrect prescription by a GP. Elderly, disabled or vulnerable people can also have their health severely and negatively affected by negligent treatment while living in residential care homes. This is what's known as medical negligence when a health professional or a hospital trust fails to properly uphold its duty of care to its patients resulting in harm coming to them. It is very rare but the impact on patient's health can be severe. In cases such as these, it is possible to make a claim against the private hospital or the NHS trust where the negligence took place with our panel of accident solicitors. In addition to the examples listed above, medical negligence claims can also be made against dental practices for harm caused by negligent dental treatment, or against hospitals for injuries or infections caused by negligently performed surgery. If you or a loved one has been affected by medical negligence in the Wirral and you wish to find more information about our panel of accident solicitors who can help you receive compensation, please visit our websites page on medical negligence claims.
No Win No Fee Accident Claims Solicitors Covering Wallasey
You should talk to us about working with our accident claims solicitors if you have been looking for a no win no fee solicitor covering Wallasey to handle accident claims or claims for medical or dental negligence. Essentially, a no win no fee agreement reduces the risk of claimants making claims of this nature as you are only required to pay for your solicitor's fees if you are awarded a settlement figure. This will be deducted from your compensation at the end of your claim in the form of a "success fee". The percentage of which is capped by law at 25% of your settlement amount. For more information regarding making a claim with the use of a no win no fee agreement, and not paying your solicitor if your claim is unsuccessful please get in touch with us today.
Talking To Our Team
If you have been interested in what you have read here or you feel that our accident solicitors covering Wallasey will suit your needs, then call us at any time on our 24/7 phone line at 0800 073 8801, or fill out our contact form on our website and our team will get back to you as soon as we can. You don't have to e arranging to make a claim to contact us, you can also contact us anytime you want for free accident claims advice without the obligation of making a claim with us.
Questions Frequently Asked About Making An Accident Claim
Could I Claim Compensation?
Your accident claims solicitor will first ask you details about the incident where you were injured to ensure that you do have a valid case before you begin. They would make sure that there are no outstanding issues that would invalidate your claim, for example, there is an accident claims time limit for most claims. They will begin your case by compiling evidence, most important of which is your doctors examination, which they will arrange for you. They will manage and represent your case and keep you fully updated about all developments.
Could I Claim With A Solicitor From Any Area?
You can claim with a solicitor based in any area of the country, not just solicitors based in Wallasey. You don't need a local solicitor to deal with your claim if you do not want to.
Is It Important To Have Medical Evidence?
You will be given a medical examination because without it you will not have grounds for a case. In order to make an accident injury compensation claim you must, of course, have proof of the actual injury itself. To that end, you will have to be examined by a medical expert to provide a doctor's report confirming that you have an injury resulting from your accident. This will be used by your accident solicitor to support your case but also to determine how much compensation you could be owed.
Could You Organise For Me To See A Local Doctor?
Yes. We work with a panel of doctors operating in many different areas of the country to provide as many of our accident claims clients with access to a locally based doctor for their medical examination.  We know that it can be difficult and inconvenient to have to travel to a different area to be seen by a doctor, especially if you have suffered a particularly severe and life affecting injury as a result of your accident, that's why we always try to make sure that there is at least one doctor in the local area of each of our clients to perform a medical examination.  Below are listed some of the medical experts that we work with in your local area.
Gill Dabek
336 Hoylake road, Moreton
Wirral
CH46 8DF
Jayne Holland
161 Park road north, Birkenhead
CH41 0DD
Mark Middleman
Whetstone lane
Birkenhead
CH41 0DD
Would accident claims solicitors covering Wallasey be able to assist me if I wanted to make a claim against an ex employer?
It may surprise you to learn that you don't have to be working for an employer that you want to claim against. If you previously worked for somebody who breached their duty of care towards you, causing you injury or illness, you could make a claim for compensation. Whether you have been fired from the job you worked at, or you have left voluntarily, or even if your employer had ceased trading, there could be a route to compensation for you. So long as you were claiming within the personal injury claims time limit appropriate to your claim, our personal injury solicitors covering Wallasey could assist with your claim. You would, of course, need to prove that your employer had breached their duty of care towards you in some way. This could include not training you properly, or not providing you with PPE, for example. It could also include cases where workplace hazards have not been removed or highlighted so that you could avoid them. Should you wish to discuss a claim, we would be only too happy to talk to you. Our specialist solicitors, authorised and regulated by the Solicitors Regulation Authority could take on your claim if we believe you could have a valid case. They could do so on a no win no fee basis.
Could accident claim solicitors covering Wallasey help me if I caused an accident?
If you were the only person at fault for an accident that you were injured in, solicitors would not be able to help you claim for personal injury. However, if you were partly to blame for an incident in which you were injured, but another party could also be held liable, you could still have a claim for compensation. We would be happy to speak to you to assess your case and see if you could claim. We could provide free legal advice if we believe you have a claim and could help you claim on a split liability basis.
Wallasey Area Resources
Reporting A Road Traffic Accident To The Police
You may also find it handy to read some of our guides relating to accident claims:
We hope this accident claims solicitors for Wallasey claims guide was useful. Now you will know what kinds of claims personal injury solicitors covering Wallasey could help with.