By Joanne Jeffries. Last updated 16th September 2021. Welcome to this guide to accident claims solicitors covering Walsall claims. Here, we discuss why you don't need locally based personal injury solicitors for Walsall claims.
You or one of your loved ones may have suffered an accident in the past year or so that has left you with physical injuries or lasting psychological harm or both. If you believe that the accident wasn't your fault but rather was caused by someone else, be it another road user who caused a road traffic accident, your employer for not making your workplace safe or the owner of a shop where you fell and hurt yourself, then you could make a claim for accident compensation with our panel of accident claims solicitors covering Walsall.
Accident claims in Walsall can be pursued if it can be proven that a third party who owed you a duty of care in which they breached that lead to an accident that caused you an avoidable injury, illness or meant that a condition you were suffering from got worse.
Choose a section
What Is An Accident Claims Solicitor Covering Walsall?
Accident Claims UK works with clients making personal injury claims all over the country, our accident claims solicitors are personal injury lawyers with up to three decades of legal experience in winning compensation for people who have been injured in accidents that were not their fault. Although we may not be based in your area we do have accident claims solicitors covering Walsall for accident claims in Walsall. Read on to find out more about different types of personal injury claims and how our accident claims solicitors can help you win compensation.
I Had A Slip And Fall Accident, Could I Claim?
If you have suffered a slip and fall accident and sustained an injury as a result, then you could be eligible to receive accident compensation if it can be proven that your accident was caused through negligence of a third party. Although it may seem like a minor issue, trips and slips can potentially lead to severe injury, and public authorities and private businesses are obliged to keep their premises free of any potential hazards that could cause someone to fall and hurt themselves.
They should ensure that spillages on hard flooring are cleaned up as soon as possible, wet patches of floor should be marked out with a wet floor sign, wires should be kept tidied away rather than left out where they could be caught underfoot. Steps which someone might not notice should be accompanied by a warning sign, flooring should be kept well maintained so that uneven paving or loose sections of carpet do not present a tripping hazard. You could also make a claim against the local authority if you have had a slip and fall accident in icy conditions on a road or a pavement that should have been gritted. Find out more about trip and slip injury claims by visiting the fall compensation page on our website to learn about claims for a back injury from a fall and how to make a no win no fee claim if you've suffered an injury because of slips and trips.
Public Place Accident Compensation Claims
Public place accident compensation claims (of which slip and fall accidents claims are a subset as discussed in the section above) are personal injury claims that can be brought against the proprietor or operator of a public place or premises open to the public when a person has injured themselves as a result of said proprietor or operator neglecting safety on their premises. Examples of places where accidents can happen in public and be grounds for an accident claim could be; leisure centres, shopping centres, supermarkets, bars or restaurants.  A person who suffers an accident in public might injure themselves by using faulty gym equipment, they fight be scalded by food or drink that was served too hot in a restaurant. They might fall and injure themselves if a chair they were sitting in gives way due to being faulty or damaged. Parents can make a claim if their child has been injured in an accident at school, as the school and its staff have a duty of care to ensure that their students are safe. You can find out more about different types of public place accident claims on our website by reading our guide or clicking the contact button to begin your claim onliine.
Walsall Car Crashes And Road Traffic Accidents
If you have been in a road traffic accident in Walsall, that has left you with an injury or with psychological damage, and you think you may be able to prove that the accident was another road users fault, then contact us today for solicitors advice about the eligibility of your claim. There are a number of pages on our website dealing with specific types of road traffic accident claims and issues relating to them for example; a page for if you have been involved in a bus accident, acycling accident, if you have suffered whiplash. The page on whiplash claims has a personal injury claims calculator to give you an idea of how much financial compensation you could receive.
Work Accident Compensation Claims
You are entitled to a safe workplace; your employer does not have the legal right to have their employees work in a potentially unsafe working environment without taking measures to ensure their safety. Workers must be provided with safety equipment relevant to their role, such as hard hats, breathing masks, hi vis uniforms and so on. Machinery must be maintained and kept safe, the workplace must be well lit. Employers must make sure that risk assessments are carried out and employees are properly trained in their role and trained in potential dangers of their role. As well as claiming if you have been injured in an accident at work, you can also make accident at work claims if you have suffered an assault at work due to a lack of security measures that your employer should have provided or if you have suffered from stress. Click on each of the highlighted links to find out more about the different types of work accident compensation claims.
Number Of Reported Injuries At Work In Walsall
The following table is a breakdown of how many injuries were reported in the workplace in Walsall ,the number of injuries which were fatal and the rate of injuries per 100'000 workers. This should give you an idea of how common workplace injuries are in your area. As well as this you can also see the source of these statistics for yourself on the government's Health and Safety Executive website and see how they compare to workplace injury figures for other parts of the United Kingdom.
| Location | Total - Non fatal injuries | Total - non fatal injuries per 100'000 workers | Fatal injuries |
| --- | --- | --- | --- |
| Walsall | 288 | 327 | 0 |
Below, we offer some key statistics from the HSE on work-related injury.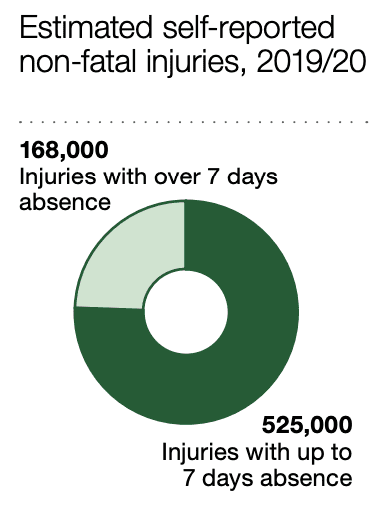 Medical Negligence Claims
Medical negligence occurs if a doctor, a dentist, a nurse, a care home staff member or any other medical professional or medical institution fails to follow correct procedures which delivers a negligent service, resulting in harm to the patients under their care. You may have been looking for medical negligence solicitors in Walsall if you or a loved one has been affected by negligent treatment by a doctor or in a hospital. Our panel of medical negligence solicitors although not based in the area can help with medical negligence cases in Walsall. They can help you in making a claim for medical negligence in any circumstances, in either the NHS or in the private healthcare sector. To find out about what our panel of accident claims solicitors can do to help you with a medical negligence case, what different examples there are of medical negligence cases and how much compensation you may be entitled to, why not get in touch.
Criminal Injury Compensation Claims
Not all the injuries that our accident claims solicitors can cover are injuries caused by accident. Our panel of accident claims solicitors can also help you make a claim for injury compensation if you have been injured or have suffered psychological harm as a result of a criminal assault. Don't worry about waiting for your assailant to be found guilty in court before making a claim, there does not need to be a conviction in order for you to claim compensation for assault, only proof that the assault took place and that you have been injured by it. If you want to see a range of compensation amounts for criminal injury that you may be entitled to, scroll down to the "How much can I claim for an assault?" in our CICA guide. You can also claim for having been the victim of rape or sexual abuse.
No Win No Fee Accident Claims Solicitors Covering Walsall
We can offer you a no win no fee solicitor to manage and represent your claim. With a no win no fee solicitor you will negotiate a certain amount of your compensation fee that the solicitor will take as their payment, the maximum your solicitor will receive will be no more than 25%. While you will not receive the full total of your compensation for your injury claim, you will avoid having to pay any up-front costs and more importantly, if your claim is valid but still does not result in compensation you will not be required to pay any fee's to your solicitor.
Contact Accident Claims UK
If you wish to enquire about making an accident claim with our accident solicitors, or if you want free accident claims advice, then you can get in touch with us at any time of the day by either phone or through our online contact form. Our 24/7 phone line is at 0800 073 8801 and you can find our online contact form here.
FAQs For Accident Claims
How Do Personal Injury Solicitors Handle A Claim?
To start with a personal injury lawyer will assess and will inform you whether or not you have valid grounds for making an accident compensation claim, for example they will tell you whether or not your eligibility to claim will be affected by the accident claims time limit. Once that is decided they will gather the evidence needed to support your case, this will include, amongst other things, arranging for you to have a medical examination done by a doctor to assess the nature of your injury and present the doctors findings as proof. Once the case has started they will represent your claim, our accident claims solicitors have a policy of keeping all of their clients fully informed of every step in the development of their clients cases.
Should I Search For Solicitors Near Me?
It's possible that you have been looking through online searches for "solicitors near me", that may be how you found this website. Don't worry about finding a solicitor in your part of Walsall, or even a solicitor based in Walsall at all. An accident claims solicitor does not need to be based in the same area that their client lives or where the accident took place, in order to manage their accident claim. Just so long as they can communicate with their client enough to give them accident claims advice and make all the necessary arrangements for their case, which can be done by phone call, text, email or social media. You could work with our accident claims solicitors covering Walsall without ever even meeting them throughout your entire accident claim if you do not wish to.
Is It Important To See A Medical Expert?
It is vital to have your injuries or illness assessed and examined by an independant doctor so that they can provide a report for your case. We work with a panel of medical experts whom we always put our clients in touch with to arrange a medical examination of your injury in order to make sure that all of our clients have valid confirmation from a doctor to support their accident compensation claims.
Do You Work With A Medical Expert In My Area?
We work with a panel of medical experts in many towns and areas in the UK; this includes a number of doctors in Walsall. This is so that when we work on making accident compensation claims with our clients they are always able to access a doctor to give them a medical examination in their area without having to travel far. Listed below are just a few of the numerous medical experts who we could work with in Walsall and the addresses of the practices.
Rafiz Rehmen
Old Blake house
150 Bath Street
Walsall
WS1 2LT
Naeem Khan 
51 Leckie road
Walsall
WS2 8DA
Could accident claims solicitors covering Walsall claims assist with a claim for a data breach in which I've suffered harm?
If you could prove that an organisation that collected, stored or processed your personal data had breached your data protection, you may be able to make a claim for data breach compensation. When an organisation collects, stores or processes your personal data, they are required by law under GDPR and the Data Protection Act 2018 to protect it. If they fail to do so, for example by leaving a laptop containing personal information on a train, disclosing personal information about you to someone who does not have authority to hear it, or even sending personal data to the wrong address, this could breach your data protection.
There are many different ways in which you could suffer harm from a breach of data protection. Not only could you become the victim of identity fraud or theft, but you could also suffer emotionally. Data breach compensation claims, handled by our specialist solicitors who are authorised and regulated by the Solicitors Regulation Authority, could compensate you for both non material and material harm. This means you could claim for anxiety, depression and loss of sleep alongside claiming for the financial impacts of a data breach.
Would accident claims solicitors covering Walsall be able to help me with fatal accident claims?
Personal injury solicitors covering Walsall claims could assist with a claim for somebody that you have lost in a fatal accident, or wrongful death. If you could prove that someone was responsible for your loved one's death, and they could be held liable for it, then you could receive compensation that could cover the funeral expenses of your loved one. You could also receive an award for your bereavement, and even for loss of financial support. We understand that making such claims could be complex, and traumatic for you. We could handle your claim sensitively and with the utmost care, to ensure that stress of claiming is taken from your shoulders at such a traumatic time.
Walsall Resources
Walsall County And Family Court
Reporting An Incident To West Midlands Police
Reporting An Accident In The Workplace
Walsall Local Authority Health And Safety
We hope this accident claims solicitors for Walsall claims guide was useful. Now you will know what kinds of claims personal injury solicitors covering Walsall could help with.