By Joanne Jeffries. Last Updated 14th September 2021. This accident claims solicitors covering Warrington guide reveals why you don't need local personal injury solicitors for Warrington claims.
Being involved in an incident or especially an accident that wasn't your fault can be a traumatic and stressful experience particularly if you have suffered an injury or even witnessed something horrific leaving you traumatised. Depending on the circumstances and the severity of your injury, it can have a knock-on effect to many other areas of your life, or even be completely life changing. Although we are not based in Warrington, our panel of accident claims solicitors cover Warrington and can help you by conducting your claim on your behalf.
In this guide, you will find lots of helpful advice about the process of making an accident claim, some of the different circumstances in which you could claim, the benefits of using a personal injury solicitor and how they can help you to get the outcome you want, and we cover some of the most frequently asked questions by claimants. If you have any further questions after reading through the guide, don't hesitate to contact Accident Claims UK on 0800 073 8801.
Choose A Section
What Is An Accident Claims Solicitor Covering Warrington?
If you have sustained an injury due to an accident in Warrington that wasn't your fault, you might be able to make a claim for compensation for your injuries. Accident claims in Warrington could be made for a number of different reasons such as being hurt in a road traffic accident, being treated negligently in a medical setting, suffering a slip, trip or fall in a public place, or any other type of accident caused by negligence. In order to have the best chance of having not only a successful accident claim, but to also secure the maximum amount of compensation possible for your case, it maybe a good idea to hire a personal injury lawyer to conduct the claim on your behalf.
A personal injury lawyer, sometimes known as an accident claim solicitor, uses their legal knowledge and expertise to help people to make successful claims for injuries caused by negligence. They specialise in the field of accident compensation and provide a range of different services that combined, help to make a successful claim, these include:
They will initially consult with you to assess whether or not you have a valid claim and to make sure it is within the accident claims time limit.
Once all of the facts surrounding the case have been identified, they can sometimes give an estimate of the possible amount of compensation you could qualify for using the personal injury claims calculator.
They will assist in collecting relevant evidence often sourcing evidence from places usually unavailable to the general public such as CCTV footage.
Some solicitors, certainly all our accident claims solicitors at Accident Claims UK, offer a no win no fee service to help with the financial burden hiring a legal team can sometimes have.
If you'd like to find out more about how our accident claim solicitors covering Warrington can help you, talk to us at Accident Claims UK.
Warrington Area Work-Related Injury Statistics
In the table below you will find some statistics of workplace injuries in Warrington. We have included figures for both non-fatal and fatal injuries and also included the rate per 100,000 workers for non-fatal injuries:

| LOCATION | TOTAL – NON-FATAL INJURIES | TOTAL – NON-FATAL INJURIES PER 100,000 WORKERS | TOTAL – FATAL INJURIES |
| --- | --- | --- | --- |
| Warrington | 253 | 221 | 1 |
You can find these and the statistics for other areas in the country here www.hse.gov.uk/statistics/tables/ridreg.xlsx
The causes of such injuries could vary. Below we reveal the 2019/20 top causes of workplace injury from the HSE's statistics.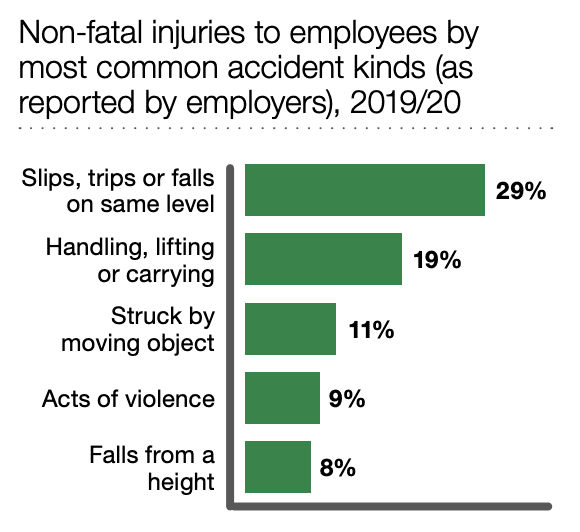 Work-Related Accidents
Under UK laws and written legislation, all employers are legally bound to provide a safe working environment for their employees to the best of their ability. If they fail to do so and an employee is injured, then a work-related accidents claim could possibly be made. The Health and Safety At Work Act 1974 as well as other legislation is their to protect employees at work. The HSE sets out guidelines that employers are supposed to adhere to in order to fulfil their duty of care to take care of their employees safety and welfare, examples of some of the requirements are as follows:
To provide a working environment that is safe.
To give appropriate safety training such as lifting and handling technique training to employees where necessary to ensure they can carry out work duties in a safe manner.
To provide the correct personal protective equipment and clothing when needed.
To carry our regular risk assessments and put in place procedures for any potential hazards.
To regularly check and maintain machinery and equipment for safe use.
If you have been injured at work due to the negligence of your employer, contact Accident Claims UK for more accident at work claims advice.
Road Traffic Accidents
Road traffic accidents can happen in numerous ways, you may be crossing the road as a pedestrian and get hit by a vehicle, you could be driving your car and someone pulls out in front of you, maybe you were a passenger in a car that crashed or perhaps a motorcyclist that was involved in a collision, regardless, if you are injured on the road and it was someone else's fault, you may have grounds to make a claim. Unfortunately, road traffic accidents happen everyday and sometimes the injuries can be minor and others those involved are not so lucky. Our panel of accident claims solicitors covering Warrington, could assist you in making your claim for compensation.
If a loved one has been involved in a fatal collision caused by careless driving, you could potentially also make a claim, please see death by careless driving claims guide.
Slip, Fall Or Trip Claims
Whether you have tripped over an obstruction in a walkway at work, slipped on an untreated icy pavement or sprained your ankle due to a pothole when crossing the road, if you have been injured due to a third party's negligence, you could potentially be able to claim compensation for your injury. Injuries from slip, trip and falls range from minor to severe and can sometimes have a devastating effect on someone's livelihood. For example, if someone who drives for a living trips on a broken paving slab on a public footpath and breaks their arm, they will not be able to work and therefore may lose income which could lead to all sorts of financial problems. Filing a compensation claim against those responsible could give them the financial support they need until they can get back to work.
Injuries from a slip, trip or fall could possibly include:
Broken or fractured bones
Sprains and strains
Cuts and bruises
Paralysis – If fallen from a height such as off of an unsecure scaffold for example, thankfully these accidents and injuries are rare.
If you have been injured from a slip, trip or fall caused by another's negligence and you'd like further information about filing a personal injury claim, contact Accident Claims UK today.
Criminal Injuries Compensation
If you have been harmed as a result of criminal activity, or someone has harmed you deliberately, our accident claims solicitors covering Warrington, maybe able to assist you in claiming compensation. Criminal injury claims aren't restricted to just physical injuries, but can also be made for psychological trauma as well such as shock and PTSD. However, unlike a physical injury which is normally apparent straight away, psychological injuries such as PTSD may not be apparent until days, weeks or even months after the event. In theses cases, the personal injury claims time limit will not start until the PTSD has been diagnosed.
If you have been the victim of criminal activity such as assault and suffered an injury as a result, but the criminal responsible has not been identified or caught, you can still make a claim for compensation thanks to the government funded Criminal Injuries Compensation Authority (CICA).
Accidents In Public Places
A public space accounts for any space a member of the public is allowed such as the street, a park, a leisure centre, public library, car park or shopping centre to name a few. If an accident occurs in a public space due to the negligence of someone else and you are injured, you may be able to make a claim. Depending on where the accident took place, the party liable for your accident will vary, for instance, if you have tripped over an uneven path on the street then the local authority may be responsible, but if you have been injured in the car park of a shopping centre, it may be a private land owner who is responsible. Regardless of where the accident has taken place, if it was someone else's fault who owed you a duty of care and you have sustained an injury, our accident claims solicitors could help.
Here is our useful guide on claiming compensation if you have been injured in a public place.
Instances Of Clinical Negligence
If you have suffered unnecessary harm due to the negligence of a medical professional such as a doctor, dentist, surgeon or nurse for example, then you may have grounds to launch a claim for compensation. Clinical negligence, or medical negligence as its also known, can result in both physical injuries and mental trauma. Medical professionals owe their patients a duty of care to provide a minimum standard of care at all times. If they fail to do this and act negligently and someone is injured, then they will be in breach of their duty of care and found liable. Sometimes injuries and health problems can occur as a side effect of a medical procedure or treatment as many carry a number of risks, and in these cases, negligence may not play a role and so a compensation claim may be invalid. However, if you have suffered an injury that could have been prevented had you received the correct care, then a claim for compensation could potentially be valid.
Regardless of whether you have received negligent medical care through the NHS or privately, if you have been the victim of clinical negligence, contact our team for more information.
No Win No Fee Accident Claims Solicitors Covering Warrington
Establishing that you have a valid cause for claiming compensation is the first thing you need to do. The second thing is to decide how you are going to make your claim. Many people opt to use a personal injury solicitor but are worried about doing so because of the cost of legal fees. However, using a no win no fee solicitor takes away the stress and worry of affordability. This is because a no win no fee policy, otherwise known as a conditional fee agreement, allows the solicitor to go ahead with the claim with the understanding that their legal fees will only be paid for when the claim concludes as being successful and the claimant receives their settlement. If the case is lost, then you do not pay your solicitor for any of the legal work they have undertaken.
How To Contact Our Team
If you have been injured at work, in the park or whilst driving for instance, and it was caused by another person's negligent actions, you may be thinking of filing a personal injury claim and finding a law firm. If this is the case but you don't know where to start, call us at Accident Claims UK on 0800 073 8801 and we will be able to help. We will first offer you a free session with one of our expert legal advisors to establish the facts surrounding your injury and you also have an opportunity to ask us any questions in relation to making your claim. Afterwards, we can then put you in touch with one of our no win no fee solicitors covering Warrington that best suits the requirements of your unique case.
Frequently Asked Questions By Claimants
Some of the most commonly asked questions in regards to making a personal injury claim are as follows:
Although not needed we always advise claimants to seek some expert accidents claims advice from an accident claim solicitor such as those at Accident Claims UK. As mentioned above, we offer a free consultancy appointment which can be conducted over the phone. Once we have all the facts, and with your instruction, our specialist solicitors can then take on your claim on a no win no fee basis and make the claim for you on your behalf and see it through to the end.
Do I Need To Claim With A Warrington Accident Claims Solicitor?
No you do not is the answer to this question. Thankfully due to the large number of communication opportunities we have nowadays, you can use a solicitor from anywhere within the country. This is great as rather than automatically using a solicitor just because they are located in Warrington, you can actually take a little more time and search for an expertly experienced personal injury solicitor.
Could I Have A Medical In Warrington?
A medical report serves as a strong piece of evidence supporting your claim as having a medical examination to document your injury and it's severity is a vital part of the claiming process. As part of our service, Accident Claims UK will organise this for you not too far from where you live.
Some of the medical experts in Warrington that we could use include:
Abid Sami, 27 Wilson Patterson Street, Warrington, Cheshire, WA1 1PG
Muhammad Anwar, 27 Wilson Pattern Street, Warrington, Cheshire, WA1 1PG
Weqas Ahmed, 21 Wilson Patterson Street, Warrington, Cheshire, WA1 1PG
Summet Vohra, 21 Wilson Patterson Street, Warrington, Cheshire, WA1 1PG
Stephen Grant Charlesworth-Jones, The Physiotherapy Centre, Wilson Patterson Street, Warrington, WA1 1PG
If you would like to find out further information about the process of making an accident claim, then contact Accident Claims UK.
Would accident claims solicitors covering Warrington assist me if I was in part at fault for an accident?
Were you injured in an accident that you thought was your fault. It may be worth looking into whether someone else could also shoulder some of the blame for the accident. Some claims aren't clear cut when it comes to who is at fault. Particularly when it comes to road traffic accidents, there could be fault by more than one party. If this is the case and someone else could be held partially liable for the incident, you could still receive compensation, albeit a reduced amount to reflect your portion of the blame. Such claims could be complicated however, and it could be wise to seek out personal injury solicitors covering Warrington with years of experience when you look to make such a claim. As well as checking into whether the lawyer is authorised and regulated by the Solicitors Regulation Authority, and has good reviews, you might want to ask if they've dealt with split liability claims before and whether they've got a good track record in getting claimants compensation. In addition, you could ask if they could offer you free legal advice on your claim, to make sure you've got a good chance of having a successful claim. Claiming under no win no fee terms could also be wise for this type of claim, as this could reduce your financial risk somewhat.
Could accident claims solicitors covering Warrington help me claim for a child that has been injured?
Whether your child was injured in an accident at school, in a public park or as a passenger in a car accident, you might want to know if you could claim on their behalf. The two main options when it comes to doing so are to wait until your child turns of age, and allow them to claim for themselves. Or, you could claim for them up until they turn 18, as their litigation friend. What this means is that you could instruct a solicitor and make a claim for them, making decisions such as whether to accept a compensation offer. Once a compensation payout came through, it could be put in a trust for the child to access when they came of age. However, if they require payment of medical costs, for example, some of the monies could be released by the court. To speak to us about how such claims work, call our team. We'd be happy to provide you with guidance and support.
Additional Information
Slip, Trip and Fall Claims Guide
This is one of our guides giving information about slip, trip and fall accidents.
How To Claim For Loss Of Earnings
This guide contains information regarding claiming for loss of earnings.
Here you will find information about how you should report an accident.
Health & Safety At Work Act legislation
Here you will find information about the Health and Safety At Work Act 1974.
This accident claims solicitors covering Warrington guide has now revealed why you don't need local personal injury solicitors for Warrington claims. We hope you've found it useful.