In this case study we look at how solicitors were able to secure a record pay out of £5.5 million in compensation for a soldier injured at work after being involved in a road traffic accident and leaving them needing a lifetime of care. At the time it was the largest claim against the MOD for a soldier injured at work as part of the Armed Forces Compensation Scheme.
It is likely that the soldier concerned will unfortunately require a lifetime of support and care because of his injuries which is why the compensation payout may appear at first particularly high. The MOD compensation was said to be so large because the injuries, suffered by the solider injured at work, were so catastrophic.
Any soldier injured at work, like the soldier in this case study, could potentially have life-changing injuries that require a lot of support both physically, mentally and financially. A soldier injured at work because of negligence could be entitled to MOD compensation under the Armed Forces Compensation Scheme. The solicitors at Accident Claims UK handle many compensation claims and can make a claim on your behalf if you have been injured at work. We offer a no win no fee service and don't get paid unless we win your claim so call us on 0800 073 8801 to find out more.
Armed Forces Compensation Scheme Statistics
The Armed Forces Compensation Scheme decides, based on the severity of the injury that the soldier injured at work suffered, whether to pay a lump sum or a Guaranteed Income Payments (GIPS) which are paid for the lifetime of the solider injured at work.
Claims against the MOD that led to lump sum only payments included: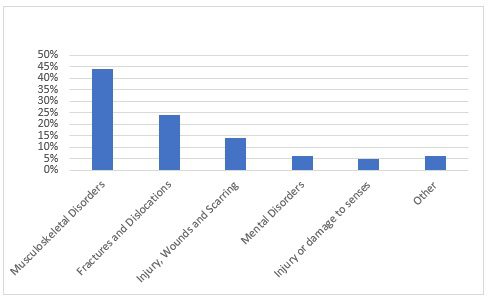 The lump sum plus GIPS payments due because a soldier injured at work decided to make a MOD compensation are for the more significant injuries including those shown in the graph above but also including amputations, neurological disorders and physical disorders. A soldier injured at work that receives the GIPS tends to have been involved in a more serious accident or the impact of the injury on the soldier injured at work was more severe.
A soldier injured at work doesn't have to receive their injuries on the battlefield to make a claim for compensation – it is possible to make personal injury claims for slips, trips and falls in the workplace, driving accidents, warehouse accidents, accidents due to poor training and even repetitive strain injury (RSI). In fact, a soldier injured at work and wanting to claim compensation for it can be classed as any injury where somebody else was to blame (directly or indirectly). A soldier injured at work is covered by the same rules as an employee working in an office, shop or warehouse, the fact that you are a soldier injured at work means you are as entitled to claim for compensation from your employer as anybody else is.
If you're a solider injured at work and unsure if your injury is suitable for a claim then Accident Claims UK can work with you, in a free consultation, to decide if you, as a soldier injured at work, are entitled to compensation or not so contact us today for more information or advice.
Catastrophic Injuries Suffered By Soldiers
The solider injured at work in this case study was said to require lifelong care because of his catastrophic injuries. What could the soldier injured at work actually have suffered for the case to be deemed catastrophic and lead to such high MOD compensation?
As this is a case study we have researched it is difficult to know fully all of the ins and outs but it is possible that the soldier injured at work suffered a neurological disorder, or brain damage, to have been paid such a high amount of compensation. It is also possible that the solider injured at work suffered a spinal injury that means he will never walk again, is bed bound, or unable to communicate any longer and requires around the clock care to function.
What Could The Victim Of A Catastrophic Injury Claim Compensation For?
Anybody that suffers catastrophic injuries through no fault of their own has a number of things that they may wish to make a claim for. Firstly, there's the actual pain and suffering received that the solider injured at work would've endured (general damages compensation)  but then there's things like the cost of modifications to the home and loss of earnings (special damages compensation). It is likely anybody suffering a catastrophic injury/injuries will have to receive very specialist medical treatment and care, such as expert physiotherapy, to recover as much as realistically possible from their injuries.
If a claimant has a permanent disability because of their accident then it is quite likely that they may need to make modifications to their home, workplace or even change the vehicle they use each day. If these changes can be attributed to the injury that the claimant has received, then the costs for the modifications could be recovered by our no win no fee solicitors.
When a claimant who has been injured at work as in this case starts a claim they may not realise that things like the costs of medicine could also be claimed or if the injured party needs to use specialist equipment to continue working or for daily life then they could recover those costs as well. If you have questions about what you might be able to claim compensation for contact us at Accident Claims UK today and we can discuss what has occurred and what you might be due.
No Win No Fee Claims Against The Ministry Of Defence
No win, no fee means that a solicitor will only charge a soldier injured at work a success fee if the solicitor wins your claim for compensation. At Accident Claims UK there's no money paid up front to start your claim for compensation against the MOD or during the process itself. In fact you will pay nothing until the claim is settled in your favour, this being a percentage simply deducted from the compensation settlement. If your claim for catastrophic injuries compensation was unsuccessful then you wouldn't face any legal charges at all.
Also known as conditional fee agreements, the no win no fee service is agreed upon at the start of your catastrophic injuries claim and you only pay the agreed amount if we win the compensation claim against the MOD, again you would pay nothing if the claim didn't succeed.
Start Your Claim Today
If you're a soldier injured at work and would like to make a claim against the MOD for compensation for your injury then we are ready to work on your behalf on a no win, no fee basis. Arrange with us a free consultation to discuss your compensation claim and we'll let you know how we think we should progress. If we feel you have a strong case then we'll advise starting a no win no fee claim against the MOD which we can process for you, on the other hand if we think there's not a case to answer or the claim is likely to be quite weak we'll let you know straight away.
Our specialist solicitors know how daunting it can be for a solider injured at work to make a compensation claim against the MOD but don't worry, we make the whole process simple and have the experience to deal with the MOD in a professional manner, acting swiftly on your behalf.
Are you a soldier injured at work? Would you like to begin your claim now? Then call us on 0800 073 8801, email us on office@accidentclaims.co.uk or use our online contact form here
Useful Links
If you need any more information before making your claim as a soldier injured at work then these useful links will be of benefit:
Accident at work compensation claims – How to begin a compensation claim for an accident at work and how the process works is explained in detail in this guide.
What are my rights following an accident at work? – If you're concerned about making a claim against your employer or aren't sure of what your rights are after an accident at work this guide explains what you should know.
Health & Safety Executive – A guide from the HSE that a soldier injured at work will find useful with regards to health and safety in the armed forces and MOD.
NHS England – Information on NHS services to the armed forces and what care they provide for a soldier injured at work.