It gives us great pleasure to welcome The National Claims Service to Manchester where they have now officially opened up one of their 'super' branches in close proximity to the Accident Claims head office.
The National Claims Service (NCS) is a well-known and reputable company offering advice and assistance on any sort of claim against another third party. The NCS also offers free debt management advice. Mainly operating through a branch network of walk-in claims advice bureaus, they also boast a 24 hour claims line covering over 50 cities nationwide.
Originally The National Claims Service was established to help combat the thousands of claims management companies that were operating without their client's best interest at heart. The NCS have a highly respected team who have been involved in every area of the legal industry.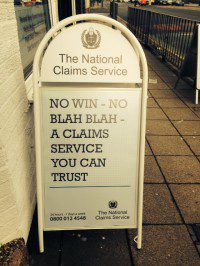 Holly from Accident Claims thinks the new claims and advice bureau in Manchester is a good thing;
"We welcome any sort of respectable competition in the accident claims market – our focus has always been offering client's the best access to settling their claims and in The National Clams Service the public will certainly get that. The arrival of their branch in Manchester also encourages others to keep their standards high, which is great for everyone."
2014 has been a positive start for the accident claims industry after 2013 saw the loss of some high profile firms. Whist critics argue that the stronger firms in the market are struggling to compete with the 'no win no fee bandits', the strong success of The National Claims Service and the Accident Claims brand continue to show that some of the larger players can continue to thrive in an increasingly challenging market.
With no new major reforms to the personal injury market it gives firms the chance to settle down after the upheaval of the referral fee ban last year.
With the renewal of many Ministry of Justice licenses on the horizon it remains to be seen whether the total number of authorised firms will decline further. 2013 saw a 30% drop in renewals which reflects the period of change. It's expected there will be a further drop as those who braved a further year to test the water will have found it too difficult to continue.