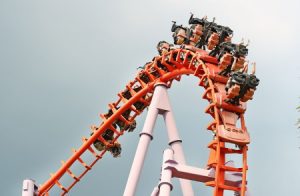 Alton Towers is the largest theme park in the UK with some of the largest and fastest roller coasters in the country. Many guests have a great time while visiting and thoroughly enjoy themselves.
This guide looks at when an Alton Towers accident could have long-last effects, and which could entitle you to file personal injury claim against Alton Towers. The guide covers the various injuries sustained at Alton Towers, what to do in the event of an accident, and how much compensation you might be entitled to. We'll also cover the Alton Towers smiler accident which caused some guests life-changing injuries.
Accident Claims UK can offer free advice to Alton Towers accident victims who are thinking of making a claim. We can also assess your claim for free to see if there's a chance you'll be compensated. If we believe there is, then we could connect you with a personal injury solicitor who'll handle your claim on a No Win No Fee basis. If you already know that you'd like to begin your claim, please call an adviser on 0800 073 8801.
Alternatively, to find out more about claiming for an Alton Towers amusement park accident, please continue reading.
Select A Section
A Guide To Amusement Park Accident Claims Against Alton Towers
While millions of people visit Alton Towers every year and have a great time, there are times when visitors end up with injuries which can affect them long after they go home. In this guide we're going to look at the Alton Towers 'smiler ride' crash which led to multiple people sustaining life-changing injuries. While this is one of the more extreme cases of injuries sustained in a theme park, we'll also look at other examples such as slips, trips and falls caused by negligence, as well as accidents caused by defective safety barriers.
Also, we'll try to answer some of the following questions:
What happened to the Smiler ride at Alton Towers?
How do you prove negligence in a theme park accident?
Who was at fault for Smiler crash?
How much compensation am I entitled to?
How did the smiler crash affect Alton Towers?
To help make claiming for an Alton Towers accident easier, our solicitors offer a No Win No Fee service.  You could be eligible to claim on this basis if you can show that:
You were involved in an accident at Alton Towers
Caused by the negligence of staff or the parks owners, and
You sustained an injury because of the accident
Also, you'll need to ensure you claim within the personal injury claims time limit. Generally, this is a 3-year period from the date of the accident. If your injuries aren't diagnosed until a later date, then the 3-year period could start from the diagnosis date. If you were injured before you were 18 years old, you would have up till your 21st birthday to seek compensation.
When you've finished reading this guide, if you would like to discuss your options regarding a claim, please call the number at the top of the screen. Our advisers are specialists and will help you decide whether you've got a valid claim or not.

What Are Alton Towers Amusement Park Accidents?
There are many different types of accidents at Alton Towers that could occur. Some have been very high profile, and we'll provide more information about these in due course. Here are some of the Alton Towers accidents which have reportedly happened over the years:
An Alton Towers Skyride accident in 2004 resulted in 80 people becoming trapped and 9 having to abseil down
The very high-profile Alton Towers crash on the Smiler ride in 2015
The Runaway Mine Train ride reportedly caused injuries to 29 people in 2006 when two carriages became uncoupled and collided with each other
While it's impossible to list all accidents at Alton Towers, the ones in which a claim could be possible are ones which were caused by negligence of staff, contractors or management at the park. As well as accidents on rides, which are the ones you hear about in the news, claims are possible for any other type of accident which causes you to suffer an injury or harm when visiting Alton Towers.

Amusement Park Accident Risks
Thankfully, theme park accidents are relatively rare. However, there are plenty of potential risks which need to be managed every day to avoid accidents from occurring. The things that could lead to accidents include:
Inadequate staff training
Poor safety procedures
Damaged harnesses within rides which could lead to a fall from height
Bad weather such as strong winds
Faulty or poorly maintained rides
In the next section we'll look specifically at accidents involving roller coasters at Alton Towers and other theme parks.

Alton Towers Smiler Or Rollercoaster Accidents
In the next section we're going to look specifically at what happened in the Smiler accident which resulted in a number of guests being injured. But before we do, we're going to look at what could cause an Alton Towers accident on a rollercoaster.
Here are some of the more common reasons why a rollercoaster accident could happen:
Improper operation. An example could be where the operator uses the emergency stop control in error causing the ride to stop abruptly
Mechanical failure. Examples could include where a carriage detaches unexpectedly, a lap bar fails to stay in place or a component of the ride breaks. If it can be shown that the ride hadn't been maintained properly, then the operator could be held liable for any injuries caused by the accident
Passenger misuse. There are examples of accidents happening because a guest at the park has stood up mid-ride, rocked the vehicle intentionally or uncouples the safety harness intentionally. In these cases, a compensation claim would not be possible
Nature of the ride. There are cases where injuries or illness can occur simply because of the speed and direction changes of a rollercoaster. Common symptoms include headaches, dizziness and nausea. A rollercoaster of this nature should have warning signs at its entrance explaining who might be at risk of riding
Case Study – 2015 Alton Towers Smiler Crash
In June 2015, the worst ever Alton Towers accident occurred and led to life-changing injuries for a number of guests riding The Smiler rollercoaster. On the day in question, there were four trains being operated at the same time on The Smiler. At around midday, a fault occurred with the ride and engineers had to be called.
The engineers took manual control of the ride and repaired the fault. At the same time, they took the opportunity to introduce a fifth train onto the track. An empty train was sent around the track to test the ride. It failed to complete the circuit due to strong headwinds. A second train was sent later but again failed. This time it failed to complete a loop due to the wind and came to rest at the bottom of the loop.
Then, the passengers who went on to suffer injuries were allowed to board a train. This train was stopped automatically by the ride's safety mechanism due to the empty train stuck at the bottom of the loop. However, the engineers allowed the train to continue because they believed the ride was reporting an earlier fault which had since been rectified. They were unaware there were now 5 trains on the track rather than the earlier 4 which were all back at the station. It is this action which caused the Alton Towers accident to happen.
The passenger train collided with the empty train and because each vehicle moved up the loop in either direction and then rolled back down again, a further 11 collisions occurred until both vehicles finally came to rest.
Findings
Initially, Alton Towers owners blamed the accident on staff errors. However, they later conceded that the underlying fault was a lack of a structured system for dealing with faults. The error on this occasion led to most of the 16 passengers suffering serious and life-changing injuries. Two passengers in the front seats required partial leg amputations and two more suffered leg fractures causing mobility problems. Other injuries included internal injuries, broken ribs and whiplash. Post-traumatic stress disorder was common in most passengers also.
In total, the court fined the owners of Alton Towers £7.5 million pounds which was reduced to £5 million due to their early guilty plea. Some passengers were reportedly seeking 7-figure compensation payments for their injuries.
Source: https://www.judiciary.uk/wp-content/uploads/2016/09/r-hse-v-merlin-attractions-operations-ltd-sentencing-remarks.pdf

Safety Barrier Accidents And Injuries
Safety barriers are obviously used to ensure queues are maintained fairly, and so people cannot jump the queue. However, they're also used to keep guests away from rides and areas where there's a potential danger.
If a safety barrier is damaged and causes you to suffer an injury, you might be able to claim damages. We recommend that you report the incident to Alton Towers staff, and take photographs of the damage before it's cordoned off, removed or repaired. These photographs would be used as evidence to support your claim and are therefore essential evidence.

Damaged Or Defective Ride Accidents
If you're injured while on a ride that is defective, it may be possible to sue for your injuries. The claim might be against Alton Towers if it's shown that they hadn't maintained the ride properly. However, the claim could also be made against a number of different parties if Alton Towers are not to blame.
Our solicitors understand the law around proving liability in claims where the buck is passed from one company to another. Therefore, if you've been injured by a defective ride and would like to claim compensation for your injuries, please call the number at the top of the page today so a solicitor can identify who is to blame.

Slip, Trip Or Fall Accidents At An Amusement Park
A slip, trip or fall can look quite comical to an onlooker, but this type of incident can also lead to very serious injuries which includes head injuries, broken bones and also back injuries. If you're involved in a fall at Alton towers because you were messing around or not paying attention, then you probably won't be able to claim at all.
However, if the accident was caused by mistakes made by staff or management, you could be eligible to claim. Some examples of when you might be able to claim include:
Slipping on a spillage which hasn't been cleaned up quickly enough or where warning signs weren't used
Tripping on an uneven pavement i.e. tripping over a pothole or where a paving slab is raised
Where inadequate lighting makes a trip hazard difficult to see. This could potentially happen in a queue for a ride
Tripping over cables used to provide power to stands and stalls where the cable has been trailed over a path but not covered
Amusement Park Fatal Accident Claims
While extremely rare, we could help you make an Alton Towers fatal accident claim if a loved one died there, or at any other theme park, because of negligence. You could claim for funeral expenses, a bereavement payment and other damages as well. Please get in touch with a member of our team who would assist you at a difficult time.

How To Show An Amusement Park Is Negligent
To help win a claim for an Alton Towers accident, you'll need to provide some form of evidence. In more serious cases, this can be tricky, especially if you're incapacitated. This might mean trying to gather evidence at a later date. However, if possible, we recommend you try to carry out the following tasks straight after an accident:
Seek medical treatment. You should visit a doctor at a hospital or GP surgery to have your injuries treated. The medical records would be used to support your claim
Report the accident to staff at Alton Towers. By law, the accident will need to be recorded and you are allowed to ask for a copy of the report
Where possible photograph the scene of the accident before anything is removed
A lot of areas, including rides, are covered by CCTV at Alton Towers. Therefore, contact the park and ask for any footage for the time period that your accident happened
Get witness statements and details from anybody who saw what happened
Although this might seem quite arduous, taking the time to gather evidence can really improve your chances of proving negligence and making a successful personal injury claim.

Calculating Claims Against Alton Towers
If you go ahead and make a claim for an Alton Towers rollercoaster crash, or any other accident, you'll probably want to know how much compensation you could be entitled to. While it's impossible to tell you an exact figure, because every claim is unique, we can provide the personal injury claims calculator table below.
The figures are what can be paid under the 'general damages' element of a claim. General damages are paid to compensate for the pain, loss of amenity and suffering caused by the accident and the amounts provided in the table are based on the Judicial College Guidelines.
| Injury | Severity | Compensation Range | Additional Notes |
| --- | --- | --- | --- |
| Legs | Loss of both | £225,960 to £264,650 | Covers injuries which result in the loss of both legs above the knee. |
| Legs | Severe | £90,320 to £127,530 | Covers injuries which result in severe symptoms which are effectively the same as if the leg had been amputated. |
| Foot | Severe | £39,390 to £65,710 | Covers injuries such as the fracture of both feet that results in a substantial restriction on mobility. |
| Foot | Moderate | £12,900 to £23,460 | Covers injuries which result in an increased risk of long-term oesteoarthritis. |
| Foot | Modest | up to £12,900 | Covers injuries such as , puncture wounds, simple metarsal fractures and also ruptured ligaments. |
| Neck | Moderate | £23,460 to £36,120 | Covers injuries including disclocations and fractures causing severe symptoms that could require spinal fusion. |
| Neck | Minor | £4,080 to £7,410 | Covers injuries including soft tissue type injuries (such as whiplash) where full recover happens between 1 and 2 years. |
| Back | Moderate | £26,050 to £36,390 | Covers injuries such as crush fractures and those causing severe pain and might requireng spinal fusion. |
| Shoulder | Minor | £4,080 to £7,410 | Covers injuries including soft tissue damage where full recovery takes between 1 and 2 years. |
| Pelvis | Moderate | £24,950 to £36,770 | Covers injuries including a significant pelvis injury that results in a minor but permanent disability. |
| Arms | Loss of one | £102,890 to £122,860 | Covers injuries which result in an above the elbow amputation. |
| Arms | Moderate | up to £11,820 | Covers injuries such as elbow fractures, simple arm fractures, as well as lacerations. |
| Hand | Moderate | £5,260 to £12,460 | Covers injuries such as penetrating wounds, deep lacerations as crush injuries. |
As you can see, compensation is based on the severity of your injuries. That's why using a specialist solicitor is important. They can provide medical evidence to help prove exactly how you were affected by your injuries. Our solicitors also use independent doctors to assess you. The report they produce can be used as further evidence to support your claim.
General damages are just one part of your compensation claim. Therefore, in the next section, we'll look at other parts of a claim that can be made.

What Special Damages Could I Be Entitled To?
When you claim for financial losses caused by an accident, they're known as special damages. It's really important that you can show how they were linked to your injuries. Also, you'll need to provide receipts or other evidence to prove how much was spent.
Here are some examples of special damages that could be claimed for:
Travelling Costs
While you're recovering, you might need to visit your GP, a hospital or physio for treatment. Therefore, the fuel and parking costs could be claimed back. Also, if your injuries prevent you from driving, you could claim back the cost of any alternate travel arrangements
Medical Costs
While it's true that you'll usually receive free treatment for your injuries from the NHS, medical costs can still be incurred. That's because many people need to pay for prescriptions as well as over the counter treatments. Therefore, you could claim these costs too
Care Costs
If you have to be cared for while you're recovering, you could include the cost of the carer (or the time of a friend or family member) in your claim
Lost Earnings
If you lose money due to having time off work to recover or for medical appointments, you could claim back any lost income. Also, any long-term injuries that affect your ability to work could mean that a claim for future lost income could be included
Damaged Property Costs
Finally, if the accident resulted in items of personal property being damaged, you could ask for the cost for repairing or replacing the item. For instance, you could claim for a damaged phone, camera or torn clothing
No Win No Fee Alton Towers Amusement Park Accident Claims
We know that some people might worry about making a personal injury claim against Alton Towers. One of the biggest worries is the cost of hiring a legal team. That's why our solicitors work on a No Win No Fee basis for claims they take on.
Should you decide to proceed with a claim, you'll be provided with a Conditional Fee Agreement (CFA). This is the legal name for a No Win No Fee agreement and it's important because it explains two key points amongst other things.
First of all, it explains that there are no solicitor's fees to pay unless the solicitor wins compensation for you. It also explains the level of success fee that's paid if you do receive compensation. The success fee is a percentage of any compensation that's retained to cover the solicitor's fees.
We believe that more people are able to claim due to our No Win No Fee terms. Not only do they reduce the financial risk involved with claiming, they also reduce a lot of stress of seeking compensation too.

How To Start Your Amusement Park Accident Claim
To begin you Alton Towers accident claim, we recommend that you contact one of our solicitors who  would offer you No Win No Fee terms. Here are some reasons we think you should contact Accident Claims UK:
We have excellent feedback from previous clients
Our advisers offer free legal advice about claims and a no obligation assessment of your claim
Our team of solicitors have up to 30 years claim handling experience
The claim line is available 24-hours a day so you can discuss your claim whenever it suits you
Our solicitors are dedicated to trying to ensure you receive the best level of compensation for your injuries. They'll also work as efficiently as possible
All claims that are taken on are handled on a No Win No Fee basis
Start An Alton Towers Accident Claim
We hope that you're now ready to begin your claim. If so, there are a number of ways to contact Accident Claims UK. These include:
Our claims line is open 7-days a week, 24-hours a day so you can contact us whenever it's convenient.

Essential Resources
Thanks for reading this guide about claiming for an Alton Towers accident. To help you further, we've provided the following links, resources and guides which we hope you'll find useful.
Amusement Park Safety – This guide from the Health and Safety Executive explains what steps fairs and amusement parks should take to keep guests safe.
Alton Tower Safety – Information on the steps Alton Towers staff take to keep you safe.
NHS Whiplash Guide – A guide about the symptoms, causes and treatment of whiplash injuries.
Theme Park Accident Claims – This guide provides a more generic look at when personal injury claims could be made against theme parks.
Amputation Compensation Guide – Information about when a personal injury lawyer could help you claim for the loss of a limb due to an accident.
Broken Bones And Fractures – This guide provides information about fractured bone compensation. It explains the different levels of compensation awarded for different injuries.
Article by BH (Brett)
Editor Honey