By Joanne Jeffries. Last updated 20th January 2022. Welcome to our guide to making pressure sore negligence claims. In it, we discuss what constitutes medical negligence for pressure sores, and answer questions such as "can bed sores lead to death?' and "how much pressure sore compensation could my loved one receive?"
Within this online guide, you will also learn about the legal process of making a claim for bedsore compensation caused by medical negligence. A bedsore or pressure sore can be a serious medical condition, potentially life-threatening in extreme cases. When such a condition is the result of some kind of negligence, you could have the basis of a valid personal injury claim. This guide will explain how to go about making bed sore claims.
Pressure Sore Compensation Claims Explained
Because each claim has its own unique points, despite the fact we have tried to cover as many eventualities as possible in this guide, it may not answer all of your questions. If you do find that you have additional questions, don't worry, our claims team can answer them for you. Give them a quick call on 0800 073 8801 to get the answers you need, and learn how we can help you to move your claim forward.
Select A Section:
A Guide To Bedsore Compensation Claims
This online guide to making a claim for pressure sore compensation due to medical negligence, is intended to educate you on the ways that bed sore claims can come about, and how, if you are injured in the same way, you could be able to claim for the harm you have suffered.
The first half of this guide is given over to predominantly medical information related to pressure sores. We start with a basic definition of what these injuries are, and then take a look at bed sore causes. The symptoms of pressure sores are discussed, as well as how the severity of bedsores is measured. Some bedsores can lead to complications or even death, and we have gone over some of these in their own section. We have also included information about the diagnostic process and treatment of pressure sores. Lastly, we cover the topic of bedsore prevention.
Making pressure sore negligence claims
The second half of this guide relates to aspects of the claim itself. We look at the two concepts of eligibility and liability, why you could be able to make a claim, and who to make it against. We cover claims that are specifically targeted at the NHS as well. You will find a table that shows possible combination ranges for different bedsores and their severity, as well as a list of some of the more common kinds of damages that a settlement following a successful claim might include.
Medical negligence for pressure sores solicitors explained
Lastly, we will explain why using the services of a solicitor willing to take on your claim under a No Win No Fee deal, can often be the least financially risky way to make a claim. If you have any questions related to the contents of this guide, your own claim, or the bed sore claims process in general, please contact our claims team on the number down near the end of this page.
A claim adviser will answer your questions, provide key information such as the personal injury claims time limit that will apply in your case, and help you to get your claim started.

What Are Bedsores, Pressure Sores And Pressure Ulcers?
In this section, we will look at what a bedsore or pressure ulcers actually are and why they could lead to bed sore claims. A bedsore, which is also sometimes called a decubitus ulcer, pressure ulcer or pressure sore, is an injury that damages both the skin, and also the tissue underneath the skin (in all but minor cases). Certain parts of the body are more prone to developing bedsores. In general, they occur on bony parts of the body such as the hips, ankles, etc. However, the location where bedsores are most commonly contracted depends on the posture of the victim, for example:
For people who are wheelchair-bound:

On the buttocks or coccyx (tailbone)
The shoulder blades
On the lower part of the back/spin
The arms or legs where they rub against the wheelchair

For people who are bedridden:

On the head (either the back or sides depending on how they lay)
The shoulder blades
On the hips
The lower part of the back or the coccyx
Behind the knees, or on the ankles or heels
The people who are most prone to get pressure sores, are those who are suffering from some form of health problem which limits their mobility, and causes them to maintain the same position for extended periods. These sores can develop very quickly when a patient is left in the same position. In general, they will heal fully with proper treatment, but some leave a scar. In extreme cases, bedsores can be fatal. The severity of the injury is graded from 1 to 4 (more on this below).
Medical negligence for pressure sores – could you have a claim?
For the sake of this guide, we will be discussing instances of injuries that are the result of some form of negligence and could lead to bed sore claims, as well as answering the question of 'can bed sores lead to death'. For example, an inpatient at a hospital is left in the same position, and unable to move themselves, for an extended period. In cases such as this, if negligence can be proven, a valid cause to make a compensation claim could exist.

Causes Of Pressure Sores
In this section, we will look at bedsore causes. The basic cause of these injuries is pressure on the skin, which results in limited blood flow. The longer that the blood flow is restricted, the more skin and tissue cells become damaged, and eventually, a sore develops. These are three contributing factors to the development of bedsores, and these are:
Pressure – the affected area of the body will have been subjected to pressure for an extended period, limiting blood flow, stopping oxygen and nutrients reaching the cells causing damage
Friction – when the skin rubs against something like the padding of a wheelchair or the sheets of a bed, causing the skin to become more fragile and prone to sores
Shearing – shearing is the act of two surfaces that are moving in opposition. Related to bedsores, good examples of shear would be a bedridden person being propped up in bed, and then slowly sliding down again. An area of skin such as over the coccyx, may not actually move, it could be stuck in place, pulling the skin in the opposite direction
In general, it will be a combination of these three contributing factors that eventually cause a bedsore. For more advice on making bed sore claims, please contact our specialists.

Bed Sore Symptoms
Diagnosing a bedsore disease, such as a bedsore elderly people might suffer, comes down to recognising the symptoms of a pressure sore, and these can be:
Changes in the colour of skin, or a different texture, indicating damage
The area being swollen
An open wound with pus draining from it
An area of skin that feels hot
General tenderness of an area of skin
Depending on the severity of these symptoms, bedsores are graded into stages (more on this below, and we will also answer the question of 'can bed sores lead to death?').

Different Stages Of Bed Sore Injuries
We have covered the main symptoms and bedsore effects in the previous section. Depending on how bad these symptoms are, every pressure sore is graded into a specific severity. These grades range from 1 to 4, and are defined as:
Grade I – the skin will be discoloured, generally showing as black, purple or blue or any combination of these colours
Grade II – as well as discolouration, there may be missing skin that has been chaffed away
Grade III – necrosis will have occurred across a patch of skin, but the necrosis will not have affected the underlying tissue
Grade IV – necrosis will now affect the underlying tissue, and in severe cases the tendons, bones or joints beneath the sore
These are the 4 grades of bedsores. As you can see, each gets progressively worse. Whatever grade of injury you or a loved one has, we could help with bed sore claims. Why not call today to learn more?

Complications Which Could Result From Bed Sores – Can Bed Sores Lead To Death?
Bedsore complications can be quite serious, including terminal bedsores, and can be especially nasty when bedsores in elderly people come with complications.  Some of the most common complications are:
In some cases, bacteria can get into the bloodstream, often termed simply blood poisoning but the real term is sepsis
Serious inflammation and swelling of the affected area, known as cellulitis
Infections of the joints or the bones in the affected area
Large pussy sores or abscesses
In the most extreme of cases, a kind of cancer called squamous cell carcinoma, which could result in death
If you were to suffer bedsores, with one or more complication, due to medical negligence, then you may have a valid reason to start the bed sore claims process.

Diagnosis And Treatment Of Bed Sores
Following a bedsore assessment to grade it, a doctor will prescribe a course of bedsore treatment to deal with this injury. This treatment could include:
Ensuring that the patient's position is moved regularly
Providing a special mattress that will reduce pressure on the wound
A dressing that will ensure the sore itself remains moist, but the area around the sore stays dry
If there is any empty skin space due to tissue loss through necrosis, this space can be packed with a dressing to prevent infections
Regular cleaning of the wound and redressing
Medication or chemical applied directly to the infected area
Damage tissue may be removed in a surgical procedure
A skin graft or some other procedure to help the wound to close
Although these treatments may help the bedsores to heal, resulting in a full recovery, this won't remove the possibility of making a compensation claim if the root cause of the bedsore was negligence.

Measures Which Should Be Taken To Prevent Bedsores
A person who is at risk of suffering from grade I to IV pressure sores, needs some special care, and some preventative measures undertaken to keep them safe from harm. To start with, people should have their position moved regularly. If any area of the body is prone to bedsores, then steps should be taken to reduce pressure on that part of the skin.
How to avoid medical negligence for pressure sores
Setting up a daily routine of checking for pressure damage, cleaning any areas that are inflamed, and ensuring that a patient is moved into a position that relieves the affected area from further pressure can help too.
If you believe we could help with the bed sore claims process, why not call our team today?

Who Could You Make A Bedsore Compensation Claim Against?
If you suffer bedsores due to the negligent acts of a medical professional or healthcare facility, you could have the basis of a valid claim for clinical negligence. However, for this to be potentially true, then all of these statements must apply to your situation:
A medical professional or healthcare facility had a duty of care to treat you safely, and never cause any unnecessary harm
A medical professional or healthcare facility failed to take care of you properly, did not fulfil their duty of care, and because of this, you developed one or more bedsores
Had the medical professional or healthcare facility taken some other action, you would not have suffered from bedsores are all
Claiming medical negligence for pressure sores – do I have a case?
If these three statements all apply to your own case, you could have a valid claim. However, you will then need to be able to prove that negligence took place. If the healthcare provider that employs the medical professional or runs the healthcare facility refutes your claim, you will need to prove that they are wrong to do so.
We understand that the concept of eligibility to claim may seem complex. We are quite happy to answer any questions you have about your own eligibility, and go over the bed sore claims process with you. If you call our claims team and speak to an adviser, they will be able to help you further.

Pressure Ulcer And Sore Claims Against The NHS
A special arm of the National Health Services (NHS) deals with negligence claims. You can check the website of NHS Resolution by clicking here. Initially, you will make a complaint to the NHS facility in which you came to harm. This complaint will be investigated by the NHS. It may be that the NHS admits liability, and offers you an out of court settlement. Or they may refute your claim entirely. A personal injury lawyer will be able to help you, they will process your claim on your behalf. They will assist you in preparing evidence to support your claim, and they will also value your claim for you and advise you on the amount of compensation you could be able to claim.
We can arrange a suitable solicitor to handle your NHS negligence claim. If you speak to one of our claim advisers they will explain how this service works, and help get your claim started.

Bedsore Compensation Claims Calculator
It is very difficult to give an average bedsore compensation amount that a medical negligence lawyer might win for a claimant. Each claim has its own unique circumstances, which will affect the level of compensation awarded. We have provided this table based on the UK Judicial College guidelines, which shows possible compensation ranges for different grades of bedsores.
| Medical Condition | Severity | Info | Payment |
| --- | --- | --- | --- |
| Illness (non-traumatic) | Minor | Bedsores that are noticed early, before becoming serious, and that cause minor pain and suffering. (grade I bedsores). | £860 to £3,710 |
| Illness (non-traumatic) | Moderate | Pressure sores that go unnoticed for some time, leading to them becoming open lesions, with a fair level of pain and suffering. (grade II bedsores) | £3,710 to £8,950 |
| Illness (non-traumatic) | Serious | Bed or pressure sores that have gone unnoticed and untreated for quite some time. They will require emergency treatment and will cause a high level of pain and suffering. (grade III bedsores). | £8,950 to £18,020 |
| Illness (non-traumatic) | Severe | Bedsores that have gone undiagnosed and untreated for a long time. The patient will be in severe pain and suffering and unless rapid treatment is applied, death could be the result (grade IV bedsores) | 36,060 to £49,270 however, a different scale will apply should the patient die. |
Medical negligence for pressure sores – how much could I receive?
You might be able to use a personal injury claims calculator to get a rough idea of how much compensation you could be able to claim. For a more accurate estimate, you will need a lawyer to value your claim for you. Speak to our claims team to organise this.

Special Damages Awarded In Pressure Sore Compensation Cases
When bed sore claims are successful, the claimant will receive a compensation settlement that is made up of potentially a number of separate kinds of damages, all of which fit under the headings of special damages and general damages. As examples of this:
Special damages – medical negligence in pressure sores management
Special damages that compensate the claimant for financial and other kinds of losses:

Lowered income potential in the future due to a disability and reduced working capacity
Lost income in the short-term due to the injuries and taking time away from work to heal
The cost of any additional private medical care the claimant paid for
To cover the out of pocket expense of hiring a nurse to help at home
For the cost of travel to get treatment or to deal with the claim
General damages – medical negligence in pressure sores management
General damages that compensate the claimant for physical harm and suffering:

Loss of life quality in the future due to permanent disability or impairment of some kind
Undergoing a long, painful or traumatic course of medical treatment
Psychological injuries such as anxiety or post-traumatic stress disorder caused by the incident or living with your injuries
Pain and trauma in the time the incident took place
Mental anguish and shock suffered in the initial stages of the incident and emergency treatment afterwards
If you would like to learn more about the kinds of damages you could be able to claim in your own case, then please speak to a member of our claims team today, they will be able to help you.

No Win No Fee Pressure Sore Negligence Compensation Claims
Using a lawyer who is willing to take your claim on under a No Win No Fee agreement, is a good way to secure the legal help you need, while keeping the financial risks of making a claim to a minimum. This is because, under this kind of agreement, the lawyer doesn't charge a fee until the claim has been successful.
You will not be asked to pay any kind of bed sore claims fee, or pay legal fees during the time it takes the lawyer to process your claim. You are also not expected to pay any fees if the claim fails. The only time you pay the solicitors pre-agreed fee is when they have received a compensation payment for you. The lawyer then collects their fee from this money, and passes you what is left over.

Why Choose Our Medical Negligence Team For Your Pressure Sore Claim?
We offer a very simple, three-stage new bed sore claims process, which is:
Call our claims team using the number below
An advisor will evaluate your claim and answer your questions
A medical negligence solicitor will then process your claim for you
This is all you need to do to get the legal help you need today.

Start A Bedsore Compensation Claim
Have you become the victim of medical negligence that lead to you suffering from bedsores? Do you think you may have due cause to make a claim for the harm you suffered? If so, contact our claims team on 0800 073 8801 today, and find out how a personal injury solicitor can help you.

Medical Negligence Pressure Sores – FAQs
Are bed sores medical negligence if pressure sores aren't managed?
Where a bed sore is spotted early and graded at a low level, it can be treated effectively. However, where a grade 3 or 4 pressure sore results, it could be a sign of negligent care. As such, bed sore claims for any pain and suffering caused might be possible.
Can you sue for bed sores UK?
If a patient is at risk of developing pressure sores (such as those that are bed bound), their care team should move them regularly to reduce the risk. If medical negligence for pressure sores means they develop, it may be possible to sue for the suffering that results.
What is a stage 4 bedsore?
Stage 4 bed sores are significantly sized injuries. They can result in dead tissue or tendons, bones and muscles may be visible. Because bed sores are usually preventable, a stage 4 injury could be seen as abuse or clinical negligence.
Who is responsible for bed sores – could injured parties make pressure sore negligence claims?
Hospitals and care homes owe their patient a duty of care to keep them as safe as possible. As it is known that bed bound patients run the risk of bed sores, carers must mitigate for them. Failure to do so could make them liable for any injuries that are sustained.
For free advice on making bed sore or pressure sore negligence claims, or to find out 'can bed sores lead to death?' please contact our team today.
Can bed sores lead to death? If so, could I claim compensation by making pressure sore negligence claims?
If you're wondering 'can bed sores lead to death?' because your loved one passed away in a care home with bed sores, you might be interested to know that they could indeed contribute to death. If pressure sore negligence has led to your loved one developing necrosis, which has eventually led to their death, you could be eligible to claim medical negligence for pressure sores that weren't treated appropriately.
You would need to prove that but for the negligence experience by your loved one, they would not have suffered as they did. Posthumous compensation claims could lead to damages for the pain and suffering your loved one experienced, could help with funeral expenses, and provide a bereavement award. Please do not hesitate to speak to us if you believe your loved one has passed away due to medical negligence for pressure sores. We could help you make a claim for compensation for the negligence they experienced.
How much has the NHS paid out in pressure sore negligence claims?
Unfortunately, we cannot give you a definitive answer on this. What we can do, however, is give you insight into the levels of compensation paid out for clinical negligence by the NHS. In 2020/21 according to NHS Resolution, the following amounts were paid out in clinical negligence payments. As you can see, this is not a small amount of money. We do not have information that could help you ascertain how much of this was due to pressure sore negligence, however.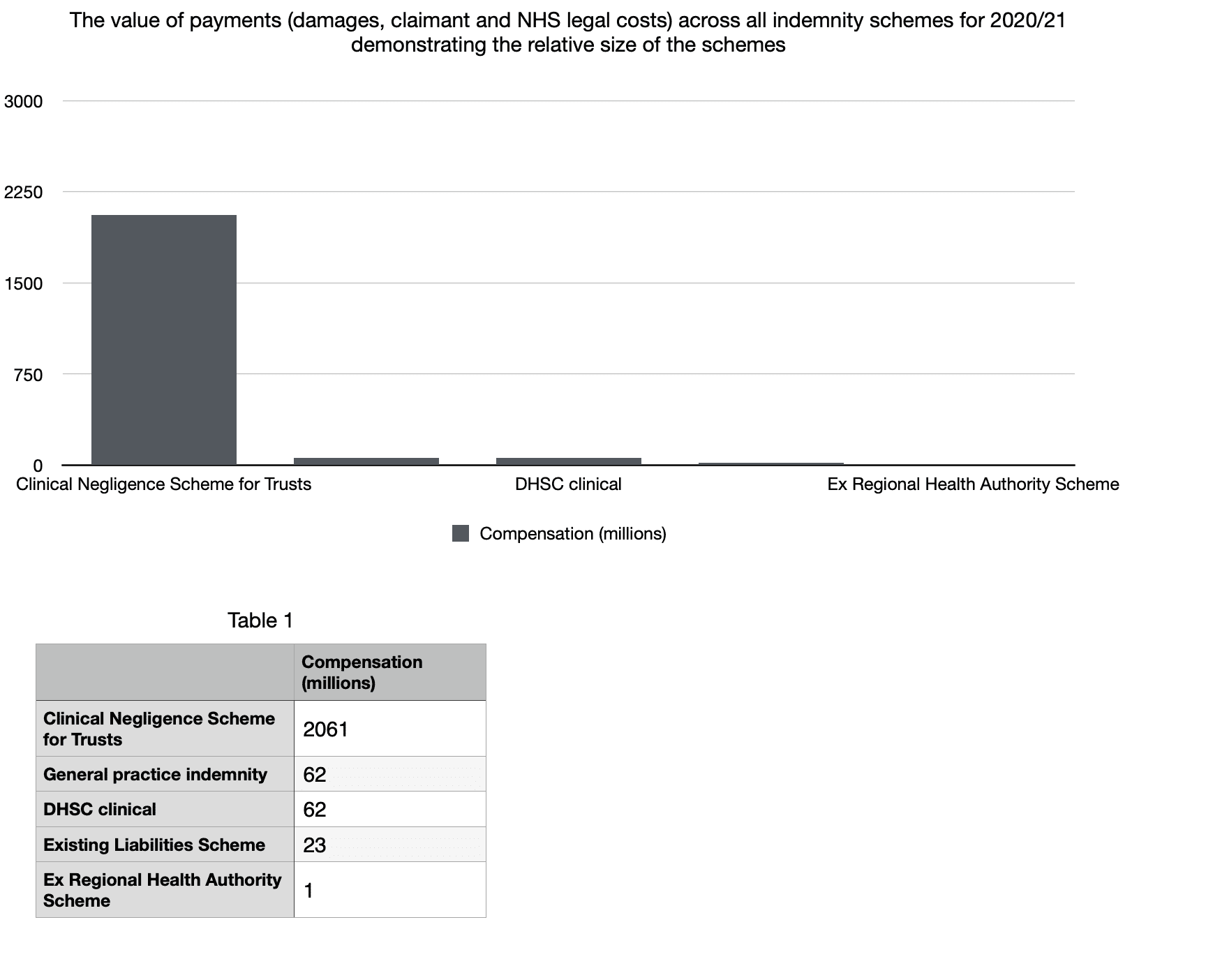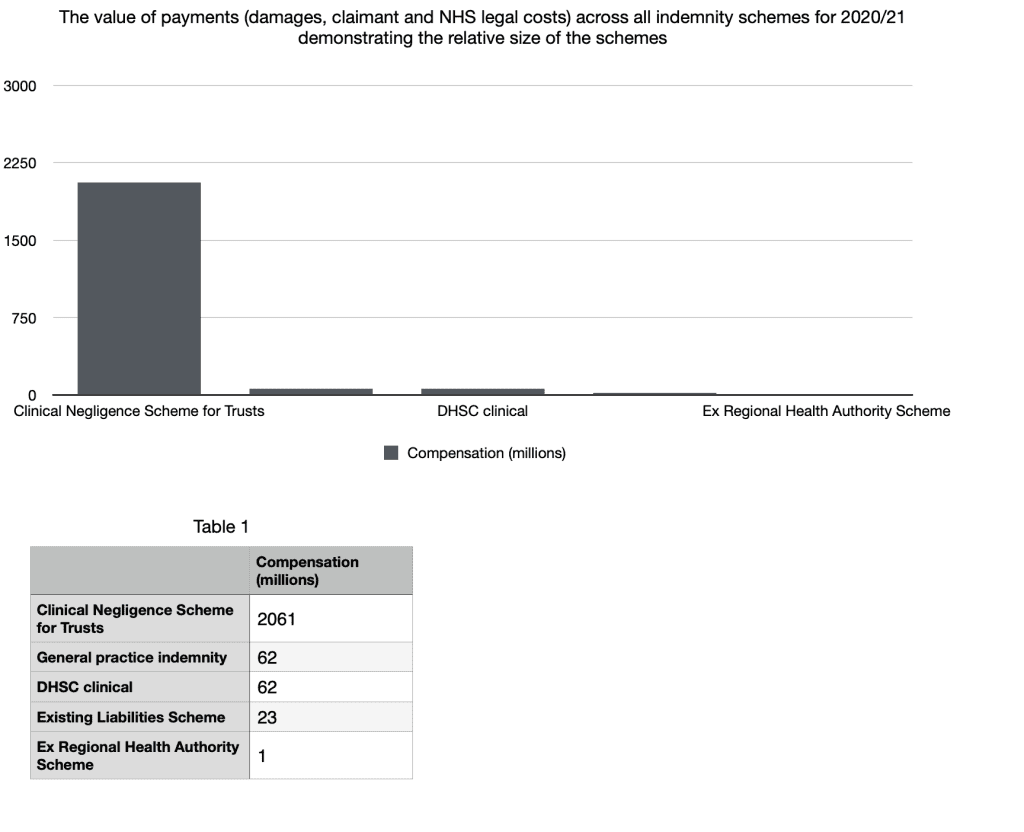 Medical And Other Resources Related To Pressure Sore Negligence Claims
You could find that these external pages are useful:
NHS Information On Pressure Sores
UK Government Information On Pressure Sores
Causes And Prevention Of Bedsores
Additionally, these other guides could be useful to you:
Claiming For Being Discharged From Hospital Too Early
How To Make A Hospital Negligence Claim
A Guide To Claiming Compensation Form The NHS
Final words on pressure sore negligence claims
Thank you for reading this guide about making pressure sore negligence claims. Now we have answered the question of 'can bed sores lead to death, and if so could I claim pressure sore compensation?' you might be ready to get started with a claim for medical negligence for pressure sores. If so, why not give our team a call today?