By Joanne Jeffries. Last Updated 21st September 2021. Welcome to this guide on Glasgow International airport accident claims.
Have you been injured in Glasgow International Airport accident due to a breach in the duty of care owed to you? Did you contract an illness or suffer an unexpected injury as a result? If you feel that an accident of this type could have been averted had reasonable safety standards been upheld at the time, you could be entitled to compensation for your damages.
With the help of a personal injury lawyer if you have suffered a negligent accident that could have been prevented you potentially could receive a settlement amount for your suffering whether you are claiming as a passenger or employee. Our panel of experts has up to thirty years' experience in conducting personal injury claims on behalf of those who have been affected by third-party negligence.
Understandably, it may seem both scary and overwhelming for some to pursue a personal injury claim. However, as it will be explained throughout this guide, the process could be surprisingly easy and you could receive maximum compensation for your injury and/or illness.
Call an advisor from our expert team today on 0800 073 8801. Not only could they provide you with legal advice, but they could evaluate the circumstances of your case under a free, no-obligation consultation right away.
Select A Section
A Guide To Claims For Accidents At Glasgow International Airport
The port city of Glasgow is one of Scotland's most renowned cities, famed for its architecture, culture, nightlife and thriving music scene. The glowing city attracted a wealth of tourism in 2017, with European tourists spending £114m in the city during their visit. As a popular destination with tourists across the globe, Glasgow International Airport can become particularly busy during peak periods.
Between 2009 and 2018, Scottish Airports saw a significant rise in the number of air terminal passengers from 22.5 million to 29.4 million. As one of Scotland's largest airports, Glasgow International airport operates as a hub for both domestic and international flights. With nearly 9.3 million passengers passing through its doors in 2016, Glasgow International Airport is the second busiest in Scotland, with Edinburgh Airport recognised as the busiest. With so many passengers occupying Scottish airports at any given time, there is potential for an accident to occur if hazards are not minimised at all times.
As previously mentioned, Glasgow International airport accident claims for third-party negligence could seem overwhelming initially; especially if you are not fully versed in personal injury law. However, the legal assistance of a solicitor could smooth the claims process out for you. As this guide will explain, you could make a claim for a range of different accidents at an airport, if they are caused through third party negligence and you have suffered as a consequence including:
Food poisoning
Plane crashes
Baggage accidents
Vehicle accidents
It should be noted that the accident types listed in this guide are not exhaustive. As each claim is treated as a unique case, there is an abundance of circumstances which could be reasonable grounds for a compensation claim.
What Are Accidents At Glasgow International Airport?
You may be reading this guide in search of an explanation as to how accidents at airports are caused or searching for verification as to whether your accident was the result of negligence. Simply put, airport accidents and incidents could be the result of multiple causations, many of which range in severity and may cause both physical and psychological damage. For example, an airport injury could result from a slip trip, a falling object or even an allergic reaction. Please note that not all accidents that happen and lead to an injury will result in a compensation claim, this guide will try to highlight what makes an accident and injury qualify for damages.
In the event of a negligent accident, it is important to consider a few simple steps to help with your Glasgow International airport accident claims. Firstly, you should seek medical attention for your injury/illness. This should not only help you in beginning the recovery process but also provide medical evidence of your diagnosis.
Next, it is important to be able to distinguish whether a third-party is at fault for the accident. If you can acquire evidence from the accident (i.e. photographs, witness contact details, documentation, etc.) then this could strengthen the validity of your claim.
Finally, you must take into consideration the relevant personal injury claims time limits and how they could affect your claim. A legal expert could discuss these restrictions with you and help you distinguish whether you are within the applicable time limit.
Aviation Industry Health And Safety In The UK
The majority of airports across the globe will engage in different precautions in order to uphold passenger and staff safety at all times. Therefore, it is important for an airport to carry out various procedures to retain appropriate standards. One particular measure used widely across a number of airports is the restriction of certain items in hand luggage and checked-in baggage.
Some items these restrictions apply to include:
Medications: If you require certain medications for your trip, you may need to carry specific documentation in order to carry them in your bag.
Flammables: Both liquids and solids, e.g. firelighters, lighter fuel, paints, thinners, etc.
Gas devices: Including tear gas or any gas cylinders.
Explosives: Such as fireworks, party poppers, etc.
Acids: Poisons, arsenic, cyanide or weed killer are but a handful of acids which are restricted from air travel.
Radioactive materials: These could include acids, corrosives, alkalis or caustic soda.
Matches: Although some may be carried on your person, you should refrain from packing matches, non-safety matches or lighters in your luggage.
Certain instruments: Any instruments which contain magnets and/or mercury are restricted from flights. However, passengers may carry thermometers with mercury in their hold luggage but not their hand luggage, providing they are carried in a protective case.
You can find more information about what items are prohibited in-flight on the EC website..
Common Accidents Which Could Happen In Airports?
There are a number of different accidents which could lead to an airport injury, many of which may not be included in this guide. However, that is not to say that they are not valid grounds for a personal injury claim. As an airport and other operators within the airport will owe a duty of care to those on-site at all times, a breach in this responsibility could lead to detrimental consequences.
In the sections to follow, we will discuss accident types which range in severity and common injuries that could potentially happen at any airport as a result. Furthermore, we will include specific examples and highlight how compensation could be claimed by making Glasgow International airport accident claims.
Slips And Falls In The Airport
There are several contributing factors which could lead to a slip, trip or fall in an airport, many of which range in extremities. For example, a cleaning product spillage that is neglected by an employee while cleaning could result in disastrous consequences for whoever walks across the surface. As will be described below, the potential risk of a Glasgow International Airport accident is heightened when a substandard of care is delivered to those on-site. Much like the majority of public domains, there is a direct obligation to keep members of the public safe at all times. According to the Health and Safety Executive (HSE), slips and trips may be increased by a range of different factors, such as:
Slips:
A slip could be caused by too much or too little friction between a surface and footwear. For example, a slip could be induced by:
Oil/water/spillages
Loose mats/rugs
Weather hazards
Icy surfaces
Trips:
A trip can also be caused by a range of different defects, including:
Loose cables
Uneven surfaces
Poor lighting
Obstructions
Lack of signposts for hazards
Potholes
Loose carpeting
Defective steps
If an accident was to occur onboard a flight, then a claim of this nature may typically be brought under the Montreal Convention 1999. Generally speaking, this legislation states that if a person is affected by negligence while on a flight, the victim could make a claim against the airline or airport responsible. However, there are exceptions such as if the holiday was booked as part of a package. In this instance, the tour operator may be liable. Claims against airlines under the Montreal Convention, could also be made for injury, illness, damage to personal luggage or loss of baggage entirely.
Baggage Accidents At An Airport
When you come to reclaim your baggage, you may often be greeted with a busy and hectic experience at airport arrivals, especially for larger flights. Often, you may find several people rushing around the space in order to claim their baggage as quickly as possible. If, however, the space itself is improperly maintained or the baggage carousel was not loaded correctly, then the potential for heavy luggage to fall on a holidaymaker could be increased. In the process, this could cause disruption to those in the vicinity too. Furthermore, if an emergency stop button is not fitted on a luggage carousel, or the conveyor belt itself has not been maintained correctly, then the risk of an accident at Glasgow International airport potentially may increase.
Airport Stairs / Lifts And Escalator Accidents
While moving around an airport, you should always take care when using stairs, escalators, lifts and travellators; even though they must be maintained to a particular standard to prevent accidents at airports they could be considered a hazard in themselves. Regardless of whether you fall down a staircase because the handrail came away or became trapped in the doors of a lift, a claim for compensation could be made if you are forced to suffer as a result. In such cases, Citizens Advice advises that you take extra care to follow these few simple steps in order to provide sufficient evidence to support your Glasgow International airport accident claims if you choose to pursue them. This includes:
Taking photographic evidence
Gathering witness contact details
Report the incident to the relevant body
Seek medical treatment for your injuries
There are extra steps which you may need to consider in order to strengthen your claim, which our panel of solicitors could help you with.
Accidents On Airport Transit Systems
There are various modes of transport at an airport which most passengers will use to move from one location to another. This could be for a transfer flight, to travel from the tarmac to arrivals or simply from terminal to terminal in larger airports. However, as a personal injury lawyer could discuss with you in further detail, potentially there are some unfortunate scenarios where airport vehicles could be involved in a collision or a road traffic accident if negligence is present resulting in a Glasgow International Airport crash. For example, as there are smaller vehicles frequently in motion across both the runway and terminal itself, if a worker was driving carelessly they could cause an accident; as a result, injuring both passengers and employees.
Accidents In A Shop Or Restaurant At Glasgow International Airport
Each food distributor will be responsible to uphold reasonable food hygiene standards, as with any other restaurant, café, and so on. As outlined by the Food Standards Agency (FSA), there are 14 substances which could be considered a high allergen risk to members of the public who suffer from allergies if food and drink is incorrectly labelled. These substances include:
Gluten: Cereals, wheat, rye, barley, oats
Crustaceans: Prawns, crabs, lobster, crayfish, etc.
Eggs
Fish
Peanuts
Soybeans
Lactose: E.g. milk products
Nuts: Almonds, hazelnuts, walnuts, cashews, pistachio, etc.
Celery
Mustard
Sesame
Sulphur
Lupin
Molluscs: Mussels, whelks, oysters, snails and squid
In order to prevent allergic reactions to these substances, the FSA suggests that allergens are emphasised in menus using typeset that is easily distinguishable from other ingredients. However, if the vendor or manufacturer fails to print these allergens and you suffer a reaction as a result, you could be entitled to compensation. We could help with such Glasgow International airport accident claims.
Accidents Injuring An Airport Worker
As an airport employee, your employer should provide you with the correct training and equipment in order to carry out your daily tasks effectively. If there is a lack of training, or you are not issued the correct Personal Protective Equipment (PPE), then potentially an accident could occur. If you are not trained to lift heavy luggage correctly and you suffer an injury while trying to carry out a lifting task, you could possibly make Glasgow International airport accident claims.
Accidents Injuring An Airport Baggage Handler
A baggage handler could potentially suffer manual handling accidents and injuries while working at Glasgow International airport if they do not receive the appropriate training or health and safety policies and procedures to do with manual handling are not executed correctly. An employer owes a duty of care to their employees to ensure that all work environments are of safe standards for employees to carry out the work expected of them. To do this, risk assessments, regular housekeeping and other regular checks must be carried out on all equipment/spaces to ensure standards are upheld.
According to HSE guidelines, there are certain risk factors involved in baggage handling, such as:
Pushing/pulling equipment
Stacking/handling baggage inside an aircraft
Handling baggage below knee/above shoulder height
Extending baggage far from the lower back region
Lack of management/supervision during activity
In the 5 year span between March 2009/10 to 2013/14, there were 594 major injuries at work in the airport industry. You can see how this compares to the 2019/20 figures from the HSE for all injuries below.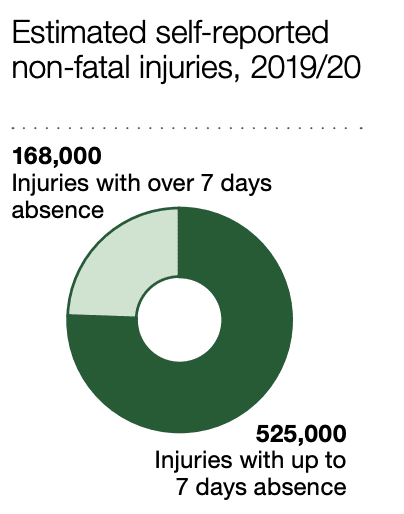 Hazards could arise in any environment, such as at a baggage carousel, on the runway or while transferring luggage between flights if health and safety is not the driving force. If you have suffered an accident as a baggage handler due to lack of training, you could make a claim with our panel of solicitors for the harm you have suffered. Call us today to find out more.
Compensation Calculator For Personal Injuries – Updated September 2021
When you come to pursue a personal injury claim, you may be curious as to how much compensation you could receive for your damages. However, while an online personal injury claims calculator can paint a basic picture of your settlement amount, you could obtain a more accurate figure from a consultation with one of our advisors. To provide you with a generalised estimation of how much your claim could be worth, we have used Judicial College Guidelines (which are applicable to English law) though these amounts may vary for claims under Scottish law.
| Injury | Injury Severity | Compensation Amount | Injury Description |
| --- | --- | --- | --- |
| Head Injury | Moderate Brain Damage (i) | £140,870 to £205,580 | Moderate to severe issues with intellectually capacity, a significant possible personality change, speech and sensors are both effected with a chance of suffering epilepsy. |
| Head Injury | Moderate Brain Damage (ii) | £85,150 to £140,870 | Moderate to modest intellectual capacity, there maybe slight ability to be able to work, but it may not be possible, the risk of epilepsy is not so great at above. |
| Neck Injuries | Minor (i) | £4,080 to £7,410 | In these instances, a full recovery from the injury may be made within 1-2 years. |
| Neck Injuries | Moderate (i) | £23,460 to £36,120 | These injuries may be fractures or dislocations requiring immediate medical attention. They leave markedly impaired function or vulnerability to further trauma, and limitation of activities. |
| Neck Injuries | Severe (i) | In the region of £139,210 | Severe neck injuries are associated with permanent disablement. |
| Paraplegia | Serious | £205,580 to £266,740 | An injury of this calibre is often expected to inflict a shorter life span, depression, limit mobility, and in some cases, a lack of sexual function. |
| Arm Injury | Severe Injuries | £90,250 to £122,860 | Injuries which fall short of amputation but which are extremely serious and leave the injured person little better off than if the arm had been lost |
| Leg Injury | Moderate (iv) | £26,050 to £36,790 | This bracket includes complicated or multiple fractures or severe crushing injuries, generally to a single limb. |
| Food Poisoning | Serious (i) | £8,950 to £18,020 | A serious case of food poisoning is often expect to cause a serious upset stomach, which signs such as diarrhoea and nausea. |
| PTSD | Less severe | £3,710 to £7,680 | Those who endure minor levels of PTSD are often expected to make a full recovery within the span of one to two years. However, they might endure symptoms such as sleep deprecation, anxiety, and depression. |
| PTSD | Severe | £56,180 to £94,470 | Those who experience a severe level of PTSD are often expected to be left with life-long disabilities, minimal job prospects, physical ailments, and mental distress. |
Special Damages Claimed In Accident Cases
In a personal injury claim, a wide range of damages can be claimed for to help you return back to the financial state you were in prior to the accident. These are evaluated under two categories: General Damages and Special Damages. Both of these categories take into consideration a wide range of factors, some of which have been listed below:
General Damages: A claim made in accordance with general damages will often relate to the physical damage inflicted or psychological damage experienced. This also applies to the contraction of an illness.
Special Damages: If you experience an accident, there could be a number of unexpected costs which you must cover. These could be claimed back as expenses, providing the correct documentation is retained throughout the claims process. These include medical costs, travel expenses, lost earnings, care costs and the loss of future earnings too.
No Win No Fee Claims For Accidents At Glasgow International Airport
Whether you are involved in a Glasgow International Airport plane crash accident or baggage strikes you from a moving carousel, you could potentially be entitled to compensation. When you choose to work with our panel of solicitors, you may be offered a No Win No Fee agreement to conduct your claim under.
Often referred to as a Conditional Fee Agreement (CFA), this type of contract outlines the payment conditions for your personal injury lawyer. If your legal representative is successful in securing a settlement amount on your behalf, their fees will be covered with a proportion of the compensation awarded. This is known as a 'success fee' and they are legally capped.  If your solicitor was unsuccessful in winning your case for whatever reason, then you may not be held accountable for their legal fees.
For more information on this process, please contact a friendly advisor from our expert team.
Why Should You Choose Our Panel Of Solicitors?
While our panel of solicitors may not be based in your local area, they could manage a large number of claims via email or telephone, so there's no need to meet face-to-face with your solicitor if you do not want to.
Our expert panel of solicitors, all authorised and regulated by the Solicitors Regulation Authority, is well versed in various areas of personal injury law and they could provide you with knowledge and guidance every step of the way in your Glasgow International Airport accident claim.
Start Your Claim For An Injury At An Airport
Your claim is only a few simple steps away. To begin the personal injury claims process, contact an advisor today.
Could Glasgow International airport accident claims include assault claims?
If you have suffered an assault at work or an assault as a passenger at Glasgow Airport, our specialist solicitors could help you to claim compensation. There are several ways in which you may be able to claim compensation for an assault in an airport. If your employer failed to protect you from suffering an assault at work, they could be held liable for your injuries. However, if not, this could constitute criminal injury, and you could make a claim through the Criminal Injuries Compensation Authority, which is set up to compensate victims of violent crime. We understand that it may be difficult to know who your claim would be made against. If you have suffered assault of any type at Glasgow Airport please do not hesitate to contact our team. We could help you assess your case and work out whether you are eligible for compensation, and who your claim would be against.
Could I make Glasgow International Airport accident claims for a child I'm responsible for?
If a child that you are responsible for falls ill or suffers injury due to third party negligence, you may be wondering how to go about claiming compensation on their behalf. You would have until their 18th birthday to make a claim for compensation as their litigation friend. Alternatively, you could wait until your child comes of age, and they could claim for themselves. However, gathering evidence may prove more difficult as time moves on, so you might want to make a claim while everything is still fresh in the minds of the parties involved. We could assist you in doing so. If you would like to learn more about acting as a litigation friend and making a claim for a child accident at an airport, we'd be glad to talk to you about your claim.
Essential References
Staff Injury Claims
How to make a claim for an accident as a waiter, waitress, chef or any other form of serving staff.
Pelvis Injury At Work
How to make a claim for a pelvis injury at work.
Package Holiday Injury Claims
You could receive compensation for an unexpected accident while on a package holiday.
Your Rights After A Cancellation
A guide by the Civil Aviation Authority about where you legally stand after a flight cancellation.
Civil Aviation Authority Airport Safety
Information and guidance on how an airport is responsible for your safety.
Health And Safety In The Air Transport Industry
A guide by the Health and Safety Executive (HSE) about how to manage the risks to health and safety in the airport industry.
Thank you for reading this Glasgow International airport accident claims guide.