Below, is a web page that contains a full and detailed guide to making a compensation claim after an accident on holiday in Kefalonia. it will cover all of the basic information that you will need, to learn about the process of making a claim. This includes why you might have a valid claim, and who you may be able to claim from.
If you have questions that go unanswered by the guide, don't worry, we are here to help. All you have to do is call 0800 073 8801, and one of the Accident Claims UK experts will get you the answers that you need.
Select A Section:
A Guide To Getting Compensation For An Accident On Holiday In Kefalonia
This guide is specifically aimed at covering injury and illness claims. However, many of the facts you will read will also relate to other types of claims, such as those for flight delay compensation. The first part of this guide will attempt to provide you with all of the kinds of information that you will need, to deal with the incident while still on holiday. This includes a section that covers the specific kinds of steps you can take in preparation for making a claim. You will find sections that cover how to contact the emergency services, and also what the situation regarding healthcare for UK citizens is whilst on holiday. We also discuss the claim time limits that may apply.
The next part of this guide takes a look at the most common reasons why people make a holiday accident or injury claim, and this will include:
Illnesses and injuries that occur while a person is on a package holiday.
Claims against a hotel that you are a resident of on holiday.
Food-related illnesses such as food poisoning.
Slips, trips and falls that happen on holiday.
Accidents that happen while using resort or leisure facilities.
Water sports and boating accidents.
Road traffic accidents while driving overseas.
Accidents involving cyclists, quad bikes, etc.
The last part of this guide will go over some key facts relating to the actual claim. We will cover whether it is a good idea to use a local legal firm, or a UK solicitor. We will also introduce the Accident Claims UK national claims service, which is a risk-free, simple and effective way for you to have your claim processed.
One thing you won't find in this guide is a personal injury claims calculator. We prefer to give our clients accurate information. Therefore, we need to know more about your own situation, so that we can give you an accurate estimate of how much you could claim.
If you need any additional information about any of the facts presented in this guide, or how to start your claim, please call one of our expert team on the telephone number that you will find at the bottom of this guide.

Popular Tourist Destinations In Kefalonia, Including Resorts, Towns, & Beaches
There are many great tourist destinations and attractions in Kefalonia, the most popular of them being these listed below:
Fiskardo
Melissani Caves
Argostoli
Myrtos Beach
Antisamos Beach
Assos Village
Lourdas Beach
Skala Beach
Castle of Saint George
What Should I Do If I Was Injured On Holiday In Kefalonia?
If you have been injured or become ill while on holiday, due to the actions of a third party, then you could have a reason to make a claim when you return home. These simple steps below, will help you to prepare for this in the best way:
Visit the hospital and have your injuries looked at. Even if they seem quite minor, still visit the hospital, as this will ensure that they are officially recorded.
If you have been harmed in a serious accident such as a car crash, or have been the victim of a violent crime such as assault, make sure the police know what has happened.
If you were on a package holiday, booked through a UK travel firm, then make sure you have reported the incident to their representative.
If you can, gather evidence. This could include taking photographs of the scene of the accident as well as the cause. You can also ask any witnesses to the event for their contact details.
When you return to the UK, Accident Claims UK will be able to assist you in getting the compensation that you are entitled to. Call us on the number down near the end of this guide to learn how.

Useful Contacts In An Emergency In Kefalonia
Getting help from the emergency services while you on holiday in Greece is actually quite straightforward. This is because the Greek Government has followed the European standard of providing the number 112, as a single point of contact for all of the emergency services. When you call 112, even from your UK cell phone, you will be put through to an operator who speaks English. They will send any of the emergency services they think you need. You can still contact any of the emergency services directly, using these numbers:
112 – for all emergency services.
166 – for emergency medical help.
199 – for the fire brigade.
100 – for the police.
You can also contact the UK Government in Greece for help, and we have included the contact details for this at the bottom of the page. For more detailed information, visit this link:
How to contact the Greek emergency services on holiday

Hospital And Healthcare Services In Kefalonia
If you are injured or become ill while visiting one of the Greek islands, you will likely need to gain access to some form of healthcare. As a UK citizen, as long as you have a valid European Health Insurance Card (EHIC) on you when you visit a clinic or hospital, then you will be given the same emergency medical care as a Greek citizen.
If you do not have an EHIC, you will need to pay for your medical care some way. This means either a valid health insurance policy, or paying for the treatment from your own funds. In the latter case, you could potentially claim this cost back. You also need to know that your EHIC only covers basic medical care. Any advanced treatment will also need to be paid for. There is some great information about getting healthcare in Greece at these links:
NHS information on Greek healthcare for UK holidaymakers
UK Government travel advice for Greece

I Was Injured On Holiday, How Long Do I Have To Claim?
You must begin making your claim within the personal injury claims time limit that applies in your own case. Depending on where you are on holiday, and how you booked your trip, different time limits apply, such as:
| Injury or Illness | Time Limit |
| --- | --- |
| | |
| If you booked the holiday in the UK, as a package, from a local travel firm. | 3 years may very |
| If you arranged for transport and accommodation yourself. | Up to 5 years may very |
| Car crashes and other accidents on Greek roads. | 2 years to 5 years |
| Incidents that take place on a boat or ship in international waters. | 2 years from the date you boarded. may very |
| Accidents on Greek trains. | 3 years may very |
| Incidents on flights to or from Greek airports such as Athens, Ioannis Kapodistrias, Heraklion, Rhodes and others. | 2 years may very |
If you are fast approaching your time limit to make a claim, speak to Accident Claims UK today, and we can expedite a claim for you as quickly as possible.

Kefalonia Package Holiday Injury Claims
Every UK travel firm that offers package holidays, is fully regulated under UK legislation. They must, legally, provide you with a safe package holiday, and this includes:
Transport such as plane flights, train or bus journeys.
Accommodation such as a hotel or guesthouse.
During activities and excursions included in the price of the holiday.
If you suffer an injury, or contract an illness due to any part of your package holiday being subpar, or unsafe, then Accident Claims UK can help you to make package holiday injury claims. Just reach out to us on the number down at the end of this guide, and one of our expert team will help you.

Kefalonia Hotel Accident Claims
A hotel overseas, especially one that is operated by overworked or sloppy staff, can represent a serious hazard for UK holidaymakers. Including dangers such as:
Faulty room fittings such as light switches and plug sockets causing electrocution or burn injuries.
Wet floors in and around the pool area causing a slip.
Badly maintained or faulty equipment in the hotel gym causing an accident.
Food served during the breakfast buffet causing a food-related illness.
Road traffic accidents while riding on a hotel provided shuttle bus.
There are many ways a person can come to harm in a hotel while on holiday. If the hotel operator was the cause of the harm, then a valid reason to make a claim will exist. In this case, Accident Claims UK can help, get in touch using the number at the end of the guide and we can help you.

Food Poisoning, Illness, And Sickness In Kefalonia
For UK holidaymakers overseas, food poisoning is, unfortunately, an ever-present risk. Our stomachs are not used to the foreign strains of common bacteria. Add to this the stress we put on our stomach eating unfamiliar food, or too much food, and the risk is exacerbated. Food can go off very easily, for reasons such as:
Being undercooked (or not cooked through).
Being left out on a serving tray for too long.
Ingredients being cleaned in a contaminated water supply.
Unhygienic kitchens or serving staff that do not follow hygiene best practices.
Being stored at the wrong temperature, or close to contaminated food.
Foodborne illnesses can ruin a holiday. If they do, and a restaurant, café or any other food outlet is to blame, Accident Claims UK can help you claim. Use the number located down at the end of the page, and one of our team will be able to help you. You can also check the information at this link, that gives some great food safety advice for people on holiday overseas:
How to stay safe and still enjoy the food on holiday

Slips, Trips, & Falls
Of all the kinds of accidents that a person can fall foul of while on holiday, slips and falls are the most common of all. These can happen anywhere, and at any time. You could trip whilst getting into the taxi taking you to the airport. You could slip on a wet bathroom floor on the plane. Some common causes of slips, trips and falls include:
Food spilt on a restaurant or hotel dining room floor.
Drinks spilt in a bar or nightclub.
Water that has been bought into a hotel from the pool area.
Torn carpets, cracked tiles or warped wooden floorboards in a hotel room.
Broken paving slabs or uneven cobbles in the hotel garden or parking area.
There are so many ways that these accidents can happen. If they are caused by a third party, they are a viable cause to make a claim. If you think you have a good reason to make a holiday claim due to a slip, trip or fall, speak to Accident Claims UK today, so that we can get your claim started right away.

Resort And Leisure Facility Accidents
Accidents while using leisure facilities at a resort or elsewhere while on holiday, are fairly common. For example, swimming pool accidents are holiday accidents we frequently have to help claimants with. Any time such an accident can be clearly seen to have been caused by a third party, then you will have a valid reason to make a claim.
The best advice we can give you, is to speak to one of the expert Accident Claims UK team on the number down below. Explain to them how you have come to harm, and they will be able to let you know whether you have a valid cause to make a claim for your injuries.

Claims Accidents On Boats, Ferries, Or In Watersports
Unfortunately, water sports accidents as well as other boating accidents, can be a common occurrence in locations such as the Greek islands. For general water sports incidents, such as a sofa dinghy accident, Greek law would apply. However, if the accident happens on a boat or ship such as a cruise liner, that is in international waters, then very specific laws apply. Accident Claims UK can help you make a complex claim for an accident on a vessel outside of the three-mile limit from Greek shores. Give us a call on the number that you will find at the bottom of this guide; we will explain how we can be of help.

Kefalonia Car Accidents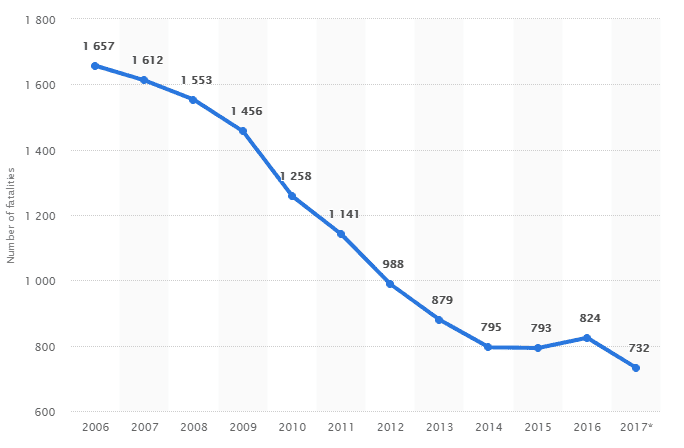 Take a look at the graph above. You can see that the number of fatal accidents on Greek roads has dropped sharply since 2006. However, this doesn't mean that you won't be involved in a road accident, such as a Kefalonia car accident, while you are on holiday. It is simply less likely these days.
Accident Claims UK has a lot of experience helping people to make overseas car accident claims, and we are sure that we can assist you as well. Call us on the number at the bottom of this page, and one of our team will talk you through your legal options.

Cycling Or Quad Bike Accidents In Kefalonia
Not all involve road accidents cars. Cycles, motorcycles and other types of transport such as quad bikes are often rented by holidaymakers overseas. If you were to be involved in a road traffic accident such as a quad bike accident, then if another driver was at fault, you should be able to pursue them for compensation. We have plenty of experience with this very common type of claim. Speak to one of our expert advisors on the number you will find at the end of the page; they can explain how we can help you.

Can I Use A Solicitor In The UK?
You may believe that if you are injured overseas, then you have to use a personal injury lawyer in the country where the accident took place. This is a false assumption. You are much better off using an easily accessible UK legal firm. They will have exactly the same chance of winning your claim for you, and be much easier to deal with. For example, Accident Claims UK can help with overseas claims. Call us on the number below, and we can explain how.

No Win No Fee Accident On Holiday Claim For Kefalonia
Accident Claims UK can offer to process your personal injury claim under our comprehensive No Win No Fee agreement. There is no fee for us to start on your claim, and no fee while we process the claim. If we fail to reach a settlement, there is still no fee. If we do reach a settlement though, we will take our fee out of the money we receiver for you, and then give you the rest.

Why Use Our Expert Holiday Accident Team?
Do you need an experienced and skilled personal injury solicitor that can help with holiday accident claims in Greece? If so, look no further, here at Accident Claims UK we fit the bill. We always aim to get you the most compensation possible, and do everything we possibly can to ensure your claim is successful. Our new claims process is simple, just follow these three steps:
| | | |
| --- | --- | --- |
| 1.     Reach our using the phone, email or web chat. | 2.     Explain your claim so that we can evaluate it. | 3.     We will then process your claim under a No Win No Fee deal. |
Contact Us Today
Are you ready to engage a team of holiday compensation solicitors to process your Greek islands holiday accident claim? If so, please call Accident Claims UKJ today on 0800 073 8801. One of our experts will go over your legal options, and offer you a simple yet effective way to get the compensation you are entitled to.

Additional Resources
British Embassy Greece – Athens
British Embassy Athens
1, Ploutarchou str
106 75 Athens
Greece
Telephone: +30 210 7272 600
Web: www.gov.uk/world/organisations/british-embassy-athens
Opening hours: 9am to 5pm. Monday to Friday.
British Honorary Vice Consulate Zakynthos
Foskolou 28
Zakinthos 291 00
Greece
Telephone: +30 2695 022906
Web: https://www.gov.uk/world/organisations/british-honorary-vice-consulate-zakynthos
Opening hours: 9am to 5pm. Monday to Friday.
You may also find these following guides, published on this site, to be of use:
A guide to holiday accident claims in Greece Further information on how to claim compensation for an accident on holiday in Greece.
How to claim against TUI Our guide to making a holiday accident claim against TUI.
Claiming compensation from Virgin Holidays Our guide on how to make a holiday accident claim against Virgin Holidays.