I Had A Motorbike Accident, How Do I Claim Compensation?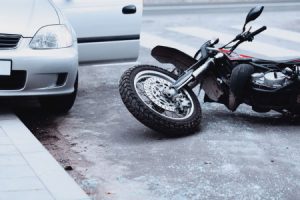 It's the law in the United Kingdom that all drivers and motorbike riders have insurance for any vehicle to cover the cost of damage or injuries caused by accidents that they're responsible for.
If you suffer an injury in a road traffic accident (RTA), then you have the right to ask for compensation from the responsible party. It's normal to swap insurance details at the scene of the accident so that a claim can be made later on. In this guide, we're going to show you different situations in which you may be justified in making a claim against a policy underwritten by Europa Group motor insurance. We'll provide details on what types of accident can happen, when the motorbike rider might be liable, and what amount of compensation you might receive.
Accident Claims UK is here to support you when you decide to claim. Our friendly advisors can carry out a no-obligation telephone consultation about your accident involving a motorbike and give you free legal advice about it. In cases that they believe might be successful, you could be put through to one of our personal injury lawyers. When they agree to work on a case, they'll carry out their work on a No Win No Fee basis.
We're ready to begin right away so please call us on 0800 073 8801 to get started today. Otherwise, why not continue reading to find out more about motorbike, scooter or moped claims against policies underwritten by Europa?
Select A Section
A Guide To Motorcycle Accident Insurance Claims Against Europa Group Insurance
Even though motorcyclists are one of the most vulnerable users of our roads, it is still possible for them to cause an RTA in the same way other vehicles can. It's for that reason that they need to have the same sort of insurance for their vehicle as car, van and lorry drivers do. In the same way as other cases, claiming against a motorbike insurance policy can be complex, especially if the insurer contests your version of events.
Personal injury solicitors could make negotiations with an insurer a lot easier. That's because they'll usually have dealt with similar companies before and have the legal expertise to help prove that their client was in the wrong. They'll also know what evidence is required to help show how the accident occurred, who was responsible and what injuries you sustained.
We are going to show you how to make a claim against a Europa Group motorcycle insurance policy if you've been injured in an accident caused by one of their policyholders, but if you wish to claim against another company, this guide will still prove useful. We try to show you when you might be allowed to make a claim as well as showing what compensation you could seek.
An important thing to consider when starting your case is the personal injury claims time limit. Generally, this is 3-years from the date of your accident. It's true that 3-years is a long time, but our advice is to start your claim early. Recalling what happened on the date of your accident is so much easier when it's done a few weeks after. Leaving it too long can mean you'll forget some of the key facts.
We'd like to help you begin if you decide that you want to make a claim. Therefore, if you have any questions, please contact us to find out how to proceed.

What Are Motorbike Accidents Or Injuries?
As with most types of accidents, there are hundreds of different scenarios that could lead to an incident involving a motorbike. In this guide, though, we're only considering those which have been caused by the negligence of a motorbike rider. More specifically, we'll consider accidents caused by Europa Group motorcycle insurance policyholders.
Later on in this article, we'll show you some of the more common injuries and accidents that could make you eligible to claim.

What Do Insurance Underwriters Do?
Europa Group doesn't sell motorbike insurance policies direct to the general public. Instead, they're sold through brokers, affinity partners and insurance companies. On their website, they list Motorcycle Direct as one of their brands and AA motorcycle insurance as a partner.
That means, when you are involved in an RTA caused by a motorbike, the rider might give you the name of the company they bought the policy from rather than Europa Group motorcycle insurance. However, when a claim is submitted, it will ultimately end up with the company who underwrites the policy.
If you're unsure who you need to make a claim against, please get in touch and we'll review your claim with you.

Am I Eligible To Make A Motorcycle Accident Claim?
When you make a personal injury claim, your solicitor will need to see evidence that:
You were owed a duty of care by the party you're claiming against.
That they breached their duty and caused an accident to happen.
You suffered an injury in that accident.
In cases where all three points are easy to prove, once liability has been admitted you could receive compensation from the insurer to cover your injuries.
There is another way a claim can be settled though. This is called a split liability claim. In cases where both parties shared some responsibility for the accident, the insurer and your solicitor will need to agree on a percentage split. In a scenario where you played a very small part in the accident, the split might be agreed at 10/90 (where you were only 10% to blame). For this scenario, once your claim is settled, the amount of compensation paid would be reduced by 10%.
Unsure if you're eligible to claim or if you could be partly to blame? Speak to an advisor today for free advice on your next steps.

Motorbike Accidents Your Could Claim For
The reasons you might want to claim against a rider's motorcycle insurance policy could include:
To cover the cost of any damage to your vehicle or possessions.
To ask for compensation for the physical and psychological pain and suffering, as well as financial losses caused by your injuries.
Injuries you could claim for can be either physical or psychological, depending on how you've been affected, and can include:
Spinal injuries.
Neck injuries (which can include whiplash).
Broken bones.
Cuts, lacerations and bruises.
Soft tissue damage.
Head injuries.
Post-Traumatic Stress Disorder (PTSD).
To try and ensure you receive the correct amount of compensation, your solicitor will use medical records and an expert medical assessment to show your exact level of suffering. We'll explain more about this later on.
Causes Of Motorbike Accidents
It's quite well advertised that motorcyclists can be the victim of accidents caused by other motorists who fail to spot them. However, it's also possible for accidents to be caused by a motorcyclist's negligence too.
That means that you could ask to be compensated for injuries sustained in an accident where the motorbike rider was travelling too fast, misjudged a distance or went too wide around a bend.
If you think that your RTA was caused by a motorcyclist, please let us know what happened and we'll help you decide if a claim is possible.
Injuries Caused by Motorcycle Accidents
If you're a motorcyclist who's injured in a traffic accident, caused by another motorcyclist or other types of vehicle, there are some common injuries that can occur including:
Fractured hands, wrists and fingers.
Concussion and other head injuries.
Road rash.
Soft tissue injuries in the shoulders and neck.
Cuts, bruises and lacerations.
We'll discuss the evidence you can use to help prove your injuries in the next section, but if you'd like advice on how to claim, please speak to a member of our team today.

Documents And Evidence Needed To Make A Claim
The most important part of all personal injury claims is evidence. Without it, your claim could be rejected, or you might receive less compensation than you could be entitled to. Our advice on what you should do following any type of road accident includes:
Capturing the scene of the accident in a photo or video on your phone.
Requesting copies of dashcam footage from any witness as well as their contact details.
Reporting the accident to the police if anybody sustained injuries.
Visiting the hospital to have your injuries treated.
Swap details with any other party involved without saying anything that could appear to be an admission of responsibility.
When you gathered as much evidence as you're able to, why not call Accident Claims UK for a free assessment of your case?

Should I Directly Contact An Insurer After An Accident?
There is often a temptation to try and get your claim processed as soon as possible by speaking to the motorbike rider's insurer directly. You might take that step because you want to avoid the hassle of having a medical assessment or because you want the claim finalised and settled as quickly as possible.
If their policyholder is liable for the accident and your injuries, there's no doubt that the insurance company would rather speak to you than your solicitor. You might find they're willing to settle very quickly and even before you provide evidence of your injuries. However, they won't be doing that for your benefit. As with all businesses, the insurance company wants to remain profitable. That means, if they do agree to settle with you directly, it's possible the amount would be a lot less than you're actually entitled to. Once you sign to accept a settlement, there's no going back and asking for more later on.
Please call us if you're considering a claim and we'll explain in more detail why it's better to make a personal injury claim rather than to settle directly.

Do Motorbike Insurers Dispute Injury Claims?
As mentioned previously, insurance companies are businesses. That means they're not going to pay compensation unless it is absolutely necessary. In practice, they will have to verify every aspect of your claim before agreeing to settle. That means you'll need to show them why their policyholder was liable, that the accident actually took place, and you sustained the injuries you're claiming for.
Your solicitor can help with this. They'll use the evidence you gathered at the scene to help counter any questions raised. For instance, a police report could show where and when the accident happened and dashcam footage could help prove who was at fault. Without this type of evidence, the insurer will question every single detail. If they don't see enough evidence, they could refuse to payout.
Why not let one of our experienced solicitors help with your claim? Call us today, and we'll review whether a claim is possible.

Could I Claim More Using A Solicitor?
Our advice is that you're much more likely to receive the right amount of compensation if you let a personal injury solicitor claim on your behalf. They'll handle all the communication with the insurer, so you don't need to get bamboozled by legal jargon and flummoxed by technical arguments.
If you're ready to start a claim against Europa Group motorcycle insurance and can prove that their policyholder breached their duty of care, please let us know and we'll start assessing your claim.

Motorcycle Crash Injury Claims Calculator
It's now time to look at potential compensation that could be paid for different injuries following a motorbike accident. The first part of your claim is known as general damages. This is used to compensate you for the pain, suffering and impact on your life that your injuries have caused.
Because we know each claimant is affected differently, we haven't provided a personal injury claims calculator here as they can provide confusing results. Instead, the table below lists example compensation figures taken from a document used to help courts assess claims called the Judicial College Guidelines.
| Type Of Claim | Injury Severity | Compensation Range | Comments |
| --- | --- | --- | --- |
| Neck | Minor | Up to £2,300 | This bracket can be used for soft tissue injuries (whiplash) to the neck. There will be a complete recovery within three months. |
| Back | Severe | £85,470 to £151,070 | The injuries in this category are the most serious and include damage to the nerve roots and spinal cord. These injuries will cause severe pain and lead to a combination of incomplete paralysis and impaired bowel, bladder or sexual function. |
| Shoulder | Serious | £11,980 to £18,020 | Injuries in this bracket will cause damage to the brachial plexus and dislocation of the shoulder that causes pain in the neck and shoulder. Other symptoms could be weakened grip and restricted shoulder movement. |
| Hips/Pelvis | Moderate | £24,950 to £36,770 | These injuries might lead to a significant injury at the time of the accident but any permanent disability won't be major and there will be no great risk of future damage. |
| Arms | Amputation | £102,890 to £122,860 | This category covers amputation of the arm above the elbow. Due to the shortness of the stump, the claimant may have difficulties using a prosthesis. |
| Legs | Less Serious | £16,860 to £26,050 | Covers soft tissue injuries or fractures where an incomplete recovery takes place. The claimant might struggle with a limp, discomfort caused by a metal plate or sensory loss. |
| Feet | Moderate | £12,900 to £23,460 | A category used to cover injuries like displaced metatarsal fractures which results in deformity along with other continuing symptoms. |
When you read the figures, you'll see that compensation is awarded based on the severity of your injuries. That makes sense because it's only right that you receive more compensation for a fractured wrist than you would for a sprain. But how do you prove the level of injury? Well, during your claim, your solicitor will ask you to visit a local medical specialist for an assessment.
During your appointment, your medical notes will be reviewed, your injuries will be examined, and you'll be asked questions about what impact the injuries have had. Once the medical assessment has been completed, your solicitor will be sent a medical report containing all of the relevant information.

Special Damages You Could Claim After A Motorbike Accident
The other thing that it's possible to ask for in your compensation package is special damages. They're designed to put you back in the same financial position as you were before the accident occurred, as well as accounting for any future losses.
What you can claim for will vary depending on what costs you've incurred but it's possible to include travel expenses, care costs, medical expenses, lost income (including future losses) and replacement property costs.
When your claim has been assessed, we should be able to explain what you could include within your claim, so please contact us today.

How Our Team Could Handl
So that you know why you should let Accident Claims UK handle your claim, we've provided more information about our service below:
Our claims line is open day and night, 7-days a week.
You'll receive free advice, whether you decide to make a claim or not.
All of our advisors are specially trained to make your claim easier.
Our team of solicitors have been working on personal injury claims for decades.
If your claim is taken on, you can expect to be updated regularly about its progress.
During the claim, your solicitor will be on hand to answer questions and to translate any complex legal terms that crop up.
Ultimately, the solicitor's main aim will be to try and get you the most compensation available for your injuries.
If you would like any further information about why you should work with us, please let us know by speaking to a member of our team.

No Win No Fee Motorbike Crash Accident Claims
OK, now we're going to discuss the cost of claiming because we know it can be the reason that many people don't make a claim. So that your claim is less stressful and carries less financial risk, our personal injury solicitors work on a No Win No Fee basis if your claim is accepted.
To offer this service, your claim needs to be reviewed to check it has the grounds to be successful. If the solicitor agrees to take it on, and you'd like to continue, they will prepare a Conditional Fee Agreement or CFA for you to sign.
Using a CFA to fund your claim means that:
You won't be asked to make an upfront payment. This allows your solicitor to begin right away.
There are no solicitor's fees to pay during the claims process.
In the unfortunate case that your claim is lost, you won't be liable for your solicitor's fees at all.
The CFA will also explain the success fee you'll pay when you receive a settlement. This is a small part of your compensation which the solicitor retains to cover their work. For transparency, the success fee will be explained at the start of your claim. For further peace of mind, we can tell you that success fees are legally capped.
To find out whether you could use a No Win No Fee solution to make your claim, please reach out to an advisor today.

Speak To Us
You've just about completed this article about filing a Europa Group motorcycle insurance claim. We do hope that you've found our guide useful and that you've decided to make a claim with us. If that's true, why not contact us today? You can do so by:
We will do all we can to make your claim as straightforward as possible. So that we understand what happened, a member of the team will go through the accident with you. They'll review the evidence you're able to supply and advise you on what else you could do to help the claim to proceed. If you're in a position to begin a clam, you'll be referred to one of our solicitors. Should they agree the claim has merit, they'll work for you on a No Win No Fee basis.

Additional Claimant Resources
Now that we've reached the end of our guide about claims involving Europa Group motorcycle insurance, we're going to help you further by supplying additional content that might prove useful. Should you have any further requirements, please let one of our specialists know who'll be happy to help where they can.
Back-Up Trust – A UK charity who try to support those affected by spinal cord injuries.
Road Safety Statement 2019 – This is a 2-year action plan to improve road safety by the UK government.
NHS Service Locator – This tool could help you if you need the address of a hospital to request medical records.
Car Passenger Accident Claims – Find out your rights on claiming if you were injured as a passenger in a road traffic accident.
Claiming For A Knee Injury – Provides information on when you could be entitled to claim for injuries to the knee.
PTSD Compensation – Information about when it might be possible to claim of post-traumatic stress disorder.
Guide by BH
Edited by REB