If you have questions about accident at work claims, chances are you can find the answers here.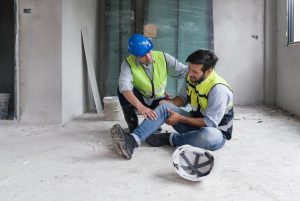 Below, you can find detailed responses to questions we get asked often. They cover everything from your eligibility to claim compensation for an accident at work to whether or not you need a solicitor to help you.
We also cover the injury at work claim time limit, how long you have to wait for compensation to be paid, and whether or not you can claim on a No Win No Fee basis.
If you're at all unsure about whether or not you can claim compensation for an accident at work, please get in touch. We're more than happy to answer any questions you may have.
You can call us on 0800 073 8801 or chat with us now via our live chat box in the bottom corner of your screen.
Select A Section
How Do I Know If I Have An Accident At Work Claim?
All employers have a duty of care to try and keep employees safe in the workplace. That doesn't mean accidents will never happen, but they must take reasonable measures to prevent them. The legislation that provides this duty of care is the Health and Safety at Work etc. Act 1974.
You could be entitled to claim if:
An accident at work happens because your employer breached their duty of care; and
You were injured or became ill as a result of that accident.
If both statements are true in your case, one of our personal injury solicitors could help you claim compensation.
If you find that you're entitled to claim whilst reading this guide, please get in touch.

What Should I Do After Being Injured At Work?
There are some steps you could take after an accident at work. They could help if you do need to seek compensation for your injuries later on. Some of the steps you could take include:
Report the accident. You should then be given a copy of the accident report form which could be used as evidence. Some accidents will also need to be reported to the Health and Safety Executive (HSE) by your employer. The HSE is a government agency that enforces health and safety laws.
Seek medical treatment. Medical records from A&E or a minor injuries unit could be used to prove the severity of your injuries.
Take photographs. If you are injured in a workplace accident, take pictures of the accident scene. These should show the cause of the accident where possible.
Note any witnesses. If anybody else was present when you were injured, record their contact details. They might be asked to provide a witness statement later on.
Ask for camera footage. If your accident was caught on camera, ask your employer for a copy of the footage.
All of these steps might provide useful evidence if you do start an accident at work claim. Please get in touch if you'd like us to check through anything you've gathered to support your case.
Do I Need A Solicitor To Claim Compensation?
You're not obliged to hire a solicitor to make an accident at work claim. You could process the claim yourself. However, claims can be complex and might require technical evidence to be successful.
If you fail to convince your employer's insurers (who usually process claims) that their client was to blame for both the accident and your injuries, you could:
Be paid too little compensation to cover your suffering; or
Not be paid compensation at all.
We believe a personal injury solicitor could improve your chances of making a successful claim and being awarded a fair settlement amount. The fact that our solicitors work on a No Win No Fee basis means you could get specialist legal representation with minimal financial risk. So, why not call today to see if we could help you make an accident at work claim?
Could I Claim For A Work Accident Abroad?
Some roles require employees to work abroad. This might be on a temporary or permanent basis. If your employer is a British company and you're working under British law, you'll enjoy the same employment rights. Therefore, if you have an accident at work abroad, you could be entitled to claim compensation. As mentioned earlier, your employer's negligence must've caused the incident in some way.
How Much Can I Claim For An Accident At Work?
Any accident at work claim will be different to the next. Accordingly, no two settlement amounts are the same. That's because compensation amounts aren't just a figure you ask your employer to pay. Instead, they're based on the severity of your injuries and how they've affected you.
Therefore, a back injury that causes chronic pain for the rest of your life could receive a higher settlement amount than a broken finger that heals within 4-weeks.
Our advisors can value your potential claim for free. Why not get in touch today?
How Long After An Accident At Work Can You Claim?
Any accident at work claim must be started within the relevant time limits. Generally, this is 3-years from either:
The date of your workplace accident; or
The date you became aware that negligence at least contributed to your injuries. This is called the date of knowledge.
The time limit is found in the Limitation Act 1980. This piece of legislation also states that claims that are not made in time can become statute-barred. Therefore, if you claim too late, you might miss out on any form of compensation payment.
However, there are exceptions to the above limitations. Why not contact our advisors to see if you still have time to claim?
When Will I Get My Compensation Settlement?
Each accident at work claim is different. So, even though there is a claims process that personal injury lawyers follow, the time to finalise any settlement will vary. In cases where only minor injuries have been sustained and liability is admitted early, your compensation could be paid in around 6 to 9 months.
However, the processing time can be longer if any extra investigation into the extent of your injuries is needed. Therefore, it could take more than a year before compensation is paid out in some cases.
How Much Will It Cost To Make An Accident At Work Claim?
Claiming with a No Win No Fee solicitor means that you won't need to pay any solicitor fees upfront. If your claim is successful, you would pay a success fee, which we'll discuss in the next section. If your claim is lost, you wouldn't have to pay your solicitor's fee under a No Win No Fee agreement.
Can I Make An Accident At Work Claim With A No Win No Fee Solicitor?
Our solicitors offer a No Win No Fee service so as many claimants can benefit from their legal skills as possible. If your claim is accepted, you'll be sent a contract called a Conditional Fee Agreement (CFA). That's the formal term for a No Win No Fee agreement.
If your case is won, you'll pay a success fee that's defined in the CFA. This is a percentage of any compensation you receive. Under law, when using a CFA, your success fee will be capped to a maximum of 25% of your settlement. The stress levels involved in claiming could be reduced because you'll know from the start that the success fee isn't payable unless your claim is won.
Could I Claim If Someone Else Was Injured At Work?
If a family member or friend is injured at work, you could claim compensation on their behalf. That may be the case if their injuries mean they aren't able to represent themselves. To do so, you'll need to become their litigation friend. Once the paperwork is completed, you'll make decisions on behalf of your loved one (in their best interests) and they'd receive compensation.