Welcome to Accident Claims, one of the UK's leading websites for free legal advice on seeking compensation if you've been injured through no fault of your own. If you're looking for the best accident claim company, we know the results from this kind of search can be confusing. After all, many firms could claim to be the best accident at work claims company, so how do you know you're making the right choice when making accident claims in the UK? With our accident claim line open 24/7 offering free accident claims advice, we could tell you how to claim for an accident that was not your fault without putting you under any obligation to use our services. We could answer questions such as 'what are special damages in accident claims?', ' How much compensation could I get?' and 'can you help me with a personal injury claim?'
Specialists in Accident Claims in the UK
We are proud of our feedback from previous clients. With us, you can be sure that if you ask us 'how long after an accident can you claim?' or 'am I eligible to make a work accident compensation claim?' the accident compensation claims advice you receive from us will be backed by expert knowledge.
Get In Touch For Free Accident Claims Advice And To Start Your Accident Claims
If you have been the victim of an accident, and it was not your fault, you could be entitled to compensation. We have helped many people secure the personal injury compensation they deserve. If you are looking for the best accident claim company, look no further; we have solicitors with over 30 years of experience, and we handle all of our claims on a No Win No Fee basis.
Learn More About The Accident Compensation Claims We Could Help With
Find out more about our service below, as well as the different types of claims we handle.
Choose a Section
What is an accident compensation claim?
An accident compensation claim is designed to compensate anyone that has been the victim of an accident that was not his or her fault. If you have been injured, and someone else is to blame, you are likely to be entitled to a payout.
How long after an accident can you claim?
The accident must have happened within the past three years (in most cases), you must have seen a medical professional, and you must be able to prove that someone else is responsible. If your claim is a success, you will not only be compensated for your injuries, but you will receive a payout to cover the financial losses you have experienced too.
To learn more about accident claims for compensation, please get in touch with our team for free advice on the number at the top of this page.
The steps to take if you have been involved in an accident
If you have been involved in an accident, you need to take the required steps to secure compensation. This includes the following:
Get medical attention
Make a note of everything that happened
Take photographs of the scene
Keep a record of your financial losses
Get the contact information of the perpetrator
Get the contact information of any witnesses
How long after an accident can you claim?
For those over the age of 18, you have three years from the date of the accident to bring a personal injury claim for compensation.
Can I claim for an accident after 3 years?
Yes, however, rules apply. If you were under 18 at the time you suffered an injury, the three year period would not begin until your 18th birthday. Similarly, if you lost the mental capacity to claim, the three-year clock wouldn't run until you regained it.
What type of personal injury claims do Accident Claims deal with?
Here at AccidentClaims.co.uk, we deal with all types of personal injuries. This includes:
So long as the accident was not your fault, we will take on your case for you. Call our accident claim line to find out more.
Car accident claims
Road traffic accidents happen every day in the UK. In fact, in the year ending June 2021 there were estimated to be a total of 119,850 casualties of all severities reported, giving an average of 328 a day. You can see the spread of severity in the below graph.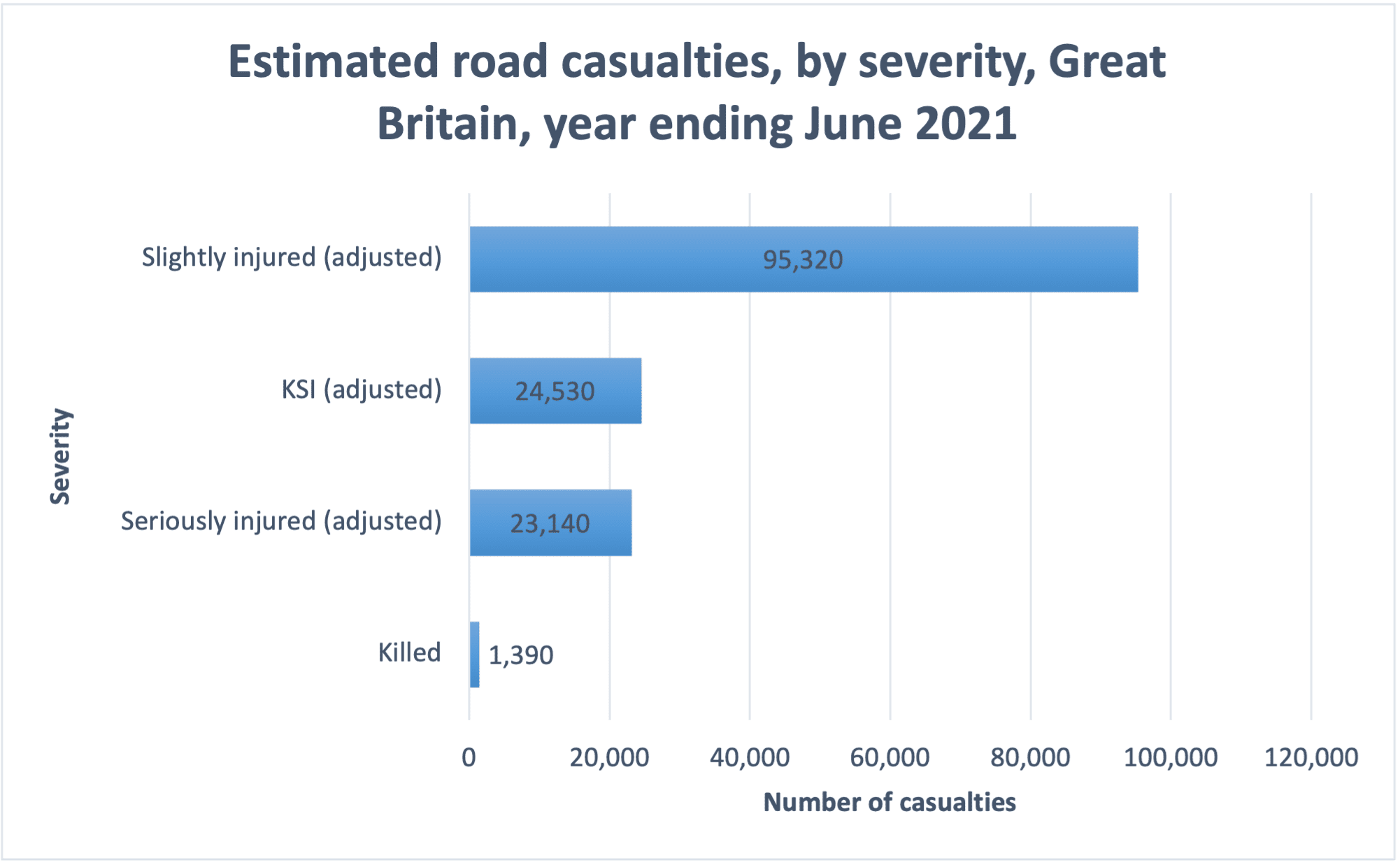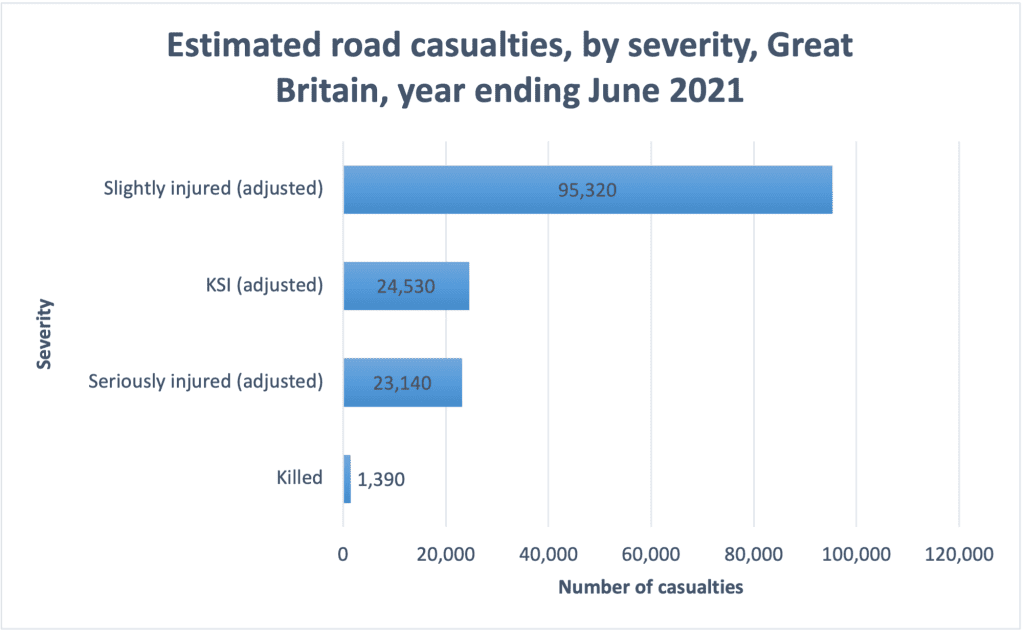 If you have been the victim of a road traffic accident within the last three years, get in touch with us as soon as possible to claim compensation. You must ensure that someone else is to blame for your accident.
This could be a pedestrian that has run into the road, a driver who was speeding or looking at their mobile phone, or it could be the council's fault for failing to maintain the roads properly.
If you'd like to learn more about car accident claims for compensation, please get in touch with our team by calling our accident claim line.
Road Traffic Accident Claims
As touched upon above, accidents on the road can involve vehicles and road users other than cars. For instance, a road traffic accident claim could be made following a collision between a motorcycle and a car, or even a pedestrian and a motor vehicle.
All road users have a legal responsibility to keep one another safe. Failure to conduct themselves in a suitable fashion could result in injuries to themselves, others, or even both. This obligation is known legally as a duty of care.
It can be upheld by adhering to the rules and guidance listed in the Highway Code. The code references many ways in which the risk of accidents can be reduced by paying attention to factors such as:
Speed limits
Who has the right of way
Drink driving limits
Use of seatbelts
Device-use while driving
Incidents, where a road user has not adhered to the Highway Code and has caused someone to be injured as a result, could be identified as negligence. This is when road accident claims could be made.
If you have any questions about whether or not you could be eligible to claim against another road user for compensation, get in touch with our advisors today.
Evidence For Car Accident Injury Claims
If you're filing a compensation claim for a car accident injury, consider what evidence could support your claim. You might be asked to attend an independent medical assessment as part of the process. The medical assessment may also be able to establish a link between your injuries and the car accident.
If you have a dash cam on your car, you may have footage of the incident. Alternatively, there may be CCTV footage from the road where the accident took place. Any photographs from the aftermath of the accident, including any that show the damage to the vehicle, could also prove crucial.
The same applies to witness statements from passengers, drivers or pedestrians who happen to see the incident. Car accident injury claims are stronger and may have a greater chance of success with more evidence. Get in touch with our specialist team if you want to find out more information about claiming.
Accidents at work
In 2020/21, there were 441,000 self-reported non-fatal injuries to workers in the UK. Although some workplaces are more dangerous than others, workplace accidents can happen in any type of environment. From offices to construction sites, there are many different injuries and incidents that can arise. You can see the most common causes below.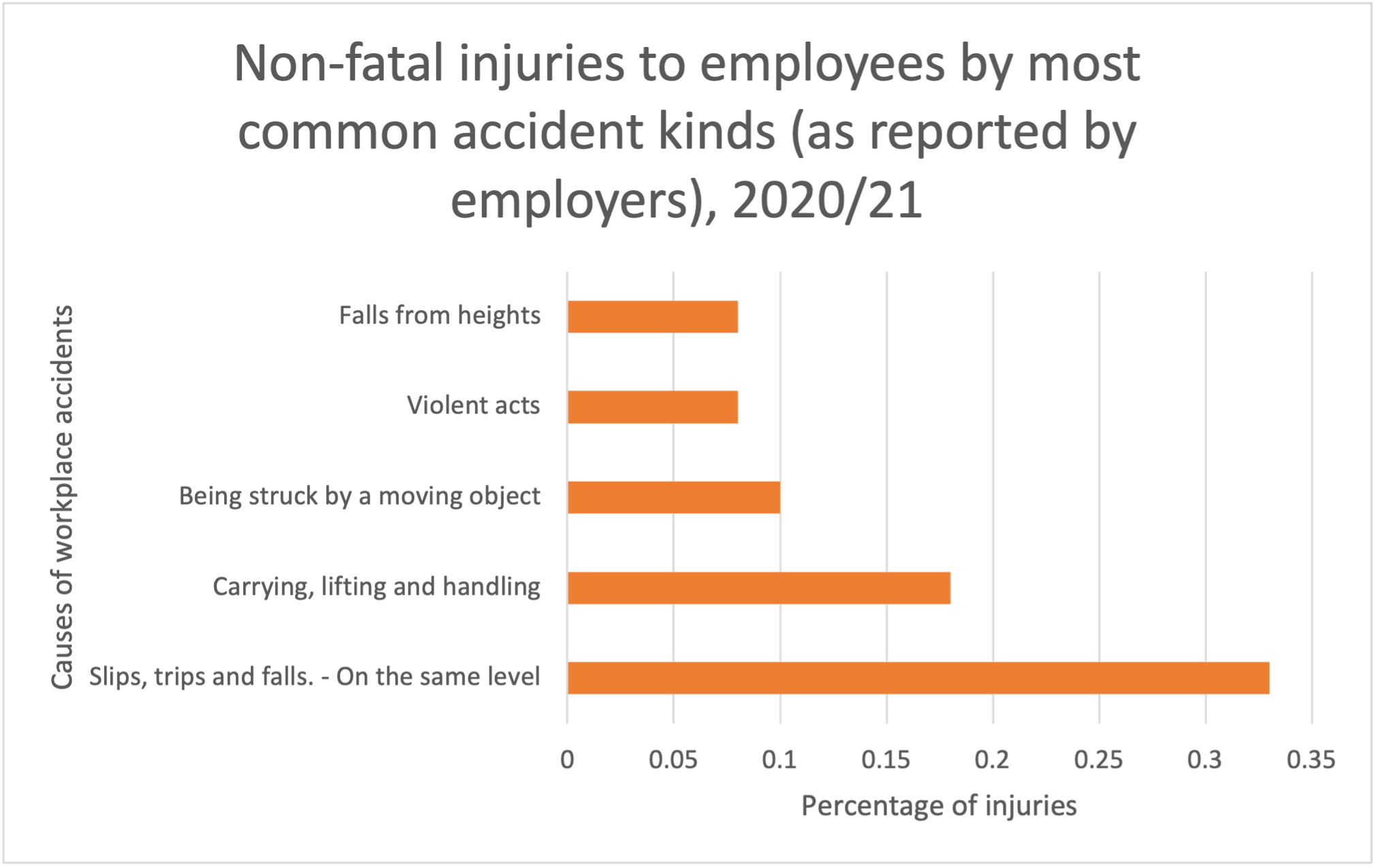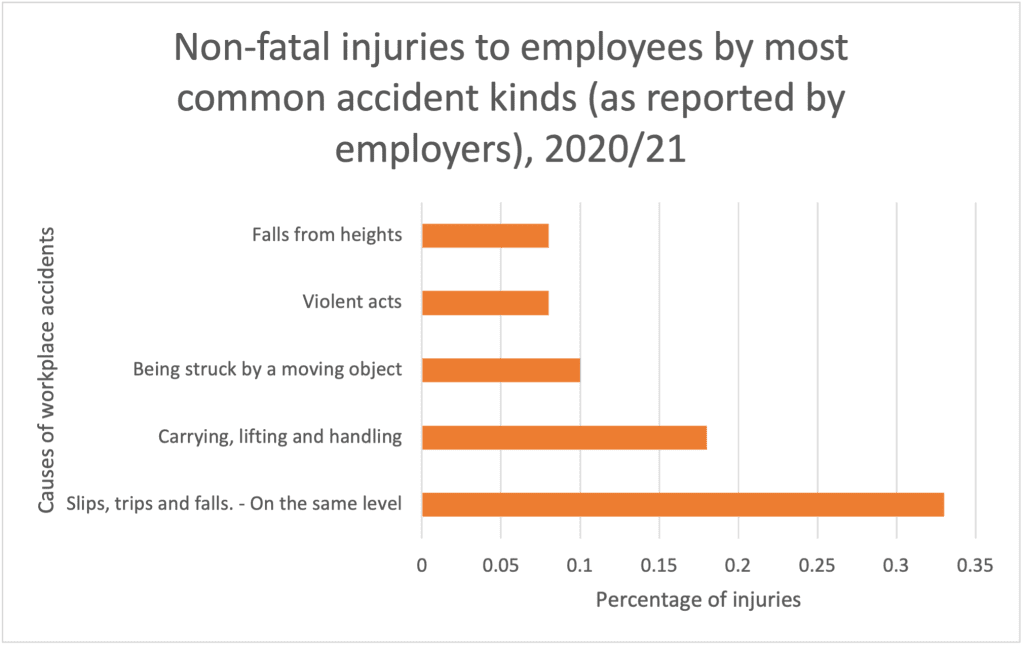 It is up to employers to ensure that all working environments are as safe as possible. If your employer has failed in their duty to do this, you will have grounds to make accident compensation claims. Common reasons for claiming against an employer include failure to carry out risk assessments, ignoring the recommendations stated in a risk assessment, inadequate training, and allowing employees to use machinery that was faulted or unsafe. For further advice, why not call our accident claim line?
Slips, trips or falls in a public place
Slips, trips and falls are some of the most common accidents experienced. We have many years of experiencing in securing compensation for the victims of these types of accidents. Accidents range from people slipping on unmarked wet floors to tripping due to a crack in the ground that has not been signposted.
For example, if you were injured due to a pothole in the road or roadworks that were not signposted effectively, your claim will be made against the council or local authority. If you were injured in a car park, you will make a claim against the business responsible for the car park.
Cycle accidents
Cyclists are the most vulnerable on the road. Unfortunately, they tend to be involved in the vast majority of road accidents. If you have been injured while cycling, no matter whether a driver crashed into you or you have fallen due to a pothole, you will be able to make a claim.
If the latter applies, you will usually be claiming against the council or the business/individual that is responsible for the ground. If another driver has crashed into you because they have been speeding, using their phone, or for any other reason, you will make a claim against them. Make sure to get their contact details and make note of the make and model of their vehicle, as well as the registration plate.
Bus accident claims
If you have been injured while using public transport, you will be entitled to compensation. This is because all companies have a duty of care to ensure that their employees and customers are safe.
When you are travelling on a bus or coach, it is the company's duty to ensure you are safe. If they have failed in this, you deserve to be compensated. The same applies if you are an employee and you have been injured due to a lack of safety or inadequate training.
Medical and hospital accidents
When we go to the hospital, we expect to get the treatment we need to get better. We certainly do not expect our condition to get worse. However, this can happen from time-to-time. If you have been the victim of medical or clinical negligence, we can help you to get the compensation you deserve.
There are a number of ways the hospital or medical centre you were a patient at could be to blame for your injuries. Examples include a lack of training, late diagnosis, misdiagnosis, and poor hygiene levels. Below, you can get an idea of how much clinical negligence claims cost the NHS in 2020-21.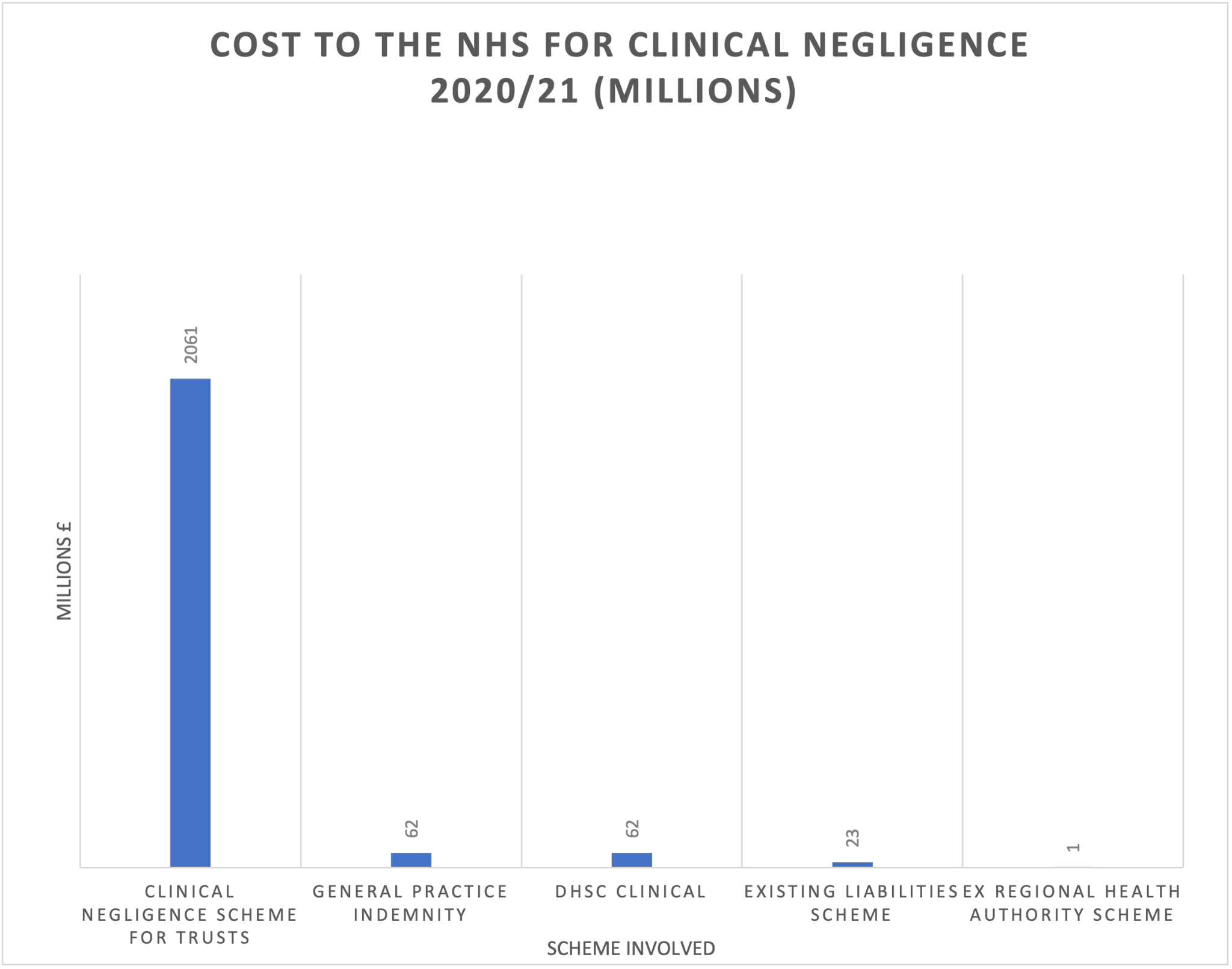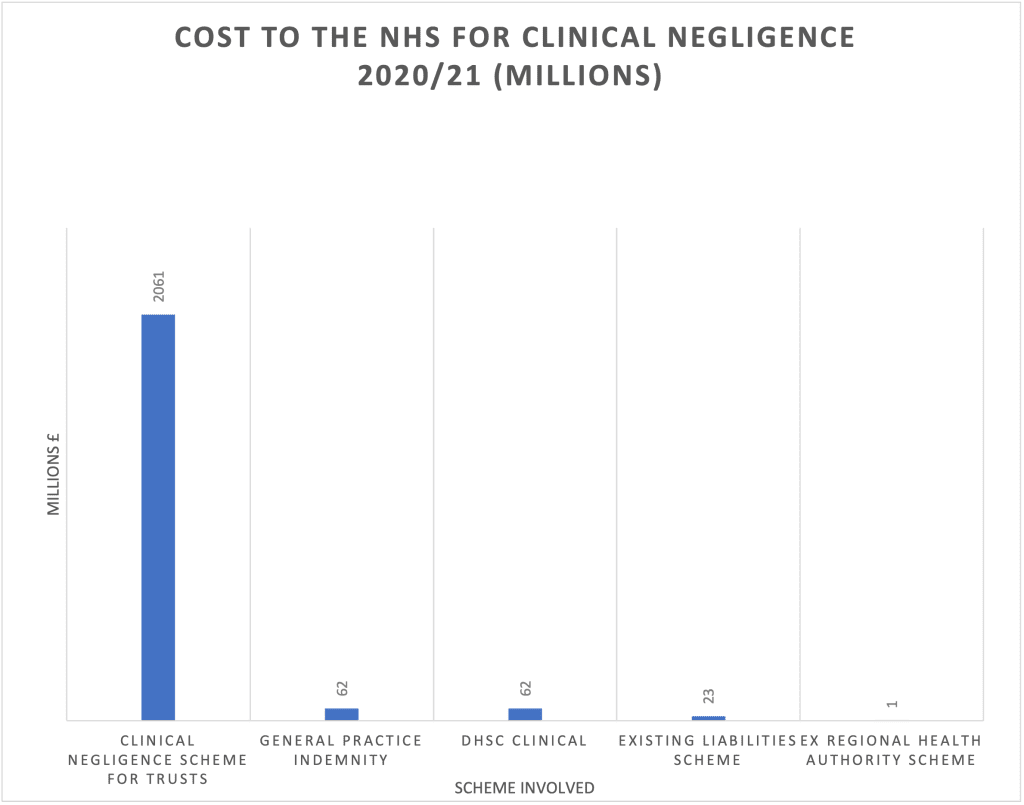 How to begin your personal injury compensation claim
If you are ready to make a personal injury compensation claim, the process is really easy. Give us a call on our advice claim line and we will provide you with a free consultation. You have no obligation to continue with our service if you don't want to.
However, we will talk you through the claim process, as well as asking you a number of questions so that we can get a better understanding of the accident you were involved in. This is so we can provide you with the best advice and give you the greatest chance of getting the maximum payout that is available. If needed, your solicitor should also be able to arrange a medical at a local health centre for you too, and we will do this free of charge.
What can be claimed for when making an accident claim?
When making accident compensation claims, you will receive a payout for both special damages and general damages, which are as follows:
General damages – This is the payout you will receive to compensate you for your injuries, i.e. the pain and suffering you have been subject to. The medical report your doctor has put together will be used to determine how much you will receive in general damages. This report will state the severity of your original injury, the prognosis, and the recommended treatment.
Special damages – You will also receive a payout to cover any financial losses you have experienced due to your accident. This refers to any out-of-pocket expenses that have directly arisen due to your injuries, for example, loss of earnings, travel expenses, the cost of childcare, the expense of adapting your vehicle or accommodation, counselling expenses, and so on.
To learn what else can go into accident claims compensation, please get in touch for free legal advice.
Examples of compensation payouts for accident claims
If you are eligible to claim for an accident that was caused by another party's negligence, then you're likely curious about how much compensation you may receive. Whatever type of accident it is that you claim for, the total amount of compensation that may be offered can vary. It depends on several factors, including what injuries you've suffered and how severe they are deemed to be.
In the table below we've included some compensation brackets for different types of injuries you may claim for through valid accident claims. The figures are based on the 16th edition of the Judicial College guidelines, published in 2022, but they should only be treated as a rough indicator of potential compensation payouts.
| Injury | Severity | Compensation |
| --- | --- | --- |
| Brain and Head Injury | Moderately Severe | £219,070 to £282,010 |
| Brain and Head Injury | Moderate (i) | £150,110 to £219,070 |
| Psychiatric Damage Generally | Severe | £54,830 to £115,730 |
| Psychiatric Damage Generally | Moderately Severe | £19,070 to £54,830 |
| Injuries to the Elbow | A Severely Disabling Injury | £39,170 to £54,830 |
| Injuries to the Elbow | Less Severe Injuries | £15,650 to £32,010 |
| Shoulder Injuries | Severe | £19,200 to £48,030 |
| Shoulder Injuries | Moderate | £7,890 to £12,770 |
| Foot Injuries | Moderate | £13,740 to £24,990 |
| Foot Injuries | Modest | Up to £13,740 |
What are the most common types of accidents in the UK?
There are many different types of accidents that occur in the UK. Road traffic accidents happen on a daily basis, which leads to a large number of whiplash claims being made. Aside from this, slip, trip and fall claims are also made on a regular basis.
However, it is important to note that, no matter the type of injury you have sustained, you will be able to claim so long as the accident was not your fault. Therefore, in the grand scheme of things, it does not matter whether you have been involved in a common accident or an obscure one. What matters is that you can prove that someone else was responsible for the accident you have been involved in.
How much compensation will you receive if you make an accident claim?
If you make an accident claim, your claim will be evaluated individually. This means that it is not possible to provide you with an exact figure with regards to how much compensation you will receive. Some people may seek an accident claims calculator online for more insight. If you have a valid claim and contact our advisers, then they may be able to provide a compensation estimate which closely reflects the details of your case.
Your case will be judged based on the severity of your initial injury, the symptoms you are experiencing, how long you are going to be impacted by the injuries you have sustained, the medication you need to take, and the impact your injuries are having on your life in general. You may also be wondering how long do personal injury claims take to settle? Again, all cases are different: some are straightforward, others are more complex. When you call us, we will be able to advise you further on this.
No Win No Fee Accident Claims
One of the main features of our service is the fact that we only work to a No Win, No Fee payment structure. If you have not worked with any solicitor on this basis before, it means that you will only be required to fund legal fees if your case is a successful one. If, for some reason, we are not successful in our aim to get compensation for you, you aren't going to need to pay us a penny.
This offers you a degree of financial protection that you would not get if you were to choose a solicitor that bills on an hourly scale. Not only this, but you will know that your solicitor is working hard for you, as they are impacted by the outcome of the case. it also means that anyone can claim, no matter how much money they have, as a large upfront payment is not needed to start the process of attempting to secure compensation.
Why should you choose AccidentClaims.co.uk as your claims service when making a claim for compensation?
There may be many claim services in the UK for you to choose from, but you will struggle to find better than AccidentClaims.co.uk. These are the reasons why you should choose our service:
You will benefit from specialist No Win, No Fee accident claims solicitors who have up to 30 years of experience in the game.
We provide free advice on a no-obligation basis.
We always aim to secure the maximum amount of compensation for our clients.
Our claims line is open 24-hours per day.
We have a great reputation in the industry and we have received exceptional feedback from our clients.
We always aim to secure compensation as efficiently as possible.
Call our accident claim line today for FREE advice and to begin making a claim
You may be looking for accident claim companies to help you launch a claim. However, you can get in touch with our team of advisors instead. They can offer free legal advice on your potential claim. In one phone call, they can answer any questions you have about trying to claim compensation for an accident, confirm if you're eligible and provide you with accurate estimate of how much your claim is worth.
Furthermore, our trained advisors could connect you with one of the No Win No Fee solicitors from our panel to help you launch a claim for accidents of various kinds, such as public place, road traffic and workplace accidents.
You can call us on 0800 073 8801, write to us through our website or use our online 24/7 chat service at a time that works for you. Additionally, you can even request us to call you back on our website.
Whether you're unsure if you can claim or would simply like more information about the claims process, why not give us a call? Our experienced advisors will be more than happy to help and a solicitor from our panel can work your case on a No Win No Fee basis, meaning you would not need to pay upfront for their services or if your claim fails.
Some words about our accident claims services
We're recognised as one of the UK's leading accident claims specialists. Find out why by call our accident claim line or by reading below.
What do we do?
Our claims teams have specialist experience in each of our work disciplines. We can help with whiplash claims, accidents at work, employer liability, medical negligence, road traffic accidents, flight delays, housing disrepair disputes, trips, slips and falls – to name a few.
Why choose us?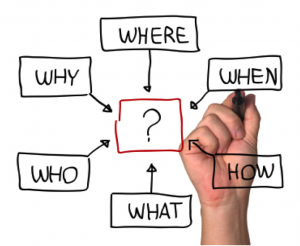 We operate a 24 hour UK based accident claims helpline
We're always here for you no matter what time of the day. Our 24-hour accident claim line can be reached on 0800 073 8801
Our reputation makes insurers/defendants take notice
Accident Claims UK's national reputation means that when you are represented by us it makes a difference. Defendants will take serious notice of any claim issued by us.
Unrivalled experience in personal injury claims
We're one of the UK's oldest and most reputable personal injury solicitors. We've actively been involved in pioneering and pushing the standards of legal services.
Discover more about us
We're regulated by the Solicitors Regulations Authority (SRA) and accredited by the Law Society.
Our Philosophy
It's simple – You. It underpins the foundations of Accident Claims and everything that we do.  Our commitment to client care is second to none.  Our aim is to always exceed your expectations. We combine in-depth legal advice with extensive market experience ensuring your personal injury claim receives the highest quality of care throughout.
What they say about us!
Friendly, helpful staff. They were easy to get hold and when I had spoken to them I felt they had answered all my questions. Miss Williams
Accident Claims Compensation FAQ
We want to make sure you're 100% before making a claim with us. If you can't find your answers here give us a call on our accident claim line.
How can our accident claims helpline support you emotionally?
There are various ways our accident claims helpline can support you. We understand how stressful it can be to have an accident due to someone else's breach of their duty of care towards you.
Our team has experience in helping handle cases that have been life-changing for those involved. Therefore, we know the range of emotions that many claimants experience. Our goal is to reduce the stress on those injured in accidents that weren't their fault. We handle cases sensitively at all times. You remain our priority throughout the claims process. You can call us at any time for advice and we will be happy to speak to you. 
How can our accident claims helpline support you practically?
As well as ensuring claimants experience a claims process that is as stress-free as possible, we also offer practical support they can rely on. For example:
We can help assess your eligibility to claim

We'll provide practical, up-to-date information and guidance

We could provide you with a solicitor that works on a No Win No Fee basis

We'll update you throughout the claims process so you are aware of where your case is up to
We would be delighted to speak to you to explain in further detail how we could assist with a claim for accidents in public places, on the roads, at work or in medical settings. Please don't hesitate to call us. Our accident claims helpline team are ready and willing to help you.
How much is my personal injury claim worth?
Every claim varies depending on the extent of your injuries. To find out what you can claim call us on live chat or request a callback.
Are there any time limits on making an accident claim?
In normal circumstances, you have 3 years in which to submit and issue proceedings for personal injury/accident claims.  In certain other special circumstances, it is possible to obtain an extension. We will be able to assist further once we have spoken to you about your accident claim.
Will I need to attend a medical with a doctor?
In most cases, a medical report is needed to evaluate your claim and to make sure that you receive the correct compensation. However, if this is required we will instruct a doctor or specialist as near to your home as possible to reduce travel. If you have questions about this, please call our accident claim line.
How our accident claim line could help?
If you're looking for the best accident claims company, one way to judge this is by calling them. Our accident claims advice experts are sympathetic to those who have suffered an accident that wasn't their fault and have suffered injuries. We know it could be difficult to go over the details of an accident, so we will treat your call with the utmost respect, listening to everything you have to say, whether you're asking about a work accident compensation claim, or a claim for other incidents. We will carefully pick out all the information we need to assess your eligibility and offer free accident claims advice based on the information you provide.
How long after an accident can you claim for a fatal accident?
Some people call us to ask how long after an accident can you claim if you lost a loved one. We would be happy to explain the 3-year time limit that applies to such claims, or whether there's an exception in your case. We will show you how to claim for an accident where negligence has caused the loss of a loved one too. Please call our accident claim line for further advice.
What are special damages in accident claims?
When you claim for an accident, you could receive damages not only for your pain, suffering and loss of amenity. You could receive special damages to cover loss of earnings, travel, medical and care costs, and in the case of a fatal accident claim, funeral costs. Special damages in accident claims are designed to compensate claimants for financial expenses caused by their injuries. These are just some examples of the special damages that could be claimable. 
You would need to be able to prove that the financial costs and losses were the result of your injuries; bank statements, bills, payslips and credit card bills could help with this. If you would like to learn more about this, why not call our accident claim line?
Could I claim for psychological injuries when making accident claims in the UK?
When you're making accident claims in the UK, it is important to remember that you could claim for both physical and psychological injuries. You would need to present evidence of your psychological injuries and prove that they were caused by the accident you were injured in. You could do this by using notes from a therapist or a GP, for example.
Can I make accident claims in the UK as a victim of crime?
Unfortunately, some people may be injured as a result of violent crime in the UK. You may be under the impression that it would not be possible to claim against a criminal for your injuries, and in some cases, this may be true. However, if the perpetrator cannot be found or does not have the funding to compensate you, the Criminal Injuries Compensation Authority could compensate victims of crime for a variety of injuries. If you get in touch with Accident Claims today, we can explain how we could potentially help you make a criminal injury claim.
Our Most Popular Guides On Accident Claims Compensation
In this section, we've included links to some of our most popular personal injury and accident claims guides which you may find useful. If you can't find your accident, please call our accident claim line for advice.
Further guidance on claiming
More popular accident claims guides
Final words on Accident Claims in the UK
If you have any more questions about seeking accident claims compensation, just call our accident claim line to get free accident claims advice on how to claim for an accident. We could answer all your questions, including 'how long after an accident can you claim?' and 'how much would I get for a work accident compensation claim?'
Latest personal injury news
With the ever changing accident claims market, we keep you up to date.