By Joanne Jeffries. Last Updated September 9th 2021. Welcome to this guide covering accident claims solicitors for Swindon accident claims. Here, we explain what you need to know about finding personal injury solicitors for Swindon claims.
We have created this online guide for those of you who are looking for accident claims solicitors covering Swindon to help with a compensation claim. You could make a claim for many different forms of harm which result from an accident, such as:
At work
On the road/pavement
In a public place
Through medical negligence
You could be eligible to make an accident claim if you have been injured as a result of someone else's negligent actions or omissions. Whether you suffered a head injury in a cycling accident, brain injuries at work or nerve damage in accidents involving negligent surgery, we could help.
Although we are no based in Swindon, our panel of accident claims solicitors are able to handle claims for damages on your behalf. This guide look at the various accident claims forms and how a personal injury lawyer could help you make a claim in certain circumstances. We will also look at some frequently asked questions about accident claims by previous clients to help those seeking advice.
If you are ready to make a claim, contact us on 0800 073 8801. If you are still unsure, you will find further information below about how to make a no win no fee claim.
Choose A Section
What Is An Accident Claims Solicitor Covering Swindon?
If you have suffered an injury that was caused by someone else, you could be entitled to make a claim for compensation. An accident claim solicitor could help you receive damages for cases involving medical negligence, another driver, an employer, or the owner of public services and private premises. In any case, a personal injury solicitor could help you have the best chance in both making a successful claim in Swindon and securing the highest possible settlement for your injury.
Generally, an accident claim solicitor could provide you with their services from anywhere in the country to help those claim damages for an accident that wasn't your fault. This means that you won't have to limit yourself to accident claims solicitors in Swindon meaning that you can use solicitors based elsewhere in the country. A personal injury lawyer:
Will help you gather evidence.
Could use a personal injury claims calculator to estimate your potential damages.
Will assess the validity of your claim in relation to the accident claims time limit.
Our panel of accident claims solicitors are just a phone call away to provide you with free, impartial accident claims advice.
Swindon Accident At Work Statistics – RIDDOR Reported
In the UK alone there are currently 1.6 million people suffering from work-related illnesses. In the period of 2019 – 2020, a total of 65,427 will have been harmed while in the workplace. You can read more about these statistics from this report by the HSE, the key facts of which we provide below: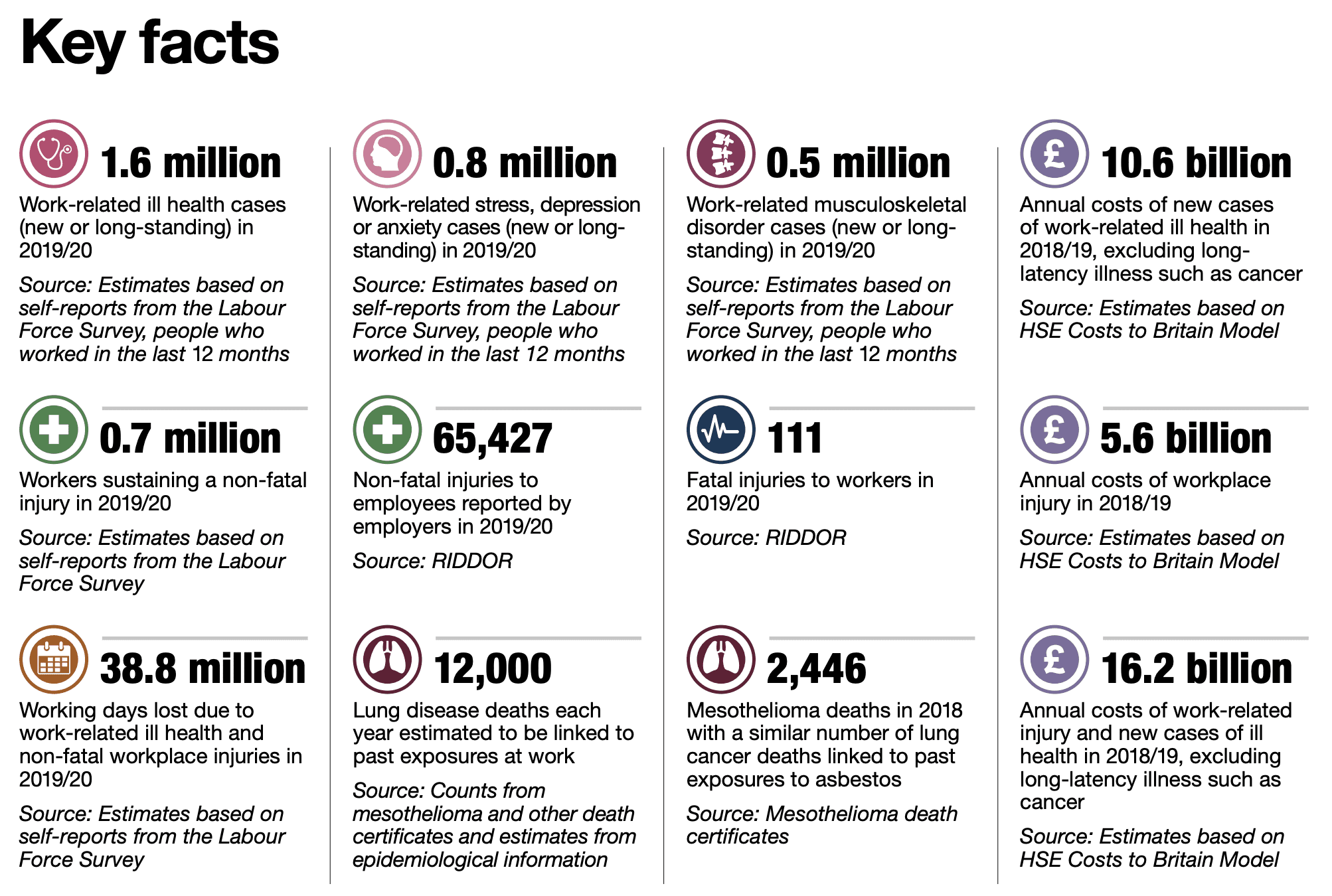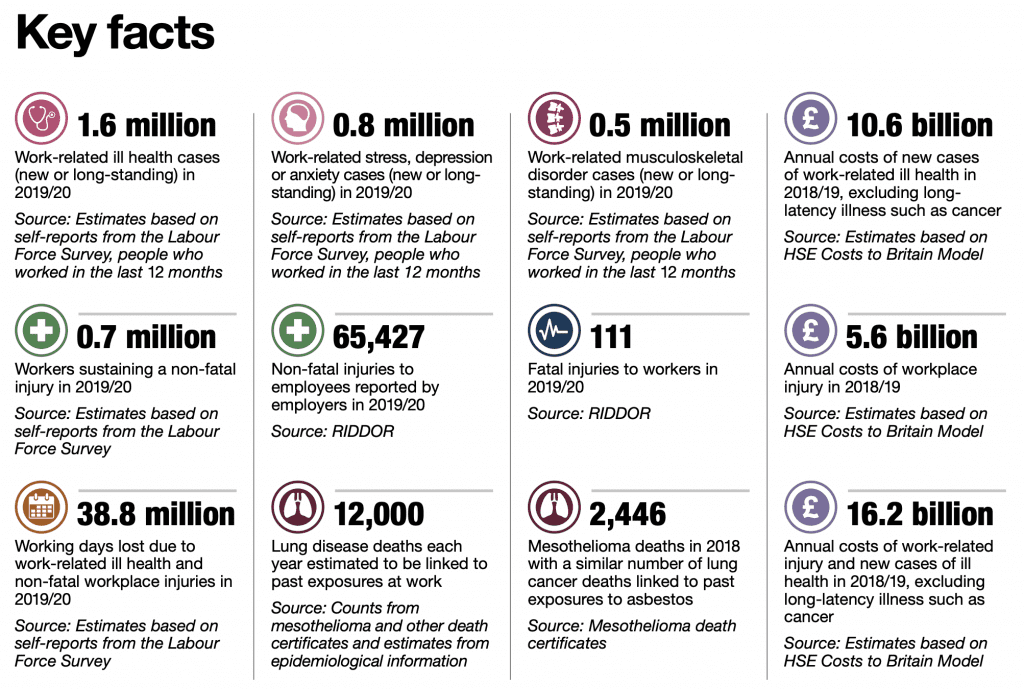 In the table below, we can the rate of fatal and non-fatal workplace accidents which take place in the Swindon area. Although the figures are particularly small, the information shows that injuries caused by a workplace still occur.
| Location | Total – non fatal injuries | Total – non fatal injuries per 100,000 workers | Fatal injuries |
| --- | --- | --- | --- |
| Swindon | 194 | 177 | 0 |
The information from this table can be found on this page.
Occupational Injuries Or Accidents In The Workplace
Whether you work for a limited company or sole trader, occupational accidents are likely to take place if an employer acts in a negligent way which causes you to be at risk within the workplace. The employer may have failed to provide a safe working environment or train their employees to conduct daily activities correctly, resulting in an occupational accident.
An employer is legally expected to provide a duty of care to their employees to ensure reasonable standards are upheld at all times. There are various guidelines and articles of legislation that hold employers responsible for their actions. To ensure that work-related accidents or illnesses are reduced or eradicated an employer should:
Provide a safe working environment
Provide the necessary safety equipment to meet guidelines, such as personal protective equipment.
Train employees in appropriate safety precautions to ensure their role is carried out safely.
If you would like to make a claim for an accident at work, you may want to seek the help of a personal injury solicitor who could successfully claim accident compensation on your behalf.
Swindon Car And Highway Accident Claims
Although we generally expect capital road networks and pedestrian crossings to be used safely, the negligent actions of other road users could, in worse case scenarios, lead to highway accidents. Those liable for your injuries could be anyone from another car driver or moped rider, to a cyclist or even a pedestrian crossing the road.
If you have been involved in a road accident that wasn't your fault, you could have grounds to claim compensation for any injuries you have suffered.
If you are looking to use the services of a solicitor to assist you in making a claim, instead of limiting your online search to 'car accident solicitors near me', you may want to broaden your search for a legal representative to someone who is based elsewhere in the country who has experience in handling claims for personal injury as a result of a road traffic accident.
Our accident claims solicitors possess the capabilities to help those who have experienced a road accident. For more information about the car accident claims process to see how our panel of accident claims covering Swindon could assist you in making a claim of this nature, why not call our team?
Injuries Caused By Being Assaulted
A criminal injury claim is just one of a long list of cases that our panel of accident claims solicitors could help you receive damages for.
If someone has deliberately harmed you, such as through assaulting you or through a criminal act, it may be considered grounds for compensation. Those criminal actions which were inflicted upon you might lead to physical harm or psychological trauma. You may have suffered from a physical injury, such as a broken bone, or psychological trauma which presents itself later, such as PTSD. In such instances where psychological injuries present themselves time after you are exposed to a situation, the accident claims time limit will begin from the moment you are diagnosed with PTSD.
The Criminal Injuries Compensation Authority (CICA) is a government-approved scheme that has been set up to compensate the victims of criminal injuries. In order to make a claim through CICA the criteria are different from those of a personal injury claim. The main difference being the 2-year time limit. For more information regarding this, please do not hesitate to contact one of our advisors for more information. We could offer legal advice on making such claims.
Medical Neglect
At some point in our lives, we may require medical treatment for an injury or illness no matter how big or small. In such cases, most of us are fortunate enough to undergo healthcare procedures without any unnecessary complications. However, others who are not so lucky may be put in such circumstances because of the negligent actions of a healthcare professional.
Medical neglect or clinical negligence can lead to avoidable harm to a patient if a medical practitioner fails to provide reasonably expected standards of care while giving medical attention to a patient. If the legal duty of care falls below minimum standards it could lead to, for example, wrong-site surgery, incorrect amputations or even contraction of a disease as a result of unsterilized equipment. However, medical negligence is not limited to just these examples.
In these circumstances, a no win no fee solicitor from our panel of accident claims solicitors may be able to help you claim compensation against either an NHS facility or a private healthcare practice.
Accidents And Injuries In A Public Place
You may be looking for accident claims solicitors covering Swindon if you have suffered an injury in a public place. A claim could be brought against many different parties for a variety of scenarios if a space that they are in charge of operating has caused a member of the public to come to unnecessary harm.
Regardless of what space the incident occurred in, whether it be a local park, the street, a shopping centre or leisure centre, you could make a personal injury claim through our accident claims solicitors even though we are not based in Swindon.
Slip, Trip And Fall Claims
An accident claim could be brought forward for slip trip and fall claims. These are some of the most common ways in which UK people are injured, according to various organisations. However, they are deemed the most common way that people are injured at work by data from the Health and Safety Executive.
There are a variety of accidents that a compensation claim could be made for, such as an icy pavement not properly treated, obstructed footpaths, or even potholes which have led to sprains, fractures or other musculoskeletal injuries.
If you need accident claims advice for a slip, trip or fall caused by an ill-maintained pavement or negligent employer, call us today. Our specially trained advisors could provide you with accident claims advice and connect you to our solicitors who can, in turn, help you make a successful case.
No Win No Fee Accident Claims Solicitors Covering Swindon
Regardless of whether you are making a Swindon car accident claim or you're simply looking for accident claim advice and support, how you will fund your claim may be of the utmost priority. One of the most affordable processes to handle your claim with could be a through a no win no fee agreement.
A personal injury lawyer will advise you on the range of benefits you could receive from entering into a no win no fee agreement – or as it's also known as a Conditional Fee Agreement. This type of agreement allows your accident claim solicitor to undertake your case on the basis that their fee will only be paid if you successfully receive a settlement fee. If the case is unsuccessful then the bill for your solicitor will not fall on you.
How To Make An Accident Claim
To make a no win no fee claim, you need to choose a suitable representative from a range of accident claims companies to ensure that your claim is successful. Whether you are looking to make accident claims in Swindon or for an incident elsewhere, our accident claims solicitors could help.
Even though we are not based in Swindon, our panel of accident claims solicitors could possess the capabilities to help progress your case due to being in the industry for a number of years.
To start your claim or discuss the amount of damages you could be entitled to through a personal injury claims calculator, call us on the number at the top of this guide or click here to get in touch with our team
Frequently Asked Questions About Accident Claims
Below we have answered some frequently asked questions about accident claims which people tend to our expert team.
How Could Your Specialist Team Help Me?
Our accident claims solicitors have up to 30 years' experience in handling claims and we may be able to support your case even though we are not based in Swindon. With so many accident claim solicitors available to you, call us today to discuss which of our representatives could be the most suitable for your claim.
Does My Case Need To Be Handled By Accident Claims Solicitors In Swindon?
We understand that there may be a variety of accident claims solicitors in Swindon or Swindon based accident claims companies that could help you make a claim. However, we believe that you shouldn't limit yourself to your local area law firms for help and support. Our panel of accident claims solicitors could contact you via telephone, email or post to keep you updated.
Do I Need A Medical Exam?
One aspect of the accident claims process when collecting evidence is for an independent doctor to conduct a medical examination. This will produce an impartial report about the impact the injury/illness has had on your life and what further treatment you may require.
Where Could I Have A Medical Exam?
Your medical assessment could be conducted by one of the many different doctors we work with across the country. This panel includes (but is not limited to):
Mike Glassborow
Swindon Chiropractic Clinic,
10 Swindon Road,
Stratton St Margaret,
Swindon,
SN3 4PZ
Geoff Hogg
The Atrium Clinic,
South Marston Hotel & Spa,
Old Vicarage Lane,
Swindon,
SN3 4SH.
Ayubur Rahman
BSS House – Swindon Cheney Manor,
Wembley,
Swindon,
SN2 2PJ.
What kind of accident claims solicitors covering Swindon should work on your personal injury case?
If you have been injured or suffered an illness due to any sort of accident or injury, and someone else is to blame for what has happened to you, you may wish to find personal injury solicitors covering Swindon who could give you an excellent chance of making a strong case and would fight for the maximum compensation possible for your case.
A good solicitor, in many people's opinion could be someone who is honest and experienced. They would be able to give you a realistic picture regarding the strength of your case and what to expect from the case proceedings. Working with a no win no fee solicitor, registered in England and Wales and authorised and regulated by the Solicitors Regulation Authority is a good way of protecting yourself financially and making sure you have a solicitor who is able to take on your case professionally. Reading prior reviews from previous claimants could also give you a picture of how good their legal services are.
Examples of work accidents that accident claims solicitors covering Swindon could help with
As per the Health and Safety at Work etc 1974 Act, all employers must provide a safe and healthy work environment for their employees. If they do not do this, and someone has been injured as a consequence, a case can typically be made.
These cases are, consequently, very diverse. To help you get a better understanding, here are some examples of work accidents that could result in compensation cases:
You have sustained an injury because your employer has not provided you with workplace training or the training that has been provided has not been sufficient
Your employer did not provide you with the right PPE to protect you from the risks in place
You have suffered a fall from a height because of a lack of health and safety
You've been injured due to a faulty machine that was not maintained correctly
You contracted an illness due to problems in terms of gases or chemicals in the work environment
You'd suffered injury because risk assessments were not conducted or the results of them were not acted upon
You were assaulted and your employer did not take reasonable steps to stop this from happening
This is by no means an exhaustive list. There are a lot of different incidents that could result in successful compensation cases. If you would like to get a better understanding of whether or not you could make a claim, please do not hesitate to call our friendly and experienced team for more details.
Further Information Below
We hope this guide has helped you gained more information about the variety of circumstances in which accident claims could be made and what forms they could take. Please find further information below regarding accident claims.
Pub Or Bar Accident Claims 
Are you eligible to make a compensation claim?
Whiplash Claims 
A guide to make a whiplash claim as straightforward as possible
Pedestrian Accident Claims 
How much could you receive for a pedestrian accident compensation claim?
Reporting Workplace Accidents
How to report a workplace based accident
Reporting Accidents In Leisure Facilities 
What do to in circumstances where leisure facility accidents arise
Reporting A Car Accident In Swindon 
A guide to the process of reporting an accident in Swindon
Court In Swindon
Information regarding local courts in Swindon
This marks the end of this guide covering accident claims solicitors for Swindon accident claims. Now you should know more about finding personal injury solicitors for Swindon claims.