By Jo Anderson. Last Updated 20th November 2023. In this guide, we take a detailed look at the types of neglect that could warrant a care home claim.
Negligence in a care setting can come in various forms, such as a lack of appropriate health planning or failure to address slip and trip hazards within the care home.
Within this guide, we'll delve into abuse cases in care homes and give examples of incidents in a care home, such as neglect in care homes, that could lead to a claim. We'll also discuss injury claims for those who work in a care home, potential compensation payouts for care home negligence and claiming with a No Win No Fee solicitor.
For more information about the service we provide, as well as care home negligence cases in general, read on.
You can also:
Select A Section
What Is Care Home Negligence?
In the United Kingdom, care homes are split into one of two categories. The first is a residential care home. They vary in terms of size, including those with large-scale facilities, as well as those that are very small and only have a couple of beds. These care homes offer support and care, day and night.
Staff will help residents in terms of using the bathroom, dressing, and washing. The second type of care home is a nursing home, and this offers everything that a residential care home does, yet there is one distinct difference: 24-hour medical care is also available from a qualified nurse.
No matter what type of care home you are thinking about placing a family member or relative in, there is no doubt that the decision can be a difficult one. Therefore, if the decision does not turn out how you intended to and you have put your trust in a care home that has failed your relative, it can be very difficult to take.
How Care Homes Should Operate
The UK Government has put together a Health and Safety in Care Homes publication, which provides guidance for those who provide and manage care homes. This is a good resource because you can use it to determine whether the care home in question has been acting in the manner it should be or whether it has been providing a substandard level of care and health and safety.
Our next section will look in greater detail at the statistics related to care home neglect, so if this is something that interests you then you should continue reading. Or if you would like to know more about how to claim care home compensation then don't hesitate to give us a call.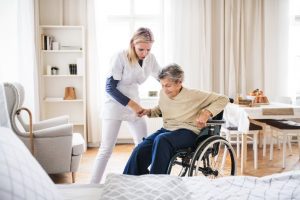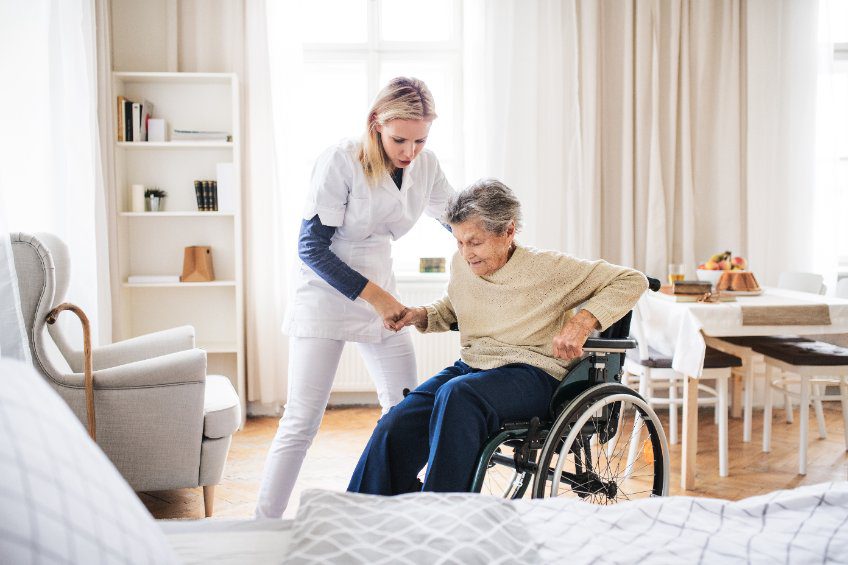 Examples Of Care Home Negligence Cases

Care home claims can arise for a variety of reasons. Below, we give examples of just some of the types of care home negligence cases our solicitors can handle. 
Care Home Claims For Pressure Sores And Ulcers
Neglect in a care home can cause issues with pressure sores and ulcers. If the correct protocol is not followed, and a patient with limited mobility is not regularly moved or turned while in bed or on a chair, this could cause pressure sores to form or worsen. Furthermore, care home negligence can involve a failure to check pressure sores for signs of infection. 
Care Home Claims For Medication Errors
Care home claims can also arise from medication errors. If a patient is given the wrong medication or dose, this could negatively impact their health and their existing condition could worsen. If it can be proven that this medication error was caused by a medical professional breaching their duty of care, this could lead to a care home negligence claim.
Negligence Cases Involving Slips, Trips And Falls
Our care home negligence solicitors can also assist with claims involving slips, trips and falls. Some patients in care homes struggle with mobility. Providing mobility aids could help to reduce the risk of an accident. For those assessed as being unable to mobilise without assistance, care must be taken to ensure they are assisted if they need to move around. A failure to do so could be considered care home negligence, and injuries resulting from this negligence could lead to a claim. 
 Not all care home patients will have trouble with mobility but could still suffer a slip, trip or fall in a care home. If there is a spillage that is not cleared up or cordoned off, this could lead to slips. If there is uneven flooring or another trip hazard, this could cause a trip for someone even if they have full mobility.
Claiming For Abuse And Neglect
If you or a loved one has suffered abuse or neglect in a care home, this could also lead to a claim for compensation. Care home patients are owed a duty of care to receive care that meets a minimum standard. Neglecting their basic needs, such as toileting, feeding and hydrating, would breach this duty of care. If such a breach causes avoidable harm, this could lead to a claim.
It is also a part of a care home's duty of care to ensure the safety of their residents and patients. If they fail to do so and a patient is abused and harmed, a claim could be made for their physical and psychological injuries.
To learn more about care home claims, or to get a free eligibility check on your case, please contact an advisor. 
Can I Sue For An Accident At Work In A Care Home?
We have also launched a number of care home accident claims for individuals who work in this environment. There are many types of accidents that could happen in this workplace.
You need to show that your employer is to blame for what has happened to you; for example, he or she may have failed to protect you from violence or slip and trip hazards.
They may have not given you the correct training or they may have told you to lift a patient that was too heavy without assistance.
Can I Make A Care Home Claim On Behalf Of A Relative?
The short answer to this question is 'yes' – if someone you love has been the victim of care home accident, you can claim on his or her behalf. There are four distinct legal entities that can launch nursing home negligence cases. These are as follows:
The victim of the injury
The immediate family members of the victim
The estate of the victim
The dependants of the deceased or victim
No matter whether you want to launch a nursing home bed sores lawsuit or you want to make a claim for a lack of primary care, we can assist you in claiming care home compensation. Call us today to find out about making care home compensation claims on behalf of a relative.
Evidence That Can Support Care Home Claims
If you would like to claim for care home negligence, you will require supporting evidence. As stated above, you are owed a duty of care. If a liable party breaches this and you suffer injuries as a result, you could be eligible for compensation.
Examples of evidence that could be useful includes:
Witness contact details so they can provide a statement at a later date.
Medical records. In addition to your medical records, you might be asked to attend an independent medical assessment to learn about the severity of your injuries and what impact these may have on you.
Accident footage. For example, mobile phone footage or CCTV footage.
For example, you could submit photos of the conditions in the care home or of your injuries.
If you need any help gathering evidence to prove neglect in a care home, call our advisors.
Time Limits For Claiming For Neglect In A Care Home
Whether you are claiming for yourself or on behalf of an injured party, there is a limitation period. The Limitation Act 1980 typically gives claimants three years from the date of the incident to start legal proceedings.
However, certain circumstances create a suspension to the time limit. For example, an injured party who lacks the mental capacity to start the legal process will not be subject to a time limit. A litigation friend could be appointed to start a claim on behalf of the injured party.
If the injured party regains capacity, then the time limit is no longer suspended. This gives them three years to start a claim from that date.
Call our advisors to discuss care home abuse. If they think you have a valid claim, they can help you get started right away.
Compensation Payouts In Care Home Claims
Compensation payouts in care home claims can vary from case to case. However, it's possible to gain an idea of how much could be awarded before you make a claim.
In the table below, you can see the average payout for common injuries relating to care home negligence.
| Injury | Notes | Amount |
| --- | --- | --- |
| Bladder (c) | Serious control impairment with some incontinence and pain. | £63,980 to £79,930 |
| Kidney (b) | A serious risk of a future UTI or other complete loss of the kidney's natural function. | Up to £63,980 |
| Hand - Serious | Injuries in this bracket will include ones which have reduced the hand to about 50 per cent capacity. | £29,000 to £61,910 |
| Arm - Permanent and Substantial (b) | Injuries within this bracket will include serious fractures to the forearm where there is significant cosmetic or functional disability | £39,170 to £59,860 |
| Digestive System (b)(i) | Serious acute pain, a fever, diarrhoea and vomiting caused by severe toxicosis. | £38,430 to £52,500 |
| Ankle - Severe | This bracket will include injuries which require extensive treatment and/or a long period of time in plaster, or where there have been pins inserted resulting in ankle instability and a limited ability to walk. | £31,310 to £50,060 |
| Foot - Serious | Injuries which lead to continuing pain from traumatic arthritis or carry the risk of future arthritis. | £24,990 to £39,200 |
| Wrist (b) | Will include injuries resulting in significant permanent disability, but where some useful movement remains. | £24,500 to £39,170 |
| Lung Disease (e) | Wheezing due to bronchitis, that doesn't seriously affect the person's social life. | £20,800 to £31,310 |
These figures come from the guidelines of the Judicial College, published in April 2022. Please remember, they're included for guidance purposes only and may or may not reflect your final award.
Don't panic if you cannot see the injury you or your loved one has suffered from in the table above. You will still be able to make a claim. You can call us at our registered office to find out an estimate if you would like.
What Else Can You Include In Care Home Claims?
When suing a care home for neglect in the UK, you can claim for general damages, i.e. the pain and suffering as a result of negligence the victim experienced.
You can also claim for any special damages, which are out-of-pocket expenses. This could be a loss of earnings because you have had to take time off work to care for your loved one. It could also be counselling costs, as well as medical expenses and travel fees.
If your loved one has passed away due to the negligence they have been a victim of, you can also claim funeral expenses.
No Win No Fee Care Home Claims
If we find you have a strong case to claim for care home compensation, then we could potentially support it by connecting you with one of our No Win No Fee solicitors. Under a No Win No Fee agreement, you usually don't have to pay your solicitor their legal fees if your case goes forward and proves unsuccessful. If compensation is secured, the legal fees come directly from your payout. This is a percentage amount that would have been agreed on between you and your solicitor prior to the service taking place.
This makes certain that you will have money to cover the cost of hiring a lawyer and you are never going to be left off in a worse financial situation than when you started the claim process. This could easily happen if you went for a traditional lawyer that charges per hour, though.
Get More Help With Care Home Claims
You're more than welcome to contact our advisors if you would like to ask questions about claiming care home compensation, or if you're seeking support for making a claim. If we find you have a strong case, we could potentially connect you with a medical negligence solicitor who has previous experience in handling care home claims.
You can call us on 0800 073 8801. If you would prefer, you can also reach us online by using either our live chat feature on our website, our call-back form or by sending an email to office@accidentclaims.co.uk.
Learn More About Care Home Negligence Claims 
We hope you have found this guide helpful. If you need further information, please use the links below.
NHS – Care Homes guide – This is the NHS guide to care homes, including how to choose a care home, payments involved, and much more.
Elder abuse reporting – You can use the link above to report the abuse of an older person to the UK government.
Crime against older people – You should head to this link if you would like more information on prosecuting crimes for older people.
Our guide on accident at work compensation claims may help you get the compensation you deserve after a work injury.
Read our guide to GP negligence claims for more information on claiming for medical negligence caused by a GP.
And we also have a guide on head injury claims, which may shed some light on making a claim following a head injury, whether sustained in a care home or elsewhere.
Other Guides That May Help
If you have any questions about care home negligence claims, please don't hesitate to get in touch.