By Joanne Jeffries. Last Updated August 17th 2021. Welcome to our guide on chopping injury claims and slicing injury claims.
No Win No Fee Chopping Injury Claims
Working in some industries is inherently dangerous, especially those where the tools of the trade are sharp implements. However, as with any workplace, employers must take steps to reduce any risk to their staff's welfare.
In this article, we shall look at chopping injury claims and slicing injury claims. The types of roles we'll consider include kitchen staff, construction workers and factory workers.
Essentially, you could be entitled to claim (whatever type of job you have) if a sharp piece of equipment injures you through no fault of your own.
If you decide that you'd like to claim for a cut, laceration or penetrating wound sustained because of someone else's negligence, we could help you. We have a team of specialist advisors who provide free telephone consultations to all potential claimants.
You'll be given free legal advice and could be partnered with one of our personal injury solicitors if your case is suitable. If that happens, the solicitor will provide their services on a No Win No Fee basis.
To discuss your claim with us right away, please call 0800 073 8801 today. Otherwise, you'll find more information on why you could be entitled to compensation in the rest of this guide.
Select A Section
A Guide To Slicing And Chopping Injury Claims
When working with tools and machinery, there is always a risk of injury if something goes wrong. If those tools are sharp, injuries can be life-changing. They can include cuts and lacerations, a severed finger or even the amputation of a limb. To reduce the risks, employers need to assess working practices and take steps like providing training and potentially protective equipment to reduce any danger.
If you suffer a chopping or slicing injury, and your employer's negligence caused it, you could be entitled to claim compensation. We'll look into your employer's duty of care in more detail later. Also, we'll show you what you could claim for besides your injuries and how much might be paid.
We should tell you that you'll need to act fairly quickly because there is a personal injury claims time limit. For most people, this will be 3 years.
Claims can take some time to be processed as you'll need to wait for the results of a medical assessment and gather other evidence to support the claim. Therefore, we'd advise you not to wait too long before contacting us.
Whilst we will look at some specific job roles where sharp tools are used, you could claim for any slicing injury if the accident wasn't your fault. So, however your accident happened, why not contact our team today? We'll review your claim for free and explain whether you can proceed. If the case appears to be feasible, we could connect you with a personal injury lawyer from our team.

What Are Slicing And Chopping Injury Claims?
In terms of starting a compensation claim, you'll need to show that:
You were owed a duty of care by the defendant; who
Caused an accident because they breached that duty; and
You suffered a slicing injury as a result.
When we talk about slicing injuries, you could also claim for chopping injuries, penetrating wounds and severing injuries. You could claim for thumb injuries, making finger injury claims. In fact, whatever body part is harmed, if it wasn't your fault, you could claim.
Employers have a duty of care to try and keep staff as safe as possible. So, if your accident happened at work because your employer failed to protect your safety, you could claim.
If the accident happened elsewhere, it could still be possible to claim if you can show there was a duty of care. That's where we could help. Our advisors can help by explaining your rights and providing free legal advice.
If a personal injury lawyer from our team takes your claim on, they'll explain which laws are relevant. Please call today for more information on your eligibility to claim.

Reporting And Recording Chopping And Slicing Injuries At Work
When you have an accident at work, your employer should document it in an accident report. This might be in a book or on a database, for example. In the report, the following should be recorded:
The time and date that the accident took place.
Details of who was injured.
A list of witnesses for witness statements
A list of injuries that resulted from the accident.
An account of the circumstances of the accident including the cause.
You should let your employer know about the accident as soon as possible. Additionally, you might want to ask for a copy of the report. That's because, if you make a claim, it may be much harder for your employer to deny that the accident happened or that you sustained injuries if the details have been recorded.
How to report chopping injuries at work
By law, employers must report specific injuries to the Health and Safety Executive (HSE) in line with the Reporting of Injuries, Diseases and Dangerous Occurrences Regulations 2013. The list of specified injuries that must be reported includes:
Amputation of an arm, leg, hand, foot, finger, thumb or toe.
Scalping requiring hospital treatment.
Failure to report such incidents could lead to your employer being fined by the HSE.

Employers' Duty Of Care To Prevent Chopping Injuries
One legislation that places a legal duty of care on employers is the Health and Safety at Work etc. Act 1974. While we won't cover all of the complexities of the Act, it means companies must try to do all they reasonably can to protect staff at work from damage due to sharp edges or blades. This should be done by:
Assessing the risks in the workplace regularly and taking action to remove them where possible.
Training all staff properly.
Ensuring staff are aware of the company's health and safety procedures.
Providing protective equipment where needed.
Maintaining all equipment and tools and repairing them when damaged.
If your employer has failed in their duty of care and their negligence has caused you to suffer a chopping injury, you could be entitled to claim against them. Why not get in touch today so that we can review your injury compensation case for free?

Where Do Chopping And Slicing Injuries Happen?
In this section, we are going to provide details of where chopping injuries are more likely to occur. We'll look into different workplaces that could be more at risk as well as different roles. Please remember though, even if your job is not listed, you could be eligible to claim for such an injury if you weren't fully responsible.
Types of workplaces where chopping and slicing injuries could happen
The list of workplaces where a member of staff could suffer a chopping injury is probably too long to list. However, some of the more likely include building sites, farms, kitchens, factories and gardens.
According to the HSE, hand knife injuries occur in all parts of the manufacturing sector.
Types of workers who could suffer a chopping or slicing injury
Again, many workers are possibly at risk at some point including:
Those working with power tools like builders and carpenters.
Anybody who works with knives, such as chefs.
Those working with chainsaws including tree surgeons, gardeners and carpenters.
Anybody who works with industrial appliances like factory workers or warehouse staff.
Anybody working in farming who uses large vehicles like combine harvesters.
Restaurant Worker Chopping And Slicing Injury Claims
In catering, there are many potential risks that could lead to a chopping injury. Taking the right precautions (training, maintenance, etc.) should reduce the risks but accidents do still happen. Therefore, you could claim if you're injured because:
You are cut by a food processor because of a faulty safety guard your employer was aware of and didn't fix.
You're cut by a knife being carried by another member of staff, holding it incorrectly because they hadn't been properly trained.
You lose a finger because you'd not been trained properly on the use of chopping equipment.
Again, even though working with knives and other kitchen equipment comes with associated risks, you could still claim if your injury was caused by employer negligence.
To support a restaurant chopping injury claim, you should photograph the cause of the accident before it is fixed, gather contact details of any witnesses and copies of any medical records that show the injuries you sustained.
After that, you could call us for a free telephone consultation about your case. We handle claims from supermarket accident claims to road traffic accident claims and many more. We could help you get the compensation settlement you deserve.

Factory Worker Chopping Injury Claims
As with other employers, factory owners need to take steps to try and stop you from being injured whilst working. They should:
Regularly check equipment for problems.
Provide all staff with Personal Protective Equipment (PPE) to reduce risks where necessary.
Train you on how to use machinery properly. That could include training on how to change blades safely for chopping equipment.
Again, evidence is crucial to support your claim. Photographs, accident reports and medical records could support the claim.
For more free legal advice on claiming for a factory chopping injury, please get in touch with us today. You can call the number at the top of the page or use live chat to discuss your options.

Supermarket Worker Slicing Injury Claims
Supermarket workers could be entitled to claim for a slicing injury caused by employer negligence. A couple of examples include:
Deli counter workers cut because the slicing machine was faulty and not fixed by the employer.
Fishmongers who cut themselves because they'd not been trained on the safe use of knives.
Warehouse staff who cut themselves while opening boxes because they were tired due to a lack of rest breaks.
In addition to staff claims, customers could also claim if they cut themselves in the shop. For example, you could claim for cuts caused by damaged shelving or broken glass.
If you are cut in a supermarket, it is best to get first aid and report the accident to the shop manager. Also, take a picture of your injury and the cause of the accident before it is removed where possible.

Gardener Chopping Injury Claims
If you are employed as a gardener or tree surgeon, there are many obvious risks. However, even though you are working outside, your employer needs to take steps to make your workplace safe. While they won't usually have much control over the site, they can take steps to train you properly, provide protective equipment and make sure all tools and machinery are fault-free and well maintained.
If they fail to take such steps, and you are injured as a result, we could help you claim compensation. You'll receive a no-obligation review of your case and free legal advice. Why not find out if you could claim by calling today?

Chopping Injury Claims Compensation Calculator – Updated August 2021
Now we're going to move on to look at some example settlement figures. We have provided a table below for general damages payments. This is compensation designed to cover your pain, suffering and loss of amenity. The figures come from a document used by lawyers, courts and insurers called the Judicial College Guidelines.
We haven't listed every possible injury here, so don't think you can't claim if yours isn't listed. When you speak with an advisor, they'll be able to provide an estimated figure for you. Also, this is just one part of the settlement, so please read the next section for more details.
| Chopping Injury | Level of Severity | Compensation Range | Detailed Information |
| --- | --- | --- | --- |
| Arm | Amputation | £102,890 to £122,860 | Above elbow amputation of the arm. |
| Arm | Amputation | £90,250 to £102,890 | Below elbow amputation. |
| Finger | Amputation | £58,100 to £85,170 | Amputation of the index and middle finger and / or ring finger. |
| Finger | Serious | £27,220 to £58,100 | Cases where fingers have been amputated but re-joined leaving the claimant with 50% hand capacity. |
| Leg | Amputation | £98,380 to £129,010 | Above knee amputation of one leg. |
| Leg | Amputation | £91,950 to £124,800 | Below knee amputation of one leg. |
| Toes | Amputation | £34,720 to £52,620 | Amputation of all of the toes. |
| Toes | Amputation | Around £29,380 | Amputation of the great toe. |
| Toes | Amputation | £12,900 to £29,770 | Amputation of one or two toes (not including the great toe). |
The amount of compensation paid is largely based on how severe the injury is. That's why, during the claims process, we recommend you have a medical assessment. If you work with a lawyer from our panel, they will try to ensure yours is held locally.
During your meeting, an independent medical expert will assess your injuries, refer to medical records and ask some questions about the impact of your injuries. A report will then be produced explaining your immediate and long-term prognosis. This report will be forwarded to your solicitor and used as part of your claim.

Slicing Injury Claims For Special Damages
In addition to the compensation you could receive because of the pain caused by your injuries, you could also be paid back any costs you've incurred as a result of your injuries. This part of the claim is known as special damages.
The amount you can claim will be based upon the costs you've incurred, so we can't provide exact amounts here. The idea is that your finances are put back to where they were before the accident. Again, after your claim has been assessed, we should be able to indicate how much you could claim.
A special damages claim could be made for:
Care costs. This could be included if somebody had to help you with daily activities while you were recovering. Professional carer's costs could be claimed, or a rate could be calculated for a friend who supported you.
Medical costs. You could claim for treatment that wasn't available on the NHS. Additionally, prescription fees could be claimed as well.
Travel expenses. In this category, train or bus fares, fuel costs, or parking fees could be claimed if they relate to medical appointments.
Home adaptations. For injuries that result in a disability, you could claim for changes in your home or to your vehicle if they make things easier to cope with. The costs of any changes might be included in your claim.
Lost income. When you need time off to visit a doctor or to recover, you may lose some of your income. If that happens, you could request that your losses are reimbursed as part of your claim.
Future loss of income. Injuries can sometimes have a negative impact on your ability to work in the long term. If that's the case, lost future income could be considered too.
No Win No Fee Slicing And Chopping Injury Claims
Many people have not been compensated because they decided not to claim. A reason for this could be because they were worried about losing money on solicitor's fees. Therefore, we offer a No Win No Fee service for any claim taken on by our solicitors.
A solicitor will need to review your case before it is accepted. If they decide that they will take on your claim, and you'd like to proceed, a Conditional Fee Agreement (CFA) will be drafted for you. This document will set out what the solicitor must achieve before they are paid. Also, the CFA will show that:
No solicitor fees are requested upfront.
You don't pay for any solicitor's fees while the claim is ongoing.
If the solicitor fails to win your claim, you don't have to pay their fees.
That means that the only time you'll pay your solicitor is if you receive compensation. When that happens, a percentage of your compensation will be retained. You'll know about the size of this success fee before you agree to work with the solicitor as it is listed in the CFA. Importantly, success fees are legally capped to prevent you from being overcharged.
Please call our advice line today to see if you could claim on a No Win No Fee basis.

Start Your Claim
You are almost at the end of this article on chopping and slicing injury claims. Hopefully, our guidance has shown you whether you're eligible to claim compensation. If you'd like to discuss your options or start a claim, you can reach us by:
Our advice line is open 24-hours a day so you can contact us when it's most convenient. We'll start the claims process by hosting a no-obligation telephone consultation to discuss your claim. You'll receive plenty of free legal advice and, if the claim is suitable, we could connect you with a personal injury lawyer. Any claim taken on by our team will be funded by a No Win No Fee agreement.

Helpful Resources
This is the final section of this article about being compensated for chopping injuries. Therefore, we have listed some external reading material for you below. Should you require any further guidance, please don't hesitate to contact us.
Safer Tree Work: Guidance from the HSE on safer working practices for tree surgeons and chain saw workers.
NHS First Aid: Part of this NHS article explains what to do if part of a finger is severed.
Kitchen Knife Safety: This article, also from the HSE, provides practical tips for working safely with knives in catering.
To show what else we could help you with in the future, we have listed some of our other guides below:
Medical Negligence Claims: Details about why you may be able to claim for suffering caused by medical errors.
Slipped Disc Compensation: An article on when a slipped disc in the back could lead to a compensation claim.
NHS Staff Accident Claims: Detailed information to help NHS workers who have been injured while working.
FAQ about Chopping Injury Claims And Slicing Injury Claims
How common are chopping injury claims and slicing injury claims?
While it is not possible to reveal the number of injury claims relating to workplace chopping and slicing injuries, we can look at the HSE statistics for the types of injury suffered in the workplace. According to their figures, between 2017/18 and 2019/20 there were estimated to be 17,000 (central estimate) reported lacerations and open wound injuries within a 12 month period. You can see the other types of injury and how common they were in the graph below.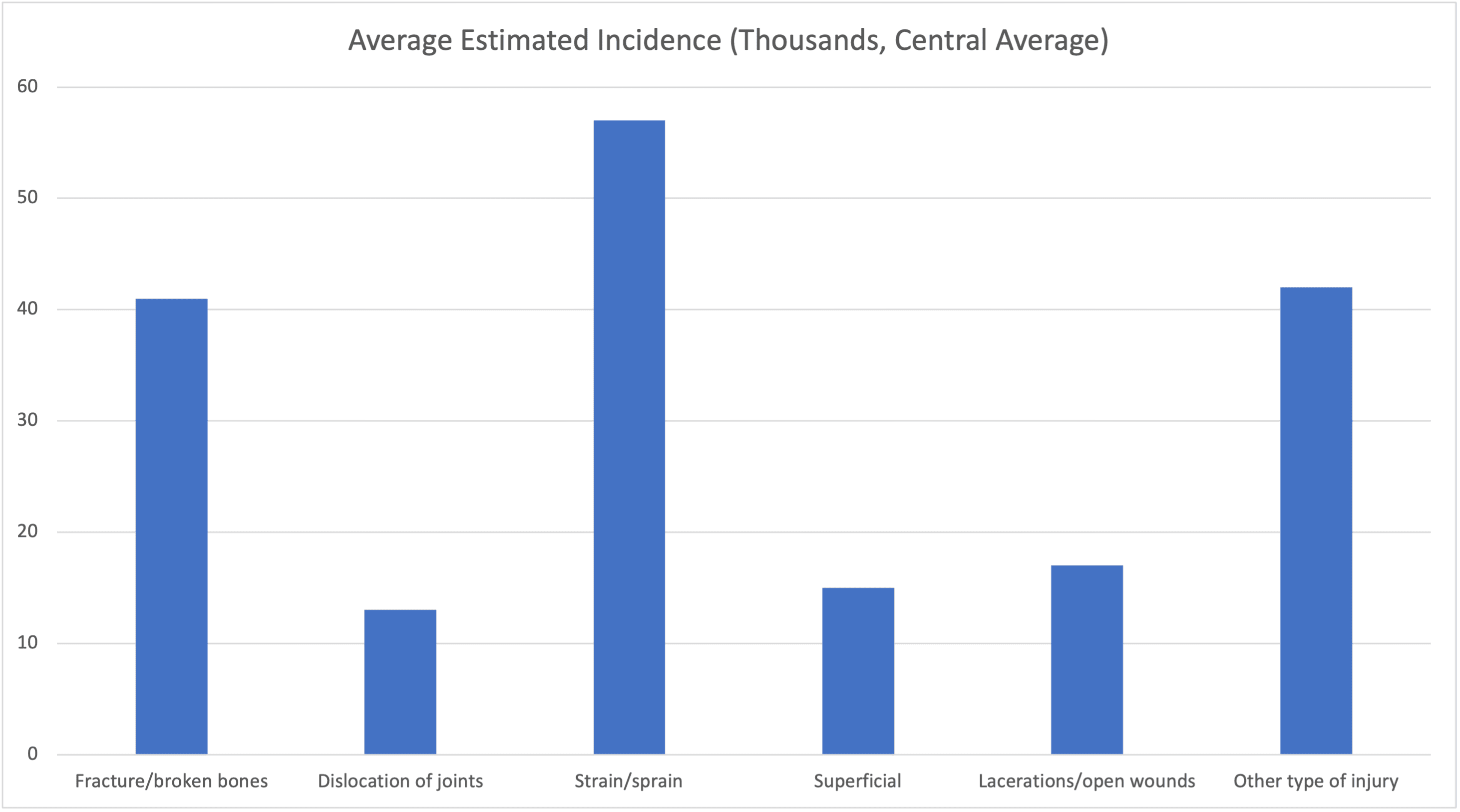 How Do I Evidence My Injury?
If you're intending to make chopping injury claims or slicing injury claims, you would need to evidence your injury. However, attending A&E or any other medical care provider for treatment of your injury would not provide enough evidence. As well as getting the right treatment for your injury, you would also have to see an independent expert as part of your claim. This medical professional would look at your medical notes, and ask you questions about your injury. They would also need to examine your injury site. Once they had collected the relevant information required, they would go and put together an independent medical report. The report would detail the nature and severity of your chopping or slicing injury. Once this was done, your solicitor and the courts could use the report to arrive at the appropriate level of compensation for your chopping or slicing injury claim.
Thank you for reading this article on chopping injury claims and slicing injury claims.