It only takes a second for your life to change. And that second can come at the most unexpected time. We don't expect to nip into the supermarket for a pint of milk and end up in hospital. But, unfortunately for some people, that's exactly what does happen.
"I slipped in Asda and broke my ankle – what should I do now?"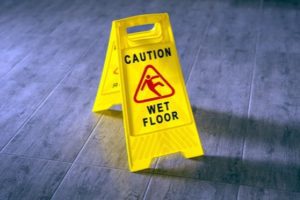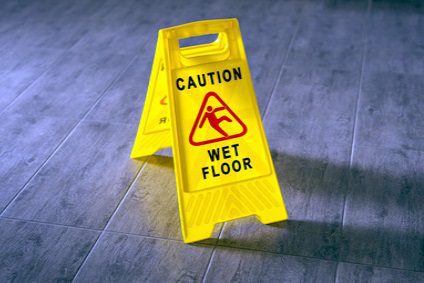 It's not just shoppers that are at risk of supermarket slips in Asda. Delivery drivers, staff (both on the sales floor and in the offices) and other visitors to the store can also be victims of an accidental spillage or slippery floor surface. You're not even safe in the car park as rain, oil and poor lighting could all cause you to take a tumble.
For most people there will only be a few quickly healed bruises from an accident of this sort and perhaps a letter to Asda complaints. But you may find yourself out of pocket if you can't work – and for some there may be long lasting effects both physical and psychological affecting your ability to work, enjoy a family life and perform day-to-day tasks.
If you think you have a claim for slipping on water spilled on the floor in Asda then you should talk to one of our advisors as soon as you feel able to do so. Our personal injury claim helpline is available 24hours a day to ensure your claim for slip injury compensation is processed as smoothly and quickly as possible.
Why not call us on 0800 073 8801 or, if you are still unsure if you have a claim read on for further information.
Select A Section
A Guide To Claiming For Slipping On Water Spilled On The Floor In Asda
Water is essential for life, for drinking and cleaning but spill it on the wrong surface and it can quickly turn it into a lethally slippery booby-trap. Water is especially dangerous in busy areas – such as supermarkets like Asda – as shoppers and staff alike are concentrating on avoiding each other more than looking out for a clear liquid near their feet.
It's not just damp floors on the shop floor that can be a problem. Outdoors can be dangerous too with floodwater after or during a rainstorm obscuring the depth of potholes or hiding kerb edges. Burst pipes and blocked drains can also allow standing water to form puddles to trip car park users, delivery drivers or members of staff entering and leaving the building.
If you slipped on wet floor in Asda you'll know only too well how painful the initial shock can be. Even if you are physically unhurt you may be embarrassed about your fall or nervous about going shopping in future. Injuries of some form, however, are likely if you slipped and fell in Asda ranging from simple bruising or grazing to sprains, broken ankles and wrists to more serious injuries to the spine, neck or head if you were unfortunate enough to fall awkwardly. You may also be injured by anything you were carrying at the time. Cuts from broken glass or damage to your arms and legs from a dropped parcel perhaps.
If you have slipped on water in Asda then you may be entitled to compensation from Asdaif they were responsible for your accident. You won't be able to claim if you caused your own accident or if it took place on property that is not owned by Asda (for example if your accident was in the car park which is owned and maintained by the council).
If you slipped on a wet floor in Asda you should make notes about how you fell and whether or not the water was visible or if warning signs were displayed. If you are unable to do so at the time then write down as much as you can recall as soon as you possibly can. Make sure you adhere to the Asda accident policy and fill in the accident book. Keep a record of any correspondence with Asda complaints, as anything they say in response could be important in a compensation case.
If you are an employee it is especially important that you adhere to the Asda accident at work policy and that the accident is reported under RIDDOR if applicable.
If you wish to investigate personal injury claims then your next action should be to talk to our helpline advisers who will be able to put you in touch with a personal injury solicitor who will handle your claim on a no win no fee basis.
What Are Slipped In Asda Accidents?
Two things must be true: you must have slipped and fell in Asda and you must not have caused the accident yourself.
For example, if you slip on a wet floor caused by a spillage that has not been cleaned up effectively you may have a claim. If you hurt yourself because you put your basket on the ground and trip over it you would not be able to claim against Asda for your injuries.
A typical slip would involve one or both feet sliding uncontrollably away causing you to fall to the ground. This could lead to bruising, sprains or even broken ankles. You could also sustain injuries if, for example, you were holding a trolley and pulled it over or into yourself.
A fall, perhaps because a pothole is obscured by a larger puddle or if the kerb is invisible due to a blocked drain causing ponding, may incur similar injuries. Falling or slipping outdoors also leads to the possibility of extensive grazing which could cause long term problems if it fails to heal or becomes infected.
Any type of trip, fall or slip could result in serious injury if you fall awkwardly and are unable to protect your head, neck or spine. If both feet slide away, for example, you could sit down very suddenly onto a hard floor and causing spinal or nerve damage.
Of course, it is not just the physical trauma. You may have emotional distress at falling in a public place or find yourself with psychological issues such as a fear of supermarkets – even in the most serious cases developing into agrophobia and impacting upon your entire life.
What Are The Leading Causes Of People Slipping On Water In Asda?
By far the most likely reason for there to be water on the floor of a supermarket is if it has been spilled there. This could be because a food item has been dropped and not cleared effectively, although you may need to show that Asda had not taken action to remedy the spill in a timely manner.
Floor cleaning without using wet floor signs or where the floor is not dried quickly enough could also be another reason why you slipped over in Asda. In the cafe there may be water on the floor because a drink was split or a beverage dispenser is leaking. In cold aisles a freezer or fridge may be malfunctioning and causing water to be deposited on the floor. Wet floors near doorways may be caused by inclement weather and insufficient provision of mats. Water could also be found in toilet areas if a pipe or drain is leaky or if taps are poorly positioned causing extreme splashing to occur.
What Are The Most Common Causes Leading To Slipped In AsdaInjuries?
According to the HSE slips, trips and falls on the same level are by far the most common type of workplace injury.

The most common cause of slipping claims is wet, smooth floors. Staff and shoppers are typically looking up – to find a product or avoid other people – so damp areas of ground are not noticed until it is too late. Wet floors can be caused by poor cleaning routine, spills, bad weather or faulty machinery.
If You Slipped On Water In Asda, Do They Owe You A Duty Of Care?
You want to know if I slipped in Asda, can I claim compensation? The answer is often "yes" because Asda has a legally enshrined Duty of Care to both members of the public and its own staff.
Under the 1957 Occupiers Liability Act Asda must keep it's premises "reasonably safe for visitors". This means that, if they do not take action to dry a wet floor or to cordon off flooded areas and slipped and fell in Asda, then they would have failed in that duty.
Similar provision is made for employees under the 1974 Health and Safety at Work Act. There is an Asda accident at work policy which you should ask to see if you are employed by them. Employers need to ensure that their staff are not exposed to unnecessary danger and need to take all reasonable precautions to ensure that accidents in the workplace do not happen. To this end Asda should provide regular training to prevent spillages and improper cleaning routines and conduct regular risk assessments to ensure risks are identified and steps taken to minimise those risks.
What Can I Claim Compensation For After Slipping In Asda?
Most of your compensation claim will cover the actual injuries you sustain and is intended to ensure that you are not left out of pocket by a claim. Your personal injury lawyer will be able to give a more precise breakdown of what your particular claim will include.
A claim for slipping on water spilled on the floor in Asda may also include a payment for emotional distress as well as loss of earnings. The personal injury claims calculator in the next section will also provide you with an idea of how much this part of your claim may be.
For most claims, there is a personal injury claims time limit of 3 years. This is from the date of the accident to the point at which initial proceedings are initiated. Your personal injury claims solicitor will be able to advise if you have passed this time limit. If you have suffered mental incapacity or if they injury happened to a child then different timescales apply, although it can become harder to decide the facts of the case as time passes.
Calculating Claims for Compensation From Asda
We often hear our clients saying "I slipped in Asda, can I claim compensation for my injuries?" When assessing Asda compensation payouts many factors are taken into account. Most of the claim will be made up of a sum based on your injury or injuries and how serious they are deemed to be, as well as whether or not there are lasting effects from the fall.
General Damages
The table below can act as a personal injury claims calculator. It lists some common slip injury compensation amounts. If your particular injury does not happen to be mentioned then our helpline advisers will be able to assist you further.

| Type of Injury | Information About the Injury | Compensation Amount |
| --- | --- | --- |
| Minor Hand Injuries | Bruising, minor cuts and grazes that will heal quickly | £800 to £3,810 |
| Serious Wrist Injuries | For example fractures which require immobilisation of the wrist until healed and associated loss of use | £21,480 to £34,340 |
| Moderate Arm Injuries | Simple, easily healed fractures or sprains | Up to £11,040 |
| Moderate Foot Injuries | Serious fractures which will leave the foot immobilised until healed. | £12,050 to £21,910 |
| Minor Ankle Injuries | Minor sprains, bruising, abrasions etc that will be quick to heal | Up to £12,050 |
| Severe Ankle Injuries | Multiple fractures, which will require that the foot be immobilised during recovery (medium-term duration) | £27,450 to £43,900 |
| Very Severe Ankle Injuries | Injury that will result in a permanent loss of some functionality of the ankle | £43,900 to £61,110 |
| Moderate Leg Injuries | Serious tendon damage, compound fractures and dislocation. | £24,340 to £34,370 |
| Moderate Neck Injuries | Injuries that will heal but may be painful and slow to heal. Greater amounts awarded for longer durations. | £6,920 to £33,750 |
| Severe Neck Injuries | Injuries resulting in a long-term condition either through chronic pain or loss of mobility or both. | £39,870 to £130,060 |
| Moderate Back Injuries | Injury to the muscles of the back causing pain and associated loss of mobility until healed | £10,970 to £34,000 |
| Severe Back Injuries | Breaks or damage to the structures of the back and spine resulting in life-long effects | £34,000 to £141,150 |
Special Damages
On top of the general amounts based on the injuries you incurred further amounts may be included in your Asda compensation payouts. This part of the claim covers financial loss or expense that you otherwise would not have been required to pay as well as future loss of earnings. Items you may be able to claim for include:
prescription costs and other medical charges
rehabilitation or physiotherapy
loss of earnings directly as a result of recovery
future loss of earnings (as well as loss of opportunities such as promotions or reduction to pension payments in retirement) due to the accident or resultant loss of function of a limb etc
home care or adaptions as required both during the recovery period and into the future.
Slipped On Water In Asda Compensation Case Study
A recent case where a customer slipped over in Asda highlights how important it is to make notes about the accident and report it as per the Asda accident policy.
Mrs R was walking down a chilled produce aisle pushing her young daughter in the trolley during a normal shopping trip to Asda. Without warning her left foot slipped away from her due to a wet patch on the floor. Consequently she fell, also hitting her knee on the ground as she gripped the trolley when she felt her foot slip.
Mrs R and her legal team issued an occupiers liability claim against Asda. Asda's third party insurance provider became involved but did not respond to requests to accept liability within three months so an application was made for a pre-action disclosure hearing.
The third party advised Mrs R that they did not accept that Asda had been negligent, claiming that their cleaning programme was suitable for all circumstances, that Mrs R had not been injured in the way she claimed and that Asda were not liable.
However, Mrs R's legal team found several discrepancies in the disclosure. The location of the accident was given as the milk aisle not the chilled produce aisle; Mrs R was not asked to complete an accident form and CCTV that Asda claimed showed that the accident had not occurred was now no longer available for the legal team to review.
Mrs R and her representatives asked for £2400 in compensation. After further negotiation Asda offered £2000 and £2200 was eventually awarded.
Mrs R should have been able to fill in the accident book when her accident occurred thus making a formal record that she had been injured on Asda's property. Perhaps had Asda's accident policy been followed there would have been less discussion about the facts of the case. Even so, with proper legal advice Mrs R was able to obtain some compensation to cover her injuries.
No Win No Fee Claims For Compensation From Asda
Our team of highly trained legal professionals have many years of experience in dealing with claims from people who slipped in Asda. They will work for you to connect you to the personal injury solicitor who can obtain the best payout possible on a "No Win No Fee" basis which means you won't have to pay a penny until your claim is settled.
When the lawyer agrees to represent you in your claim they draw up a "Conditional Fee Contract". This will state what work they will do on your behalf and that if they do not manage to obtain a payment from Asda you will not need to pay them anything. Legally they cannot charge you more than 25% of the amount of your claim which means you can relax knowing that you will certainly be able to afford your legal fees once your case is decided.
To start a claim is easy. Even if you are unsure if you have passed the personal injury claims time limit or need more advice on whether Asda are liable, simply get in touch with your details and we'll help you every step of the way.
How The Personal Injury Lawyers We Provide Can Help You
With our easy and clear No Win No Fee service you can explore your compensation options without worrying about how you will pay your legal fees should your claim be dismissed. Compare our service to a high street solicitor who offers a comprehensive selection of legal services. Unlike the panel of specialist lawyers we can provide, they may not have the same level of experience in personal injury claims, unless they happen to be a personal injury solicitor. Furthermore, even if they fail to obtain compensation you may still have to pay them for the work they undertook.
Speak To Our Team Today
Our helpline is open 24 hours day and night and our highly trained advisers are ready to take your call. Even if you are unsure if your personal injury claim is valid or simply want some advice on the next step we offer a no obligation initial consultation where you can find answers to the many questions you may have.
So, why not speak to us today on 0800 073 8801. You have nothing to lose and everything to gain.
Useful Links
Health and Safety at Work – Slips and Trips
Useful information about preventing accidents in the workplace
Advice on what to do if you are injured by slipping or tripping
News story from Health and Safety at Work about an employee slipping at work for Asda.