By Jo Anderson. Last Updated 12th October 2023. Welcome to our guide on serious injury compensation claims. This is all about how to make serious injury claims.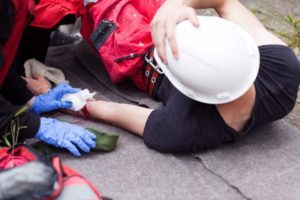 On this page, you will find a guide to the legal process that needs to be followed to make a compensation claim for a serious injury. If you believe that you have a valid reason to seek serious injury compensation, then this guide will help you learn about the way your solicitor will make a claim on your behalf.
If you don't want to read this guide in its entirety, you can give Accident Claims UK a call on 0800 073 8801 today, and we will do our best to talk you through the induction process we operate to start you on the road to making a No Win No Fee claim today.
Select a Section:
Calculating Compensation Settlements For Serious Injuries
If you are eligible to make a serious injury compensation claim, you might want to know how compensation is calculated, and what it could include.
Typically, a payout for a successful claim could include general damages and special damages. General damages is the head of claim that compensates for the suffering and pain caused by your injuries. To help calculate this head of claim, solicitors could refer to the Judicial College Guidelines (JCG). This publication provides guidelines on compensation payouts for a variety of injuries at different severities. 
Below, you'll see a table with some figures taken from the 2022 edition of the JCG. However, these are only to be used as a guide. 
| Injury | Severity | Notes | Amount |
| --- | --- | --- | --- |
| Multiple Injuries | Serious | Compensation for several injuries of a serious nature as well as monetary expenses. | Up to £1,000,000+ |
| Brain Damage | Very Severe (a) | Full-time nursing care is required, and there is little to no meaningful response to environment, and little to no language function. | £282,010 to £403,990 |
| Paralysis | Tetraplegia (a) | Paralysis affecting both the lower and upper body, with consideration given to the degree of independence, age of the claimant, and presence of depression. | £324,600 to £403,990 |
| Paralysis | Paraplegia (b) | Paralysis affecting the upper body, with consideration given to the presence of pain and depression, and the age of the claimant. | £219,070 to £284,260 |
| Arm Amputation | Loss of Both Arms (a) | The person has full awareness of their injury and is reduced to a state of considerable helplessness. | £240,790 to £300,000 |
| Leg | Amputation (a) (i) | Loss of both legs above the knee. | £240,790 to £282,010 |
| Special Damages | Loss of Earnings | Compensation to reimburse lost income incurred due to time away from work because of injuries. | Up to £100,000 and above |
As well as general damages, you might receive compensation for out-of-pocket expenses caused by your injuries. This would come under the heading of special damages. It could include compensation for the cost of:
Loss of income

Nursing and home care

Mobility aids

Travel

Home adaptations

Prescriptions
You would need to prove these costs and losses were caused by your injuries to claim for them. To learn more about damages for a serious injury claim, please contact our team of friendly advisors.
Can You Claim Compensation For Serious Injuries At Work?
Every employer has a duty of care to prevent employees from experiencing harm at work by taking reasonable and practicable steps. The duty placed on them is laid out by the Health and Safety at Work etc. Act 1974.
The steps that employers could take to uphold their duty of care include:
Providing staff with adequate training so they are able to carry out their duties safely.
Regularly maintaining machinery and other workplace equipment to ensure it is safe to use.
Ensuring personal protective equipment is supplied if it is deemed necessary.
Risk assessing the workplace and removing any hazards or reducing the risk of injury posed by those that cannot be removed.
If an employer breached their duty of care, and this caused you to sustain a serious injury, it may be possible for you to make a personal injury claim.
If you would like to check your eligibility to claim serious work injury compensation, please contact an advisor.

What Steps Should You Take After Suffering A Serious Injury In An Accident?
Before you make a personal injury claim for a serious injury, there are some steps you can take to ensure you have the best chance possible of winning your serious injury compensation claims case. And these include:
Gather evidence such as photos and video
List financial losses
Capture witness contact details
Get an expert medical opinion
These steps and more will help you to win your compensation claim for a serious injury. Call us at the number at the end of this guide to find out how we can help you further.

Serious Injury Claims With Our No Win No Fee Solicitors
Accident Claims UK offers our No Win No Fee claims service as the best vehicle for claiming compensation in a risk-free manner. You will pay absolutely nothing to have us begin a claim for you, and nothing further even though your claim may take months. If we fail to claim for you, then there is no cost at all. When you do receive compensation, this is when you have to pay our fees.
Call Accident Claims UK on the number below to learn more about how this claim service works and how we can assist you.
Using A Personal Injury Solicitor For Serious Injury Claims
We believe that having a specialist solicitor is vital in serious injury claims. It's important because you can only make one claim so you must get it right if all aspects of your suffering are to be covered by any compensation. After all, if you need changes to your home or vehicle, long-term care or you lose your ability to earn money, any compensation settlement should cover all of these things.
If your claim is suitable and accepted by one of our solicitors, they'll try to earn the maximum compensation for you by:
Reviewing your case in fine detail to make sure they fully understand how you have suffered.
Arrange for a medical assessment to be carried out by an independent specialist to evaluate exactly how you have suffered.
Collect evidence to try and prove how the defendant was liable for you serious injuries.
File the claim with the defendant or their insurers.
Take responsibility for all communication so that you don't need to handle any complex legal or medical questions.
Provide you with updates as and when your case progresses.
Be on hand to answer any queries that you think of during the claims process.
We understand how important it is for you to be compensated fairly. While any settlement might not resolve any long-term injuries, it could make coping with them a lot easier. For free legal advice on how to proceed with your serious injury claim, why not give us a call today?
You can call Accident Claims UK right now on 0800 073 8801, and we will evaluate your potential serious injury claims, and then offer you advice on what we think you need to do next.

Useful Links Regarding Serious Injury Claims
The following link will take you to a guide on claiming for a head injury:
The link we have given below will lead you to a full guide to claiming for road traffic accidents:
A guide to road traffic accident claims
The link we have given below will lead you to a full guide to claiming for clinical negligence:
A guide to clinical negligence claims
The link we have given below will lead you to a webpage with UK Government published statistics about clinical negligence:
UK Government statistics on clinical negligence
The link we have given below will lead you to a webpage with UK Government published statistics about road traffic accidents:
UK Government road traffic accident statistics
The NHS has provided a guide to serious head injuries, which you can find below:
Thank you for reading our guide on serious injury compensation claims. We hope you have learned a lot about making serious injury claims.