There are many holiday and tour operators but the TUI group is the largest leisure, tourism and travel company. With many smaller brands under its umbrella, you would expect that the service and product offered by TUI to be of high value and of a high standard. Most of the time, this is the case. But an accident on package holiday with TUI may be something that you have experienced. If this led to you being injured or if you returned home from your TUI package holiday ill with food poisoning or another illness, you may be able to claim compensation. Before you make a claim, you need to understand more about the claims process which is exactly what this guide is all about. If you would like specific, tailored information to your case, you are welcome to call us now on 0800 073 8801. Or read on to find out more!
Select A Section
A Guide To Claims For A TUI Package Holiday Accident Or Injury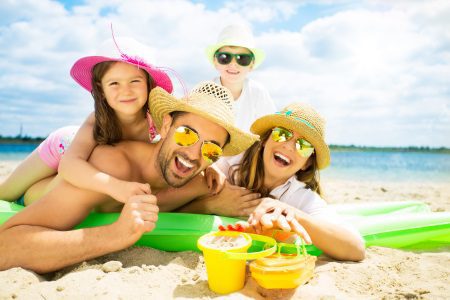 As part of the claims process, it is important to understand some of the definitions and terms used, and what they mean as they do have an effect on whether you can claim.
The term 'package holiday', for example, something that TUI specialises in, refers to what you bought as part of your holiday. It needs to include at least two services, something which you can find out more ABTA. Essentially, a package holiday means a prior arranged package of at least 2 of the components below;
Accommodation
Transport
Alternative tourist services that account for a large proportion of the holiday
The period must cover a period of more than 24 hours or include overnight accommodation. It doesn't matter if you paid for it all on one account or in separate parts. It can still be a package holiday if you chose your own accommodation or choice for flights for example, just as long as you paid for it at the same time.
There is also a difference in relation to claiming for personal injury or illness on holiday and simply being 'abroad'. We have helped many claimants to claim compensation after returning from their holiday ill or after suffering an injury as a result of an accident whilst on a package holiday.
There is a set of important regulations dating back to 1992 which allows claimants to make a claim for personal injury holiday compensation from their own country, using the domestic court system and lawyers.
It is using these regulations and legal definitions on which your personal injury lawyer will base your compensation claim.
What Accidents Commonly Happen On Package Holidays?
There are many accidents that befall people on holiday, leasing to them being injured. Foreign and Commonwealth Office figures show that during 2013-14, 3,157 British tourists were hospitalised as a result of an accident whilst on holiday. This figure doesn't include smaller injuries when people were treated at local clinics or outpatient departments so, in truth, the figure is much higher than this.
The Post Office, a major provider of travel money and holiday insurance, estimates that over 4 million tourists have been injured on holiday.
If you have been injured after an accident whilst on a TUI holiday or returned home sick, you may be able to claim compensation if it can be shown that TUI owed you a duty of care and that this was breached, leading to injury or illness.
There are several common causes of injury whilst on holiday, such as;
Road traffic accidents – from defaults in a rental care to being hurt in an accident whilst on an airport transfer booked as part of your TUI package holiday, road traffic accidents are a common cause of injury and trauma.
Holiday food poisoning – contaminated food served as part of the hotel buffet or as part of airline food can result in an unpleasant illness that ruins your holiday.
Waterborne illnesses – from dirty swimming water to ice cubes made from dirty water, waterborne pathogens can result in serious illness.
Holiday activities – from water sports to adventure activities, anything in which you partake must be safe with equipment well maintained and so on. if this is not the case and you were injured, you may be able to claim personal injury compensation.
Excursions – sustaining injuries from excursions booked as part of your TUI holiday could mean you can claim compensation for your injuries.
Slips, trips and falls – if you fall in a hotel, slip in their grounds or fall and you think it was because of negligence, you may be able to claim.
Electrocution – faulty equipment in the hotel room, for example, could lead to a nasty shock.
Damaged fixtures and fittings – if they are not fit for purpose, you may have been hurt or even ill, such as poorly maintained air conditioning unit.
What Injuries Commonly Happen On Package Holidays?
There are many injuries and illnesses that are people commonly suffer whilst on package holidays, many of which we have helped people like you to claim personal injury compensation.
Sprains and strains are the result of stretched muscles and ligaments
Fractures and broken bones
Upset stomach due to food poisoning which may cause gastrointestinal distress
Heat stroke or severe sunburn which may have been as a result of negligence
Electrocution as a result of a faulty appliance
Burns from a faulty shower
What Duty Of Care Do Tour Operators Have To Travellers?
If something goes wrong on your TUI package holiday, there are ways of putting it right. The first thing you should do is submit a complaint to TUI, something that is important if you have returned from your holiday ill or even injured as a result of an accident.
Personal injury compensation claims rest on someone – the defendant – owing you a duty of care which was breached. If something does go wrong and it leads you being hurt or being sick, the tour operator should;
Give you assistance in finding appropriate local health services, consular support and so on
They should help you contact family or next of kin in the UK
If they are at fault, they must provide this for free but if they are helping you because of something you did, they can charge a fee. This fee needs to be reasonable and be the actual costs incurred as a result e.g. phone calls, taxi costs etc. and not inflated so that they make a profit.
If they can prove can they were not at fault, they may not have to pay personal injury compensation if you suffered an accident on a package holiday with TUI.
What Time Limits Are There To Making A Claim For My TUI Accident?
As with all personal injury compensation claims, there is a time limit for making a claim. The deadline is three years. This deadline starts from the date that you were injured or, in the case of illness, for example, it would start from the date of diagnosis or when it can be reasonably assumed that the packaged holiday you booked with TUI was the cause of your illness.
However, this doesn't mean you should wait three years to make a claim. Package holiday personal injury specialist lawyers advise that if someone thinks that they have a claim for compensation they should start the process as soon as they can. This is because collecting supporting evidence from witnesses, the TUI representatives, the hotel or anyone else is 'easier'.
Package Holiday Hotel Accident Claims
There are many case studies of holiday compensation claims from fractures to food poisoning.
In the UK, we have high standards of hygiene and most hotels on the continent also have high hygiene standards. But sometimes, contamination happens. It could be that the food was not stored correctly or it was left out uncovered, meaning flies and other insects land on it, infected it with bacteria. Undercooked food also poses a risk and when someone eats contaminated food, the resulting case of food poisoning can be anything from an upset stomach to a serious illness. There are many different kinds of food poisoning, from salmonella to E Coli. Depending on the type of food poisoning, there can be damage to kidneys, the bladder or the bowel, or ongoing issues that require medical treatment from time to time.
The same is true for injuries. It may be a broken leg that heals but if you are left with pain or your walk or gait is affected, you may find that the personal injury compensation you can claim is significant.
No matter what your injury or illness, if you feel that the duty of care owed you was breached, resulting in you suffering an accident on a package holiday with TUI, you could be successful in claiming compensation.
Car Crash And Road Traffic Accident Claims On A TUI Package Holiday
Being involved in a car crash or road traffic accident is distressing, possibly more so when you are abroad. Your holiday is meant to be relaxing and yet you are dealing with the shock and injury of being hurt in a road traffic collision.
If you were not responsible for the accident, you may have ground for a personal injury compensation claim against TUI.
For example, if you were hurt in an accident whilst on pre-arranged, TUI airport transfer shuttle service, it may be that TUI was partly or wholly negligent. If the rental car you hired through TUI was defective leading to an accident, you may have grounds to seek compensation for any injuries you received.
The same may be true for accidents on quad bikes or other motorised vehicles hired through TUI. If there was an accident and it can be proven that TUI was at fault, you may be able to claim against them.
Sometimes, accidents happen on the roads outside of your TUI package and that means that unfortunately, they cannot be held responsible. It may be that your claim would be against someone else.
Food Poisoning From Hotel Restaurants
Food poisoning is distressing. You have booked your holiday to relax and enjoy yourself, not to spend the time dealing with anything from stomach pains to sickness. There are cases where severe cases of food poisoning result in hospitalisation. For some people, a severe bout of food poisoning results in residual damage or ongoing health issues for some months after.
Salmonella – a bacteria that causes stomach cramps, sickness and diarrhoea. Symptoms can come on quickly, sometimes within minutes of eating highly contaminated food.
Gastroenteritis – symptoms as above but can be accompanied by a high temperature and pains in the stomach after eating
E-Coli – blood in the stools along with severe stomach cramps are not uncommon. It is an illness that can hang around for some time, damaging the bladder, kidneys and bowel in severe cases.
Contaminated food and drink consumed by someone is the cause of food poisoning. It could have stored incorrectly or not cooked to the right temperature. Meat and fish are common causes of food poisoning but so too are rice dishes, reheated foods and in some cases, drinks too.
But this kind of poisoning can also occur when swimming pools are not chlorinated properly and some cases of illness caused by air spores and dirty water from poorly maintained air conditions systems can also result in these kinds of claims.
It is important that if you experience any of these symptoms on your TUI holiday that you seek medical advice and treatment immediately, informing your TUI representative too.
What Should You Do If Injured Abroad On A Package Holiday?
If you are injured whilst on holiday, there are important steps that you need to take;
Seek medical help immediately – inform your TUI rep who will be able to make sure you get the right medical help from a hospital or doctor.
Medical reports – you are entitled to ask for copies of your medical reports, something that will prove invaluable if you decide to make a claim after an accident on your TUI holiday and in the case of illness too.
Photographs – if you were involved in an accident and you can do so, take pictures of the scene. It could be the wet, slippery floor in the hotel or the poor conditions around the pool, or even the scene of the road traffic accident you were involved in.
Witnesses – if you can, collect the contact details of anyone who witnessed the accident. Or if you feel it is appropriate, ask them to write a statement.
Contact TUI – it is important whether you intend to make a claim after an accident on a TUI holiday or not that you inform the company of what happened. Compensation claims are often the driver for change, making things safer for future tourists.
On your return to the UK, you should see a doctor about your injuries or illness, seeking medical treatment as appropriate. After this, contact the expert team at Accident Claims UK to begin your TUI accident claim.
I Was Hurt On My Package Holiday, What Can I Include In My Claim?
As with any personal injury compensation claim, there are different sections of the compensation settlement, something which is important o understand;
General damages – this refers to the injuries you suffered or the illness you contracted whilst on your TUI packaged holiday. The amount awarded will vary depending on the injury or illness and its severity, as well as the likelihood of your suffering recurring problems in the future. We provide more details on some injuries in the table of the next section.
Medical and care costs – if costs were incurred as a result of medical treatment or other care costs, you may be able to recoup these at part of your claims.
Travel costs – taxis to and from medical appointments, for example, are common costs that claimants will have had to pay. These too can be part of your TUI personal injury compensation claim.
Loss of enjoyment – you booked your holiday to relax but it proved to be far from that. Loss of enjoyment, the emotional trauma and so on may be able to be included in your claim. Your specialist, no win no fee personal injury lawyer will be able to guide you in relation to this part of your claim.
Loss of earnings – if you returned from holiday to find you couldn't work, loss of earnings may have been the result.
TUI Package Holiday Compensation Calculator
The amount you can claim with vary depending on the personal injury you suffered and the result it has on your life now and in the future. This table is a snapshot of the awards that may be made from some injuries.

| Injury/ies Type | Bracket | Information |
| --- | --- | --- |
| Severe head injury | £174,620 – £322,060 | The higher end of the award would be paid when someone is in a vegetative state due to their head injury. This high level of award implies permanent brain damage from which recovery is unlikely. |
| Moderate head injury | £12,210 – £174,620 | This level of award implies there was a loss of sensation in the limbs due to head trauma. The lower end of the award would be made when full recovery is likely but with some residual issues. |
| Minor head injury | £1,760 – £10,180 | Made in the case of when head injuries are minor and a full recovery is made in full and quickly. |
| Moderate to serious arm injury | £34,300 – £114,800 | This wide-scale covers everything from severe fractures at the lower end to possibly amputation at the other end of the scale. |
| Minor arm injury | £5,800 – £34,300 | A 'simple' fracture, for example, would be covered by the lower end of the award increasing if there was a need for surgery etc. |
| Severe elbow injury | £31,220 – £43,710 | A bad fall could result in an elbow injury. The more severe and longer lasting the effects of the injury, the more the award will be. |
| Moderate elbow injury | £12,480 – £25,510 | Unlike the above elbow injury, the result may not be permanent disfigurement or disability but still required surgery and physio to recover from it. |
| Severe foot injury | £73,600 – £176,500 | Crushed or trapped, the resulting foot injury is so severe that it could lead to amputation or permanent disability. |
| Moderate foot injury | £12,000 – £61,400 | Awarded in cases where disability is not the result but long-term treatment is. |
If your injury isn't listed in the table, such as food poisoning, it doesn't mean you cannot claim. In severe cases of food poisoning, the award made can run into tens of thousands of pounds.
No Win No Fee Claims For An Accident On A Package Holiday With TUI
In order to make a compensation claim for personal injury against TUI, you will challenge them to show that they were not in breach of the duty of care owed to you. This can be a costly exercise and one that is helped by the no win, no fee agreement that many personal injury solicitors offer.
Effectively, if you don't win your case against TUI, you won't pay legal fees and costs. However, as with all agreements and contracts you enter into, read the small print before you sign.
If you do win your case, you will be liable for your own legal costs, a change made in a ruling from 2013. You can pay your lawyer from the personal injury award you receive. Or you could take out an insurance policy that makes the payments on your behalf. Your personal injury lawyer will be able to help you with this.
Why Should You Make A Holiday Accident Claim With Our Team
At Accidents Claims UK, we have vast experience of working with claimants to make personal injury compensation claims including people who have returned from holiday ill or injured.
You need a clear, concise and accurate information on how to make a compensation claim and what is involved in making claims after certain kinds of accidents or when certain injuries result. Our website is constantly updated with the latest information.
We offer information on a no-obligation basis meaning that you make the decision whether to claim or not without pressure from us. Making the right choice for you is important.
Call Our Team Today
We are contactable in numerous ways, 24 hours a day, every day of the week;
Live chat – log on to your website and use the live chat facility to get your questions answered.
Request a callback – if you are ready to start your claim or need more information, request a call back by completing our online contact form.
Call us – you can also get more information or start your claim by calling a member of our team on 0800 073 8801.
Other Helpful Guides And Resources
Stacked full of useful information, why not browse our guides online?
Road traffic accident claim – Find out more about how to make this type of claim
What happens in the case of loss of earnings after an accident? – Here you will find some useful insight.
Broken bone compensation claims – We also have guides on specific injuries, such as broken bone compensation claims which tells you more about what is involved in such a claim.