By Joanne Jeffries. Last Updated 20th September 2021. Welcome to this guide on Luton airport accident claims.
Whatever the reason you are visiting London Luton Airport, the last thing you may expect is to experience is an accident that causes you to become ill or injured. If this accident was caused by the negligent actions of a third party, then you may be able to claim compensation for the hardship you have suffered. This guide has been put together for those who have experienced an accident at London Luton airport, and are looking for information on making a no win no fee personal injury claim.
In this article, we have included information on types of accidents that could potentially happen at an airport leading to Luton airport accident claims, some aviation safety statistics for Luton Airport and the UK in general, as well as further information on what you could claim for. You will also find a personal injury claims calculator which may help give you an idea of the types of figures awarded for possible injuries caused by an accident at the airport.
If you cannot find what you are looking for here, or you have any further questions, our friendly, compassionate advisors are ready and waiting to take your call. You can reach us on 0800 073 8801 7 days a week. Alternatively, you can complete our online contact form and arrange for us to call you at a time that suits you best.
Select A Section
A Guide To Claims For Accidents At London Luton Airport
An accident at London Luton airport could potentially occur for many reasons. Luton airport, with 15,524,308 passengers passing through it in 2018/19 alone would be considered quite a busy airport. Accidents that could happen at an airport could take place in areas such as the apron or ramp where people board and disembark. The wide variety of airport facilities that are generally on offer in an airport may also sometimes pose a risk for different reasons, all of which will be explored in this article.
Keep on reading to find out more about what a possible accident at Luton airport could consist of, and for more information on how a personal injury lawyer could help you make a claim for avoidable injuries or preventable illnesses, you may have developed as a result of an accident in London Luton Airport that was not your fault. If you are considering making a claim, we advise that you seek legal advice as soon as possible as there is a personal injury claims time limit that applies to most cases.
Under UK law it is three years, but it can vary in certain circumstances. For instance, in some cases, your claim might be handled under the Montreal Convention, which determines liability for injuries and illnesses developed on international flights. This can apply to accidents while boarding and disembarking, and the limitation period for cases held under the Montreal Convention is commonly 2 years. Contact us today for more information.
What Are Accidents At London Luton Airport?
Many people may assume that when we talk about an accident at London Luton airport we mean plane crashes and issues with the aeroplanes. However, for this guide, we are specifically talking about Luton airport accident claims for incidents that happen on the ground in and around an airport that are due to a breach in the duty of care that is owed to you as a member of the public causing you unnecessary suffering. These could include food poisoning developed from eating in airport shops or restaurants, as well as potential accidents while using Luton airport bus or train transport.
Other possible London Luton Airport accidents that could potentially happen if there is a lapse in health and safety could include slips, trips and falls as well as injuries caused by luggage, possible injuries due to lifts, escalators and travelators.
London Luton Airport Safety Statistics
Luton airport was the UK's fifth busiest airport in 2018/19, with a total of 15,524,308 passengers passing through it with a total of 122,650 aircraft movements. The airport has links to many ground transport links, such as the motorway, train links as well as bus routes, with regular shuttle buses running between the airport and the train station.
Since 1999, there were two Luton airport crashes recorded, one in 1999 with a private vehicle that was flown by two pilots and had one passenger who was all part of a flying club. Due to complications during landing, the smaller plane they were flying left the runway and collided with a parked cargo plane. All three on board were killed in the accident. The next accident recorded was in 2012, which was a scheduled passenger flight from Portugal to the UK. There were a total of 148 passengers and crew on board, and there were no casualties reported as a result of the incident. It was caused by errors of a trainee pilot, which were quickly corrected by the commanding pilot, but which forced the aircraft to come into contact with the runway, then perform an emergency take-off and go around, to try and make a second attempt at landing, which was successful.
Accidents may happen to passengers, but they can also happen to those who are in the employ of an airport itself. The Health and Safety Executive (HSE) has published statistics on the types of accidents that occur in the workplace of those who are employed in the air transport industry, and found the following results for 2013/2014:
Lifting and handling – 39%
Slip and trip injuries – 24%
Struck by an object – 13%
Unspecified injuries – 8%
Struck against – 6%
Fall from a height – 5%
Moving vehicle – 5%
You can see how this compares to the 2019/20 figures across all industries below.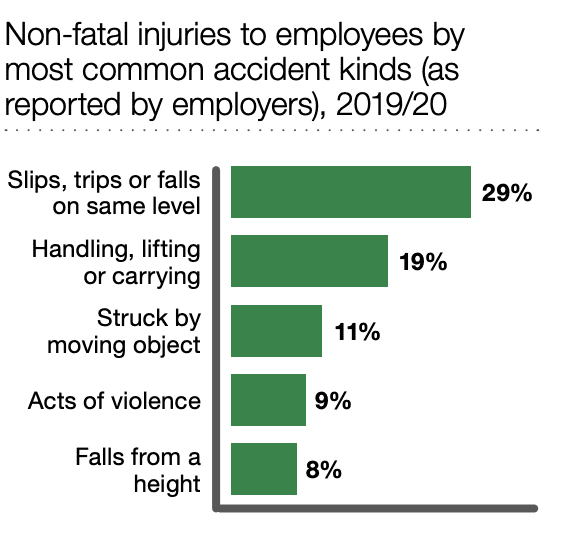 Common Types Of Airport Accidents
In the coming sections, we will explore the types of accidents leading to Luton airport accident claims that could happen, their causes and what kind of harm they may cause to those involved. Apart from the accidents we talk about in the coming sections, it may also be possible for a London Luton Airport crash to take place between transport vehicles in a road traffic accident at the airport when passengers are being transported from Luton Airport airparks to and from terminals if there are negligence road users.
Claim If You Slipped Or Tripped In An Airport
These types of accidents are commonly caused by hazards on the grounds that could have been prevented. For example, you may be walking through an airport on a smooth floor and slip on a spillage that had not been properly cordoned off or cleaned, resulting in an injury. Or you could be walking through a shop and trip over boxes used by staff for replenishing shelves but had been left there without supervision. You could even fall down a set of stairs because a railing you leaned on came loose. These are only examples of slip and trip accidents that may occur at an airport, and you can contact us today if you have experienced this and are considering making Luton airport accident claims.
Claim If You Were Injured In A Baggage Accident
A baggage accident at an airport could consist of various possible scenarios. These may include issues surrounding the use of trolleys and luggage carousels that are available for use at London Luton Airport. Trolleys can pose a risk of accident when they are not correctly maintained and are damaged or faulty. If this is the case, there is an increased chance that luggage may fall off and hurt passengers or staff when a person attempts to load luggage onto it or move it with items on top. A carousel could pose a similar risk if it is not loaded correctly or used incorrectly by customers or staff, it could cause luggage to fall off and hurt those nearby. Additionally, if it has been damaged, protruding sections may cause injury to those attempting to retrieve their luggage from it.
Claim If Injured By An Escalator, Lift Or Staircase
There are many facilities available at Luton airport to passengers and staff that allow them to move about the airport and navigate its floors and terminals. These consist of elevators, escalators, travelators and staircases, all of which should be maintained and serviced regularly so that any damages that could posses a risk to the public could be repaired or even replaced when needed. If such transportation is left is a state of disrepair it could cause those using the facilities an injury if an accident takes place.
Possible scenarios could include:
Falling down a set of stairs because a handle was not present or correctly secured.
Being hurt by elevator doors when they closed on you while you passed through them due to a malfunction.
An emergency stop button may fail to operate on an escalator, resulting in injury.
A piece of your clothing or luggage could become trapped in gaps on a disrepair travelator, causing an injury.
These are only examples of possible accidents that might occur, and if your accident was the result of negligent actions by a third party, then you may have grounds to make Luton airport accident claims.
Claim If Injured In An Airport Transport Accident
There are many ways a person may choose to come to the airport, or sometimes it may be necessary to travel between the airport and the plane on different modes of Luton airport bus transfers. A Luton airport bus shuttle may be commonly be used to move passengers between the plane and terminal either for boarding or disembarking. The same may be said for other modes of transport used to move passengers between Luton airport hotels and the terminal, or while people may be coming from elsewhere on an airport train or bus transfer. If the drivers of such modes of transport are not correctly trained or had a lapse in concentration, or a third party road user is acting in a negligent manner an accident may occur which could cause injury to those on board.
Claim For Accidents At Shops Or Bars At London Luton Airport
An example of other airport accidents which may bring harm to a passenger or employees could include food poisoning or an allergic reaction caused due to a breach in the way food has been stored, prepared, and cooked. This can happen when the restaurant, shop or bar fails to meet expected standards in food preparation and handling, which then resulted in cross-contamination or the serving of contaminated food. If you have had an allergic reaction to food purchased from a shop, bar or restaurant and there has been no indication or warning of potential allergens, then you may be able to make Luton airport accident claims for compensation.
Claim If Injured Whilst Working At An Airport
We have explored above how passengers may be harmed while using airport facilities but those who work at an airport could also become injured or made ill if there is a breach in the duty of care owed to them. An employee could get food poisoning or have an allergic reaction just as a passenger could; they could have a slip, trip or fall anywhere in the airport or while outside, they could be injured in a baggage accident, or be injured in airport vehicle accidents. As an employee, your employer has a duty of care to ensure that you are sufficiently equipped to be able to complete your job safely, which includes having the right training, and the right gear to complete the task. Some injuries could include those caused by manual handling when working with baggage's all day without the correct training techniques, you could get hearing loss from working around plane engines without correct protective gear, etc. If you can show that your employer breached their duty of care and caused your injury or illness, then you may be able to make a claim.
Claim If Injured Whilst Working As An Airport Baggage Handler
As with any airport, the movement and storage of baggage is a common sight at London Luton airport. As we have seen from the statistics from the HSE above, the most common cause of injury to air transport workers is handling and lifting. This task requires a high level of physical interaction with heavy, and sometimes oddly shaped luggage and items which do not lend themselves to being picked up easily. It is vital that those who are handling passenger's luggage all day are trained how to do it safely and have all the mechanisms and machinery needed to carry out their job role safely.
A baggage handler accident at Luton airport could potentially include injuries caused by vehicles used on the apron, such as the machines for lifting baggage to certain heights to put in the hold, as well as driven baggage carts which could hit workers if not operated safely.
Compensation Calculator For Personal Injury Claims – Updated September 2021
We have compiled a personal injury claims calculator below which features some common injuries that may occur, in varying severity. Every case is different, and amounts awarded are commonly based on the severity of the injury and the effect it has on the person's quality of life.
| Injury | Severity | Amount | Comments on severity |
| --- | --- | --- | --- |
| Brain Injury | Moderately Severe Brain Damage | £205,580 to £264,650 | In this bracket injuries will leave the person very disabled. There will be substantial dependence on others and a need for constant professional and other care. Disabilities may be physical, for example, limb paralysis, or cognitive, with marked impairment of intellect and personality. |
| Neck Injury | Moderate | £12,900 to £23,460 | This can include soft tissue injuries or damage to discs which leads to loss of mobility, permanent pain and stiffness, wrenching-type injury and disc lesion of the more severe type resulting in cervical spondylosis, serious limitation of movement. It can also include pre-existing conditions that have been made worse the injury. |
| Shoulder Injury | Serious | £11,980 to £18,020 | This bracket generally includes rotator cuff injuries that fail to heal after surgery. It also includes dislocations that lead to damage to the brachial plexus, which results in symptoms like pain in the shoulder, neck and elbow, as well as sensory issues in the arm and hand. |
| Arm injury | Severe | £90,250 to £122,860 | In this bracket, there will be injuries that are severe enough to leave the person no better off than if they had lost the entire arm. These injuries will commonly result in the complete loss of use in the arm. |
| Wrist Injury | Very Minor | £3,310 to £4,450 | Injuries here will be simple fractures that are non-displaced or only partially displaced, as well as soft tissue damage which results in the need for immobilisation through a cast or bandage, with a full recovery expected in 12 months. |
| Back Injury | Severe | £36,390 to £65,440 | This bracket covers injuries with fractures to the discs or vertebrae that make up the spine, as well as soft tissue damage which leads to pain, discomfort, impairment to agility, sexual function, as well as depression, alcohol abuse, and damage to employment prospects. |
| Hip or Pelvis Injury | Severe | £36,770 to £49,270 | This bracket commonly covers injuries that require a hip replacement. It can also cover injuries where a hip replacement has taken place but was not successful and is at risk of needing future corrective treatment. |
| Leg Injury | Moderate | £26,050 to £36,790 | Injuries here include those of multiple fractures and crushing injuries to one leg. This award leaves room for variation, and can vary according to severity, how long symptoms take to recover, as well as the risk of needing future surgery after degenerative changes take place. |
| Knee Injury | Severe | £24,580 to £40,770 | This includes damage to the knee which leads to some disability with symptoms like pain, discomfort, loss of mobility, and deformity within the joint, with an increased risk of degenerative changes and future need of surgical intervention. |
| Food Poisoning | Moderate | £3,710 to £8,950 | A complete recovery will be made between one and two years. Hospitalisation may have occurred due to significant discomfort a long with pain and alteration to bowel function. |
| Post-Traumatic Stress Disorder | Moderately Severe | £21,730 to £56,180 | The symptoms will cause significant disability for the future and professional help will be needed. |
These figures are only indicative, and your award may be higher or lower than the figures listed above. If you cannot find what you are looking for here and want a more accurate estimation of possible awards relating to your situation, then you can contact us today for more information.
Special Damages Which May Be Awarded For Your Airport Accident Claim
Amounts awarded for personal injury claims are mainly based on the injury itself, how severe it is, and the effect it has had on your quality of life. This is known as general damages and cover the non-financial hardship associated with being injured. There are other damages, or special damages, which can sometimes be included in your claim. Every case is different, however, and not all of the damages listed below might be a part of your claim.
Loss of earnings can be claimed for in Luton airport accident claims if you have had to take time off work because of your injury. In more serious cases it may be possible to make a claim for future loss of earnings if you are unable to return to work.
Transport costs can be claimed for if you have had to pay to get yourself home from the airport because of your injury, as well as costs built up while attending medical or legal appointments directly linked to your accident.
Medical costs could be claimed for prescriptions, treatment, or even sessions with a counsellor for mental health issues relating to your injury.
No Win No Fee Accident Claims Against London Luton Airport
If you choose to work with a personal injury solicitor from our team, then your Luton airport accident claims could be handled on a no win no fee basis. This means you enter into an agreement which states that if a claim is not won then the claimant, you, will not be required to cover the personal legal fees of the solicitor. It also states that if a case is successful, then the fees and any other costs will be deducted from the settlement awarded, which is why it is a no win no fee claim.
It is important to note that the solicitor's fees are capped at a maximum of 25% of the overall amount awarded, and any fees and costs should be discussed and agreed upon with your solicitor before you proceed with a claim. If you have any other questions about making a no win no fee claim, contact us today.
Why Should Airport Accident Victims Contact Our Team?
If you have been in an accident at London Luton airport that was not your fault, then you could contact our team today for free, no-obligation legal advice. From the first consultation, our advisors will be helping you by gathering all of the essential facts for making a claim, and not wasting your time with irrelevant questions. They know exactly what facts are needed when starting a claim, and if you have a case, they could pair you with a solicitor that has the experience best suited to your claim.
Start Your Claim
If you would like to get in touch, either to start a claim or to simply ask some questions, our team of advisors are ready and waiting to take your call. You can reach us on 0800 073 8801 or you can use our online contact form to schedule a call-back at a time of your choosing.
Could I make Luton airport accident claims for work-related illnesses?
Our specialist solicitors, who are authorised and regulated by the Solicitors Regulation Authority could assist you in making claims for work-related illness. If your employer has failed to protect you from known risks of suffering specific work-related illnesses, this could lead to a claim for compensation. The illnesses you could make a claim for could include asbestosis, dermatitis, stress and other mental health conditions, for example. However, this list is not exhaustive. If you believe that your employer has failed to protect you from suffering an illness related to your work, and you could prove this was the case, this could result in you being able to claim. We would be happy to offer you a free, no-obligation assessment of your case. If we believe you could have a strong claim, we could provide you with a solicitor who could assist you on a no web no fee basis.
Do I have to use a local solicitor to make Luton airport accident claims?
While you might assume that using a local solicitor could be the best course of action for your claim, this may not be the case. You could actually choose from solicitors based anywhere in the UK, to help you with your claim. Many claims can be handled digitally these days, by way of video conferencing, email, fax and phone. However, no matter where your solicitor is based, you could travel to visit them and they could travel to visit you depending on the circumstances of your case and whether you required a face to face meeting.
Could I make Luton airport accident claims on behalf of other people?
There are several circumstances in which you may be able to claim for another person. You could claim for a child that you are responsible for that is under 18. You could also make fatal accident claims for the loss of a loved one. In addition to this, if someone was rendered mentally incapable of making a claim for themselves, you could act on their behalf.
Further Information
Workplace Accidents, Knowing Your Own Rights – See here for our online article to what your rights are if you have been injured in an accident at work.
Injuries Caused By An Accident At An Airport – See here for an article about what to do if you are claiming for injuries caused by an accident at an airport.
Slip, Trip, Or Fall Accidents At Work – See here for more information on making a claim if you have been injured in a fall at work.
Airport Safety Resources
Am I Entitled To Compensation? – See here for more information from the Civil Aviation Authority (CAA) on claiming compensation for a cancelled or delayed flight.
Airport Safety – See here for information from the CAA on airport safety and the requirements for airport staff.
Health And Safety – For more information from the HSE, see here for guidelines on health and safety in the air transport industry.
Thank you for reading this Luton airport accident claims guide.