By Max Murdoch. Last updated 21st July 2022. Welcome to our guide, which offers hospital negligence claims advice. In it, we answer questions about suing a hospital for medical negligence, such as 'What is classed as hospital negligence?', 'How do I sue the hospital?' and 'Where can I get help with hospital negligence claims?' We offer tips on how to sue a hospital, and how to make a claim for medical negligence and explain what kind of compensation you could get for successfully suing a hospital for negligence. Plus, we include details of guidelines for compensation for hospital negligence. A hospital compensation calculator table which could help you get an idea of what settlement could be possible is also included.
Could you sue the hospital that harmed you?
Hospitals and all medical professionals working in a hospital environment have a duty of care to provide you with safe and appropriate treatment for a range of medical conditions you may develop. If they fail to do so, and you suffer harm because of clinical negligence, you may be wondering how to make a claim against a hospital for compensation. As we progress, we'll try to answer a question we're often asked, "How do I make a claim against a hospital?"
Suing A Hospital For Medical Negligence – Your Questions Answered
This guide offers useful information and advice on filing a
medical negligence
claim. If you require advice tailored to your specific situation, or are ready to begin a claim, please do not hesitate to call the Accident Claims UK advisers for free advice and support on
0800 073 8801
. For more information regarding medical negligence claims, please read on.
Select A Section
A Guide On How You Could Make A Claim Against Your Hospital
'How do I make a claim against a hospital?' is a common question Accident Claims UK gets asked by patients who suffered harm because of medical negligence. Medical malpractice claims can be complex, but here at Accident Claims UK, we have put together some information that could help answer the question of how to make a claim against a hospital.
In the sections below, you will find advice on how to lodge a complaint about your hospital treatment, and how to assess whether you could be eligible for compensation. Whether you have suffered harm because of surgical negligence, as an outpatient, or on a hospital ward, the sections below cover important information on how to file a medical negligence claim.
What Are Claims Against Hospitals?
Hospitals and medical professionals  have a legal duty to look after your safety while you are receiving treatment and care. If they fail in this duty, and you suffer some kind of harm, you could be eligible to claim compensation for the harm you experienced and the financial costs you incurred as a direct result. If a loved one or relative has been fatally injured by medical negligence, or is incapacitated, as their next of kin, you could be entitled to file a death by medical negligence claim on their behalf.
While it could possible for a patient, or their representative to make a claim for compensation without going through the NHS complaints procedures, in order to understand what may have gone wrong filing a complaint could prove useful. Details of the complaints procedure can be found in a later section.
A complaint should not be affected if you decide to pursue a medical negligence case against a third party. As such, you might want to seek legal advice sooner rather than later so you are made aware of your options.
Circumstances Which Could Lead To Claim Against Hospitals
If you're thinking about filing a clinical negligence claim, it could be due to you having suffered as a result of any of the following:
Symptoms being ignored
Failure in a medical product
Unreasonable delayed diagnosis or treatment
Failure to administer appropriate pain treatment
Failure to provide hydration or nutrition
Lack of communication
Personal injury caused by medical negligence which could include surgical negligence, misdiagnosis, blood test negligence, childbirth negligence, cancer treatment negligence
Quality of treatment
Appropriateness of treatment
Hygiene standards
Early discharge
It would be prudent to mention, however, that this is not be an exhaustive list, and if you have been harmed in a different way in a hospital, you should call the Accident Claims UK team for clarification on whether you could claim compensation or not.
Who Could Be Responsible For You Being Harmed In A Hospital?
There are various parties who could be held responsible for the harm you've suffered while in a hospital. Depending on the incident in question, your claim could be made against:
An NHS Trust – these trusts are responsible for ensuring that NHS hospitals provide safe, high-quality medical care
NHS care at private hospitals – if a Clinical Commissioning Group (CCG) has commissioned (bought) services at a private hospital, the CCG have a responsibility to follow up any complaints made against these hospitals. You could make a complaint to the relevant CCG
A GP – your GP could be held responsible for some complaints against your hospital, particularly if they have not referred you for treatments you should have had
An individual professional (a consultant/specialist) – a consultant could be held responsible for your care at the hospital. Every healthcare professional has a legal duty to provide a good quality of care. If they fail to provide this, then you could take action against them
Making Complaints About Care In An NHS Hospital
Before we cover how to make a claim against a hospital, we should mention that it may be prudent for you to lodge a complaint about your care/treatment in an NHS hospital to the relevant parties. According to the Citizens Advice Bureau, who produced a handy flowchart as to the complaints procedure, you may wish to consider whether you'd like to discuss the problem with someone first, or if you would like to lodge a complaint straight away.
If you choose to discuss the problem with someone first, this does not mean you would not be able to make a claim later on.
Discussing the problem
You may wish to talk about what's happened with the hospital doctor which offers them an opportunity to explain what happened and why it happened. You may ask for a resolution to be provided within a specific time frame of 24 hours, and if the resolution does not happen, or is not to your satisfaction, you could then follow this up by lodging an official complaint.
Making Your Complaint
Your complaint should be directed to the health service provider or commissioner and acknowledgement of receipt should be sent to you within three working days offering you a meeting to discuss the issue.
If the meeting does not resolve the issue, you could request the Parliamentary and Health Service Ombudsman to intervene. If you are still not satisfied with the outcome, you have the right to ask them to review their decision.
Of course, if you have been harmed by clinical negligence, you do have a right to take legal advice, and to make a claim for compensation if you are eligible to do so. A member of our team could assess your case before offering expert advice on how best to proceed.
Compensation For Hospital Negligence – Hospital Compensation Calculator
If you're looking for compensation for hospital negligence, the hospital compensation calculator in the table below could offer you some guidance. Below, we have used figures from the Judicial College Guidelines 16th edition, which was released in April 2022. This is a document used to help calculate the general damages head of claim which compensates for the pain and suffering you experienced as a result of your injuries.
However, we should point out that these are only guidelines. No two claims are the same. When it comes to suing a hospital for negligence, all the facts and circumstances of your case would be assessed. This would include medical evidence that could highlight the severity and nature of your injuries. Additionally, as part of the claims process, you may need to visit an independent medical expert. They would examine you and produce a medical report, which would give their professional opinion of your injuries and prognosis. This can be used by legal professionals to help assess your case. 
If you cannot see your injury below, please call our team. We could offer you further guidance on the compensation you could receive when suing a hospital for negligence that caused other harm.
| Injury | Notes | Compensation Bracket |
| --- | --- | --- |
| Toxicosis (Severe) | Requiring hospital admission/re-admission and could cause IBS, haemorrhoids and incontinence, affecting the claimant's quality of life and their ability to work. | £38,430 to £52,500 |
| Arm injuries – substantial permanent disablement | Substantial functional or cosmetic disablement – resulting from fractures or other serious injuries. | £39,170 to £59,860 |
| Chest Injuries | Traumatic injuries to the patient's lungs, heart or chest that led to permanent injuries, life expectancy reduction and disability | £65,740 to £100,670 |
| Moderate hip/pelvic injuries | Significant injury but only minor, if any permanent disability | £26,590 to £39,170 |
| Female loss of fertility | Failure to diagnose an ectopic pregnancy | £43,010 to £102,100 |
| Hernia | Where a limitation on ability to play sports, or take part in physical activities remains even after surgical repair | £14,900 to £24,170 |
| Bowel Injury | Requirement of colostomy/loss of function | Up to £150,110 |
| Bowel Injury | Faecal urgency/incontinence | In the region of £79,920 |
| Bowel Injury | Penetrating injury but recovery of function | £12,590 to £24,480 |
Hopefully, this guide has answered the question, "How do I make a claim against a hospital?" and also shown how much you could be compensated. Why not call us today to learn if we could help you claim?
Costs, Losses And Other Special Damages You Could Claim
In addition to the medical negligence payouts for the suffering and the pain you suffered due to hospital negligence, you could also receive special damages payouts when suing a hospital for the following:
Care Costs – if you needed someone to care for you because you were unable to dress/feed yourself, care costs incurred may be covered as special damages
Earning Losses – if you needed time off work to recover and not been paid your usual wage, this and future earnings could be included in your claim as special damages.
Travel and Medical Costs – if these costs arose directly as a result of the negligence you've suffered, they could be included as special damages.
Funeral Costs – if you lost a loved one as a direct result of negligence, you could claim for their funeral costs, as well as a bereavement award.
If you had to pay out for something, or have lost money because of the negligence you've suffered, and you'd like to know whether this could be included, please don't hesitate to call our team for further advice.
Suing a Hospital for Negligence – What Evidence Do I Need?
When you're suing a hospital for negligence, it's important to be aware of how essential evidence is. You need evidence to sufficiently prove that negligence caused your injury. Evidence you could potentially use in hospital negligence claims includes:
Medical scans and medical reports of your injury
Statements from eyewitnesses who saw how the negligence occurred. You could gain the contact details of potential witnesses to take a statement when claiming.
Photographs of your injury
Notes you've made detailing how the injury occurred or how it worsened. This can not only give more detail into the circumstances surrounding the negligence but also the impact of the injury.
Whether you want to claim for hospital neglect or a misdiagnosis, Accident Claims UK could help. We can not only assess your circumstances and answer any questions you have – we can tell you easily and quickly if you're able to claim.
If we feel you could make an eligible claim, we can transfer you to one of our solicitors who is specialised in medical negligence claims. This solicitor could work your case on a No Win No Fee basis and help you collect evidence to build a stronger case. To learn more about our services, contact us for a free consultation at a time that suits you.
Suing A Hospital? Get Free Advice
We do not charge for our advice. By calling us for advice, you are put under no obligation to launch a claim with our help, or even to take our advice. We're here to help, and we won't push you into making a clinical negligence claim at any point. We will, however, offer you answers to some of the pressing questions you might have, including 'Is it hard to sue a hospital', 'What level of compensation could I be entitled to?' and 'How can I make a claim against a hospital on behalf of a loved one?' for example.
Steps To Take When Claiming Against Hospitals
If you are wondering how to make a claim against a hospital for medical malpractice, there are a number of steps you should take. These are detailed below.
Writing A Report For Your Own Records When Suing A Hospital
The first thing we would advise you do would be to write a report of everything that has happened to you, where you believe negligence took place, and how you feel it may have caused you harm. This could be useful, as you may be able to refer back to your notes if you forget something later on. It would be a good idea to include names of people who might be able to act as witnesses, and dates and times of treatments or consultations, as well as what happened.
Requesting Your Medical Records For Suing A HOspital
In addition to this, you should request your medical records. Successful claims against the NHS could rely on solid medical evidence, and while you would have to see a medical expert as part of any clinical negligence claim, getting a copy of your records to check them against what you had been told at the hospital, would prove useful. You should contact the relevant records manager/patient services manager at the hospital trust in question to request this.
If you are considering suing the NHS for the death of a loved one, you might find obtaining their medical records more difficult. Primary Care Support England would hold these records on behalf of the NHS, so you may have to contact them in this instance.
Make A Complaint To The Hospital
There is an NHS complaints procedure that you should follow if you'd like to complain about clinical negligence. Details of this can be found on the NHS website. However, you may not feel that this would be a strong enough course of action, and you may wish to make a complaint to the General Medical Council, your local Healthwatch, via the NHS choices website.
However, if you feel strongly that you could benefit from legal advice on how to make a claim against a hospital, it may be worth getting in touch with Accident Claims UK, as we could advise you on the best course of action to take when filing a negligence claim against a hospital.
Who Would Deal With My Claim When Suing A Hospital?
NHS Resolution, formally the NHS Litigation Authority, or NHSLA, usually deals with medical negligence cases and payouts in the UK for NHS claims. The authority aims to resolve disputes in a fair manner. You can find statistics on the NHS Resolution website that refer to the number of claims received, and the payouts made for successful clinical negligence. We have included a graphic below which shows the costs in 2020-21 of clinical negligence.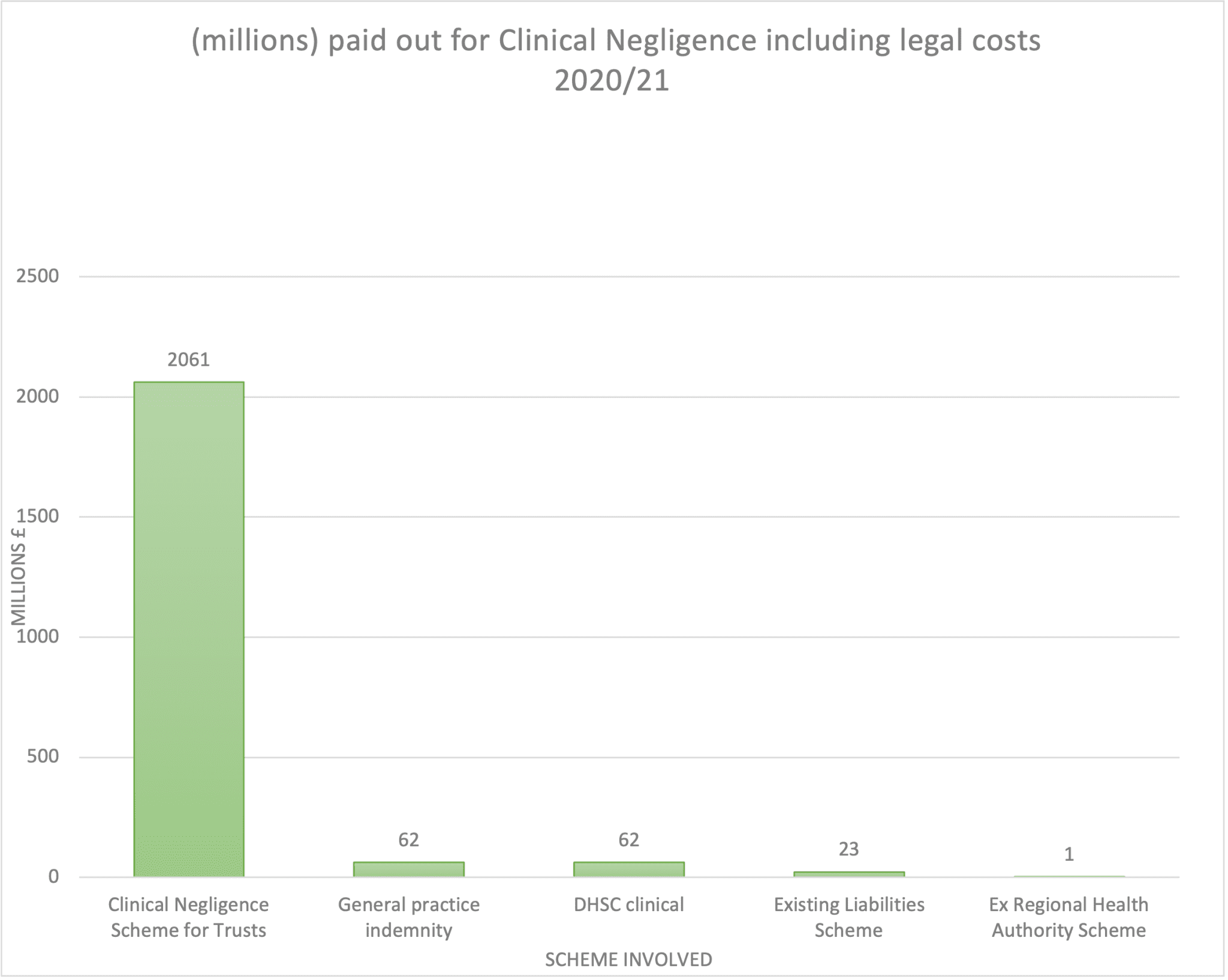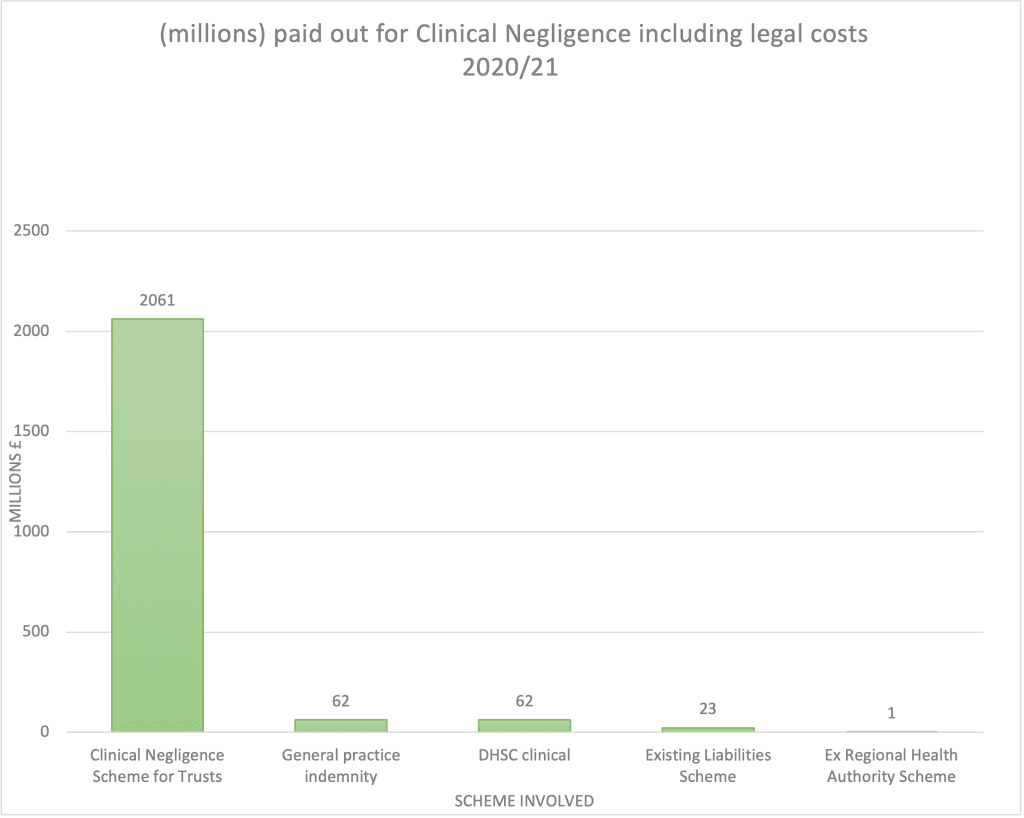 How Long Do I Have To Make A Medical Negligence Claim?
There would be a personal injury claims time limit that applies to your claim, whether you were claiming compensation for medical negligence from the NHS, or from a private hospital. However, not all claims have the same limitation period, even if the incidents of negligence happened on the same day. This is because harm from clinical negligence is not noticed right away.
Typically, the medical negligence claims time limit would be three years, from either the date of knowledge/discovery, or the date of negligence if the harm was noticed straight away. However, there could be some exceptions to this, and these could include but are not limited to:
Cases whereby the claimant was incapacitated at the time and could not claim within the usual time limit
Cases where a child was harmed and a parent did not make a claim on their behalf
If you are at all unsure as to whether you'd be within the appropriate time limit for claiming, our team could help to clarify this.
No Win No Fee Compensation Claims Against Hospitals – Suing A Hospital With Our Help
Making a claim for clinical negligence can prove challenging without the assistance of a personal injury solicitor. A lawyer can help you build a claim and fight for the maximum compensation possible on your behalf. We would recommend that claimants consider this option, especially as with No Win No Fee claims, you would not be required to pay anything to the clinical negligence solicitor before your claim is concluded.
When making a No Win No Fee claim, instead of paying upfront, you would sign a Conditional Fee Agreement with the solicitor, which would detail the percentage of compensation you would be required to pay them once your claim is successful. If the personal injury lawyer wasn't able to secure you a payout, you would not be required to pay them these monies.
If you would like to know more about making claims in this manner, we would be happy to talk you through the process in greater detail.
Begin A Compensation Claim Against A Hospital
If you would like to know more about how to make a claim against a hospital for medical negligence, we are always happy to help. For free information on making a personal injury claim for compensation, a free assessment of your case, or to be provided with a personal injury solicitor to begin a claim on your behalf, you could either call 0800 073 8801, email office@accidentclaims.co.uk, or fill out the contact form and we'll get in touch with you. Alternatively, there is a live chat feature on the site that you may wish to use instead.
How do I make a claim against a hospital – FAQs?
Can you make a claim against a hospital?
The medical professionals who treat you in a hospital owe you a legal duty of care. If that duty is breached, and you suffer as a result, compensation could be claimed. This can include payment for your pain and suffering as well any costs you accrue as a result.
What qualifies as medical negligence?
There are many forms of medical negligence that could result in a compensation claim. Within a hospital they include misdiagnosis, failing to refer you for tests, anaesthetic errors, surgical errors, NHS never events and medication errors.
Does the NHS settle out of court?
When you claim against the NHS, the case will usually be processed by NHS resolution. Only a small amount of their cases (around 2%) need to be heard in court. The remaining claims are settled out of court.
How hard is it to sue a hospital?
Any medical negligence claim can be tricky to prove. You'll need to prove that negligent treatment meant you suffered an injury (whether physical or relating to your mental health). Taking legal action could be made easier if you have the support of a specialist medical negligence lawyer.
What is classed as hospital negligence?
Hospital negligence is classed as any form of clinical negligence within a hospital environment. This means you have sustained further or avoidable harm as a result of a medical professional providing you with substandard care. It could encompass surgical negligence, misdiagnosis, and even negligence that leads to you developing infections such as MRSA.
If you have evidence to prove you experienced hospital negligence, we could assist you. We have experience in helping people make hospital compensation claims.
How do I sue a hospital?
We could show you how to sue a hospital with the help of our solicitors if you have been harmed by hospital negligence. Suing a hospital for medical negligence can be complex. It could therefore be wise to obtain legal advice.
Don't forget, our No Win No Fee solicitors don't require any upfront payment to assist with your claim. Instead, you would pay a success fee as a small percentage of your eventual compensation amount.
How could suing a hospital for medical negligence help others?
If you make hospital compensation claims, this could highlight how you have suffered. It could lead to procedures being put in place to avoid a similar thing happening to someone else. Claims for compensation aren't solely made so that victims can be recompensed for their suffering and losses. They could help to bring change within a hospital environment, which could lower the risk to other patients.
I'm thinking of suing a hospital – what do I do first?
We would advise you to call our team. We could offer you free legal advice over the phone. If we believe you could have a valid claim, we could help you get started.
Can you provide tips on how to sue a hospital successfully?
If you're looking for general tips on how to sue a hospital, the below could be useful.
Get medical attention – if you're suffering, it could be wise to ensure you visit your doctor or the hospital to get the correct treatment for your injuries.

Take photographs – you could photograph your injuries or the scene of the incident.

Obtain witness contact details – they could be approached for a statement at a later date if necessary.

Get legal advice – we could provide this for free as well as assign one of our solicitors to represent your case provided your claim holds validity. 
We could offer you some tips on how to sue a hospital over the phone. By speaking to us, we would be able to get more information about your case. That way, we could provide you with more targeted guidance.
I want to sue the hospital but it's a private healthcare facility, can I do this?
If you want to sue a private hospital for negligence, we could assist you.
In order to make a claim against a medical facility, you must be able to prove that you suffered harm as a result of a medical professional failing to provide the correct level of care.
For more information on suing a hospital for negligence, call our team using the number at the top of the page.
Would suing a hospital for negligence affect my care?
You may be worried that suing a hospital for negligence could affect your ability to access healthcare at a later date. This should not be the case. Please don't hesitate to speak to us about your concerns. We could provide you with further information on this over the phone.
Resources And Further Information On Suing A Hospital
More Information On Making A Hospital Negligence Claim – Here, you can find a guide offering more information on making a hospital negligence claim.
Claiming For A Misdiagnosis – Here, you can find more information on making claims for misdiagnosis.
Cancer Misdiagnosis – This guide looks specifically at cancer misdiagnosis claims.
Making A Complaint About The NHS – This page, from the NHS, gives information on making a complaint.
NHS Claims Statistics – Here, you can see statistics for claims made against the NHS in 2018/19.
NICE Guidelines For Emergency Care – Here are the NICE (National Institute of Clinical Excellence) guidelines on emergency care, which include quality standards.
Thank you for reading our guide to suing a hospital for medical negligence today. We hope it has answered the question, "How do I make a claim against a hospital?"