By Max Murdoch. Last Updated 10th June 2022. Welcome to this case study surrounding personal injury claims payouts for tinnitus. In it, we show how a tinnitus compensation calculator could provide a rough estimate for a tinnitus claim, whether it's work-related tinnitus you've suffered from, or you're making hearing loss or tinnitus claims for another reason. We look at tinnitus after a car accident settlements in the UK, and explain how we could assist with a tinnitus claim.
Tinnitus Compensation Case Study
Below is a case study in which we look at someone who needed to make a compensation claim for tinnitus. We have researched this case study to show how personal injury lawyers may be able to help you secure the compensation that you could be entitled to when making a compensation claim for tinnitus.
In this case study of a No Win No Fee tinnitus claim, the claimant was the driver of a HGV. They were asked to assist another employee to inflate the tyre of one of the employers' vehicles. It is not clear from records surrounding the case who requested the claimant help to inflate the tyre.
Whilst inflating the tyre, the claimant used a compressor to do so and the tyre burst. This caused the claimant to suffer both tinnitus immediately after the accident (and in the medium term), and to suffer the symptoms of vertigo over the longer term.
The injured victim contacted a personal injury solicitor and instructed them to make a No Win No Fee tinnitus claim. Whilst solicitors pursued the claim they were eventually able to secure a total of £80,000 in compensation. The compensation was awarded both for the injuries suffered by the claimant, as well as the fact that they were unable to continue in the job, as well as having to lose their licence.
How We Could Help With Hearing Loss And Tinnitus Claims
Accident Claims UK can help people to make successful compensation claims for tinnitus. Our team has many years' experience in helping people secure compensation for a variety of different types of accident and injury. To find out how to contact our team, scroll to the bottom of this page.
Work Related Hearing Loss And Work Related Tinnitus Statistics
The claimant suffered an injury that was caused by an extremely loud noise and air pressure changes due to the explosion of a tyre which he was inflating. According to the Health and Safety Executive (HSE), being exposed to loud noises in any given situation can cause serious and irreversible damage to the ears and to your hearing. It should also be noted that your ears control your sense of balance as well as your hearing. Problems affecting one 'sense' can often affect the other as well.
Hearing loss is one of the most common forms of industrial disease and as many as 75% of all compensation claim for occupational diseases are for those to do with hearing loss or damage. Below are some common facts about work related hearing damage:
An estimated 14,000 workers in the UK have hearing problems or difficulties which were caused by their work

There are as many as 95 new victims of occupational deafness caused by their work each year
You can find statistics related to noise induced hearing loss at work in this resource from the HSE. The claimants' accident caused lasting and permanent damage to the inner ear which was reflected in their compensation claim for tinnitus and vertigo.
What Injury Happened To The Claimant?
The claimant suffered two injuries as a result of the burst tyre which were included in their compensation claim for tinnitus. These were tinnitus and vertigo. Whilst it was estimated that the tinnitus would not be permanent, the claimant was diagnosed with likely having permanent vertigo. This diagnosis was compounded by the fact it was estimated that the vertigo also could not be controlled.
As a result, the claimant would often fall over whilst suffering an attack. They were also often mistaken for being drunk when they were not. The resulting tinnitus and vertigo also meant that the claimant had to leave their job as a HGV driver, and lose their driving licence for HGV's.
Your hearing and sense of balance are both linked through the ears and as such, any damage or injury to the ear can cause one or both of the sets of symptoms suffered by this claimant. We often see that those making tinnitus accident claims will have other symptoms at the same time.
Tinnitus is a relatively common condition and it can affect people of all ages across the country. In many cases, such as this, the condition is not permanent. However, when it is permanent the effects can be severe. You can find out more about the symptoms of tinnitus, as well as managing and treating the condition at this NHS link.
Vertigo can often accompany tinnitus, or be caused by the same accident or injury. The symptoms of vertigo can be variable. You may find that you suffer from a spinning sensation or dizziness. Whilst having an attack of vertigo you might also feel nauseated and suffer a migraine. The duration of symptoms can also range in severity and duration.
How The Case Was Conducted?
The personal injury lawyer working on this case noted that it was a difficult, and at times distressing work related tinnitus claim to handle. Initially the solicitors for the claimant sought to establish the basic facts of the case. Medical records were used to determine the level of injury suffered by the claimant, and what the long-term effects would be to them.
When the initial vertigo and tinnitus claim was made, the employer denied that they were liable. Instead they made the claim that the accident was the fault of the claimant and that they were not responsible for what happened to him. Fault in the tinnitus claim was denied by the employer as they countered that keeping the tyres properly inflated was not part of the claimants job description. They also asserted that before the tyre exploded, the claimant had not noticed that the tyre was bulging.
A Fight For Tinnitus Compensation
As the defendant was not admitting any liability, it was necessary for the claimants solicitors to commence proceedings through the courts. At this point the defendant decided to negotiate a settlement of the tinnitus personal injury compensation claim. . The initial offer was rejected. Several months later a higher tinnitus compensation payout of £80,000 that also included loss of earnings and other losses was offered and accepted.
What Was The Outcome Of The Claim?
Next, we look at the outcome of the claimants' personal injury compensation claim. Solicitors acting on the claimants behalf, noted that the injuries suffered by the claimant, and the case as a whole was distressing. The case had to deal with all of the effects of tinnitus and vertigo had on the claimant. The tinnitus compensation claim noted that whilst the claimant would not suffer from tinnitus for the rest of their life, they would continue to suffer from vertigo. The compensation claim cited that the injury would affect both the claimants ability to continue working, and their social life.
The final settlement offered by the defendant and which was accepted by the claimant was £80,000 in compensation for tinnitus. Find out how to make a compensation claim for tinnitus by contacting Accident Claims UK.
Tinnitus Compensation Awards
You may be wondering what the average settlement for tinnitus is. Unfortunately, as every claim is unique, we're unable to provide you with an average compensation amount. The amount of general damages compensation in successful tinnitus claims is based on factors including:
How severe the injury is
To what degree the symptoms are permanent
How negatively it has impacted the injured person's daily life
The Judicial College Guidelines can give you a better idea of your potential compensation for general damages. Below is a list of tinnitus-related injuries that are taken from the latest guidelines.
Please remember that these figures only relate to successful claims in England and Wales. Furthermore, they are not guaranteed, as there are many aspects that can determine your compensation amount, as mentioned above.
| Injury Type | Category | Description | Compensation Bracket |
| --- | --- | --- | --- |
| Total Deafness | (b) | The higher end of this bracket involves the injured person having a speech deficit and tinnitus. | £90,750 to £109,650 |
| Total Hearing Loss in One Ear | (c) | Associated problems such as tinnitus, headaches or dizziness, tend to be associated with the higher end of the bracket. | £31,310 to £45,540 |
| Partial Tinnitus and/or Hearing Loss | (d) (i) | Severe Noise-Induced Hearing Loss (NIHL) and tinnitus. | £29,710 to £45,540 |
| Partial Tinnitus and/or Hearing Loss | (d) (ii) | Moderate NIHL and tinnitus or moderate to severe NIHL or tinnitus only. | £14,900 to £29,710 |
| Partial Tinnitus and/or Hearing Loss | (d) (iii) | Mild tinnitus with effects of NIHL also present. | £12,590 to £14,900 |
| Partial Tinnitus and/or Hearing Loss | (d) (iv) | Mild NIHL only or mild tinnitus only. | Around £11,720 |
| Partial Tinnitus and/or Hearing Loss | (d) (v) | Occasional or slight tinnitus with minor aspects of NIHL. | £7,360 to £12,590 |
| Partial Tinnitus and/or Hearing Loss | (d) (vi) | Slight NIHL or tinnitus with no symptoms of the other. | Up to £7,010 |
You may want to use a hearing loss compensation calculator to see what you could receive. However, these calculators can be unreliable as they don't always factor in all the complexities of each case.
If you prefer, you can contact our team of advisors for a free consultation using the above details. They can inform you of your claim eligibility, provide a quote and can even connect you to a specialised solicitor who could help you receive compensation.
No Win No Fee
Tinnitus And Hearing Loss Claims
A common reason why people avoid making a claim with a personal injury solicitor is fear of the potential expense of doing so. People often think that fees for solicitors and lawyer can quickly add up. However, with Accident Claims UK, you need not worry about these costs, or about having to pay for legal services before you have your settlement. By using a No Win No Fee solicitor, you will not need to pay for your solicitor before your case has been successfully concluded.
How Would A No Win No Fee Work Related Tinnitus Claim Work?
A No Win No Fee solicitor provides their services through a Conditional Fee Agreement. This form of contract means that the solicitor will provide their services without you having to make any payments. Their final success fee will be set out in your agreement with them. It will also say what work they will carry out for you, and when and how they will be paid. It will also say that no charges are due in the event your tinnitus claim is not successful. No Win No Fee agreements have helped people across the country to secure the compensation they are entitled to.
A No Win No Fee agreement should make it as easy as possible for you to make a compensation claim, allowing you to make a claim regardless of whether you can afford to pay upfront legal fees or not.
Talk To Us Today About 
Personal Injury Claims Payouts for Tinnitus
Work-related hearing loss, tinnitus, and vertigo can be serious and debilitating conditions. The combination of the three conditions can mean life-long consequences for the victim. If you have suffered from any of these due to an accident in the workplace, our team could help you to make a personal injury claim.
When you first call our team, we will discuss the details of your accident and injuries with you to establish whether or not you could legitimately make a claim for the injuries sustained. During the call you can ask us any questions that you may have with regards to making a compensation claim, such as how much you may be able to claim and how the process of making a personal injury claim works. We could act as a useful alternative to a tinnitus compensation calculator, and give you a rough idea of how much you could be eligible for.
Proving work related hearing loss and tinnitus claims
If we are able to help you it may be necessary to organise for you to have a medical assessment with one of the medical experts we partner with. This can help to establish what injuries you have, and how serious they are. Your medical report will then also guide your personal injury solicitor in their negotiation with the defendant and in how much compensation they are seeking on your behalf. Even if you have already seen a medical professional and have had your injuries treated, this can be useful to help establish how your injuries have progressed.
After having gathered all the evidence necessary, we will then begin working on your claim, helping you to build the strongest possible case. Contact us today via the following methods to make a compensation claim for tinnitus:
Tel: 0800 073 8801
Email: office@accidentclaims.co.uk
Web: www.accidentclaims.co.uk/contact-us
How common are accidents at work that cause injuries?
If you were wondering how common it could be for people to be injured in the workplace, you may be surprised to learn that it may be more common than you think. When it comes to the workplace, over 693,000 people suffered a work related injury in 2019- 2020. Sadly, in 2020- 2021, according to the Health and Safety Executive, over 140 people suffered work related fatal injuries too. You can see the causes of these fatal accidents in the chart below.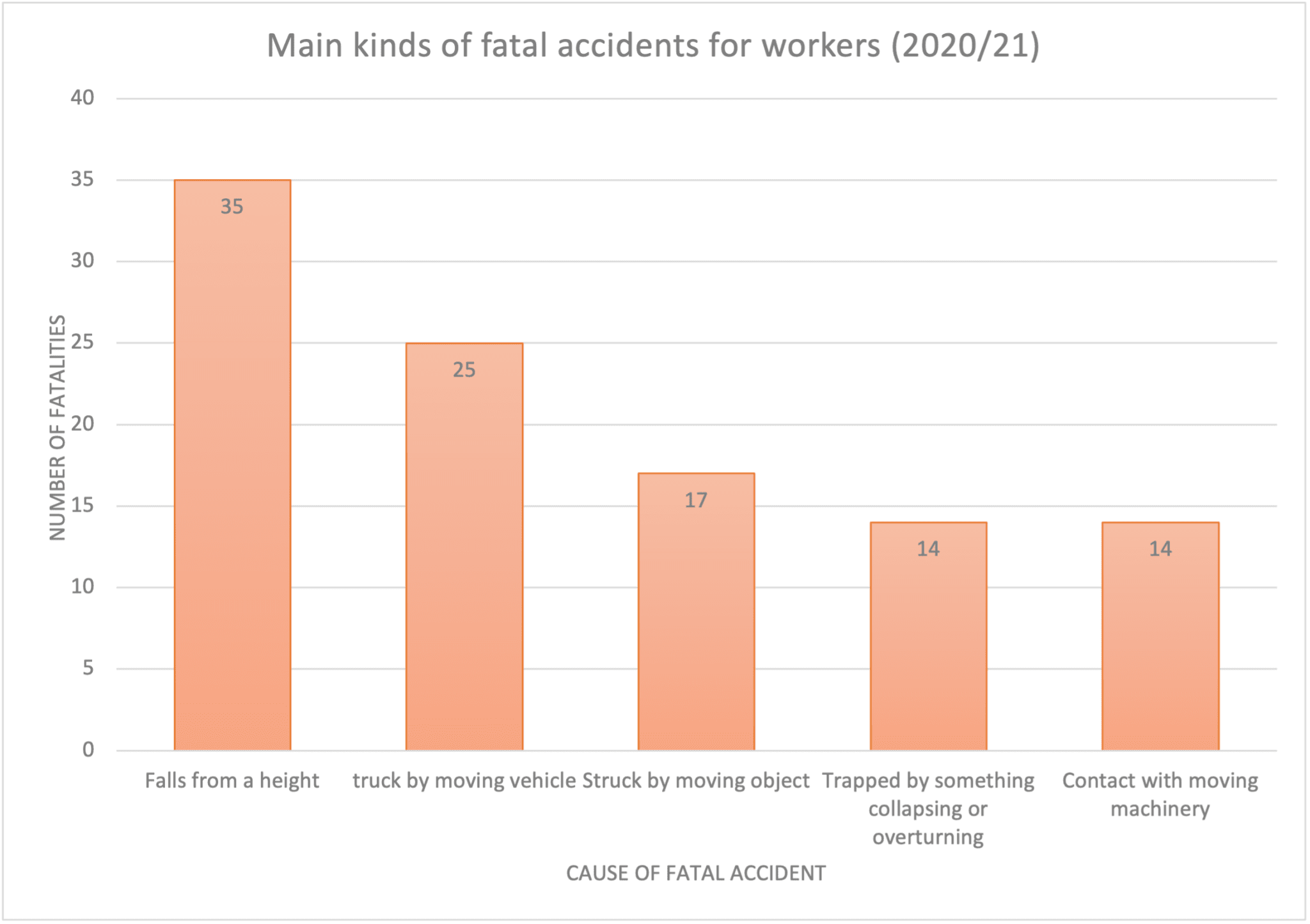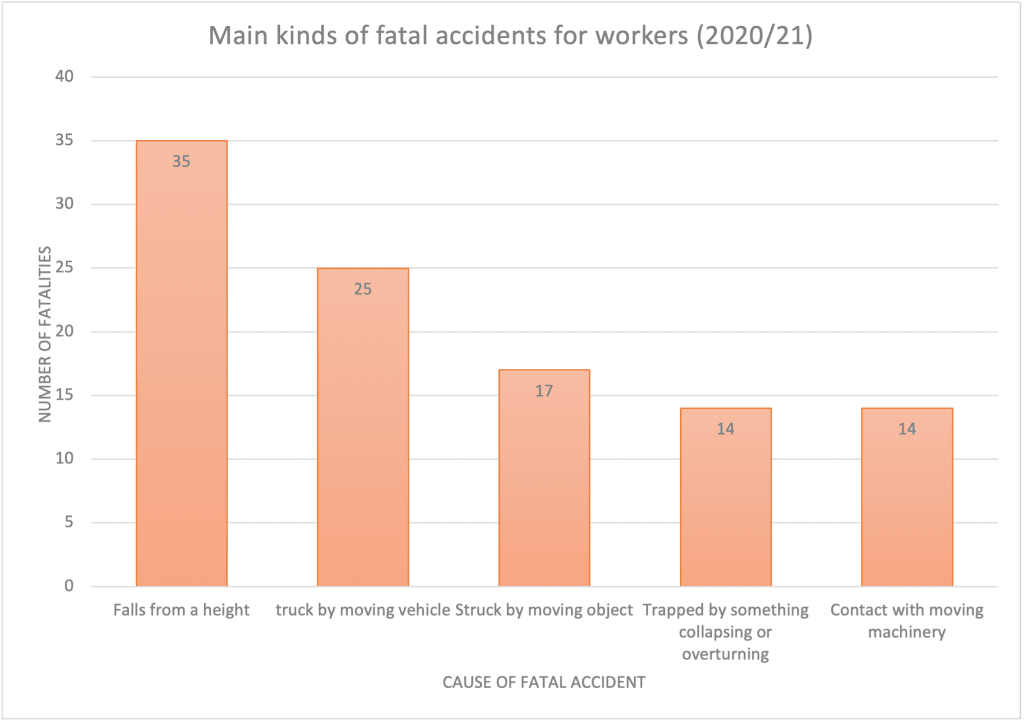 Luckily, many workplace accidents do not cause fatal injuries, but even if you are only slightly injured, it may be worth making a compensation claim. Often, making a compensation claim as an employee could be somewhat daunting, but it is important to remember that your employer should have insurance to cover the cost of your claim. In addition to this, raising your issues could highlight any health and safety failings at your place of work, which could mean that an accident in the future could be prevented.
How do I maximise personal injury claims payouts for tinnitus?
If you are considering claiming compensation for tinnitus, and have consulted a tinnitus compensation calculator, you might be wondering whether there is any way you could maximise the amount of money that you would receive in compensation. Your choice or personal injury solicitor could significantly impact with the level of compensation settlement you receive. They could harness all of their professional knowledge and experience to fight for the maximum compensation settlement possible for your claim. In addition to this, the strength of the evidence that you produce could also impact your compensation payout. It would be wise to ensure that you have a personal injury solicitor on your side that knows exactly what you can claim for in terms of general damages and special damages. They would be able to give you advice on the type of evidence you would need to support your claim. For general damages, this would be an independent medical report. For special damages, this could include pay slips, to evidence loss of earnings, and any bills and receipts of costs you've incurred due to your injuries.
Is it necessary to use a local lawyer to get personal injury claims payouts for tinnitus?
If you are wondering how to select a solicitor that would be appropriate for your claim, your first look maybe to see whether you could find a local lawyer. However you do not have to use somebody that is based near to where you live. This means you could have the choice of any solicitor and law firm in the UK which could widen your options but may make making a decision more difficult. We would urge you to consider using solicitors that are authorised and regulated by the Solicitors Regulation Authority and that could take your claim on a no win no fee basis. You could also call them to see if you could get free legal advice from a friendly solicitor, and you could also ask them about their past track record and success rate. You may even want to check review sites to see what other claimants have said about them.
Would A Tinnitus Compensation Calculator Give Me An Accurate Figure For My Case?
All hearing loss and tinnitus claims are calculated on an individual basis. Depending on the evidence you submit with your claim, your compensation could include a payout for the suffering, pain and loss of amenity, as well as any financial losses.
You can receive compensation for your physical and psychological injuries under general damages. When it comes to your general damages, the medical evidence could dictate how much tinnitus compensation you receive.
In addition, you could seek financial costs and losses caused by your tinnitus under special damages. You need to provide evidence of any losses to be able to claim for them. For instance, you could use bank statements, receipts or payslips for this.
A tinnitus compensation calculator would be unable to assess all the unique facts and circumstances of your case. Therefore, they'd only ever give you a rough estimate.
Tinnitus Compensation Calculator – How Much Could I Receive For General Damages?
As we have described, cases are assessed on an individual basis. However, we can give you some guidance from the Judicial College Guidelines (JCG). The JCG is often used to help when valuing claims. It sets out bracket figures of compensation for different injuries.
Alongside the JCG, medical evidence might be used to determine how severe your tinnitus is and how badly it's affected your life. For that reason, the compensation you're awarded will vary depending on factors unique to your case.
If you'd like guidance on hearing loss and tinnitus claims compensation awards, please call our team.
Could I claim for tinnitus after a car accident to get settlements in the UK?
If you're wondering whether you could claim for tinnitus after a car accident, settlements in the UK could be possible if you could prove that someone breached their duty of care towards you, causing your injury. Whether you suffered tinnitus after a road traffic accident as a passenger, motorist, cyclist or another road user, we could assess your eligibility to claim.
As you can see below from the Department for Transport's statistics, there were lots of different types of road users injured on Britain's roads in 2020. While these statistics don't show the types of injury suffered, they give an insight into the types of road users involved.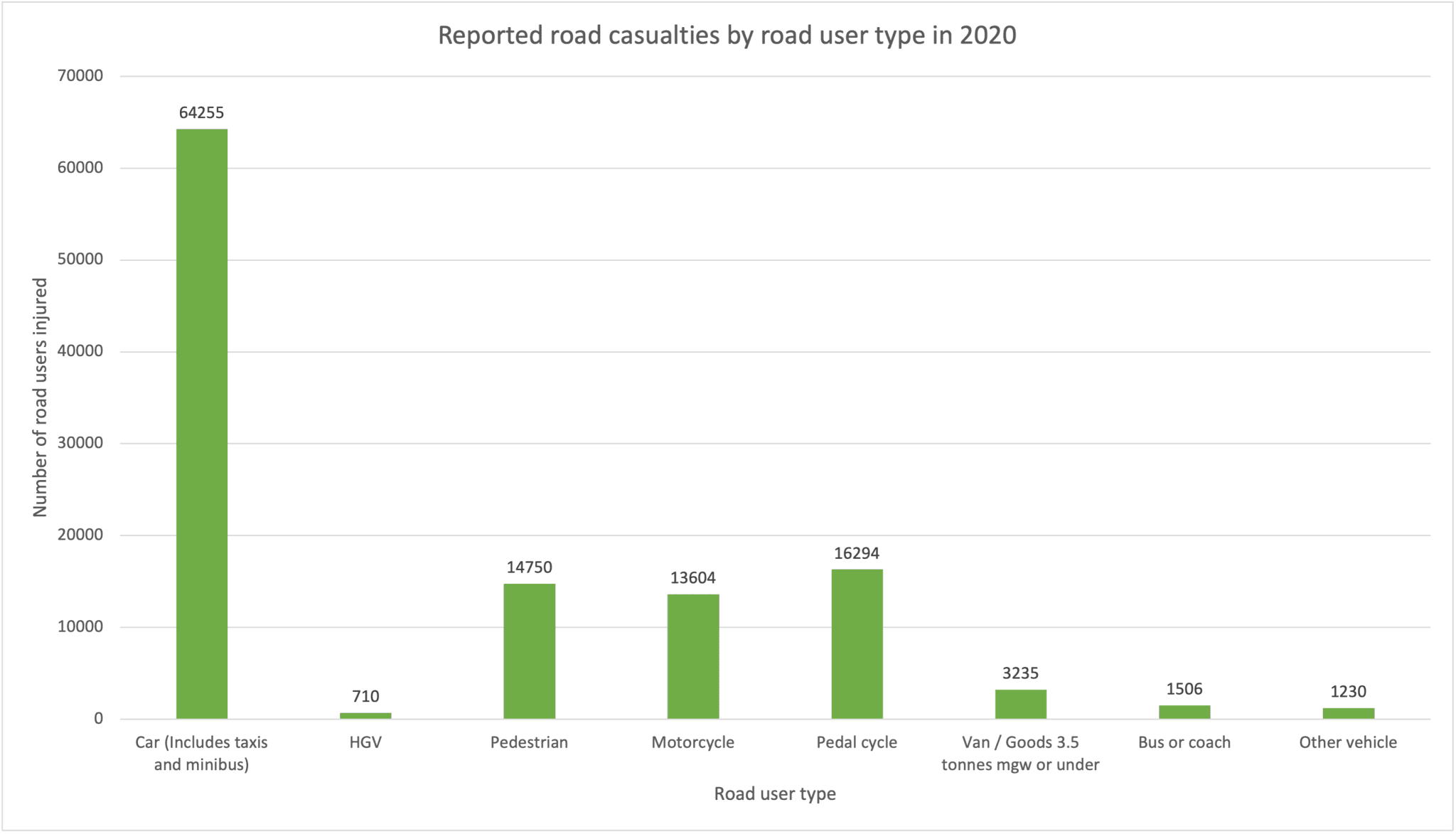 What evidence do I need to prove a tinnitus claim?
The evidence you'd need for a tinnitus claim could differ depending on the cause of the injury. In general terms, you would need to evidence that someone had a duty of care towards you. You'd need to prove that they breached the duty they owed causing you to develop tinnitus as a result. 
Types of evidence that could be useful in a tinnitus compensation claim could include:
Accident reports

Photographs of the accident scene

Medical reports

Proof of costs and losses incurred due to your injuries

Witness statements
Please call our team if you would like us to assess your tinnitus compensation claim. We could check your eligibility to launch a claim for free, and could provide you with a No Win No Fee lawyer to assist you.
Useful Resources And Links Relating To Personal Injury Claims Payouts for Tinnitus
If you have suffered from work related hearing loss or work related tinnitus, you can find further information about tinnitus accident claims and similar injuries in the following links.
Accident At Work Claims
Find out more about how to make a compensation claim for an accident in the workplace with a personal injury solicitor.
Tinnitus – NHS
In this guide to tinnitus produced by the NHS you can find out more information about the condition such as symptoms to be aware of, when to see a GP, what treatment options are available, and what can cause tinnitus.
British Tinnitus Association
If you or someone you know suffers from tinnitus the British Tinnitus Association contains information and advice for how to manage the condition, as well as how to get any help needed.
Final Words On Hearing Loss And Tinnitus Claims
Thank you for reading this case study on personal injury claims payouts for tinnitus. We hope we have explained why you cannot strictly rely on a tinnitus compensation calculator when for a precise tinnitus compensation estimate. If you're thinking of making a  work related tinnitus claim, we could help you fight for the payout you deserve.