By Joanne Jeffries. Last Updated 26th July 2021. Welcome to our guide on child abuse claims, also known as child abuse compensation claims. If you're asking 'I was raped by my foster parents can I claim?' or you're wondering whether you could claim against a school or local authority, this guide could help. 
Child abuse is something we see on the news, and often we will shy away from hearing the terrible details of what has happened to young people who were often abused by those entrusted to care for them in some form. However, if it has happened to you, you will no doubt need to know that you are not alone, and child abuse claim statistics show you are definitely not. According to the NSPCC, in 2020 over 51,000 children were known to be in need of protection from abuse.
If you have been a victim of child abuse, whether you were abused by foster parents, suffered child abuse at football or other sports clubs, or even at school, you will likely have been traumatised by the experience. This can lead to mental health problems, relationship woes and even loss of income if you suffer mental health issues that have been caused due to the child abuse you suffered as a child.
If you are a parent, you may be able to claim on behalf of your child if they have suffered abuse at the hands of someone else, or if you have turned 18, you may be able to claim for abuse that has happened to you while you were a child. Accident Claims has put together this child abuse guide in order to furnish you with all the facts you need to know about claiming, as well as providing actionable advice should you wish to begin a child abuse compensation claim, which you can do by dialling 0800 073 8801 today.
With many years' experience in helping people gain compensation for their child abuse claims, we are aware of the questions you might have, so we have included them in the guide below. Simply click on the relevant section to find the answers you're looking for and call us for any clarification you might need.
Select a Section
A guide to claims for child abuse
It is essential for sufferers of child abuse to realise they are not alone. In fact, according to the NHS, one in every 20 children in the UK will suffer child abuse, and the consequences can be devastating, lasting much longer than the time the abuse actually occurs. For this reason, the usual personal injury claim time limits do not exist, and, in fact, you can make a claim long after the abuse has happened, if it can be proven that the abuse has had a marked effect on your life. However, the time limits are not open-ended, and therefore it is essential you seek help as soon as you are able to.
Here at Accident Claims, we have produced a guide to explain exactly what is involved in child abuse claims, including definitions of different types of child abuse, as well as approximate payouts for child abuse compensation and how you can claim without putting any money upfront – essentially claiming risk-free. We can answer questions such as 'I was raped by my foster parents – can I claim?' and give you the information you need.
What is child abuse?
The definition of child abuse is an action coming from another person, that causes harm that is significant to a child. The action can come from either another child or an adult and can be physical, emotional or sexual but it can also be the lack of attention, care and love that a child should have as normal.
Withholding love or affection from a child or neglecting them can be extremely damaging and have similar consequences to the child's emotional well-being and mental health as other, more physical forms of abuse. It is said by the NSPCC that in most cases, a child who has been abused in one form often experiences more than one type of abuse, which can lead to other struggles in their life as they try to cope with the after-effects of the abuse.
The different types of child abuse
While many people associate child abuse with physical violence or sexual abuse, the fact is, child abuse can come in many different forms, and it can happen in a whole host of situations. Below, we explain some of the more common instances of child abuse.
Physical abuse – The deliberate physical act of hurting a child in some form, including kicking, punching, or even assault with a weapon.
Neglect – The consistent lack of care and attention and love by those persons that are supposed to care for a child can cause emotional trauma that is just as serious as physical abuse.
Sexual abuse – A child who suffers sexual abuse due to being persuaded or forced to perform sexual activities or have sexual acts forced upon them, such as having their vagina or anus penetrated. It is important to understand that sexual abuse can happen online as well as physically. Grooming can also be a form of sexual abuse.
Domestic abuse as a witness – The trauma of experiencing domestic abuse either as a victim or someone who has witnessed domestic abuse can have a profound effect upon a child.
Emotional abuse – Often termed neglect or emotional maltreatment, or psychological abuse, the effects can be far-reaching and long-standing.
Online abuse – Whether threats, bullying or sexual abuse, if it happens online it is still abuse. This can be through mobile phones, games or social media.
Child trafficking – Where children are moved to somewhere then effectively forced to work, are sold or exploited in some way, this can leave emotional scars.
FGM – The partial or complete removing of the external female genitalia (female genital mutilation) for reasons that are not medical. This can have both physical and mental effects long term.
If you are not certain that you have suffered child abuse, or are wondering about child abuse compensation claims, then you can get in contact with our team, who are here to help you every step of the way.
Child abuse statistics in the UK
Frighteningly, the statistics on child abuse in the UK show that child abuse is more common than most of us would like to think. According to the NSPCC:
In the recent past, we have seen a marked increase in numbers of children aged 10 to 17 under protection plans or registers for emotional abuse, although this decreased in 2020.
Though police-recorded criminal offences dropped when pandemic restrictions first happened in the UK in 2020, there is a concern for a potential spike in child criminal exploitation and youth violence.
Public reporting of suspected child abuse became more common during the first pandemic lockdown in 2020.  It increased from a monthly average of 5,593 (January to March) to 7,269 (April to July).
According to the Office for National Statistics, the breakdown of different forms of child abuse were as follows several years ago.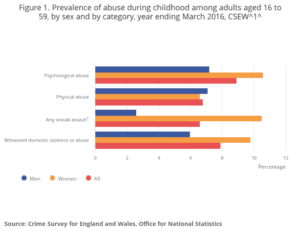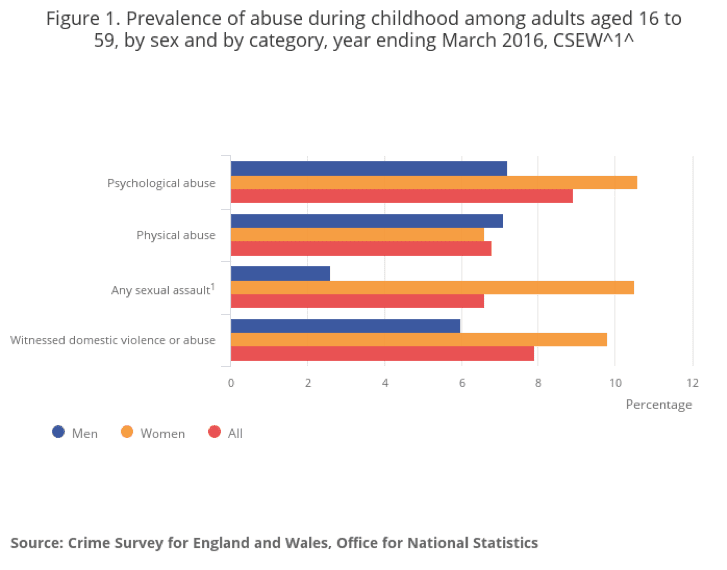 In addition to this, the table below shows how many different types/occasions of abuse were suffered by children before the age of 16, in the year that ended in March 2016.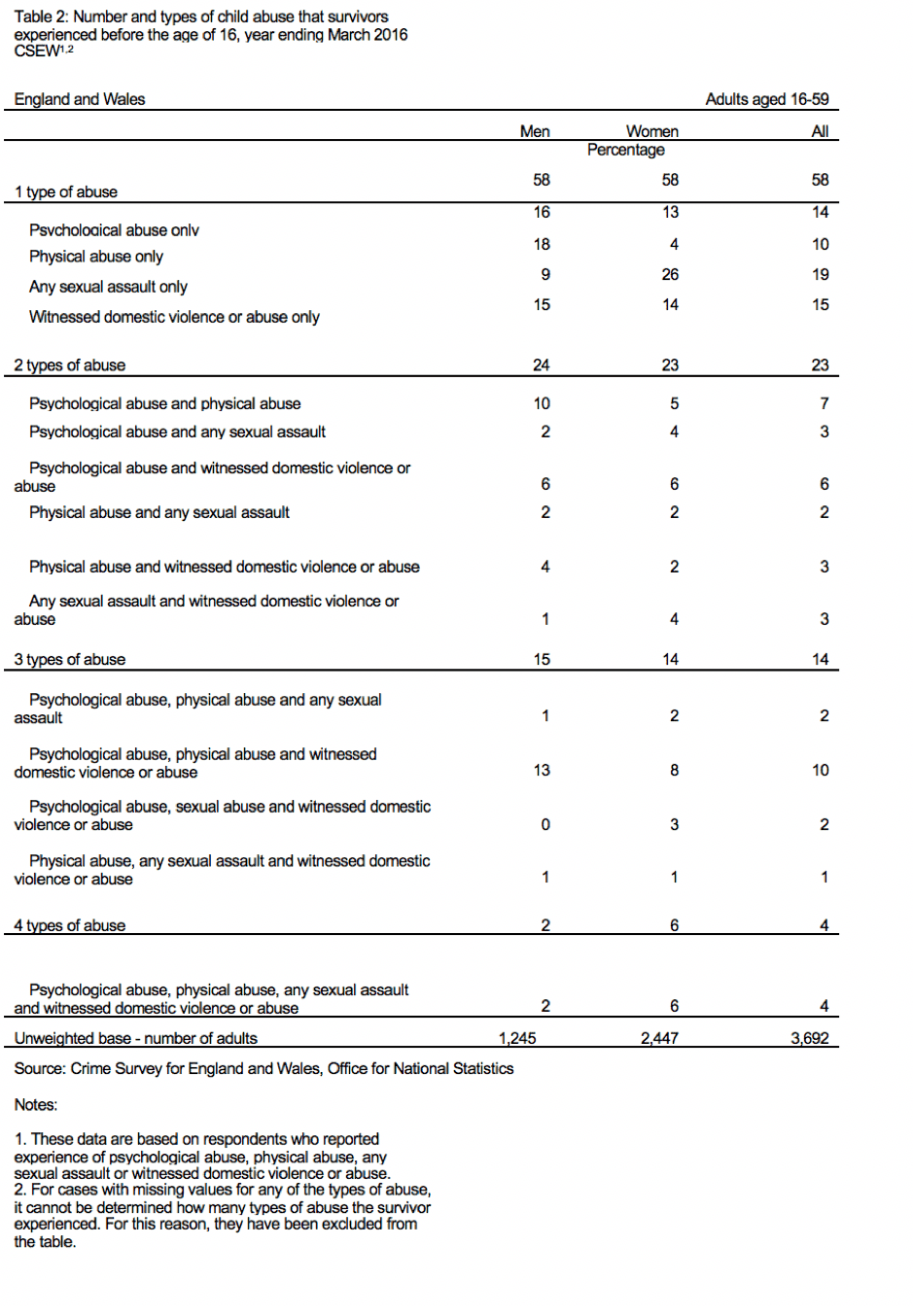 What to do if you or a family member has been a victim of child abuse
If you or a family member or has suffered child abuse, either historically or recently, then the main concern would be getting medical help for any physical and psychological injuries that the abuse has caused. It is essential that even if no physical symptoms are present, an appointment is made with a GP to talk about what has happened in order for the person to be referred to a mental health professional for assistance.
In addition to this, it is important that you report the abuse by whatever means possible, to the police or to the NSPCC, who may counsel you as to who the best people are to report to.
Whilst here at Accident Claims, we are ready and able to help you make a claim, it may also benefit you to gather as much proof as you can for the abuse, either in the form of text messages, e-mails, witness details, if someone has witnessed the abuse and pictures of any physical injuries you have suffered. In addition to this, it can help to record your feelings about the abuse, as well as proof of any financial losses you have encountered due to the abuse, such as loss of wages if you have been off sick, or psychologist's bills.
You will also need a solicitor, preferably one with experience of pursuing child abuse claim should you wish to maximise the amount of compensation you receive. One call to Accident Claims will put you in touch with our legally trained team, who will provide you with an experienced solicitor under No Win No Fee terms to help pursue your case to conclusion.
How to begin a child abuse compensation claim
Beginning a claim is a huge decision to make, and one we know you won't make lightly. On the other end of our phone lines, you will find a friendly, sympathetic, fully trained member of our team who will listen to your case with compassion and attention to detail, allowing them to pick out the relevant facts from your story to ascertain whether we think your claim will stand. This is an entirely free service, and you are not obligated in any way to take our advice.
We will then be able to give you the details surrounding the No Win No Fee arrangement and will be able to provide you with a solicitor with experience pursuing these type of claims. Again, you are under no obligation to take this advice or use the solicitor we provide you, but we have carefully vetted the solicitors we are able to provide in order to offer you experienced professionals who will fight your corner.
How long do I have to claim for child abuse compensation?
We previously touched on the fact that child abuse compensation time limits are different to those on some other personal injury claims. Because the effects of the abuse may not surface until years later, the time limits are somewhat longer. Generally, if you suffer injuries as a child, you would have until you turn 21 to claim, but cases in which child abuse is historical have been successful, and it all depends on the specific circumstances of your particular case. The wisest thing to do, to get a proper understanding of whether you are within the claim time limit is to call our team who will take some details and then advise you on whether you could still submit a claim. Obviously, the sooner you get in touch after the abuse has taken place, the easier it will be to conduct a claim.
Types of Child abuse claims we can conduct
We previously mentioned different types of child abuse, and here we advise on the kinds of child abuse cases we can assist with. If your circumstances are listed here, then please do not think you won't have a claim, as it would be impossible to list all circumstances here.
Can I claim if my child has been sexually abused?
One of the most horrific things for a parent to hear is that their child has been sexually abused. Most parents try to figure out whether they could have prevented the abuse, and the sexual offences that took place but if it is well hidden and signs are not obvious, it can be possible for a parent not to realise until they are told about the abuse. Claiming on behalf of a child for sexual abuse is possible, and we have the ability to help you make that claim, with the understanding and compassion required to ensure that we make the process as painless as possible. You can concentrate then on helping your child, while we start the fight on your behalf for compensation.
Children's home child abuse claims
Children's home child abuse claims can be heart-breaking. Children are often placed in homes due to no fault of their own, and these places should be caring and nurturing environments. However, in some cases, they lead to even more traumatic situations for children. Whether you have suffered abuse in a children's home due to neglect, sexual abuse or even physical abuse, we can help you make a claim for compensation which may go some way towards providing a brighter future.
Church child abuse claims
Shockingly, church child abuse claims do happen, and whilst no religion deems this behaviour acceptable, unfortunately, there are people who use the cover of the church in order to bully, intimidate and even threaten others. Children often believe anything the church does is for the good, so it can be emotionally traumatic to find this is not the case.
We have experience in dealing with claims against church workers, and whether it is a minister, volunteer or even a church leader that has abused you, we can help you make a compensation claim for your traumatic experience.
Child abuse at football or other sports clubs
A few years ago, there was news coverage of a football scandal involving abuse to those in the football community by convicted abuser Barry Bennell. Whilst the disgraced coach is now serving time behind bars, it could be ludicrous to imagine that this is the only isolated incident within a sports club. If your child, or yourself suffered abuse at a football club, however long ago it happened, then speak to our friendly team. All information you impart to us is confidential and we will advise you on the best course of action to take to gain compensation for your abuse at the hands of those in trusted positions.
Claims against the social services
The duty of social services is to protect the best interests of children that need it, but again, as we have seen in the media, there are sometimes failures within social services that lead to failure to support or protect children when they are at risk of suffering abuse. If you or a loved one has been left at risk by social services and suffered abuse as a result, then it may be possible for child abuse compensation claims against the social services to be submitted.
School child abuse claims
People working in schools are usually thoroughly checked to ensure they pose no risk to the children that attend the schools they're working at but on some occasions, those in charge of our children's welfare are not who they appear to be. If a child has suffered school child abuse, then this can have a debilitating effect on them, their ability to trust those in positions of power, and even on their education, giving them less of a chance of a bright future in employment once they leave education.
If you or your child suffered abuse at the hands of a teacher or other member of staff at a school, then you should certainly look into making school child abuse claims for compensation for this devastating experience. We can help you not only to claim for the physical trauma but also the emotional trauma and its long-reaching effects.
Child abuse claims against the Scouts
The volunteers and leaders within the scouts are meant to teach our children important life skills, as well as allowing them to enjoy social time with their peers. Parents leave their children at scouts with the feeling that they are being well looked after and learning something useful.
However, it has been known for child abuse claims against the scouts to happen within the scouts, and this can be a very hard situation for parent and the child who has suffered the abuse to deal with after the event. If you or your child has been abused, by a scout leader or other volunteer at scouts, then our team will help you find a path forward towards compensation.
Have you been abused by foster parents?
I was raped by my foster parents – can I claim? If you were abused in foster care as a child or young person, you may be looking for legal advice as a victim of historic abuse. You may want to know if you could succeed in getting physical and psychological injuries compensation.
Many children have been put in the foster care system because of their previous home situation. Whether their parents were not able to care for them due to substance abuse problems, ill-health or other reasons, moving to a foster home can be scary for a child. What is even scarier is that there have been cases where a child is removed from a dangerous situation at their previous home then been placed in foster care, only to become a victim of abuse.
Should this have happened to you or someone you love, it may be possible to make a claim for foster care abuse as a victim of sexual abuse. In some cases, it is possible to pursue a claim against the foster parents themselves, but also in some cases you may be able to lodge a claim against the local authority that placed you in that foster home. Contact our team for assistance with foster care abuse and you are sure to get accurate advice that you can act upon. We could answer that all-important question – I was raped by my foster parents – can I claim?
Child abuse case study: Shirley Oaks
One famous story of child abuse for looked after children at a children's home is the case involving Shirley Oaks. During the 1950s and the 1960s, around seven thousand children from just a couple of months old to 14-year olds were supposed to receive care within the walls of this home. Sadly, for hundreds of children, the care that was supposed to be provided was anything but.
Stories of sexual, physical and mental abuse were heard from hundreds of victims, and the perpetrators included not only a priest, but doctors, coaches and teachers. This horrific case led to Lambeth Council setting up a compensation scheme for the victims of this case. However, it is often the case that these schemes do not fully compensate the victims to the level that they should be compensated, so it is often a wise idea to seek outside legal help from a solicitor who will know the path to take to get the maximum compensation possible should something similar have happened to you. We can provide such a solicitor.
What can be claimed for in a child abuse claim?
When putting in a child abuse claim, no matter who the perpetrator was, it is important to understand the different kinds of payout you could receive. In the main, your award may include:
Damages (general) – Emotional and physical suffering should be covered by this payout. However much it is, it is unlikely to make you forget what has happened but could go some way towards making the future brighter for you.
Damages (special) – These are costs incurred directly because of the abuse, such as counselling bills, travel costs or other medical bills.
Wage loss – This could potentially affect the earning potential of a child, so this as well as payment for actual time off work should be taken into account.
How much compensation will I get after a child abuse compensation claim? – Updated July 2021
It can be difficult to ascertain an amount of compensation for child abuse, as cases can be very complex. However, this illustration below gives you some idea of typical child abuse payouts for certain types of trauma.

| Compensation Type | Average Compensation Bracket | Notes |
| --- | --- | --- |
| Psychiatric damage/s - severe | £51,460 to £108,620 | Significant harm leading to almost disabling levels of psychological/mental distress. |
| Psychiatric damage/s – Moderately severe | £17,900 to £51,460 | A slightly more optimistic prognosis but still with some long-term effects |
| Psychiatric damage/s - Moderate | £5,500 to £17,900 | Prognosis will be slightly better with some improvement before trial begins. |
| Psychiatric damage/s – Less severe | Up to £5,500 | Length of suffering as well as effect on sleep etc. will be measured. |
| Mental Trauma | Standard £4,380 | Fearing death and expecting the end of the victim's life |
| Severe PTSD | £56,180 to £94,470 | People in this category will have a loss of quality of life and may not be able to work. |
| Moderately severe PTSD | £21,730 to £56,180 | Prognosis slightly better, but there will be some permanent harm. |
| Moderate PTSD | £7,680 to £21,730 | Almost a full recovery, with only a few minor long-term effects |
| Less Severe PTSD | Up to to £7,680 | Recovery within 24 months with only minor effects long term |
| Future earnings lost | Between £10,000 and £400,000 | This includes potential for promotion etc. |
| Pain/Suffering | Between £1,000 and £200,000 | Pain/suffering will be examined, and an award will be decided upon |
No Win No Fee child abuse claims
No one wants to be faced with extra bills for seeking what they are entitled to, which is why it is possible for no win no fee child abuse claims to exist. The way this works is by the solicitor taking their fee as a certain percentage of any payout offered. This pre-determined amount will only be payable if the case is won so you would not be put under any extra financial pressure in the unlikely event that your claim does not result in a payout. Speak to our claims line if you have further questions about this system as we are happy to talk you through the way it works.
Why choose us as your claims service for your child abuse claim?
At Accident Claims, we are dedicated to offering solutions to clients just like you, who have been through something traumatic. We feel very strongly that those people who have been victims of child abuse should get compensation for this harrowing experience, and we have years of experience helping people who have been through abuse get the maximum compensation possible for their specific situation. Our clients praise our attention to detail, our expert and sympathetic staff and our willingness to provide solicitors that best suit your case. In short, we care about you, your case and getting you that all-important compensation.
Call for free advice and to start a claim
Getting in touch for more advice or if you're ready to begin a child abuse compensation claim is easy. 0800 073 8801 will connect you to our team who are ready and able to take the details of your case to ensure that we offer accurate advice/provide a solicitor who is experienced enough to handle your claim. If you are not able to call, then there is our form online to fill in, or you can email us at office@accidentclaims.co.uk instead if you wish. Whichever way you choose to contact us, we will help you with whatever you need.
Useful Links
How do the police investigate abuse?
This page explains how investigations are conducted on child abuse. It may prove useful for you to see how the process works.
Advice and support for children and those who are in charge of children who are suffering or have suffered abuse. This could help you if you're asking 'I was raped by my foster parents can I claim?'
Here you will find the governments page on child abuse reporting.
Childline is here to help if you've been sexually assaulted or abused.
England and Wales – Rape Crisis
Rape Crisis has Sexual violence and assault information for victims.
The government shows you how to go about making a report of sexual violence.
NHS Sexual Assault, domestic assault and abuse
Advice and support on how to help a victim or what you could do as a victim.
How Much Compensation Can I Claim For Rape?
This page can give a rough estimate of how much your claim may be worth. Calculate the amounts of compensation you could claim.
A Guide to Claiming Compensation for Historical Sexual Abuse
If you'd like to read more into claiming, see our guide on historical sexual abuse.
Sexual Abuse Compensation Calculator
Calculating compensation can be tricky, but this guide could help you. It could also answer the question of 'I was raped by my foster parents can I claim?'
Child Abuse Claims/Child Abuse Compensation Claims FAQs
Can you get compensation for being abused?
You could get compensation for being abused as a child or adult, depending on the situation. Read our guides to claiming for childhood abuse or call our confidential team of advisors.
What is considered child negligence?
Child negligence involves the failure of a carer, guardian or parent to provide proper safety, supervision or basic emotional, psychological or physical attention a child needs.
FAQ for I was raped by my foster parents – can I claim
I was raped by my foster parents – can I claim against them?
Usually, if you were raped by foster parents, your claim could be made via the CICA. In some rare cases, however, you might be able to make your claim against the foster parents if they're able to pay you compensation. You may also in some cases make a claim against who placed you with those foster parents. In some cases, you would be able to claim against a negligent local authority if they had not responded to your accusations and got you the help you needed, leaving you in your foster carer's home even after you reported them abusing you. Such claims could be complex. If you'd like us to talk to you about your case in detail, please don't hesitate to call us for advice and support. We'd be happy to help you.
I was raped by my foster parents – can I claim for each instance?
The compensation you could claim would be for your injuries (both psychological and physical) as the result of crimes committed against you. There are higher awards for sexual assaults and rapes that happen more than once in the CICA tariff. However, you could also claim compensation for the psychological injuries caused by you being raped. In addition to this, you could claim if a rape resulted in pregnancy, or if you contracted an STI as the result of being raped. If you're not sure what you could claim for, please call our team. We'd be happy to help you get the compensation you deserve.
Thank you for reading our guide to child abuse claims, also known as child abuse compensation claims. We hope we have answered questions such as 'I was raped by my foster parents can I claim?' in enough detail.