Workplace Accidents, Knowing Your Own Rights When You're Injured or You're Ill In Your Workplace
By Fern Easton. Last Updated 9th February 2021. Welcome to our guide on your legal rights after an injury in work in the UK. If you've been injured in the workplace, you will want to find out whether or not you are able to make a claim for compensation. Often, accidents that occur in the workplace are due to the working conditions and/or the working practices that are in place. All employers have a legal responsibility to provide a safe and healthy working environment for employees. If your employer has not managed to do this, you will be able to launch a personal injury claim to get the compensation that you deserve. So if you find yourself wondering, "what are my legal rights after an accident at work?" then this guide could help you.
At AccidentClaims.co.uk, we have helped many people to get the compensation that they deserve for all kinds of accident claims, including accidents in the workplace. We have the experience and the know-how to give you the best advice and ensure that you have the best solicitor working on your case based on what has happened to you. Naturally, one of the first things you need to do when starting a potential claim is discover what your rights are. However, this is only one step that needs to be taken if you are to launch a successful accident claim. You will also need to seek medical attention, in addition to gathering as much evidence as possible to build a strong case. With that in mind, read on to discover all the facts you need to know regarding your own rights as a worker if you have been injured, including accident at work employers responsibilities and average payout amounts. If by the time you finish reading this guide, you're still unsure as to your legal rights after a injury at work in the UK, please do not hesitate to get in touch with us. You can do this either by contacting us online or calling 0800 073 8801.
Select a section
UK Workplace Accident And Injury Statistics
There are a number of accidents that occur in the United Kingdom every day. A large portion of these accidents happen in workplaces. While some workplaces are naturally more dangerous than others, there is no denying that an incident can take place in any type of environment, be it an office or construction site. We are going to take a look at some of the accident at work examples and statistics in the UK regarding recent health & safety risks to workers and accidents that have happened. These statistics have been provided by the UK government Health & Safety Executive. As you can see from the graph below, there were 111 workers killed at work in the 2019 to 2020 period. The graph displays the age of these workers, as well as the industry they were working in.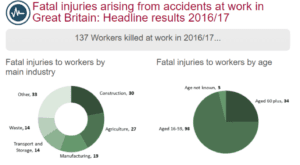 The government have also released statistics that show the main type of fatal accidents that happened to workers. The main type of fatal workplace accident that occurs in the UK is being struck by a moving vehicle. The second most frequent type of accident is falling from a height, you then have struck by moving object, followed by being trapped due to something that was overturning or collapsing, moving machinery contact, and contact with electricity.
The government has also revealed statistics regarding the number of non-fatal injuries that have occurred in the United Kingdom from 2019 to 2020. According to LFS, there were 693,000 non-fatal injuries to workers that were self-reported. According to RIDDOR, there were 65,427  non-fatal injuries to employees that were reported by their employer for this period. In the table below, you can see the number of injuries that have been sustained based on the time that was spent off work.

Although these figures are high, they do represent a decrease in the number of accidents that have occurred in the workplace when compared with statistics from the previous decade. Finally, in the table below, you can see the most common type of non-fatal injuries that were experienced. As you can see, slips, trips, and falls were the most common type of accident to occur throughout the previous year.

What Are My Rights Following An Accident At Work?
After you've been injured at work, you may be wondering, "what are my legal rights after an accident at work?". When determining your rights, you can use the Health and Safety Executive website for a great source of information, in addition to the NI direct government website if you are based in Northern Ireland.
Let's start with Northern Ireland. The Health and Safety at Work Order 1978 is the key piece of legislation that is in place in Northern Ireland to cover health and safety related to the workplace. It has set out what is expected of your employer in terms of protecting your safety and health while at work. There are also specific regulations to cover certain types of work, for example, gas safety, construction work, chemicals, and asbestos.
The main piece of legislation that is in place in the UK regarding safety and health at workplaces is the Health and Safety at Work Act 1974. However, similarly to Northern Ireland, there are also separate pieces of legislation in place for different industries, including hospitality, agriculture, waste, quarries, health and social care, and, of course, construction. These pieces of legislation are valuable in helping you determine your legal rights after a injury at work in the UK.
Your Rights Following A Workplace Accident
I had an accident at work, what are my legal rights? Now you have a good understanding of the legislation that is in place to protect workers when it comes to their health and safety, but what do these pieces of legislation actually mean in terms of your rights and your ability to claim? To understand this, you need to know what duty to care means and, therefore, what employers need to do to make the workplace safe. If your employer hasn't taken the necessary steps, and you've been injured as a consequence, then you will be able to make a claim.
In terms of duty to care, your employer needs to do the following:
Inhibit any risks to your health
Make the workplace safe
Ensure that the correct warning signs are provided and looked after
Provide protective clothing or equipment
Provide health supervision when needed
Avoid potentially dangerous work when possible
Take precautions against the risks caused by radiation, electrical equipment, explosive hazards, and flammable hazards
Control and prevent exposure to substances that can damage health
Make sure the correct working equipment has been provided and that it is used correctly and maintained frequently
Make sure that rest facilities, washing facilities, toilets, lighting, temperature, and ventilation meet health safety and welfare requirements
Set up emergency plans
Tell you about any potential hazards relating to the work you carry out
Provide adequate first aid facilities
Make sure all materials are used, stored and handled safely
Make sure safe working practices are set up and followed
Make sure that plant and machinery is safe to use
Aside from this, your employer needs to take steps to make sure that your work environment is a safe one. This includes the following:
Making certain that any employees who work off-site or on their own can do so safely and healthily
Allowing employees to take appropriate rest breaks and the correct holiday entitlement
Setting aside areas for rest breaks and to eat meals, including suitable facilities for nursing mothers and pregnant women
Provide somewhere for employees to get changed if required
Provide suitable wash facilities and clean drinking water
Fit gates, doors, and windows that open and have safety devices if needed
Store things so that they are not likely to fall and cause injury
Protect from risks of falling into hazardous substances or falling from a height
Make roadways, stairs, walkways, and floors safe to use
Keep equipment in good working order
Provide a workstation to suit the work being carried out and the employees
Ensure that area is big enough to allow easy movement
Keep the equipment and the workplace itself clean
Light premises so that employees can move about and work safely
Keep temperatures at a comfortable level
Make sure the workspace is properly ventilated
As you can see, employers need to cover all areas to make sure that the workplace is a healthy and safe one. All workplaces are different and have their unique requirements, which is why a risk assessment needs to be carried out. This will help the employer to determine the risks and hazards to the workplace that they need to mitigate. Once they have made their findings, they need to ensure that all workers are aware of the risks, and they need to put provisions in place to minimise these risks. If they have failed to do so and you have been injured in the workplace as a consequence, you will be able to make a claim for the compensation. If you're still wondering, "what are my legal rights after an accident at work?" then read on for more information.
Employees' Rights
You may be wondering what your legal rights are after a injury at work in the UK. If you have been the victim of a workplace accident, you are required to inform your employer of what has happened as soon as possible. This is of paramount importance because all employers are required to have an accident report book by law. In this accident report log, they need to record all accidents, injuries, and illnesses that have occurred within the workplace. Not only is this a legal requirement, but it can help you when making a claim because it serves as official documentation of what's happened. When you write down the details and give them to your employer to record in the book, make sure to make another copy for yourself. If you are too unwell or badly injured to carry out this task, ask someone that you know and love to do it for you, as it is a pivotal part of the process that cannot be skipped.
Can I claim Industrial Injury Benefits (IIDB)?
If you have suffered a disability or became ill because of a disease or accident that has occurred at work or on an approved employment training courses scheme, you may be entitled to Injuries Disablement Benefit. The amount of money that you will receive will depend on your level of disability. A medical adviser will assess your disability and rank it on a scale from 1 to 100%, and this will influence how much you will get. You can click here to be taken to the Accident at Work Gov UK website where you will see the various benefit amounts. In order to be eligible for this benefit, if you have been involved in an accident, the accident or event must have happened in England, Wales or Scotland. You must have either been on an approved employment training course or you must have been employed when the accident happened. There are also more than 70 diseases that are included with the IIDB. Examples include osteoarthritis of the knee in coal miners, chronic bronchitis, and asthma.
Agency Worker Rights
If you're an industry worker, you may think "what are my legal rights after an accident at work?". There is nothing to worry about, as you have the same legal rights after a injury at work in the UK as contracted and full-time employees do. All workers are protected by the same health and safety laws irrespective of the type of contract they are operating under.
Do You Get Paid If I Have Been Injured At Work?
After an accident at work, do I get paid? Often, when someone has been injured in the workplace, they need to take time off work to recover from their injuries. Depending on the nature of your work and the contract you have with your boss, you may be entitled to sick pay or you may not. So, how does sick pay work? Firstly, you may be entitled to Statutory Sick Pay. At present, this is set to £92.05 in the UK and is paid by your employer for up to 28 weeks. You need to find out if you are eligible for Statutory Sick Pay and you can find out more about this at the government website. Your employer then may decide to top up this with additional sickness payments or benefits. People often call us to ask: "Am I entitled to full pay if I am injured at work?" You really do need to refer to your work contract for this.
In addition to this, another way to ensure that you get paid while you are at work is to make a claim for loss of income when you launch your personal injury case. There is a calculator on this Citizens Advice Bureau website which can help you determine what sick pay you may be entitled to.
Will I Be Dismissed For Claiming?
A lot of people are worried about making an accident claim against their employer because they fear that they will lose their job as a consequence. As the law states, your employer cannot dismiss you if you make a claim for an accident that happened in the workplace. If you have been employed for more than two years at this place of work, and your employer fires you after you have made a case for compensation, you will then have grounds for unfair dismissal, which means your employer would land themselves in further trouble. You may be worried about making a claim because you fear that the financial implications could ruin the business you work for. Again, this is something you do not need to worry about because all businesses are required to have insurance in place by law that covers such an incident.
What Happens If I Am Fired After My Injury?
If you have been dismissed following your absence from work due to an accident, injury or illness that occurs in the workplace, the best thing to do is contact us so that we can help you investigate the issue and launch a claim for the compensation that you deserve. We have helped a number of people to secure a payout when they have been dismissed after an accident at work.
Different Damages You Can Claim For
General damages (Pain and suffering)
Psychological injuries
Loss of income
Travel costs
Medical costs
Care costs
…. Any other out of pocket expenses!
How Much Compensation Am I Going To Get For My Accident Claim?
You will probably want to know how much compensation you will get if you launch a claim. It is important to stress here that all cases are handled individually because there are many different factors that determine the payout a claimant receives. This includes everything from the severity of injury to the amount of time spent off work. Therefore, it is not possible to give you an accurate figure regarding how much you will receive. However, we can give you a better understanding of the average payout amounts for certain injuries that often happen in the workplace. Please refer to the table below for this.

| Injury | Severity | Payout |
| --- | --- | --- |
| Post-Traumatic Stress Disorder | Severe | £56,180 to £94,470 |
| Post-Traumatic Stress Disorder | Moderatley Severe | £21,730 to £56,180 |
| Post-Traumatic Stress Disorder | Less Severe | £3,710 to £7,680 |
| Brain Damage | Very Severe | £264,650 to £379,100 |
| Brain Damage | Moderately Severe | £205,580 to £264,650 |
| Brain Damage | Moderate | £140,870 to £205,580 |
| Chest Injuries | Severe | £94,470 to £140,870 |
| Chest Injuries | Damage to chest and lung(s) causing some continuing disability. | £29,380 to £51,460 |
| Chest Injuries | Minor | Up to £3,710 |
| Neck Injuries | Severe | In the region of £139,210 |
| Neck Injuries | Moderate | £23,460 to £36,120 |
| Wrist Injuries | Severe | £44,690 to £56,180 |
| Wrist Injuries | Very minor | £3,310 to £4,450 |
If you cannot find the injury you have sustained in the table above, you are more than welcome to give us a call, and we will happily advise further.
The Steps To Take After Your Workplace Accident
Now let's take a look at what to do after an accident at work. If you suffer an injury or illness in the workplace, it is important to gather as much evidence as possible. As already mentioned, you need to report the accident to your employer as soon as possible. Aside from this, you need to see a medical professional. Not only is this vital for your health, but the medical report will be used to determine how much compensation you receive. You should also take photographs of the scene and your injuries, if visible, in addition to gathering witness contact information.
Claiming Using The No Win No Fee Approach
You will be pleased to learn that all of our cases are 100% No Win No Fee. You will only pay for legal fees should your case be successful and compensation is awarded. If this happens, a percentage of your compensation will be given to your lawyer as the legal fee. This will be a percentage that you have both agreed on beforehand. This means that there is no financial risk associated with making a claim when you choose our service.
The Best Legal Firm For The Job
There are many reasons why you should choose us as your accident claim service. This includes a level of experience, our fully No Win No Fee claims service, our reputation, our track record, and the fact that we always put our customers first. We always aim to secure the highest amount of compensation, yet we do this in the most efficient manner so that you can focus on your recovery.
Start Your Claim
We hope that this article has answered the question, "what are my legal rights after an accident at work?". If you are ready to launch a claim, or you would like further information about your legal rights after a injury at work in the UK, the accident at work procedure, or some examples of accident at work stories, please do not hesitate to get in touch with us. We are open seven days a week, 24 hours a day. The number you need is 0800 073 8801.
What are my legal rights after an accident at work? FAQs
How long can you sue after an accident at work?
When you're making a claim for personal injury or illness that you've sustained in work, you have 3 years from the date of your injury to make a claim. This changes slightly with regards to workplace illnesses, or injuries that don't make themselves known straight away. When you become ill as a result of your work, or you suffer from an injury that isn't immediately obvious, then your 3 years to claim begins from the date of knowledge. This means that you have 3 years from when you found out the injury or illness was due to your work, and not from a single incident or accident.
How long do I have to see a doctor after a work injury? 
There's no rule regarding going to see your doctor after an accident in work with regards to claiming. But if you've been injured at work, then you should try and see your doctor straight away. This will make sure that you have the medical attention that you need for your injuries. It'll also help strengthen your claim down the line, as you'll have your injuries on record.
If you need medical attention right away, you can look up your nearest walk-in centre on the NHS website.
Useful links
Making a claim for a concussion injury 
A guide to agricultural accident claims 
Stress at work- can I claim compensation? 
Thank you for reading our guide addressing the question "what are my legal rights after an accident at work?" and explaining your legal rights after a injury at work in the UK.