By Joanne Jeffries. Last Updated 7th February 2022. Welcome to this case study covering personal injury claims payouts for PTSD. In it, we discuss a post traumatic stress disorder compensation case, and look at PTSD compensation payouts in broader terms. We look at what a PTSD settlement offer could include, and answer questions about how much a PTSD car accident settlement amount could be, as well as discussing calculating a PTSD claim value in more detail.
PTSD compensation payouts case study
This case in which a 15 year old boy suffered physical and sexual abuse trauma at the hands of his scout leader shows how the victim employed a personal injury solicitor some 30 years later to secure a payout for post traumatic stress disorder that he'd lived with during his adult life as he struggled mentally and physically to come to terms with the abuse.
The injuries, that led to the payout for
post traumatic stress disorder
, to the boy were psychological (anxiety and stress) as well as physical scarring which was still visible 30 years later. Very often, people who've suffered abuse similar to this case will suffer long term or even whole life mental anxiety and in this case that is why the payout for PTSD compensation was so high.
This case was an obvious horrific case of an individual abusing his position of trust and the consequences have stayed with the victim, now a 45 year old man, for his whole life since it happened. Due to the significant affect on him the payout for post traumatic stress disorder in this case was £325,000.
We Could Help You Get The PTSD Compensation Payouts You Deserve
This PTSD compensation claim from our research demonstrates the type of case we can help with. We understand the complex nature of a case seeking a payout for post traumatic stress disorder and work sympathetically and professionally with our clients to ensure the correct amount of compensation for your case.
This case study shows how a good personal injury solicitor is essential when claiming for sexual abuse compensation and covers PTSD sexual abuse symptoms, how to secure a payout for post traumatic stress disorder and how the legal team in this case presented the evidence to secure the compensation.
What Is Post Traumatic Stress Disorder And What Can Cause It.
Post Traumatic Stress Disorder (or PTSD) is the anxiety that somebody will suffer following a frightening incident in their life. A common case of PTSD, often in the news, is the case of soldiers coming back from war. At the time of the incident (war in the case of the soldier) the anxiety isn't present but when they return to normal life the anxiety can kick in with memories of the frightening incident can cause insomnia, panic attacks and can cause irrational behaviour. Obtaining a payout for post traumatic stress disorder will consider the amount of anxiety the PTSD causes and if the traumatic experience that causes the anxiety is somebody else's fault.
Childhood sexual abuse and PTSD unfortunately often go hand in hand as the memories of what happened come back to the victim and remind them of what happened to them as a child. It is a very upsetting condition and can last for many years and this is one of the reasons that a payout for post traumatic stress disorder related to child abuse can be so high.
Other causes of PTSD, according to the NHS, include: Serious car accidents, other types of assault like a robbery, war or problematic births.
PTSD Compensation Payouts – How Long Do I Have To Claim Post Traumatic Stress Disorder Compensation
A common symptom of childhood sexual assault and PTSD is that the PTSD may not start until many years after the assault happened. In the case of some people who've received a payout for post traumatic stress disorder they have lived with the anxiety for their whole adult life but it is just as common for victims to live a near-normal life for many years before the PTSD becomes apparent.
Even claimants involved in cases that lead to a payout for PTSD in later life can be treated. There are a variety of treatment options for childhood sexual assault and PTSD that the NHS recommends which includes: Psychological treatment including psychotherapy and Cognitive Behavioural Therapy (CBT), medication including anti-depressants and a therapy known as watchful waiting.
What Evidence Was Presented To Support The Alleged Assault?
When a case for post traumatic stress disorder from such a long time ago occurs you may think evidence will be difficult to obtain and use. That is why a professional personal injury solicitor is invaluable and can help obtain a high payout for post traumatic stress disorder.
In this case, the solicitor used more professionals to gather evidence to support the claim: a psychiatrist was used to assess the victim and to prove credibility to his claim that he'd suffered psychologically; and a plastic surgeon was used to assess the victim's scarring which, although it was improving, was still visible and the evidence proved that it'll never completely disappear.
The report from the psychiatrist was particularly critical for the high payout as it highlighted symptoms including PTSD, alcohol dependency, personality disorder, self-harm and suicidal tendencies.
This evidence, provided by professionals, was invaluable in securing the settlement. Without it the case could easily have been dismissed. A personal injury solicitor who seeks compensation for PTSD claims should always seek as much evidence to gain the best payout that is possible for the client.
How Was The Case Conducted?
When the victim initially reported the childhood sexual abuse to the police, the defendant in the case was arrested and charged. He admitted that some of the incidents had happened but wouldn't admit that he had harmed the boy either physically or psychologically.
The fact that the defendant didn't initially admit liability made securing a payout quite difficult from the outset. In these cases, it is the job of the personal injury solicitor to gather information to support the claims of their client. Initially the information can be provided to the defendants legal team or ultimately, if the compensation settlement can't be reached amicably, it can be used in court to backup the victims claims.
The solicitor went about gathering evidence from the victim, the psychiatrist and also the plastic surgeon which would be used to attempt to get a successful outcome.
The defendant's solicitor, in trying to reduce the payout for post traumatic stress disorder, tried to make claims that the victim had other childhood issues that led to his PTSD and other symptoms. They obtained their own psychiatrist report to substantiate this claim.
In the end, the case was concluded out of court and the payout for post traumatic stress disorder was made which is quite often the case, in our experience.
What Payout For Post Traumatic Stress Disorder Was Awarded To The Claimant?
The amount awarded to conclude the case out of court was £325,000 compensation for PTSD. The compensation included a payout for the post traumatic stress disorder, injuries, medical and care costs, loss of earnings and future loss of earnings.
The case included lengthy negotiations before the defendant admitted liability and the settlement amount was agreed.
No Win No Fee PTSD Compensation Claims
When looking for a payout for post traumatic stress disorder or sexual abuse compensation you may be worried about the cost of lodging a claim, especially if the negotiations become lengthy as in this case.
Accident Claims UK know that it can be worrying and difficult to find the funds up front to seek damages against an abuser and that's why we offer a no win no fee service for all personal injury cases we take on. This means that you don't pay anything unless we secure compensation for you, there are no up front fees and no hourly rates to worry about during your case.
We offer a free consultation for all cases and we'll let you know what we think the chances of success will be and if we think you'll receive a payout for post traumatic stress disorder after hearing your claims.
Speak To Our Team Today About Personal Injury Claims Payouts For PTSD
Our team of specialists are ready today to talk with you and discuss how we can obtain a payout for post traumatic stress disorder for you. We offer a no win no fee service for all cases that we take on which makes your claim completely risk free.
To contact us you can:
Could I receive personal injury claims payouts for PTSD after a car accident?
There are, of course, other compensation claims for PTSD that do not involve abuse and that could lead to PTSD compensation payouts. One such incident could be a road traffic accident in which someone was injured. Many people suffer trauma as the result of a car accident, as they may believe they were about to lose their lives. Sometimes, personal injury compensation payouts could result in a compensation settlement for mental trauma. However, sometimes this is not enough, and people go onto develop PTSD as a result of a car accident they were in that was not their fault. If you have suffered PTSD after a car accident, we could help you. You can be sure that you would not be alone in claiming for car accident injury compensation. In fact, many people are injured on UK roads every year. According to the Department for Transport statistics for 2020, although there were four months of national lockdown restrictions, which restricted the number of vehicles on the roads during this time, there were still over 115,000 people who suffered an injury on UK roads during this year. You can see the road user types injured below.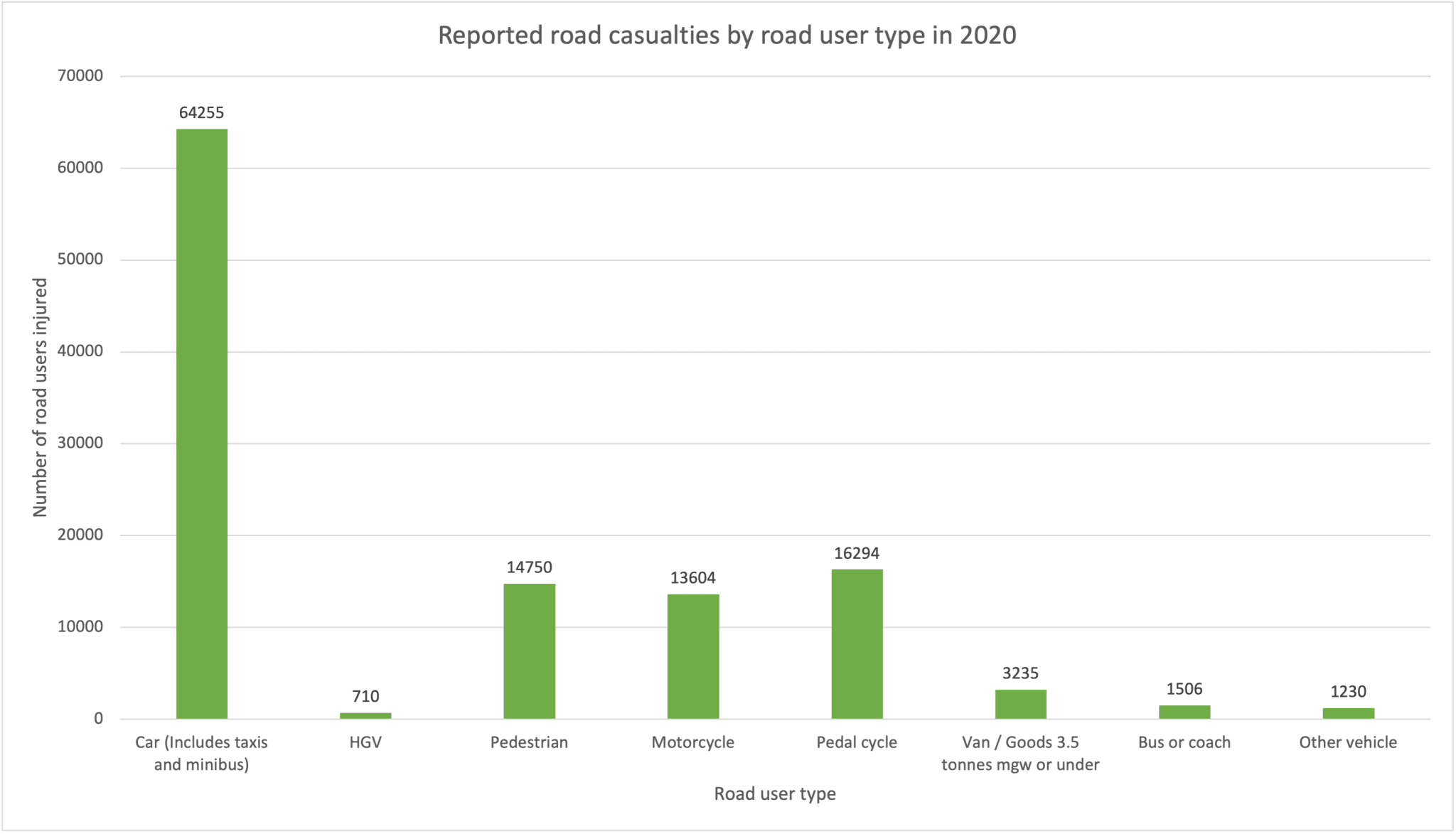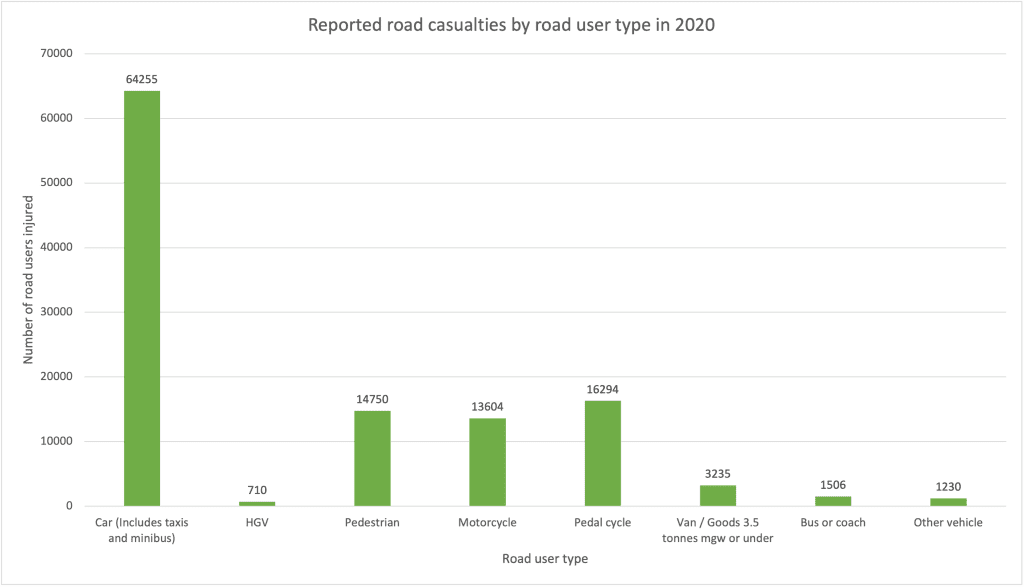 Could I receive personal injury claims payouts for PTSD after an assault?
Unfortunately, some people have lasting mental injuries after an assault that they were a victim of. In some cases, people who have witnessed such a violent incident could go on to develop PTSD. If you have suffered PTSD as a victim or witness of a serious crime, you could receive compensation from the Criminal Injuries Compensation Authority. We could help you with such claims, however, you may wish to be aware of the fact that there is a shorter time limit in which to claim for such incidents and achieve PTSD compensation payouts. While the usual personal injury claims time limit for PTSD after an accident at work or road traffic accident is three years, generally, when it comes to CICA claims, the time limit is only two years in many cases.
Cuold I receive personal injury claims payouts for PTSD after an accident at work?
Your employer has a legal duty to look after your health and safety while you are at work. This could involve risk assessing the workplace and the tasks you do, and putting in place protocols and measures to help you stay safe. If, for example your employer does not show you how to use machinery safely, or does not make the workplace safe for you to use, this could result in an injury. While some physical injuries could be possible for such accidents, so suffer psychological injuries, particularly if your injuries are severe. We could help you claim for PTSD compensation payouts as well as settlements for physical injuries caused by an accident at work that was not your fault. Our specialist solicitors, who are all authorised and regulated by the Solicitors Regulation Authority, would be delighted to fight for the maximum compensation settlement possible for your case.
How can I maximise personal injury claims payouts for PTSD?
To maximise your chances of a successful claim, and to get the PTSD compensation payouts for your injuries and suffering, you would need to put forward a strong case. This would involve collecting medical evidence, evidence that the accident caused injuries, and evidence relating to costs and losses you sustained as a result. A personal injury solicitor could help you claim the maximum in personal injury compensation payouts for your claim.
Could I claim PTSD compensation payouts for medical negligence?
If you're seeking post traumatic stress disorder compensation that relates to clinical negligence, we could help you. We could fight for PTSD compensation if you have been psychologically harmed by surgical negligence, for example. If an operation has gone badly wrong because of clinical negligence by the medical professional that was treating you, you could suffer severe psychological damage. This could include PTSD. If you are able to prove that the PTSD that you suffered was caused by the negligence that you experienced, you could include this within your clinical negligence claim. The same could be true of any case of clinical negligence that has affected your mental health and caused you to suffer post traumatic stress disorder. If you would like to talk to us about making a claim for clinical negligence, whether this is against the NHS or a private medical professional, we would be happy to speak to you.
Could I receive PTSD compensation payouts if someone I love is unable to claim for themselves?
If a family member, for example, was so severely affected by PTSD that they could not sustaining the mental capacity required to make a claim, you could claim on their behalf as a litigation friend. Please note, however, that PTSD compensation payouts would not be for you, they would be for the person suffering with PTSD. If you would like to claim post traumatic stress disorder compensation for a family member, we could talk to you about the process, explaining how it works and how we can help you.
Do PTSD compensation payouts increase if I don't accept the first PTSD settlement offer?
If you receive a PTSD settlement offer that you feel is too low, you may be able to negotiate your PTSD compensation payouts. However, it may be beneficial to seek legal advice from an experienced solicitor before doing so.
A solicitor could help you make sure your case was as strong as possible. They could also advise you on whether the settlement offer you receive is appropriate for your case. The decision over whether to accept a PTSD settlement offer is your decision, but it could be wise to get professional advice.
Are PTSD compensation payouts more for cases involving children?
PTSD compensation payouts are calculated on the facts and circumstances of each case. If PTSD is thought to affect a person for a longer portion of their life, they may receive more compensation than someone who will only likely suffer symptoms for a shorter period. However, the severity of the PTSD is also considered and will influence the payout awarded. To find out how much your child could receive in compensation, call our team. They can provide an accurate estimate of what your claim is worth.
Could you give me a PTSD claim value over the phone?
We could give you advice on PTSD compensation payouts over the phone. However, we would only be able to give an estimate of a PTSD claim value. All cases would be assessed in accordance with their unique circumstances and facts.
Useful Links Relating To Personal Injury Claims Payouts For PTSD
If you need any more information before seeking a payout for post traumatic stress disorder then you may find these articles useful:
NHS PTSD Information: An NHS guide to PTSD.
Mind.org – UK Charity specialising in mental health issues, guide to PTSD.
PTSD Compensation Claims – Our guide to claiming compensation for PTSD.
We hope this case study covering personal injury claims payouts for PTSD has been useful. If you've been through a traumatic event that wasn't your fault and suffered symptoms of PTSD or another psychological disorder, we could help those suffering from post traumatic stress disorder, such as those in the armed forces, through the claims process, whether they've had a full recovery or not. We could fight for the maximum PTSD compensation payouts for your claim.