By Jo Jeffries. Last updated 23rd May 2022. Welcome to our guide to robbery victim compensation claims. Here, we discuss burglary compensation claims in detail and explain the victim compensation scheme that you could claim from as well as the victims compensation calculator. We also explain who pays compensation to victims of crime, and how to get started with a claim for victim of crime compensation in the UK. We explain how to find guidance on victim of crime compensation payouts for 2022
Who Pays Compensation To Victims Of Crime
If you've been the victim of a robbery, you might be surprised to learn that there is a government victim compensation scheme that could compensate you for any injuries you sustained. Whether the robbery took place at home, at work, or on the street, you could be entitled to claim through the government's Criminal Injuries Compensation Authority (CICA). In this guide, we'll look at when robbery victim compensation or burglary compensation could be claimed, what injuries are covered, and what amount of compensation might be paid. Also, we'll explain what else you could be compensated for as part of your claim.
Get Help Claiming Victim Compensation In The UK
Accident Claims UK believes that you should be able to seek compensation without worrying about the costs involved. That's why we provide free legal advice and a no-obligation assessment of any claim. Furthermore, if you're case is viable, one of our robbery victim lawyers could help you claim on a
No Win, No Fee
basis.
If you are ready to begin a claim for burglary compensation right away, please call our team on 0800 073 8801 today. To find out more about compensation for robbery victims before calling, please continue reading.
Select A Section
A Guide To Making Robbery Victim Compensation Claims
If you're unfortunate enough to be the victim of a robbery, then you might be able to apply for compensation for any injuries sustained. It's unlikely that you'll be able to make a personal injury claim against the criminal but there is a government scheme that could be used. In this guide, we'll look at when you can claim through the Criminal Injuries Compensation Scheme, what compensation they might pay and how the claims process differs from the personal injury claims process.
What Injuries Could A Victims Compensation Calculator Consider
Any robbery could leave you with physical or psychological injuries. You may also end up out of pocket because you need to take time off work to recover. It's these things that the CICA could compensate you for. We advise that you have the support of a specialist solicitor when making a CICA claim for burglary compensation. That's because there are many different elements to a claim and if you don't realise you can claim for them, you could receive less compensation than your injuries warrant.
As we progress through this guide, we'll try to answer some commonly asked questions including:
Who can claim victim compensation?
What should you do if you are physically assaulted?
How do you apply for victims of crime compensation?
If you have any other questions, please call and speak with an advisor when you've finished reading our guide.
Something else you should consider when making a claim is that, in normal circumstances, there is a 2-year time limit for the CICA scheme. This is less than the personal injury claims time limit of 3-years. Therefore, we'd advise you to seek legal advice as soon as possible. Our advisors provide free legal advice about claiming and can assess your claim on a no-obligation basis.

What Are Robbery Victims?
A robbery victim is a victim who's had property taken from them by force. Robberies can happen just about anywhere including:
At work.
In the street.
At home.
In a shop.
While using a cashpoint (ATM).
On public transport.
No matter where the crime takes place, the effects of robbery on victims can last a very long time. The victim could suffer both physically and mentally.

Burglary, Theft And Robbery – What Are The Differences?
It's important to define the differences between a couple of different legal terms. Here are some definitions:
Theft. Dishonestly taking somebody else's property with the intention of permanently depriving them of it.
Burglary. Entering a building as a trespasser with the intent of committing or actually committing theft. Burglary compensation may be possible if force is used during an escape an you suffer an injury.
Robbery. The act of stealing from somebody with the use of force or by threatening to use force.
Robberies that could be eligible for compensation include those where a physical assault took place, a weapon was brandished but not used or where the weapon was used to injure the claimant. Similarly, burglary compensation might be payable if you disturbed a criminal in the act and they injured you while trying to escape.

Robbery Crime And Victim Statistics
Let's now take a look at some data relating to robberies from the Office of National Statistics (ONS). They come from the Crime Survey of England and Wales and are based on the year ending 2020.
First, we'll look at where robberies took place:
In the street – 29%.
In or around the home – 15%.
At work – 12%.
On transport – 6%.
In a club or pub – 3%.
To show what type of injuries can be sustained in a robbery, here are some of the most common reported according to the ONS:
Black eye / minor bruising – 14%.
Scratches – 11%.
Cuts – 4%.
Severe bruising – 2%.
Broken bones – 1%.
Other injuries reported over the years in the survey include concussion, a broken nose, internal injuries and loss of teeth.
Finally, the ONS data shows that in the year ending 2020, there a weapon was used in 29% of robberies. Of those, 23% were knives and 2% were firearms.
Are There Different Types Of Robbery?
As discussed earlier, robbery is where force, or the threat of force, is used to steal something from the victim.
Here are some different examples of robbery:
Armed Robbery. Where a weapon is used during the robbery. The types of weapons could include guns, baseball bats or knives.
Aggravated Robbery. Similarly, aggravated robbery is where the criminal is carrying a deadly weapon (or something that is perceived as a deadly weapon).
Robbery. In this case, the criminal will use force to steal, but they won't use a weapon. This is likely to cause the victim some form of injury.
Mugging. This is the name often given to a robbery that takes place in the street. It could be where force is used to steal a mobile phone or handbag from the victim.
These are just some examples of different types of robbery. If you don't see an example that matches your case, we could still help you. Please call an advisor today for free claims advice.

Could I Claim Burglary Compensation For Money Which Has Been Stolen From Me?
A CICA claim pays compensation for injuries caused by violent crimes. The compensation does not cover anything, including money, that was stolen from you. However, you may have other options available to you. If the criminal is tried and convicted, the court may force them to pay a fine from which you could be reimbursed.
Also, before CICA claims are made, you may be required to see if there are other means of claiming compensation. This means that if the criminal has the means to compensate you themselves, then you might be able to receive payment directly from them.

Could I Claim Burglary Compensation As The Victim Of An Armed Robbery?
Armed robberies can result in serious mental illness even in cases where no physical force was used. For instance, the victim might suffer flashbacks, anxiousness or have difficulty sleeping for long periods after the crime took place.
Therefore, under the CICA scheme, you could seek compensation for any psychological injuries. You would need to provide medical evidence to show the extent of your suffering and that it was caused by the armed robbery.

Can I Claim Burglary Compensation If Robbed At An ATM?
In this scenario, if you were physically or psychologically injured, you could be entitled to claim. However, as discussed earlier, the CICA scheme wouldn't cover any money that was lost during the robbery. To find out whether we could help you claim for this type of crime, please call an advisor today.

What Could Be The Effects Of Robbery On Victims?
There are a number of common physical injuries that could be sustained during a robbery. These include:
Bruising and soft tissue damage.
Concussion or headaches.
Scratches, cuts or lacerations.
As well as physical symptoms, there are a number of psychological illnesses that could be caused following a robbery. These might persist a lot longer than physical injuries in some cases.
One such condition is post-traumatic stress disorder (PTSD). This can lead to the victim reliving the crime repeatedly in flashbacks or nightmares. As a result, daily life can become difficult because the victim has difficulty concentrating for long periods.
According to the NHS, it's quite normal to experience confusing and upsetting thoughts after a traumatic event but they recommend seeking advice from your GP if you're still suffering after 4-weeks. If you'd like free advice on claiming burglary compensation or robbery compensation, please call our specialists today.

Robbery Victims Burglary Compensation Claims Calculator
Now we've looked at why you might be eligible to claim robbery victim or burglary compensation, we're going to look at what compensation might be paid. Instead of using a victims compensation calculator, we've provided the table below. It contains figures from the criminal injuries compensation tariff 2019 that are used only when claiming through the government's Criminal Injuries Compensation Authority (CICA).
| Type of Injury | Compensation | Further Information |
| --- | --- | --- |
| Mental Injury | £13,500 | Where a clinical psychologist or psychiatrist confirms the diagnosis of a mental injury that lasts over 5 years. |
| Facial Scarring | £11,000 | Serious disfigurement of the face caused by scarring. |
| Eye Injury | £13,500 | Injuries that cause the dislocation of the lens in both eyes. |
| Dislocated Jaw | £6,200 | A fractured jaw which requires an operation but causes continuing significant disability. |
| Fingers | £11,000 | Loss of two or more fingers causes continuing disability. |
| Lung | £11,000 | Collapsed - both lungs |
| Collar Bone | £4,600 | fracture - continuing significant disability |
| Ankle | £11,000 | Fractured or dislocated ankle injuries which cause continuing significant disabilities. |
| Torso | £11,000 | burns |
Victim Compensation In The UK – What Needs To Be Assessed?
Compensation amounts are based on the severity of the injury sustained. Therefore, it's important that your solicitor can prove the extent of your suffering. As part of the claims process, our solicitors will arrange for a local assessment by a medical specialist. They'll review your records, examine you and ask a number of questions. Then, a report will be provided to your solicitor that shows what injuries were sustained, the impact they caused and whether you'll suffer in the future.
What does the victims compensation scheme calculator say about multiple injuries?
In cases of multiple injuries, the CICA only pays 100 % compensation for the most serious injury. Each injury is awarded a tariff amount. The first injury will receive 100% of the tariff amount, the second will receive 30% and the third most serious will receive 15 per cent.

Burglary Compensation Explained -Special Damages Which Victims Of A Robbery Could Claim
In the previous section, we looked at general damages that could be claimed in robbery or burglary compensation claims. That's the compensation that is designed to compensate you for pain, suffering and loss of amenity caused by your injuries. In this section, we'll look at special damages. These are designed to cover any financial expense you've incurred as a result of your suffering.
Victims Compensation Scheme Calculator – Special Damages
These are used when claiming through the government's Criminal Injuries Compensation Authority (CICA) they could defer when claiming against the defendant. A victims compensation calculator could include:
Lost Income.
If your injury meant you were unable to work for a period longer than 28 full weeks, then the CICA scheme could compensate you for loss of earnings. To be eligible, you'll need to show that you were employed at the time of the injury, provide a work history for the previous 3-years (or provide a good reason why you couldn't work in those 3-years).
Damaged Property.
CICA also allow you to claim for any personal physical aid that was damaged during the crime. This could include spectacles, a walking stick or a wheelchair.
Home Adaptations.
It's possible that if your injuries mean your home needs to be adapted, you could claim the costs back as part of your claim.
Care Costs.
Some forms of care can be claimed for as well if they are required as a direct result of your injuries.
Physical Aids.
Should you require any form of physical aid following your injury, such as a walking frame, the costs might be covered by CICA.
Funeral Costs.
If the crime results in a fatality, then it might be possible for the scheme to cover the cost of a funeral. 
Importantly, the CICA has a limited budget and will only pay for expenses that are necessary, reasonable and incurred as a direct result of your criminal injury. They'll look to see if support can be provided from other sources like the NHS or the benefits system before agreeing to make a payment, so it's best not to rely on a victim's compensation calculator for accurate payouts.

How Does The Victim Compensation Scheme Work?
The Criminal Injuries Compensation Authority is a government department that enables blameless victims of violent crimes to claim compensation for physical and psychological injuries.
They have their own criteria for claiming which differs to other types of claims. These include:
The crime must have been reported to the police.
There is a 2-year time limit for claiming in normal circumstances.
You may be refused compensation if you have any unspent criminal convictions.
You need to have suffered a physical or psychological injury. You'll also need to provide medical evidence of any injuries you claim for.
Importantly, you could make a claim where the criminal wasn't caught or prosecuted so long as you meet the eligibility criteria.
Victim Compensation In The UK – Special Exceptions
The 2-year time limit might be waived or extended in some exceptional circumstances. This could include when claiming for historical abuse or where you were unable to begin a claim because your injuries left you incapacitated.
As mentioned in the previous section, there are a number of different things you could claim for. That's why having a specialist solicitor who understands the CICA process could help ensure you receive the correct level of compensation.

What Should You Do If You Were The Victim Of An Armed Robbery?
If you are involved in an armed robbery, you might be able to claim compensation even if the weapon wasn't used. That's because you can claim for psychological injuries as well as any physical symptoms.
To be able to claim, you'll need to prove the extent of any psychological injuries and that they were caused by the armed robbery. This can be tricky to prove and it's why we recommend having a specialist solicitor on your side. Our solicitors understand what evidence is required to prove different types of injuries. As well as the independent medical assessment we discussed earlier, psychologists or psychiatrists might be used to determine the level of your suffering.

Robbery Victim Compensation Claims What Should You Do If You Were Physically Assaulted?
If you suffer a physical injury during a robbery, there are some things you could do which could help you to recover and might be helpful if you decide to make a claim. These include:
Seek medical treatment for your injuries. This will help you recover, and any medical records could be used to prove what injuries you sustained.
Report the incident to the police and ask for a crime number.
Photograph any visible injuries.
Collect details of any witnesses (these will also need to be provided to the police).
No Win No Fee Robbery Victim Compensation Claims
When considering whether to make a compensation claim or not, one factor that might put you off is the cost of hiring a solicitor. Don't worry though, our specialist solicitors work on a No Win, No Fee basis in the same way a personal injury lawyer does. This means that you can have the confidence to pursue the compensation you might be entitled to because the financial risks are reduced. This in turn can make the whole process a lot less stressful.
The first part of the robbery victim compensation claims process is where the solicitor assesses the merits of your claim. If they're happy that you could receive compensation, they'll prepare a No Win, No Fee agreement (also known as a Conditional Fee Agreement or CFA).
Important information you'll find within the CFA includes statements to confirm:
There are no upfront fees to pay before the claim can begin.
You won't need to pay any of your solicitor's fees if the claim is unsuccessful.
When the solicitor wins the case for you, they will ask for a small contribution to their costs. This is known as a success fee. It's a percentage of your compensation and you'll find it listed within the CFA. Don't worry though, legally success fees are capped.
If you'd like more information on making a No Win, No Fee claim, please speak with an advisor today.

Start Your Burglary Compensation Claim
We hope that this guide about the victim compensation scheme has helped you decide whether you'll begin a claim or not. If you are planning to do so, we hope you'd like Accident Claims UK to help you. If that's the case, here are our contact details:
What Happens When You Call Us About Robbery Victim Compensation Claims
When you contact us to discuss burglary compensation, an advisor will listen to what happened and how you suffered. They'll then review any evidence you're able to supply. If they believe your claim might be successful, they could refer you to one of our specialist solicitors. If they take your claim on, it'll be on a No Win, No Fee basis.
You can begin your claim whenever it's most convenient as our robbery victim compensation claims line is open 24-7. There's no obligation to proceed and we won't put any pressure on you. So please get in touch today to find out if you could claim robbery victim compensation.

Essential References Relating To Burglary Compensation And The Victim Compensation Scheme
Thanks for reading this guide about claiming robbery victim compensation or burglary compensation. In this final section we've provided some links to more of our guides and some other useful links as well. If you require any further information, please don't hesitate to contact a member of our team who'll be happy to help.
Assault Compensation Claims – This guide looks at compensation claims for injuries sustained during an assault.
Broken Bone Compensation – Information on personal injury claims that can be made when an accident results in a broken bone.
CICA Compensation Claims – This guide looks at other types of crime that could lead to a claim through the CICA victim compensation fund.
Report A Crime – An online guide from Police UK about how to report different types of crime.
The Victims Code – A UK Government press release about new rights for victims of crime.
Victim Support – This free and confidential charity support people affected by crime and traumatic events.
FAQ About The Victim Compensation Scheme And Burglary Compensation
How many robbery victim compensation claims were made against the victim compensation scheme in 2021?
According to the annual report and accounts from 2020- 2021, the Criminal Injuries Compensation Authority provided over £153 million in compensation. This was despite the pressures that COVID-19 put on the capacity of the CICA, and the resulting disruption of the evidence flow. During 2020- 2021 the number of applications received by the CICA was 28,771. This compared to 2019- 20 which brought in 32,895 claims. In terms of the number of applications resolved during 2020- 2021, the number was 27,669.
You can see that a total of 10,000, 478 claims resulted in no compensation being awarded. The reasons for this are provided below. We do not have figures as to how many of these related to burglaries.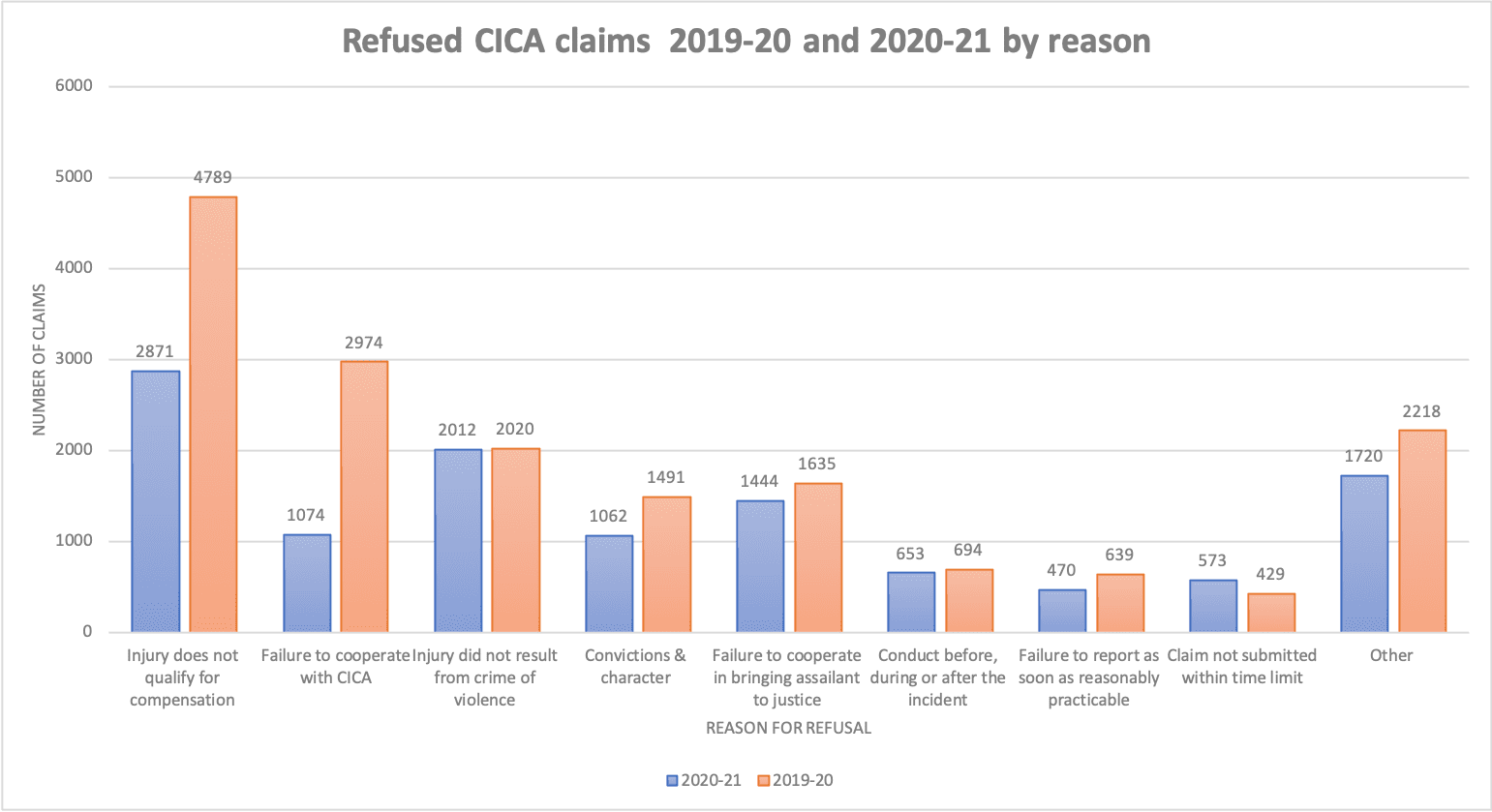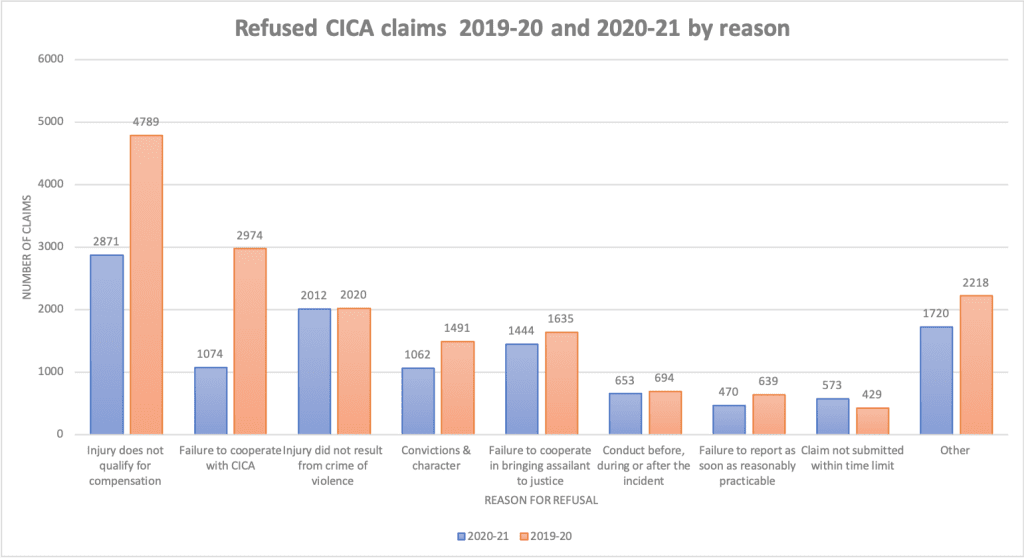 Could I make robbery victim compensation claims on behalf of a child?
If you are a parent of a child that has suffered harm due to a burglary, and wishes to claim burglary compensation, we could help. We could talk you through applying to being a litigation friend on behalf of your child. This would mean you'd be able to make decisions for them about their case. While you could claim compensation on behalf of your child, you should know that the money received in compensation would not go directly to you. Instead, it would usually be held in a trust, which the child could access once they become of age. However, if your child had complex medical needs that required some of this payout to be released, for example, an application could be made to the court.
Victim compensation in the UK – How long does the CICA take to decide?
The CICA has targets as to how long they should take to decide on claims for victim compensation in the UK. Below, we have collected some information from their Annual Report to show you how long they have been taking with claims. As you can see in 2020-21, 70% of cases received a first decision within 12 months.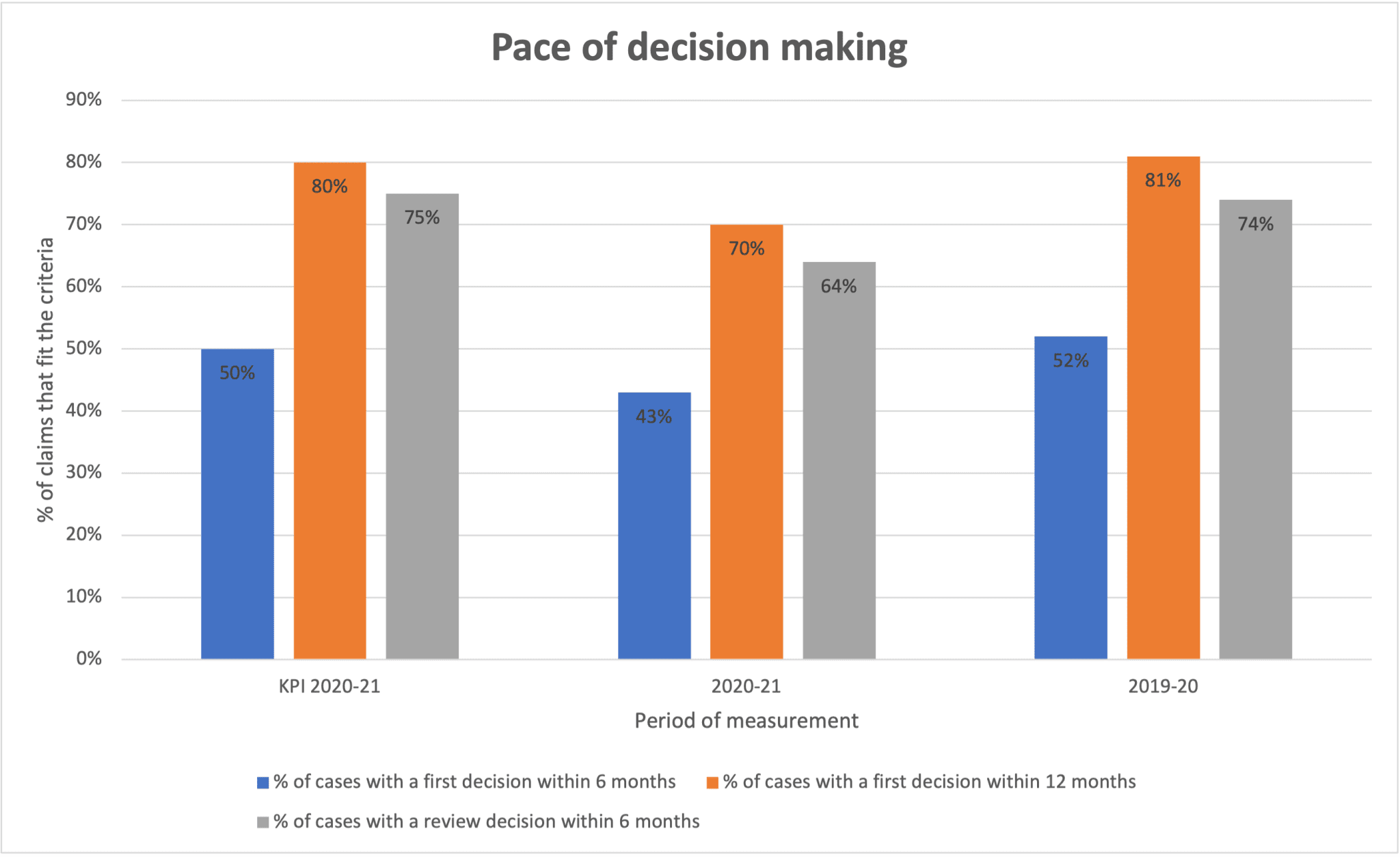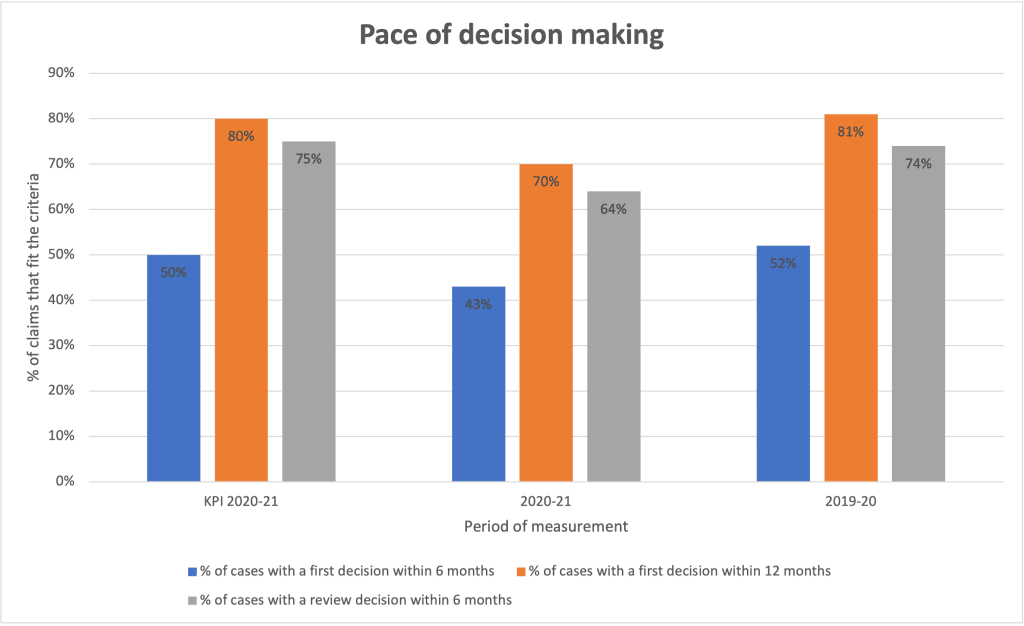 Who pays compensation to victims of crime that they should have been protected from?
When it comes to who pays compensation to victims of crime that should have been protected from, this could depend on the situation. In some cases, where it could be proven an employer failed to protect staff from assault at work, a claim could be made by an injured worker against their employer. However, this may not always be the case.
Assessing such claims is something we'd be happy to do. Please call us and tell us what has happened, and we will assess your case for you.
Could a victims compensation calculator give me an accurate compensation amount?
A victims compensation calculator would not give you an accurate compensation amount. It would be a tool that is speculative in nature. We would advise anyone who believes they could have a claim to ask a professional firm for advice.
That way, they could not only get an idea of how much they could receive. They could also receive advice on whether their claim could be a valid one.
How common is robbery in the UK?
If you want to know how common robbery in the UK is, we have some statistics. According to the ONS report for the year ending September 2021, there were 258,594 incidents and offences of burglary in England and Wales. You can see how this compares with other crimes below.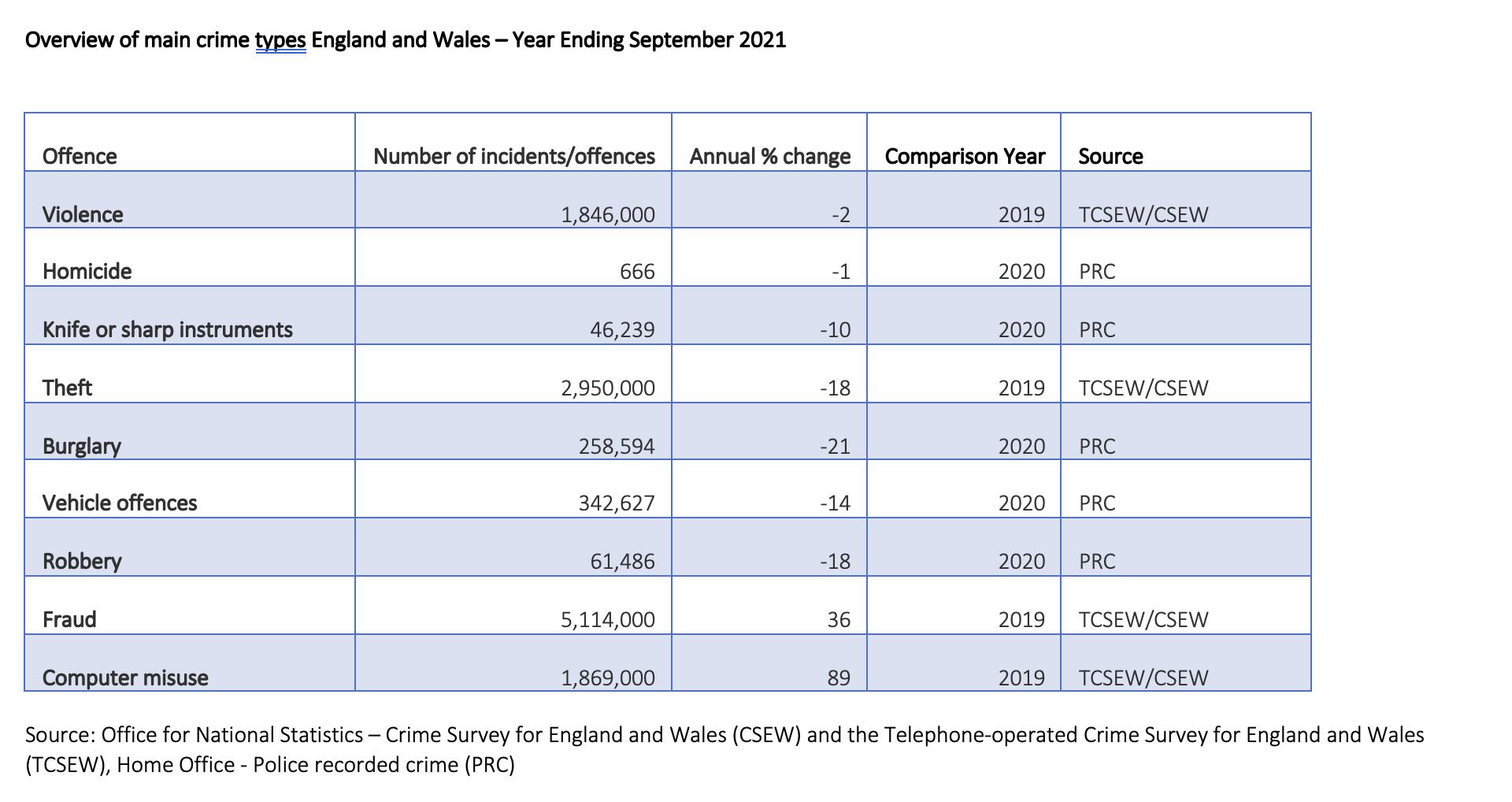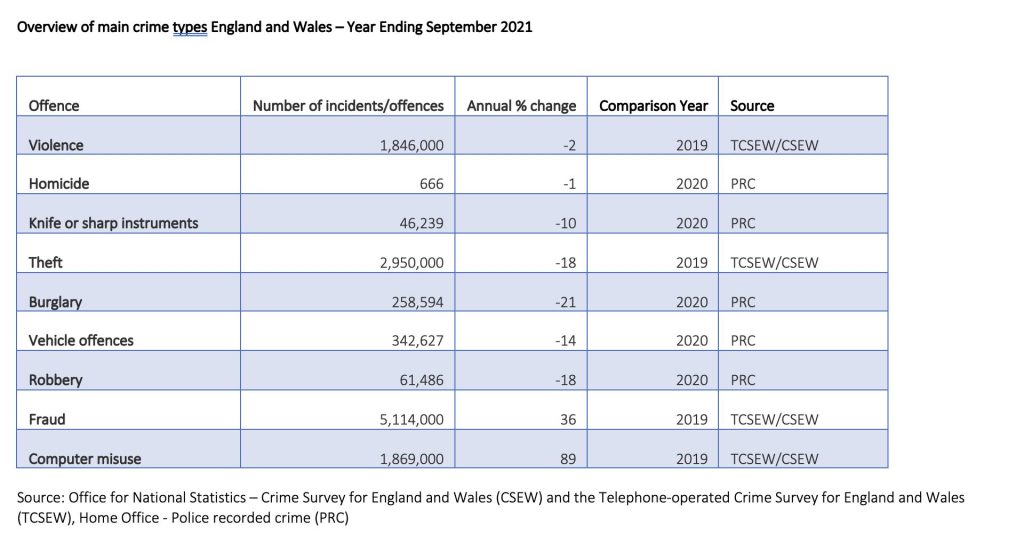 When claiming victim compensation, what evidence will I need?
The evidence you'll need to claim compensation could include a medical report detailing your injuries and other evidence of costs and losses sustained as a result of your injuries.
When claiming victim compensation for robbery in the UK, will I need to go to court?
If you're claiming victim compensation for robbery in the UK through the Criminal Injuries Compensation Authority, there is no requirement to go to court.
For more information, please get in touch with our team on the number above.
How do you report a robbery in the UK?
Reporting a robbery in the UK procedures could differ depending on whether the robbery is taking place at the time or if it has already happened. If you believe a robbery is in progress, the police advise you to call 999.
Should the robbery have already happened and you have discovered it afterwards, you should call 101. If, however, you believe the suspect is still on the premises or there is an immediate threat to others, 999 would be the number to call.
Where can I find guidance on compensation payouts for victims of crime for 2022?
If you are looking for general guidance on victim of crime compensation payouts for 2022, please refer to the table in the compensation section in this guide. However, if you would like advice based on the specifics of your case, please call our team. We would be happy to advise on victim of crime compensation in the UK. Our friendly team can talk to you about your case, and offer guidance on how much compensation you could be eligible to claim. 
However, you should note that the figures shown only apply to claims made in England and Wales. They also only apply if you're making a claim directly against the perpetrator. If you claim through the CICA, your compensation will be calculated based on the tariffs set in the compensation scheme.
Can you claim victim of crime compensation in the UK if there were no witnesses?
You could be worried about whether you could claim victim compensation if no one witnessed what happened to you. However, witness evidence, although useful, may not always be needed to make a claim for victim of crime compensation in the UK. In some cases, there may be other helpful forms of evidence, such as CCTV footage of the incident in question. If you're worried about making a claim as there were no witnesses, please call our team. We would be happy to talk to you. 
Could I claim victim compensation from the perpetrator?
In some cases, it could be possible for you to claim victim compensation from the perpetrator if they are known and have the funds to pay you. If you think you could potentially make a personal injury claim directly against the perpetrator, please call our team. We could help you with this type of claim too.
Final Words On Robbery Victim Compensation Claims And The Victims Compensation Calculator
Thanks for reading our guide to robbery victim compensation claims. Now we've explained burglary compensation claims in detail and explained the victim compensation scheme that you could claim from, you may be ready to make a claim. If you are, please don't hesitate to contact us.