By Jo Jeffries. Last Updated 19th July 2022. Welcome to this case study covering medical negligence payouts for nerve damage. In it, we describe how a sciatic nerve damage settlement was arrived at for a case involving a young girl. We also look at what the sciatica compensation amount included, and explain why the average payout for sciatica would not give you the amount you could receive in sciatic nerve damage compensation.
Sciatic nerve damage settlement case study
A young girl has recently been awarded £400,000 compensation for a damaged sciatic nerve. Following an operation to remove her colon, to deal with another medical condition, she was left, in the same position, for over 16 hours. Once the sedation wore off and she awoke fully she realised that it was very difficult to walk and there was numbness in her left leg.
The girl, aged 13 at the time, suffered a lot of pain, drop foot and most importantly, suffered socially because of her injuries. She missed a lot of school and will have to live with sciatica pain for the rest of her life.
Negligent care
The case showed that the damaged sciatic nerve was caused by negligence of the nursing staff who should've turned the girl at regular intervals while the effects of sedation were wearing off. The hospital denied these claims and it was the job of the personal injury solicitor to prove how the sciatic nerve lesion had occurred and how the hospital was to blame.
We are using this case study to show how important a personal injury solicitor is when seeking compensation for nerve damage, especially when the other party involved denies liability.
We have a team of specialists available to listen to how you damaged sciatic nerve occurred so please call us for free on 0800 073 8801. If you want to know more then continue reading and find out how the young girl managed to secure the large sciatica compensation payout.
What Is The Sciatic Nerve And What Are Sciatic Nerve Lesions?
The sciatic nerve is the largest nerve in the human body and runs from the lower spine all the way down the leg and into the foot. It is responsible for all the feeling in the leg and feet and when damaged can lead to pain from the lower back, down the leg and can result in drop foot as well.
Damaged sciatic nerve symptoms include the pain, mentioned above, as well as loss of feeling (sensation) and loss or partial-loss of movement.
The primary sciatic nerve lesion causes are:
Fractures to bones in the leg (mainly the femur)
Tumours
Injection damage
External pressure on the leg
Blood or circulatory disorders
Another, less common, reason for a damaged sciatic nerve is when a patient has undergone a replacement hip surgery and the sciatic nerve is damaged during the operation.
Medical Negligence Leading To A Sciatic Nerve Lesion
In this case the claimant, a 13-year-old girl, was admitted to hospital to treat another, unrelated, illness. The operation to treat the illness was successful and was not where the damaged sciatic nerve injury happened, the aftercare was where the negligence occurred.
While recovering from the operation the girl was moved to a ward. She was lying on her side when she returned to the ward and she was in the same position 16 hours later when she awoke the next morning. She realised as soon as she woke that she couldn't move properly as her left leg was numb and she felt too weak to move it. It was alleged that, as the aftercare team hadn't turned her at all in those 16 hours, she had suffered a compression injury leading to the damaged sciatic nerve.
According to one study, the number of medical negligence claims against the NHS had risen from just over 250 in 1982 to over 9000 in 2011 and in 2013 over 30% of medical negligence claims were related to surgery & aftercare.
The cost of damaged sciatic nerve claims against the NHS is difficult to ascertain but in this one case alone the girl was awarded £400,000. The impact on the claimant was more than just the pain and suffering and the payment took into account the anxiety and stress caused by her disability, the 2 years she missed at school and other mental health issues.
Many accidents can cause a damaged sciatic nerve, not just poor aftercare as in this case. So long as the accident that caused your nerve damage was as a result of somebody else's negligence then we could claim for your damaged sciatic nerve on your behalf.
Sciatic Nerve Lesion Claim
The allegation in this case was that the damaged sciatic nerve was because the medical staff acted negligently when they failed to turn the patient for over 16 hours. She was unable to do so herself as she was still partly sedated and if they had done so she wouldn't have suffered the pressure palsy resulting in the damaged sciatic nerve and the subsequent life changing problems.
The NHS denied the case against them citing that her other medical conditions were to blame so the personal injury solicitor in the case would've had to gather evidence that the damaged sciatic nerve could not have been related to her other illnesses and, with the help of medical reports and witness statements argue that the NHS were to blame for the damaged sciatic nerve as the nursing staff failed to move the patient for such a long time.
Sciatic Nerve Injury Settlement
The settlement, when reached out of court, took into account the damaged sciatic nerve but also a number of post-injury problems that were proven to be linked to the injury sustained following the negligence.
The amount agreed upon was £400,000 so that the claimant can lead a more normal, and independent, life. The figure was so high due to the anxiety that the claimant suffered, the fact that she has a permanent disability, a diagnosis of adjustment disorder and the pain and suffering. The case highlights how important it is to have a good personal injury solicitor on your side when claiming for a damaged sciatic nerve as it's not just the injury that you need to claim for as this case demonstrates.
No Win No Fee Claims For A Sciatic Nerve Lesion
A case against the NHS, when seeking compensation for a damaged sciatic nerve, can be quite complex and involve a lot of evidence gathering before a case is actually filed. This is something, in our experience, that puts clients off when considering if they should claim for their damaged sciatic nerve.
Some solicitors charge for their time by the hour which means that, win or lose, you could end up with a large bill to pay the solicitor. We don't think that it is fair for us to charge you, if you choose to use for your damaged sciatic nerve compensation claim, unless we win you compensation.
Accident Claims UK offer a no win, no fee service for all of the claims we take on. We don't charge any fee up front, no hourly rate and we'll only charge you (an agreed amount) if we are able to win the compensation case for you.
Here at Accident Claims UK, we often get asked how much I'll get for my damaged sciatic nerve? Unfortunately, there's no nerve damage compensation calculator as every case is different. The best way to get an estimate is to speak to our team who, once they understand your case better, may be able to give a clearer estimate for you.
Contact Us About Medical Negligence Payouts for Nerve Damage
If you're now ready to make your compensation claim for a damaged sciatic nerve injury, then we're ready to discuss your case with you. Accident Claims UK offer a free consultation to assess your claim and how it has impacted you. Our team of specially trained professionals can be contacted by any of the following methods:
As with all personal injury claims, a damaged sciatic nerve claim needs to be filed within 3 years of the injury occurring so please get in touch as soon as possible so your claim can be started promptly.
Could I receive medical negligence payouts for nerve damage on behalf of a child?
When you make a compensation claim on behalf of a child, you would not receive the composition yourself. Obviously in the eyes of the law, minors are not able to have the capacity to make decisions on legal matters. Therefore, someone could claim on their behalf as a litigation friend, or they could claim once they turn 18 years old. When the child's compensation comes through, if you are claiming on their behalf, it would go into a trust for the child to access once they become an adult. However, if medical treatment was needed while they were still a minor, for example, an application to the court could be made for funds to be released.
Sciatic nerve damage compensation amounts for 2022
Sciatic nerve damage compensation for injuries caused by medical negligence can often be split across two figures:
General damages
Special damages
General damages are the portion of your settlement that is calculated in line with the level of pain and suffering that your injuries have caused you. Factors such as how severe your injuries are can affect the value of a general damages payment. Your recovery period is also taken into consideration.
Legal professionals use resources such as medical evidence, and a publication called the Judicial College Guidelines (JCG) to help value claims. The JCG was recently updated in 2022 and contains a variety of injuries and guidelines regarding how much they could be worth. For instance, generally, more severe injuries tend to be worth higher amounts of compensation.
Then, there is the matter of a figure called special damages. This amount is to reimburse you for costs such as a loss of earnings or medical expenses that have arisen due to your injuries.
There are many other examples of what could potentially be included in a special damages payment, if you are eligible to receive one. Get in touch for more information on the possible value of your sciatica compensation amount.
Would my choice of solicitor help to maximise medical negligence payouts for nerve damage?
Choosing a solicitor with years of experience that is authorised and regulated by the Solicitors Regulation Authority could significantly impact the compensation settlement you receive. This is because such a  solicitor could make sure your case was as strong as it could be before submitting it to a liable party. They could also harness their experience and knowledge to fight for the maximum compensation settlement for you, even if your case was disputed. They could support you by taking your case to court. If you are looking for a solicitor with the experience and knowledge required to fight for the maximum compensation possible for your claim, we would be delighted to help you. We could provide you with a solicitor working on a no win no fee basis to help fight your claim.
How common are medical negligence payouts for nerve damage?
While we don't have figures that relate to the number of nerve damage compensation claims levied against the NHS, we can offer you some insight into how much clinical negligence compensation the NHS paid out in 2020- 2021. The figures below are taken from the NHS Resolution website.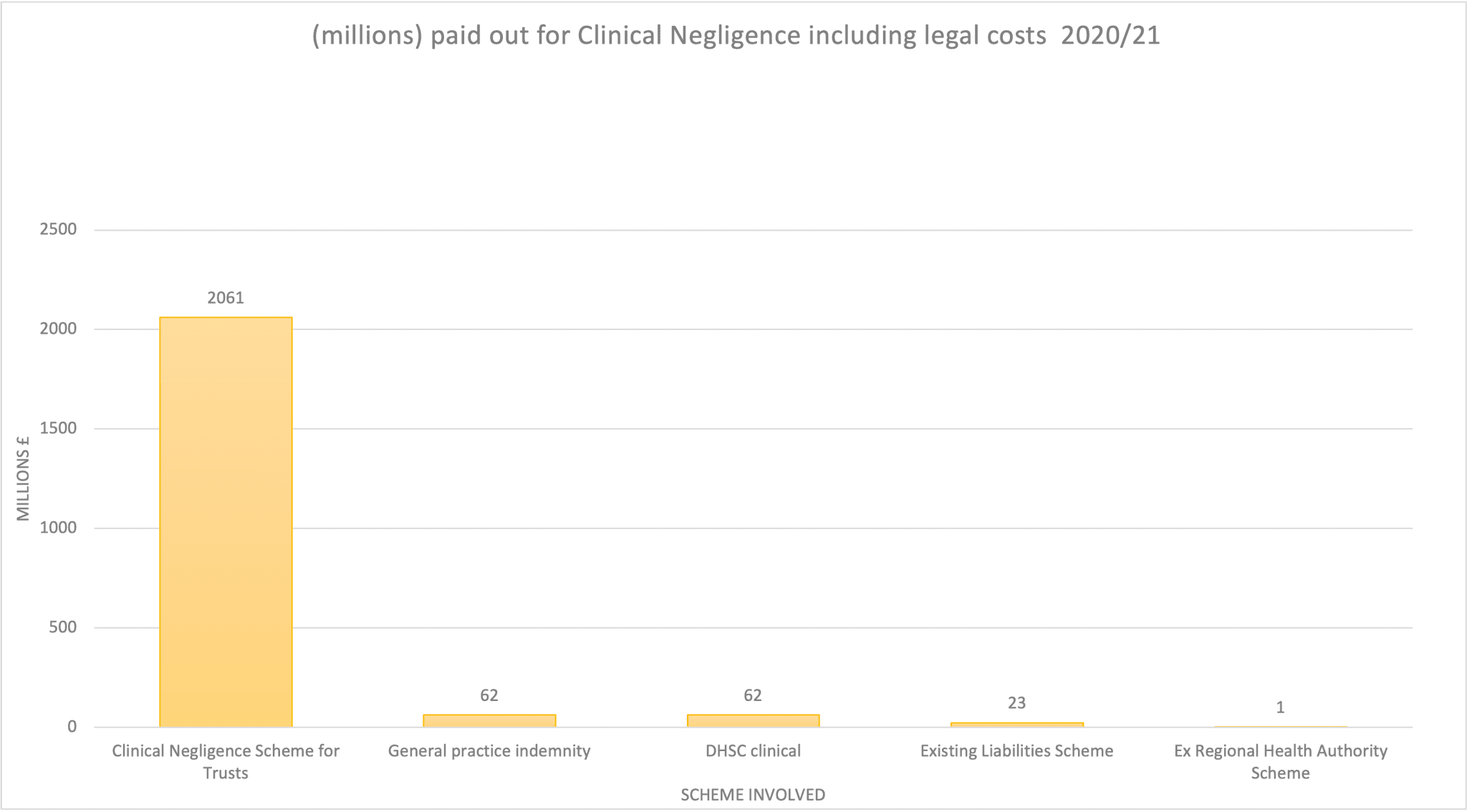 What's the average payout for sciatica or sciatic nerve damage compensation?
Knowing the average payout for sciatica would not give you much guidance on your own claim. All claims are different, and a sciatic nerve damage settlement would depend on the facts and circumstances of the case. A sciatica compensation amount would be designed to reflect the pain and suffering, loss of amenity and financial impact of the injury. This is known as the general damages portion of your claim.
What we can do is offer you some insight into compensation amounts from the Judicial College Guidelines. These give guideline brackets of compensation for different injuries. Solicitors use these to help them value claims.
| Injury | Severity | Amount |
| --- | --- | --- |
| Injury to the back | Moderate (b) (ii) | £12,510 to £27,760 |
| Injury to the back | Severe (a) (i) | £91,090 to £160,980 |
| Injury to the back | Minor (c) (i) | £7,890 to £12,510 |
| Injury to the shoulder | Severe (a) | £19,200 to £48,030 |
| Injury to the shoulder | Serious (b) | £12,770 to £19,200 |
| Injury to the shoulder | Moderate (c) | £7,890 to £12,770 |
| Injury to the shoulder | Minor (d) (iii) | Up to £2,450 |
| Injury to the neck | Severe (a) (i) | In the region of £148,330 |
| Injury to the neck | Moderate (b) (i) | £24,990 to £38,490 |
| Injury to the neck | Minor (c) (i) | £4,350 to £7,890 |
On top of these figures, which relate to pain, suffering and loss of amenity, your compensation could include special damages. These compensate successful claimants for the financial costs of their injury, such as loss of income. They could also include medical expenses, care costs and even travel expenses.
If you would like to learn more about sciatic nerve damage compensation and what you could claim for, please call the team. We would be happy to assess your case. Then, we could provide you with case-specific advice and support. 
How long does it take to have my claim assessed?
When you call our team, we will attempt to assess your case as quickly as possible. However, we need to be thorough. If you are calling us, it could be wise to set aside some time as we will need to ask you some questions. This is so we can get a full picture of your case before we advise you
Useful Links Relating To Medical Negligence Payouts for Nerve Damage
If you need more information before claiming for your damaged sciatic nerve injury, then here a few useful documents.
Damaged Nerve Claims – not just about damaged sciatic nerve injuries, this article contains other nerve injuries and how to claim compensation for them.
NHS Sciatica exercises – These exercises won't cure a damaged sciatic nerve but can be useful if you think you're suffering from sciatica.
Hospital Negligence Claims – Our general guide to making a claim against a hospital, NHS or private, for negligence (not just for a damaged sciatic nerve – it covers all types of negligence).
Thank you for reading this case study on medical negligence payouts for nerve damage.