By Joanne Jeffries. Last Updated November 9th 2021. Welcome to this case study covering personal injury claims payouts for a radial forearm fracture.
In this case study, we look at a personal injury claim for a radial forearm fracture at work. This claim was bought against the local council, for a work-related injury to a day centre worker. This claim is interesting for several reasons. Including the fact that an on-site medical professional examined her, and told her she was fit to work. She carried on for the rest of her shift, causing the injury to become worse.
The circumstances leading to the accident were clear cut. She had been assisting a resident of the day centre, to clean themselves. Once she had done this, she attempted to assist them into a bed in the room. However, as she was doing this, she slipped on a spillage. This spillage was later found out to have been caused by the runoff from a sluice in the room.
The injury was finally diagnosed as a radial forearm fracture. Recuperation was long and painful, with several financial losses incurred due to the accident at work. The final resolution to the claim, was a compensation payment of £14,600 plus additional provision for an interim payment. We will expand on the settlement in the sections below.
Trips, Falls, And Slips In The Workplace
As we can see from the graph above, slip, trips and falls can happen in any industry. In this case, the claimant was working for a Government body. Slips, trips and falls are the single most common workplace accident in the UK.
These accidents can happen anywhere, and have a myriad of causes, such as a wet or dirty floor, damaged floor covering and badly maintained public pathways. In this case study, the claimant was working in a wet room, slipped on the floor and suffered a fractured forearm. She was adamant that she had not caused the hazard. Subsequently, her solicitor processed a claim for a forearm fracture at work on her behalf.
What Is A Radial Forearm Fracture?
In the claim this case study examines, the claimant suffered a broken arm, a specific type of break, a radial forearm fracture. This is a break in the Radial bone of the lower arm. Recuperation from this kind of injury takes in general, around 3 months. For much of this time, the patient will need to wear a cast, to immobilise the lower arm.
Complications can set in however, especially if surgery was used to insert surgical pins, clamps or rods, to support the bones as they heal. Infection is a common complication, as is compartment syndrome. Overall, this is a painful injury, that will incapacitate the victim for many weeks, and require a period of physiotherapy to get the full use of the arm back once the bone has healed.
In this particular case, the injury was exacerbated to some extent, due to the fact that an employee, who was also a physiotherapist, examined her shortly after the accident, and allowed her to continue working for the rest of the day.
The Settlement Received By The Claimant
The personal injury solicitor the claimant used, was successfully able to pursue a personal injury compensation claim on her behalf. The settlement included compensation for a number of reasons.
Firstly, the pain and suffering of the injury itself, and also the fact that her life quality was vastly reduced while the arm was immobilised. She was unable to carry on with many of her hobbies, and could not even walk her dog properly. Furthermore, the victim and her husband had booked a holiday, which they had to cancel because of the injury. They did not receive a refund for the holiday, and compensation for this financial loss was sought as part of the settlement.
During the claim, it was proven that the employer had failed in the Health & Safety obligations, and exposed the claimant to risk, in the form of a wet floor, that had not been cleaned up, or marked with a hazard sign. Every company in the UK is required by law, to provide their staff with a safe and healthy working environment at all times. Specifically, in this case, the employer was found to have failed to comply with the Management of Health and Safety at Work Regulations 1999.
Initially, an interim compensation payment was made, for the value of £2,900. However, after a round of negotiations, the employer, a local council in this case, agreed on an out of court settlement for an additional £14,600.
This case study shows that the victim of the accident, had done nothing wrong, even though she had been working in a room with a natural slip hazard. Initially, it was thought the accident had been caused by a water spillage that the claimant had caused herself. It was not until much later, that it was confirmed the slip hazard came from an external source. The defendant, the local council, did not refute their liability in the accident, and were keen to settle the matter out of court. The solicitor in this case, would have had the job of managing the claim, and liaising between the claimant and the defendant, to come to an agreement over the total damages paid.
How To Make A Successful No Win No Fee Accident At Work Claim
Accident Claims UK, can offer people all across the UK, a financially risk-free way of processing a claim for an injury sustained in an accident at work. Our No Win No Fee national claims service, has proven to be effective in winning compensation for work-related accidents on behalf of our clients.
When you choose Accident Claims UK as your No Win No Fee solicitors, the fee structure, what and when you have to pay, is very simple to understand. Firstly, when we take your claim on, we won't ask you to pay anything. As we process your claim, we won't ask you to pay any ongoing costs, even if it takes many months to reach a resolution. If for some reason, we fail to win any compensation on your behalf, we zero our invoice and charge you nothing at all.
The only time we will charge a fee, is when we have successfully won you a compensation settlement, and we have received the payment on your behalf. When we do, we will automatically take our fee out of the total amount of compensation we received on your behalf, and we will give you the remainder.
How To Make A Claim For An Accident At Work And Receive Personal Injury Claims Payouts For A Radial Forearm Fracture
If you settle on the Accident Claims UK national claims service, to act as your personal injury lawyer in a compensation claim for a forearm fracture that happened in a work-related accident, you will be able to leverage our wealth of experience processing such claims. We have proven time and time again that we are effective in securing significant compensation settlements on behalf of our clients. We will always do everything we can, to give you the best chance of being successful in your claim, and receiving the highest level of compensation possible.
Starting a claim with Accident Claims UK is very simple. All you need to do, is call us on 0800 073 8801 today. When you do, one of our team will be on hand, to ask you a number of questions. These questions will give us a good picture of your injuries, and the accident that caused them. Once we know enough, we will offer you some free legal advice on what to do next. In most cases, this will be to use our no win no fee claims service to get you the compensation you are eligible to claim.
How could I receive personal injury claims payouts for a radial forearm fracture on a no win no fee basis?
As we have mentioned before in this case study, it could be possible for you to make a claim for compensation on a no win no fee basis. Our specialist solicitors, who are all authorised and regulated by the Solicitors Regulation Authority could assist with such claims. If you are looking for free advice from a friendly solicitor, on whether you could make a no win no fee claim, all you need to do is contact us. We will assess your case to see if you could claim and then we will connect you with a solicitor if we believe you could have a strong case for compensation. Once we have done this, the solicitor in question will send you a Conditional Fee Agreement. This is an agreement document that contains details of the success fee that you would pay your solicitor at the end of your claim. You would only pay this amount if your claim was successful, and achieved you a compensation payout amount. The fee would be legally capped, and would represent a small percentage of your eventual compensation settlement amount. Should no compensation be achieved, you would not pay this fee. If you would like to speak to us about making no win no fee claims in more detail, we would be happy to talk to you.
What evidence would I need to maximise personal injury claims payouts for a radial forearm fracture?
If you're looking to maximise personal injury claims payouts, you would need to provide sufficient evidence of your accident, your injuries and any financial losses or costs you've sustained because of them. In terms of evidencing special damages such as care costs, loss of earnings, medical or travel costs, this would involve submitting bills, receipts and pay slips, for example. When it comes to evidencing your injuries in order to receive general damages payouts, you would need to submit strong medical evidence. This must come from an independent medical professional. Therefore, you would have to have an appointment with one as part of your claim. They would examine you, asking questions about your injuries and may take a look at your past medical notes if they are relevant to your case. Once they had reviewed your injuries they would write a medical report which lawyers and courts could use to determine appropriate compensation settlement amounts in the UK. They could use the Judicial College Guidelines to give them an idea of how much compensation would be appropriate.
What other injuries could be caused by slips trips and falls in the workplace?
Unfortunately, as well as injuries such as a radial forearm fracture, accidents at work could cause more severe injuries. In some cases, they could even be fatal. Fatal injuries in the workplace may be more common than you would think. According to the HSE, in 2020- 2021, 142 people lost their life in work related accidents. You can see the details of the reasons for their injuries in the below graphic.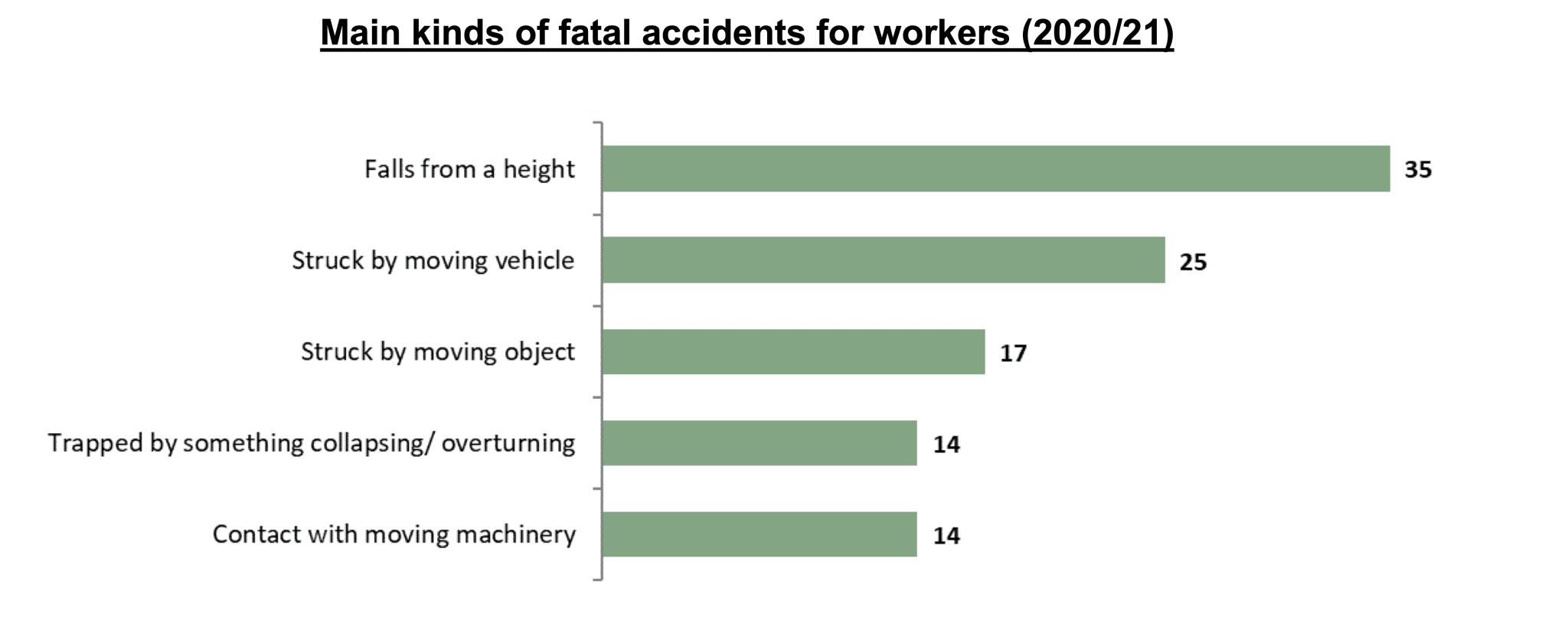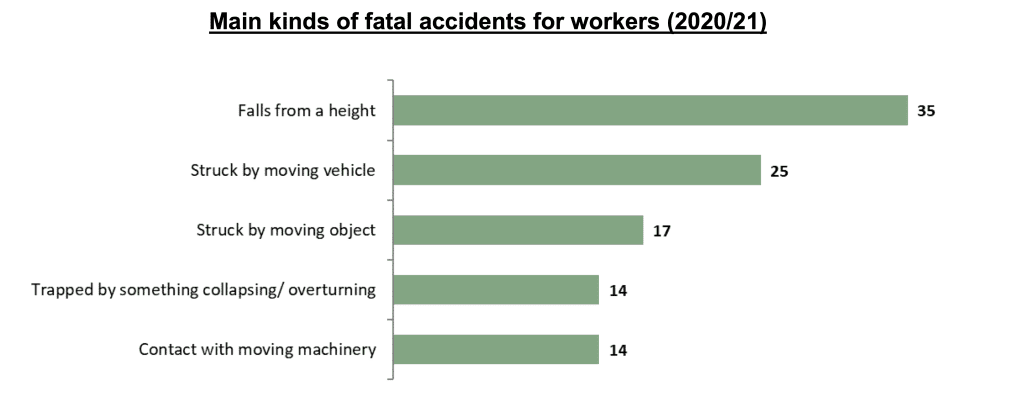 Useful Links Relating To Personal Injury Claims Payouts For A Radial Forearm Fracture
At the link below, you will find a full and detailed guide to the process of making a compensation claim for an arm injury with specialist solicitors with up to 30 years experience:
A guide to claiming for an arm injury
At the link below, you will find a full and detailed guide to the process of making a compensation claim for an accident at work and getting free advice from a friendly solicitor on why a compensation calculator couldn't give you accurate settlement amounts:
A guide to claiming for a work-related accident
If you would like some additional, detailed information about the obligations of the local council, with regards to Health & Safety, you can find some at this link:
Health & Safety for Government organisations
You can also download a PDF from the link below, that gives an overview of the role of the local council in Health & Safety:
The role of the local council in Health & Safety
Thank you for reading this case study relating to personal injury claims payouts for a radial forearm fracture. No matter whether you've suffered broken bones such as a broken wrist, a distal radius fracture, or another type of wrist fracture, we could help you achieve the maximum compensation for negligence claims, road traffic accident claims or accidents at work.