By Joanne Jeffries. Last Updated 1st November 2021. Welcome to this page which includes information on personal injury claims payouts for a fracture ankle injury.
This is an illustrative study of a case conducted by a different law firm. We have experience in handling cases similar to this. All names have been removed to changed to protect the claimants identity.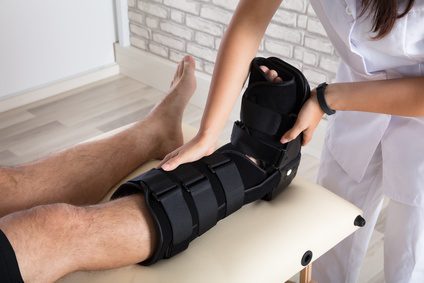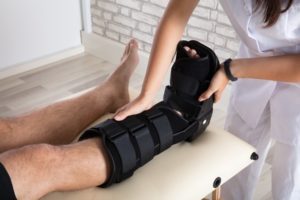 In this case the claimant was seeking compensation for a fractured ankle which he suffered after falling from a ladder at work. The injury was quite serious, resulting in long-term problems for the claimant. The claimant was also left unable to carry on working after this. Solicitors acting on behalf of the claimant conducted the claim and in an out of court settlement the claimant was awarded a total of £75,000. This was awarded for a combination of damages for the injury itself, as well as for anticipated future loss of income, and expenses related to the claimants injuries. It is common for personal injury claim settlements to be made up of several elements compensating you for your injuries as well as for related costs. This case was resolved without the need to go to court. In most personal injury cases, solicitors acting for the claimant and defendant will be able to negotiate a settlement between them without the need to go to court.
At Accident Claims UK our no win no fee solicitors have a wealth of experience in dealing with different types of personal injury claims, such as cases of a broken or fractured ankle. We are a solicitors firm but are also one of the UK's leading resources for legal advice on how to make a successful personal injury claim. In the rest of this guide we will explore this case in more detail ad answer questions such as "what's a broken ankle worth?"
Statistics Showing How Common Falls In The Workplace Are
Slips, or falls are one of the most common types of accident to happen to people in the workplace, or simply whilst going about their business as a member of the public. It is estimated that injuries resulting from a fall cost the UK almost £1 billion each year. In this case the claimant was carrying out work on the upper floor of a railway station, accessible only by a ladder. Of all industries, transport has the third highest incidences of people being injured by a fall in some way.
Suffering a broken or fractured bone, such as a fractured ankle is one of the most common ways people are subsequently injured. We can see from Health and Safety Executive (HSE) statistics that trip and fall injuries on the same level are the most common form of accident leading to a workplace injury. Falls from a height, such as suffered by the claimant in this case, are the fourth most numerous cause.

The Health and Safety Executive has also produced a comprehensive guide as to how people can keep safe when working at a height, such as the claimant. You can find information on how to stay safe whilst working at a height here.
Details Of The
Fractured Ankle
Injury
At the time of the accident, the claimant was working as a carpenter and was working at a height accessible only by a ladder. The floor below was made of planks of plywood, the ladder was on this flooring, resting against a portion of concrete. Whilst the claimant was on the ladder. A fellow employee removed a piece of the wooden flooring which caused the ladder to fall. The ladder fell and the claimant fell a distance of around seven foot. Upon landing, the claimants right foot fell into the gap where the plank had been. This led to a twisted ankle and what was later determined to be a fractured ankle.
The first treatment the claimant sought was at the local Accident and emergency department. Here he had a leg x-ray and was initially diagnosed with injuries to his soft tissues. You can find out more about how to claim compensation for ankle ligament damage at this link. The affected leg was put into plaster and the claimant was told to rest it for a fortnight. Following this the claimant was then fitted with a rigid form of walking boot to allow some mobility. However, the pain levels did not abate and the claimant was unable to move about much.
The claimant had a further medical investigation and was found to have a type of fracture ankle called a non-union medial malleolar fracture. It was determined that the claimant needed to have surgery to fix the break. After this the whole leg and affected ankle had to be put in plaster for half a year. During this time the claimant was not able to put any weight on the leg.
Following this, the claimant needed to have physiotherapy which failed to help and it was then determined that he would require more surgery. This was to remove the screws and plate in the ankle. You can find out more about ankle fractures and breaks in this NHS advisory guide.
Due to the fractured ankle, complications during treatment, and the time to be treated, the claimant suffered several symptoms related to the initial injury which were also cited in his claim for compensation for a fractured ankle. These additional symptoms included disrupted sleep caused by pain in the affected ankle and foot. He also found it painful to walk even after all treatment was complete and found stairs or uneven surfaces posed particular difficulty when walking. It was thought these symptoms would be permanent. As well as this the claimant was not able to sleep well and could not drive for longer distances. As a result his social life was also affected.
Due to the severity of the injuries and their effect on his ability to walk, the claimant also had to stop working. At the time of the claim the claimant was 70 years old. He was estimated to have been able to have worked for two more years without the injury. The physical nature of the role, combined with long drives prevented him from doing so. Due to the effect these injuries had on the claimant, he chose to pursue a fractured ankle injury compensation claim.
Conducting The Case: The Allegation And Establishing The Defendant's Liability
Solicitors acting on behalf of the claimant pursued a high ankle injury compensation amount. This is because they also sought compensation for not just the injury itself, but the overall effect it had had on the claimant himself. In the allegation, solicitors cited negligent practices on the part of the employer as the cause of the accident. It was alleged that they had breached their duty of care to provide the claimant with a safe working environment, and that the fractured ankle was a direct result of this. The claim also detailed the medical evidence and stated that the symptoms were thought to be permanent, affecting the mans working, private, and social lives. Medical evidence supplied also showed that all symptoms could be attributed to injuries caused by the accident.
The Settlement
In this case the defendant did not contest liability. As such, the claim did not need to go to court. The majority of personal injury claims do not reach the courts. A total of £75,000 was awarded in compensation through a negotiated out of court settlement. To reach a decision on how much should be awarded the two sides will have followed compensation guidelines for a personal injury as set out by the Judicial College. This helps both sides in a case to have a single frame of reference as to how much an injury should be worth.
The compensation for a broken ankle settlement was made up as follows:
General damages awarded for the pain and suffering caused by the injury, as well as loss of amenity caused by it – £10,000.

Special damages awarded for loss of future income (earnings) – £62,500.

Special damages damages awarded for expenses related to travel, care needed, medication/ prescriptions and other miscellaneous costs – £2,500.
No Win No Fee
Claims For A Fractured Ankle
One of the most common reasons that people don't seek the compensation that they deserve is that they are worried about potentially large legal costs which will need to be paid upfront. With a no win no fee solicitor you do not need to make any payments up front. Your solicitor will work provide their services through a conditional fee agreement. Also abbreviated to CFA, this type of contract is used where a solicitor provides their services before payment. Their fee is agreed as part of the contract, but it is contingent on them successfully winning your claim for you. The agreement will say what they will do, how they will do it, and when they should be paid. Typically they will be paid from the settlement you receive, making the whole process as easy as possible for you. This type of agreement means that as a claimant you will not have any extra financial burdens placed upon you. If your solicitor can solicitor can not secure compensation for a fractured ankle (or any other injury) you won't have to pay for their services.
Solicitors offering this type of service do so in order to ensure that claims can be made regardless of the claimants financial position. They have helped people up and down the UK to successfully pursue the people or organisation that are responsible for their injuries and be compensated for them.
Start Your Claim Today and Receive Personal Injury Claims Payouts For A Fracture Ankle Injury.
The best way to begin your claim is to contact our specialist team. Accident Claims UK are dedicated to helping you get the maximum level of compensation possible, no matter what your injury, or the effect it has had upon you. You can contact Accident Claims UK by calling us on 0800 073 8801, sending an email to office@accidentclaims.co.uk, or by using the form on this page to request a call from our team.
Could I get personal injury claims payouts for a fracture ankle injury for a car accident?
If you're looking to get insight on personal injury claims payouts for car accident injuries, you might be interested to learn how common they are. The statistics relating to car accident injuries for 2020 cover four months of national lockdowns. Despite this, there were still over 115,000 people who suffered slight to serious injury on UK roads. Some of these injuries were sadly fatal.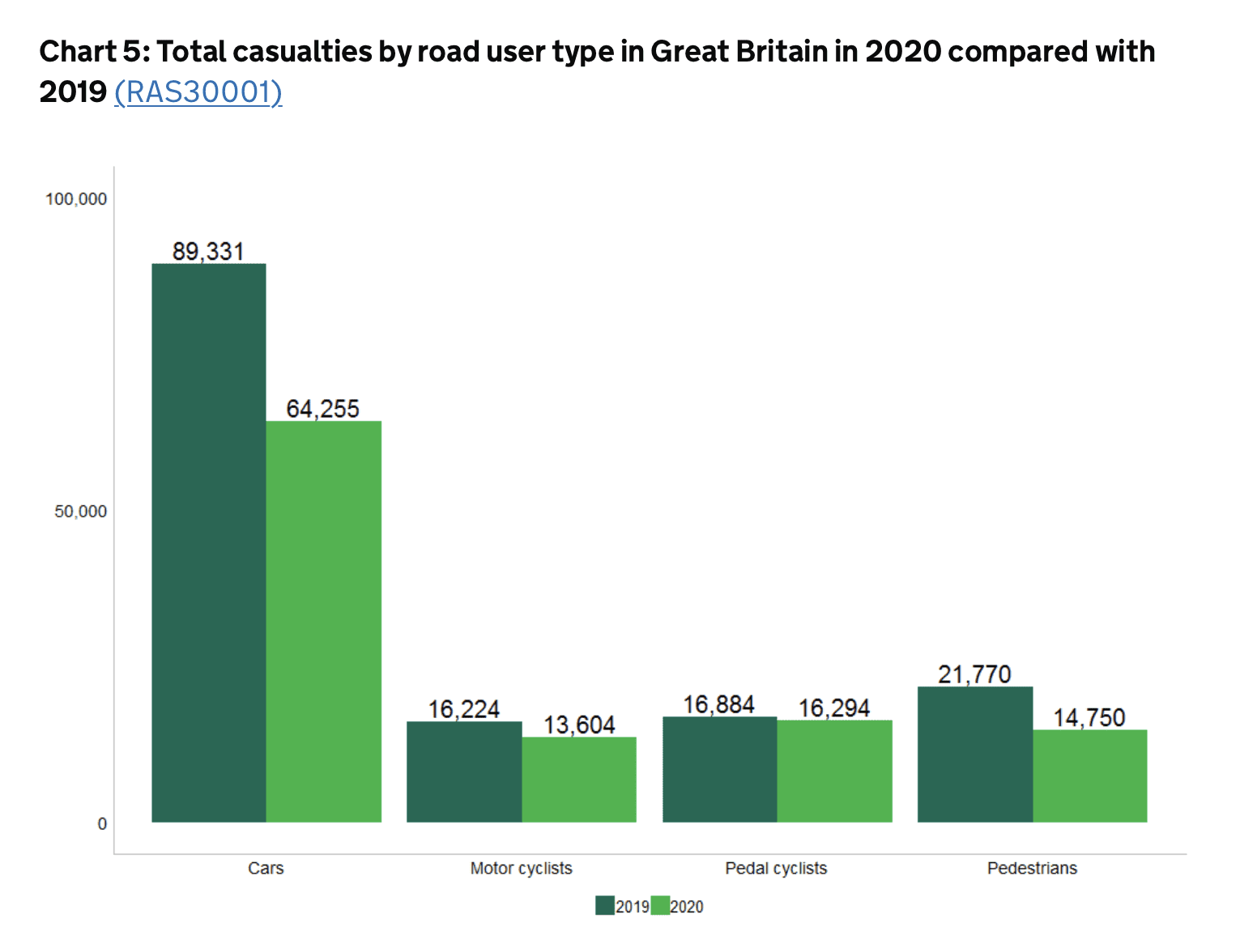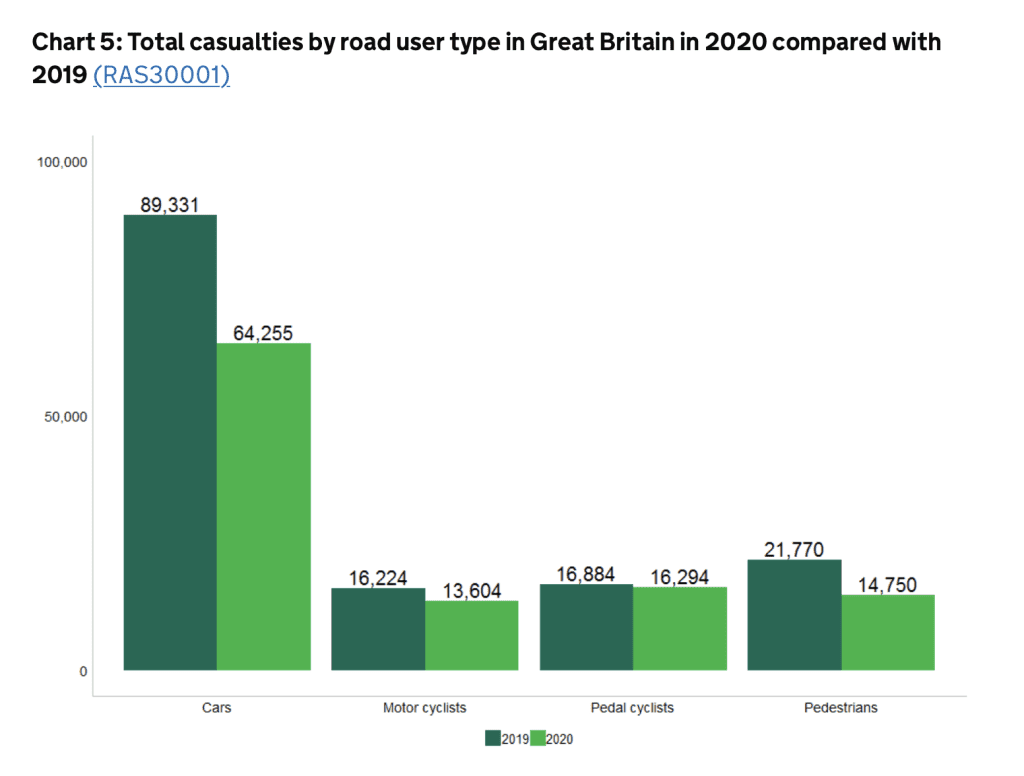 If you've received an ankle injury in a car accident, we could help you. When it comes to maximising compensation payouts in the UK, our solicitors, who are authorised and regulated by the Solicitors Regulation Authority could provide you with all the information and support you need to maximise your compensation payout. No matter what injury you suffered in a car accident, on whether you were a pedestrian, a motorist or a cyclist, we would be delighted to help you.
What could affect personal injury claims payouts for a fracture ankle injury?
When it comes to seeking medical attention after you've hurt your ankle, you might assume that evidence of you seeing your own GP or going to the hospital would be sufficient to prove your claim. However, this is not the case. When you are making a personal injury claim for compensation, the amount you'd receive would depend significantly on the medical evidence you'd submit as part of your claim. You would need to, therefore, go and see an independent medical expert, so they could assess your injuries. They would write a detailed medical report once they had finished your examination. This would prove your injuries and give a professional opinion on your prognosis. This medical report could form a significant part of your claim. It could impact the amount of compensation you could receive.
How does the claims process work to get personal injury claims payouts for a fracture ankle injury?
Initially, we would ask you to call our team for a free no obligation assessment. Once we have assessed your case, if we believe you could have a strong claim, we could provide you with one of our specialist solicitors who could fight your claim on your behalf. They would submit a strong case with evidence to the liable party or the liable parties insurers, and could negotiate a compensation settlement for you. Many claims do not go to court, so you might find you are able to get compensation payouts for a fractured ankle without needing to go to court. However, if the liable party disputed your claim, you may have to go to court. A solicitor could support you throughout this process and help you get the compensation you deserve.
Do I need to use a locally based solicitor to maximise my chance of getting compensation payouts for my injuries?
You might be shocked to find out that you do not have to use a lawyer that is based in your local area to make a claim for compensation. This could afford you more choice when it comes to the law firm or solicitor you're using. However, it could also make deciding who to use more difficult. We would urge you to investigate the solicitor or law firm you're considering using for your claim. After all they could have a significant impact on compensation payout amounts in the UK. It would be wise to look into the level of experience they have, how many years they've been practising, and what their success rate is.
Useful Links Relating To 
Personal Injury Claims Payouts For A Fracture Ankle Injury
NHS Guide To Broken Ankle Injuries
Find out more about broken ankle injury treatment, recovery, and the overall prognosis for this type of injury in this guide from the NHS.
Ankle Injury Claims
This is our guide to the different types of injury to the ankle which people can suffer, and how to claim compensation for them.
Broken Or Fractured Bone Claims
How much compensation for a broken or fractured ankle could you claim? Find out what compensation claims may be worth in this calculator.
Other Useful Compensation Guides
Thank you for reading this page regarding personal injury claims payouts for a fracture ankle injury. Whether you've suffered a broken ankle in a road traffic accident, suffered soft tissue injuries or another type of ankle injury, we could help. For free advice from a friendly solicitor on negligence claims, work injury claims or claims for financial losses cal 0800 073 8801 today. Our personal injury solicitors are here to help.