By Joanne Jeffries. Last Updated 19th July 2023. If you've been given the wrong medication either by your pharmacist, doctor or hospital, you could go on to suffer pain and discomfort. For those impacted by such circumstances, it may help to know about prescription error claims.
In this guide, we'll discuss this form of medical negligence in detail. We'll advise you of your legal rights in relation to prescription errors, how these incidents can happen, and the steps you can take to claim compensation.
If you have any questions or would like to enquire about making a claim for a prescription error, we can help.
Our team of solicitors boasts decades of experience. In that time, some of them have settled medical negligence claims worth millions of pounds, and they can help you too.
We offer a free case check to everyone who calls and there's no need on your part to move forward with a claim if you don't want to. You can take advantage of this today and find out all about your legal rights by:
Calling us on 0800 073 8801
Speaking with us now via our live chat service, bottom corner
You can learn more about claiming compensation for a prescription error using the menu below:
Select A Section
What Is A Prescription Error?
Before we begin our prescription error claims guide, let's look at how negligence. In essence, a pharmacy mistake could threaten the health and potentially the life of the patient. This is why if you have suffered due to a wrong prescription, you could look into making a claim for compensation.
A qualified pharmacist could be considered a medical professional. This means they do have a duty of care to you, and if they fail in that duty and you are harmed; as a result, then you could look into making a claim for pharmacy negligence compensation.
Put simply, a prescription error or incident of pharmacy negligence could consist of a pharmacist giving out the wrong medication or an incorrect dose of the right medication. If you're not sure whether your incident of negligence could be included within a claim, let's take a look at some circumstances.
Prescription Error Statistics
When we pick up a prescription from a pharmacy, it's safe to say that many of us won't even think to second guess that the medication we've received is the right one for our needs. But errors in prescriptions do happen, and the results can be devastating.
The Policy Research Unit in Economic Evaluation of Health and Care Interventions released a study in 2018 on the impact that medication errors in NHS England have. They found that:
Over 237 million medication errors occur in England every year. Dispensing errors accounted for 15.9%, or over 37 million, of these errors.
Of these dispensing errors, it's estimated that 34.1% have the potential to cause moderate harm.
1.1% of dispensing errors have the potential to cause serious harm.
Care homes have the highest prescription error per patient. Although many of these errors are related to medication administration, dispersion errors account for 3.6% of medication errors in care homes.
Medication errors of all kinds are estimated to cost the NHS £98.5 million every year.
Medication errors can lead to adverse drug reactions, which consume over 181,000 "bed days" in the NHS each year.
In addition, NHS Resolution has produced a report covering 2020/21 that reveals a staggering sum paid out to victims of negligence. This could include negligence in NHS pharmacies. You can see the figures below.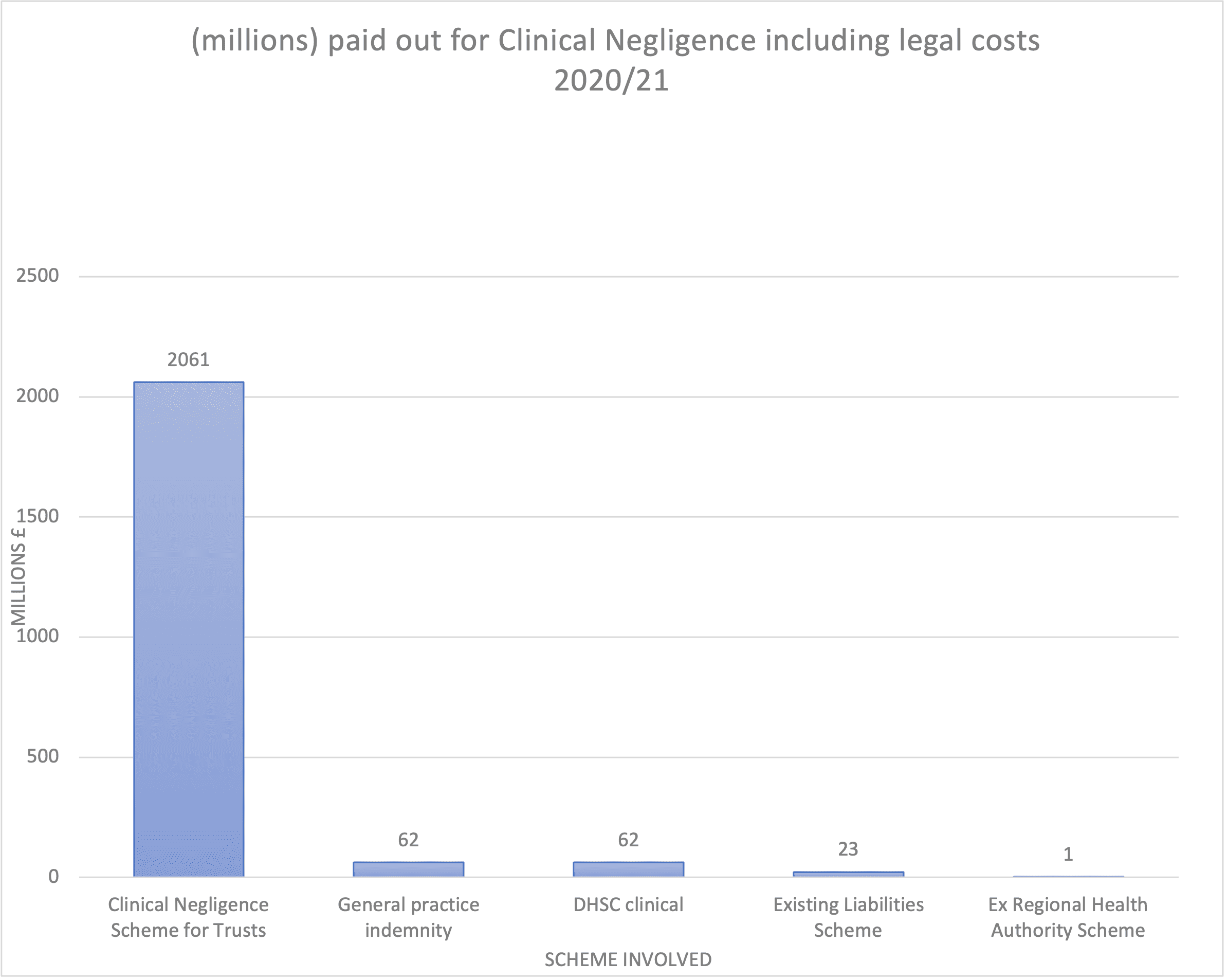 Causes And Types Of Prescription Errors
There are various types of pharmacy error causes that might result in pharmacy negligence claims or prescription error claims. These could be thought to include:
Prescription error –This could entail a pharmacist either dispensing the wrong medication which has not been prescribed for you or the incorrect dosage.
Transcription error – This could be caused by someone's handwriting being misunderstood, and an incorrect medication or dosage was given because of this. This may not entirely be the responsibility of the pharmacist.
Dispensing error – If a pharmacist's assistant or those that work as part of the pharmacist team gives the patient the wrong medication. A medication mix up. This may also not be a claim directed at the pharmacist.
To find out more about the effects of pharmacy error and why pharmacy compensation claims are necessary, read on. 
What Happens If A Pharmacy Gives You The Wrong Prescription?
Taking medication that is not prescribed for you can have varying consequences depending on what the medication is and if you are on other medication.
Short-term symptoms could include nausea and/or headaches. However, there are more serious symptoms that could be suffered, including:
Disability
Seizure
Liver Damage
Anaphylaxic shock (if you've been given something you are allergic to)/
However, these are not the only issues that could occur if you take the wrong medication. You could also not be treating the condition you initially had, which could cause a disease to progress further and cause more severe symptoms or a poorer prognosis. If you've been given the wrong medicine because of a prescription error, get in touch with us today to chat about pharmacy compensation claims.
Can You Sue A Pharmacy For A Prescription Error?
In answer to the question 'Can you sue a pharmacy for negligence', the answer very much depends on what has happened to you because this will determine whether or not you could file pharmacy negligence claims. It might be hard to see who could be at fault for a prescription mistake that has made you ill. To ascertain whether your unique experience means you could make a pharmacy negligence claim, you could call the team at Accident Claims UK, and we could help clarify this ahead of your prescription error claims.
Doctor Error
An error could be made by your doctor or treating medical professional. They could have prescribed the wrong medication. Or, they might be responsible for the dosage you receive.
If a doctor prescribes the wrong medication, then the pharmacy is unlikely to be at fault. After all, they are following the prescription.
Dispensing Error
If the pharmacy is given a prescription that is correct but goes on to give the patient the wrong medication or the wrong dosage other than what is prescribed on the prescription by the doctor and the patient suffers due to this error, then the patient may be eligible for damages within their pharmacy compensation claims.
Eligibility Criteria For Prescription Error Claims
If you're interested in making a claim following a prescription error, it's important to be aware of the criteria that you need to meet.
Firstly, you need to establish that the organisation that provided the prescription owed you a duty of care. This is usually quite straightforward to prove as all healthcare professionals, including pharmacists, owe their patients a duty to keep them safe from unnecessary harm.
Secondly, you need to prove that the duty of care was breached. In regards to prescription error claims, this could come in the form of the likes of the wrong label being attached to medication, the wrong medicine packaged in the box, or you being prescribed too high a dosage.
Thirdly, you must show that you suffered harm because of the error. For example, you may have taken the medication for a few weeks without realising, during which time you suffered pain and discomfort, such as vomiting and diarrhoea.
Finally, you must take legal action within the relevant time period. This is 3 years from the date of the incident. However, in some prescription error claims you could argue that the time limit should begin from the date you obtained knowledge of the problem.
We can check your eligibility criteria free of charge today if you want to see if you could get compensation. There's no obligation on your part to move forward with a claim, either. You can take advantage of our service by calling the number above.
Time Limits For Prescription Error Claims 
It's important to make sure that you begin your prescription error compensation claim within the time limit. The time limit for medical negligence claims is dictated by the Limitation Act 1980, which states that you have three years to start a prescription error claim. This begins on the date of suffering harm or the date that you connect the harm suffered with negligence. 
But, there are some exceptions to this time limit. For example, the time limit is frozen for those under the age of eighteen. While the time limit is frozen, a litigation friend can begin proceedings on the claimant's behalf. Otherwise, the time limit will begin on their eighteenth birthday and last until they turn twenty-one. 
The time limit is also frozen for those who lack the capacity to claim. It reinstates if the claimant regains the needed capacity, but otherwise, a litigation friend can make their claim on their behalf.
To learn more about how harm could be caused by prescription errors, claims for medical negligence, and time limits in medical negligence claims, contact our team today.
Examples Of Settlements For The Wrong Prescription (UK)
Settlements for wrong prescription injuries will be dependent on various factors, including the severity of the injury or illness and how it has affected your quality of life.
In prescription error claims, successful claimants could receive two types of damages. These are known as general damages, to compensate for loss of amenity, suffering and pain, and special damages, for financial costs and losses. 
Legal professionals can use the figures shown in the Judicial College Guidelines (JCG), as well as any evidence you provide, to help calculate general damages.
This is a publication which gives guidance on general damages settlements for a range of injuries, though the figures shown are not guaranteed. The table below includes entries from the JCG to give you a rough idea of how your claim could be valued.
| Injury | Explanation | Bracket for compensation |
| --- | --- | --- |
| Minor Poisoning | Causing symptoms that are minor. These could include muscle pain, nausea, diarrhoea – Usually clears up within a few days | £910 to £3,950 |
| Poisoning (moderate) | Hospital treatment may be required. Worse pain, nausea than that of minor poisoning Fever and fatigue may be present. | £3,950 to £9,540 |
| Serious Poisoning | Symptoms similar to the above with vomiting and cramps. Remaining discomfort and disturbance of bowel function and impact on sex life and enjoyment of food over a few years. | £9,540 to £19,200 |
| Poisoning (severe) | Severe toxicosis. Long-term effects on quality of life and lengthy hospital treatment. | £38,430 to £52,500 |
| Mental trauma | Fearing impending loss of life | £4,670 |
| Kidney damage | Loss or damage to both kidneys | £169,400 to £210,400 |
| Kidney damage | Significant future risk of UTI | Up to £63,980 |
| Kidney damage | Loss of one, no damage to the other | £30,770 to £44,880 |
| Bowel damage | Severe abdominal injury, which may lead to loss of function | £44,590 to £69,730 |
You could also potentially claim special damages if you have suffered financial loss as a result of a prescription error. This could include:
Loss of earnings if you have needed time off work
Medical costs
Travel expenses
If you cannot see your injuries listed, please call us. We'd be happy to talk to you about your case. We could also give further guidance as to how your compensation could be calculated. 
Prescription Error Claims And No Win No Fee Agreements
One of our solicitors could help you make your prescription error claim with the help of a No Win No Fee arrangement known as a Conditional Fee Agreement (CFA). Under a CFA, you won't be asked to pay a fee for your solicitor to begin working on your claim or to retain their services. Likewise, if your claim fails, then your solicitor won't take a fee for their work. 
If your claim is successful, a success fee will be deducted directly from your compensation award. It's taken as a small percentage, but there is a legal cap in place which helps ensure that the larger share of your award stays with you. 
There are many benefits to working with a No Win No Fee solicitor on your claim. Our solicitors take on claims from all over the country, which means you don't have to work with a legal professional near you. They can also help you strengthen your claim by collecting relevant and helpful evidence and can ensure that your claim is filed in full.
Our team of advisors are here to help if you would like to find out if you could be eligible to work with one of our solicitors. They can offer a free evaluation of your claim, answer any questions you may have, and may be able to connect you with one of our medical negligence solicitors. To get started:
Why Choose Us For Your Prescription Error Claim?
Here at Accident Claims UK, we have helped claimants from all walks of life, providing support and guidance on making personal injury claims for many different types of negligence suffering. We are experienced in handling even the most complex of claims queries. We'll do all that we can to answer your questions without confusing legal terminology.
We offer a client-focused service, putting your needs first at every step. If it's answers that you need, we could provide them. If it is a medical negligence lawyer you require, then we could provide one from our panel. Whatever it is you need regarding a pharmacy negligence claim, we will try to help. Client satisfaction is important to us. Therefore, even if you don't use our services, you can still count on us to provide reliable advice.
Learn More About Prescription Error Claims
If you'd like to learn more about prescription error claims, we have lots of guides you can check out. Simply browse the links below:
Thank you for reading our guide on prescription error claims