By Joanne Jeffries. Last Updated 17th November 2021. Welcome to this case study, which explains how personal injury claims payouts for a motorcycle accident could be calculated.
There is no denying that motorcyclists are some of the most vulnerable on the roads. This is because they do not have the level of protection that a car provides. Moreover, they can be a lot more difficult to see. This is something that one claimant we researched fell victim to when he was involved in a horror crash that left him disabled.
In this case, the victim ended up receiving £10m in compensation. In the accident, the claimant smashed into the driver door of a vehicle because a car suddenly pulled out in front of him and he had no time to stop. This resulted in him being thrown across the road, landing in a ditch. The impact tore his helmet off. We have worked on many similar cases like this case that we've used as an illustration of what can be done.
So, we thought it would be a good idea to look at one of the many motorcycle compensation stories that happen across the UK and abroad to give you an understanding about these claims. If you have been involved in a motorcycle road accident and it was not your fault, we can provide you with some of the best No Win, No Fee solicitors that can help you to get the compensation you deserve.
Motorbike and Motorcycle Accident Statistics In The UK
As mentioned in the introduction, there is no denying that motorcyclists are some of the most vulnerable on the roads in the United Kingdom. This is backed up by the statistics that have been presented by the UK Government's Department for Transport. However, unfortunately, the most recent statistics that they have provided are for 2013. Nevertheless, the statistics show that in 2013, there were 6 deaths on average per week caused by motorcycle accidents, as well as 94 serious injuries. In addition to this, 68 per cent of motorcyclist fatalities occurred on rural roads as per the chart below. This is despite the fact that rural roads only account for 40 per cent of motorcycle traffic.
How Serious Was The Claimant's Brain Damage?
The individual involved in this claim was left seriously brain damaged after the motorbike incident. Aged 25-years-old at the time of the crash, his injuries were life-changing. He was in a coma for two weeks after the incident, and his heart stopped eight times while he was being airlifted to the hospital. His speech has been badly impaired, he needs constant care, and he uses a wheelchair.
What Is The Role Of A Litigation Friend?
This refers to a scenario whereby someone has been appointed to make court decisions for an adult that does not have the mental capacity to manage their own court case. In this incident, the injuries the claimant suffered were so extensive that he was not able to manage his court case himself, and this is why a litigation friend was so pivotal. The case would probably not have been able to be settled in the same way if this litigation friend was not involved.
What Settlement Did The Royal Courts Of Justice Award The Claimant?
Motorbike accident compensation – how much was awarded to the victim? In this case, the claimant was awarded a payout of £10 million. This payout is designed to give the individual the care and assistance he needs for the rest of his life. Since he was awarded the compensation, he moved into a rented farmhouse that has been specially adapted for him in order to help him live as best a life as he can. He is assisted around the clock by two live-in support workers. He also undergoes full rounds of occupational therapy, psychological therapy, language therapy, speech therapy, and physiotherapy.
When making a personal injury claim, it is important to recognise the money you receive will be split into two parts. Firstly you have general damages, which will compensate you for your suffering. Secondly you have special damages, which will compensate you for any out of pocket expenses you have experienced. This can be any costs to do with medical needs, travel etc.
General Damages
Let's begin with general damages. General damages are for the injuries you have suffered. The amount you receive will be calculated based on the severity of your injuries and the impact they are having on your everyday life. Needless to say, the more serious your injuries are the more personal injury compensation you will be awarded.
Special Damages
Special damages are designed to compensate you for any out of pocket expenses you have suffered as a result of your injuries. Here are some common examples…
Treatment expenses
Cost of counselling
Loss of income/ loss of earnings 
Travel costs
Childcare expenses
Repair costs
Ask yourself the following… Will I have experienced this cost if I hadn't been injured? If the answer is no, then it counts as special damages. Nevertheless, you will need to keep proof of these costs, so make sure you do not throw away your receipts and such.
Do All No Win No Fee Claims Go To Court
Are you concerned about the cost of a personal injury lawyer? You are not alone. There are so many people in the UK that would have been entitled to make a motorbike accident claim, yet they have failed to do so because they feel that they cannot afford the motorbike claims solicitors costs associated with making a compensation claim. However, it's not all doom and gloom, as you will discover below. Read on to find out why the cost of personal injury lawyers may not be as expensive as you think.
Of course, we are not denying that some motorcycle accident solicitors do charge extortionate fees. This is particularly the case for solicitors that charge by the hour. When you go down this route, there is always the chance that you could be slapped with a huge unexpected bill, and this, understandably, puts a lot of people off. There is also the issue of hidden costs and additional extras that you never even realise you had to pay for. However, there is another option available to you, and this is to go for the services of a No Win, No Fee personal injury solicitor.
This type of solicitor agrees to work to a payment agreement whereby you will only need to pay the bill if the case is a victorious one. If the solicitor does not manage to secure motorbike injury compensation for you, you won't have to pay the legal fees. This offers you a significant degree of monetary protection. You know that you will have your payout to cover the legal fees if you are subject to them. If you were to use the services of a No Win, No Fee solicitor, there is always the chance that you could spend huge sums of money only for your case to be a failure. With a No Win, No Fee agreement, you get that added peace of mind.
This leads to other advantages too. For example, you are much more likely to benefit from a quality service. After all, the solicitor's pay is performance-related, and they are not going to want to miss out on their legal fees. Therefore, they are going to be doing everything in their power to win the case for you. And, of course, they are not going to waste your time by taking on a case if they believe it is not strong enough to grant compensation.
Contacting Our Specialist Team About Personal Injury Claims Payouts For A Motorcycle Accident
So, how do you make a claim? This is the easy part. All you need to do is get in touch with Accident Claims UK, and we will handle everything for you. We are one of the UK's leading firms of this type, with many years of experience. We have successfully helped thousands of personal injury victims to get the compensation for being knocked off motorbike they deserve and, therefore, it is likely that we will have dealt with cases similar to yours time and time before. If you are ready to make a claim or you have any questions, give us a call on 0800 073 8801. This line is open seven days a week, 24 hours per day, so you can call at any time that is convenient for you. You will find additional contact information via our contact page. We are happy to answer any sort of queries you may have, no matter how big or small, and we can provide you with further motorcycle accident compensation examples if you require them. Please rest assured that all claims will be handled on a fully confidential basis.
Could I receive personal injury claims payouts for a motorcycle accident which injured my child?
Whether your child was a pedestrian hit by a motorcycle, or was hurt in a car accident involving a motorbike that wasn't their fault, if they are under 18, you could make a claim for compensation for them. You would generally have until they turned 18 to do so. Alternatively, they could make a claim once they turn 18. If you choose to claim for your child, you'd need to act as a litigation friend for them, which would allow you to decide on certain aspects of their claim, such as whether to refuse an offer of compensation and fight for a higher personal injury claims settlement amount.
How long do I have to claim for personal injury claims payouts for a motorcycle accident?
There are certain time limits that could apply to such a personal injury claim. In general, when it comes to road traffic accident claims, you'd usually have 3 years from the day you had the accident to make your claim. However, if it comes to the personal injury claims time limit applicable to child accident claims or accidents involving someone without mental capacity, this could differ. If you would like to receive free legal advice from a friendly solicitor on how long you could have to claim, please do not hesitate to contact our team. We would be glad to assess your case for you. If you require it, we could even provide you with a solicitor working on a No Win No Fee basis who is authorised and regulated by the Solicitors Regulation Authority.
How can I maximise personal injury claims payouts for a motorcycle accident?
When you make a claim for a motorcycle accident, you'd need to prove that the accident occurred, it was someone else's fault and it caused you injuries.  To do so, you'd need evidence. Evidence of the accident could include witness statements, photographs and police reports, for example. To prove your injuries, you'd need an independent medical report which detailed your prognosis, the severity and nature of your injuries. To prove your claim for special damages, documents such as pay slips, receipts, bills and bank statements could be useful.
In addition to this, choosing a solicitor with years of experience in assisting claimants with personal injury claims could help maximise personal injury compensation payouts, which is why you may want to choose your solicitor with care. We would advise you to carefully investigate your solicitor's success rate, and find out as much as possible about them before you go ahead and use their services.
How common are motorcycle accidents in the UK?
According to the Department of Transport, there were still a significant number of people who suffered injuries in road traffic incidents in 2020. This is despite there being some months where the UK was in lockdown, which should have reduced the traffic on the roads. You can see what road users suffered most injuries below.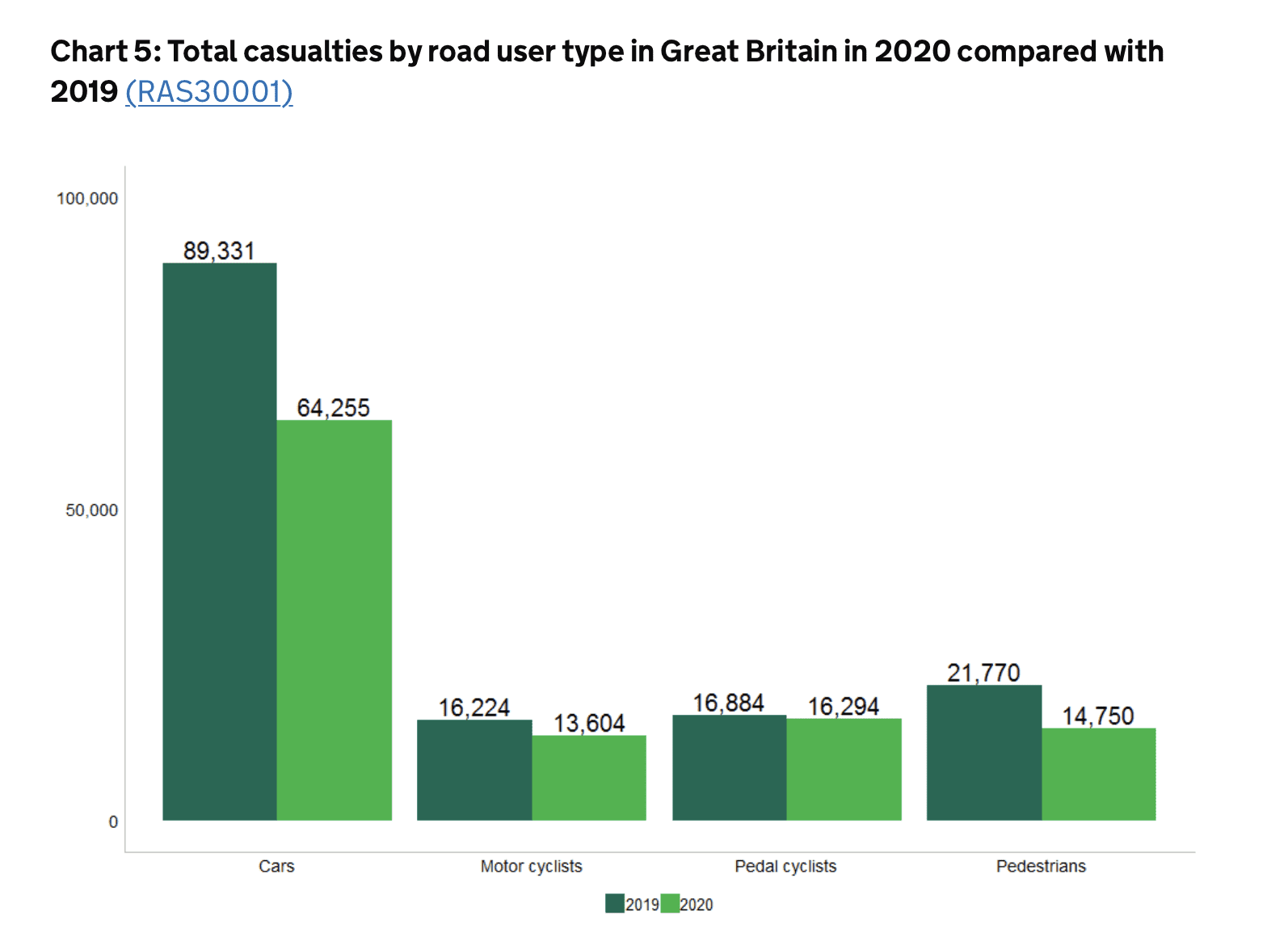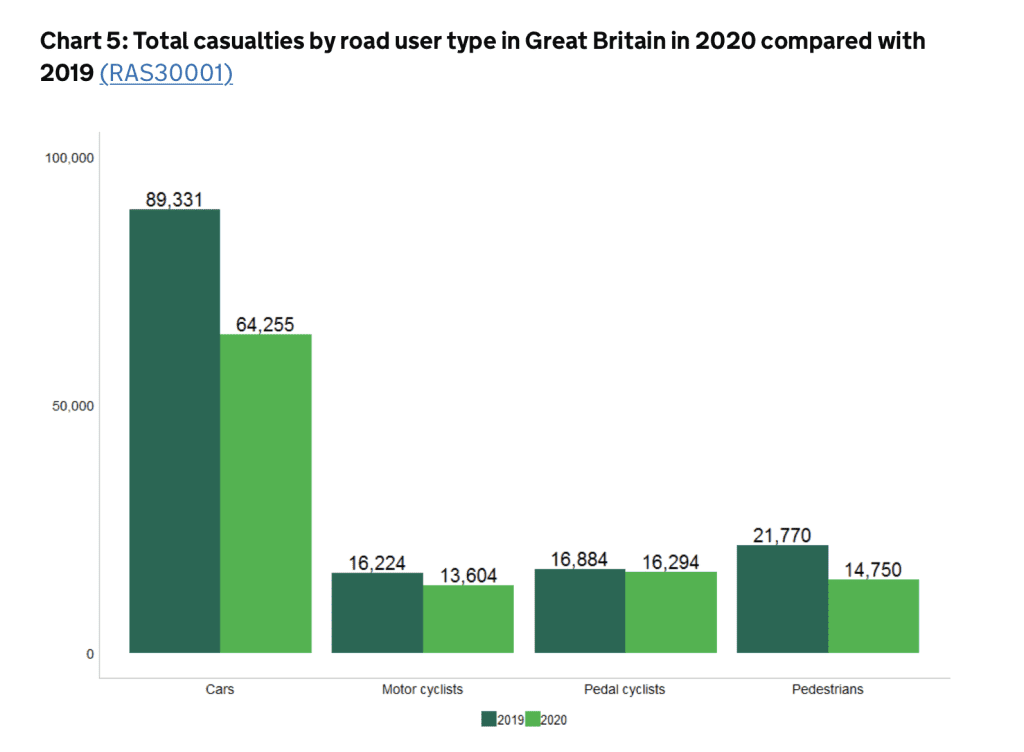 Helpful Resources Relating to Personal Injury Claims Payouts For A Motorcycle Accident
We hope that you have found this guide useful while looking for information on motorcycle accident compensation claims. However, if you need more information, the guides below may assist. The following links are all comprehensive guides that we have put together to assist our clients. The first is our guide on motorcycle accident claims, the second is on fatal motorcycle accident claims, and the third is about head injury compensation claims. We hope you find them useful.
Motorbike Claiming Guide – Covering what you need to do about this specific claim type.
Fatalities in motorcycle incidents – Claim Guide – Fatalities are common in motorbike accidents, our guide details how to claim.
Injuries to the head – These can be complex. Find out more about claiming compensation for head injuries here.
Thank you for reading this case study relating to personal injury claims payouts for a motorcycle accident. Whether you're claiming against the motor insurers bureau, or a liable party's insurance company, we could talk you through the claims process, explain what financial losses you could claim for and the amount of compensation you could receive as the result of the accident you suffered long term or short term injuries in. Our specialist solicitors could also help you understand the role of the Judicial College Guidelines in reaching an appropriate settlement amount.