By Stephen Burke. Last Updated 3rd August 2022. In this case study guide, we take a close look at potential personal injury claims payouts for a cheekbone fracture.
If you have been injured because of any type of accident and someone else is to blame for what happened, there is a very high chance that you are going to be entitled to compensation. It is important that you get the payout your deserve so that you can get the care required and avoid having financial difficulty because of what has happened to you. This is something that one individual did when he suffered a cheekbone fracture after being involved in a road traffic accident.
In this incident, the claimant, who was a young man, aged 21-years-old, was awarded £47,500 in personal injury compensation due to a very severe facial injury. Not only did he have a serious facial fracture but also he suffered anxiety and depression as a consequence of what had happened to him. In this case study, which we happened upon while researching claims of this nature, we will take a look at the injuries the claimant suffered from, as well as assessing the claim itself and how a final decision was reached. If you have been involved in any type of road traffic accident or you have suffered injuries to the face for any reason, we can help you to get the fractured eye socket compensation you deserve here at Accident Claims UK on a no win no fee basis. But first, read on to find out more about this claim for compensation for fractured cheekbone in particular. You will also find our contact details at the end.
Road Traffic Accident Statistics For Young People
At the time of the accident, the claimant was only 21-years-old. The UK Government have released statistics regarding young car drivers via the Department of Transport. Please note, however, that the most recent statistics were provided in June 2015. Young car drivers relates to anyone who is between the age of 17 and 24-years-old and drives a vehicle. When compared with drivers over the age of 25-years-old, young car drivers are over-represented in reported road traffic accidents. In the UK, young drivers account for roughly seven per cent of full car driving licence holders. When it comes to reported accidents with drivers over the legal alcohol limit, young drivers account for a quarter of all drivers killed. The statistics are improving, though, for the number of killed or seriously injured young car drivers. In 2013, there were 1,290 seriously injured or killed young car drivers, which represents a 79 per cent decline since 1979.
Cheekbone Fractures
This incident revolved around a road traffic accident. As a consequence of the incident, a 21-year-old man was left was a very serious cheekbone fracture. This then caused anxiety and depression. It was so bad that the individual ended up giving up his career as an accountant, and needless to say, his social life suffered too. The claimant withdrew socially because he no longer wanted to meet others because of his facial injuries, which were very severe. His left cheek was the part of his face that was damaged the most. To repair lost tissue, skin grafts from the claimant's groin were needed. To repair a cheekbone, bone grafts were required. Despite numerous operations, permanent disfigurement was inevitable. On the left cheek, the claimant has scarring that is a different texture and colour. This is what caused the individual to withdraw and suffer with anxiety and depression, as he did not want to have contact with other people due to feeling self-conscious. On top of all of this, the individual also suffered problems with his eyesight because of the accident. His left eye was prone to excessive watering and he encountered double vision too. It is expected that these injuries are going to be permanent.
What Was The Outcome Of The Claim And Case?
In this case, the claimant was awarded a sum of £47,500. As this case took place quite a while ago, if you were to calculate it based on today's values, you could say that this is the equivalent of £71,540 in 2018. The solicitors working on this personal injury claim were unable to reach a settlement out of court, which is always the desired outcome. Nevertheless, as the Defendant would not agree to anything, the case went to Kingston Upon Hull County Court. Liability was not deemed an issue. It was the amount of damages that was the sticking point. In the end, the claimant received £47,500. This was designed to cover the pain and suffering that the claimant was subject too, as well as providing a sum of money for loss of amenities. As already mentioned, the accident resulted in the victim needing to give up his job as an accountant. He was also keen on martial arts before the crash and had to give this up as well.
No Win No Fee Fractured Cheekbone Compensation Claims
When launching a personal injury claim, one of the most important things you need to do is find the best personal injury solicitor to handle your case. There is a lot you need to take into account when choosing a solicitor. One of your main decisions is whether to hire a traditional solicitor or a No Win, No Fee solicitor. This is something a lot of people struggle with, as they are unaware of the main differences between the two. Keeping that in mind, read on to discover everything you need to know.
The main difference between the two types of solicitors is the way in which you will pay for their services. When it comes to a traditional personal injury lawyer you will pay fees, which will be outlined from the offset. You will also usually have to pay every time you have a meeting or a consultation with the solicitor. The payment begins from the moment you start using their service. A No Win, No Fee solicitor is entirely different. You only pay the full amount if the solicitor wins your case, and so you can actually make an accident claim without paying a penny in the beginning.
When you see the main difference between the two it really is not difficult to see why so many people are going for No Win, No Fee solicitors nowadays. Not only do they avoid the hurdle of extortionate costs in the beginning, but also financial risk is diminished substantially as well. Moreover, you can be certain that the solicitor is going to only take on your case if they believe it is a strong one. There is always the risk that a traditional solicitor is merely taking on your case to get paid, as they are not affected by the outcome.
Here at Accident Claims UK, all of the injury lawyers we provide work on a No Win, No Fee basis. There is no one better to handle your accident claim, especially as we have many years of experience. Get in touch with us to begin the process!
Speak To Accident Claims UK Today About Personal Injury Claims Payouts for a Cheekbone Fracture
The next thing you need to do is simply get in touch with Accident Claims UK. We are one of the leading accident claim firms here in the UK. We have plenty of experience, having been established many years ago. Since then, we have successfully helped thousand and thousands of personal injury victims with a whole host of different claims. You can be sure you are in the best hands.
All of the injury solicitors that we can provide work on a No Win, No Fee basis. This presents you with various benefits. You do not need any money to begin your cheekbone fracture claim, and financial risk is minimised substantially. This ensures you benefit from a better service and we will only take on your case if we genuinely believe you have a strong chance of getting compensation. If you are still feeling unsure about using our service to make an accident claim, all you need to do is read the reviews that have been left by our past clients.
If you would like to secure compensation for a fractured cheekbone, or you have any questions about doing so, you can reach us on 0800 073 8801. This line is open 24 hours a day, seven days a week, so you can call at any moment that is convenient for you. You will also find that there are other ways to get in touch with us. Simply head to the contact page on our website or use the live chat feature in the bottom right hand corner of the page.
What damages could be contained in personal injury claims payouts for a cheekbone fracture?
While you may be aware that you can claim for the pain and suffering as well as the loss of amenity your cheekbone fracture has caused you, you may not be aware that you could also claim for the losses and costs you sustain because of your injuries. Generally, personal injury compensation settlements in the UK are split into general damages and special damages. But what does this mean for your claim?
In general terms, as we have explained the general damages you receive would include compensation for the suffering and pain of your injury. You would need to submit medical evidence to claim for such general damages. This must be independent from your usual doctor or GP records. You would need to go and see an independent medical specialist in order for them to complete a medical report that could evidence your injuries and help you to get the maximum compensation possible for your claim. In terms of special damages, you would need to submit documentary evidence of costs and losses sustained as a result of your injuries and accident. This could include pay slips, bank statements and suchlike. If you are worried about what evidence you would need to submit as part of your claim, we would be delighted to help you. We could offer you free advice from a friendly solicitor who could give you all the information that you need to get started with a No Win No Fee claim.
2022 Compensation Payouts For A Fractured Cheekbone
If you have grounds to start your own claim for a fracture to the cheekbone, then you will likely have questions about what compensation may be offered if your case succeeds. In the table included below, there are compensation brackets for cheekbone fracture injuries and other skeletal injuries you may possibly claim for following an accident.
The brackets in the table are based on the 2022 version of the Judicial College Guidelines. These figures should be treated as estimates only, but they can at least provide some insight into payouts for cheekbone fracture claims.
| Type Of Injury | Description | Compensation Bracket |
| --- | --- | --- |
| Facial Scarring/Disfigurement | Significant Scarring | £9,110 to £30,090 |
| Facial Scarring/Disfigurement | Less Significant Scarring | £3,950 to £13,740 |
| Facial Scarring/Disfigurement | Trivial Scarring | £1,710 to £3,530 |
| Fracture Of Cheekbones | (i) Serious fractures that require surgery | £10,200 to £15,780 |
| Fracture Of Cheekbones | (ii) A simple fracture to the cheekbone that requires some reconstructive surgery | £4,350 to £6,460 |
| Fracture Of Cheekbones | (iii) A simple fracture to the cheekbone that doesn't require surgery | £2,320 to £2,990 |
Could my choice of solicitor affect personal injury claims payouts for a cheekbone fracture?
If you are looking for a personal injury lawyer to help you make a compensation claim, you may be worried about whether you have chosen the right one. Generally speaking, if you choose a solicitor that is authorised and regulated by the Solicitors Regulation Authority, has years of experience in helping claimants get the compensation they deserve, and could take on your claim on a no win no fee basis, this could give you some confidence that you have chosen a solicitor that could be appropriate for you. There are other checks you can make in order to determine whether you are choosing someone who could really offer you significant levels of assistance, however. You could, for example, call them ask them about their success rate and what claims they've handled in the past. You could also have a look at independent review websites to see what comments have been left about them. Alternatively, if you wish, you could call us and ask us about any of the personal injury solicitors we could provide you with. We would be only too happy to give you the information you need to make an informed decision.
How common are road traffic accidents that cause injuries?
As you can see from the graphic below, there were a significant number of people injured on UK roads in 2020 according to Department for Transport figures.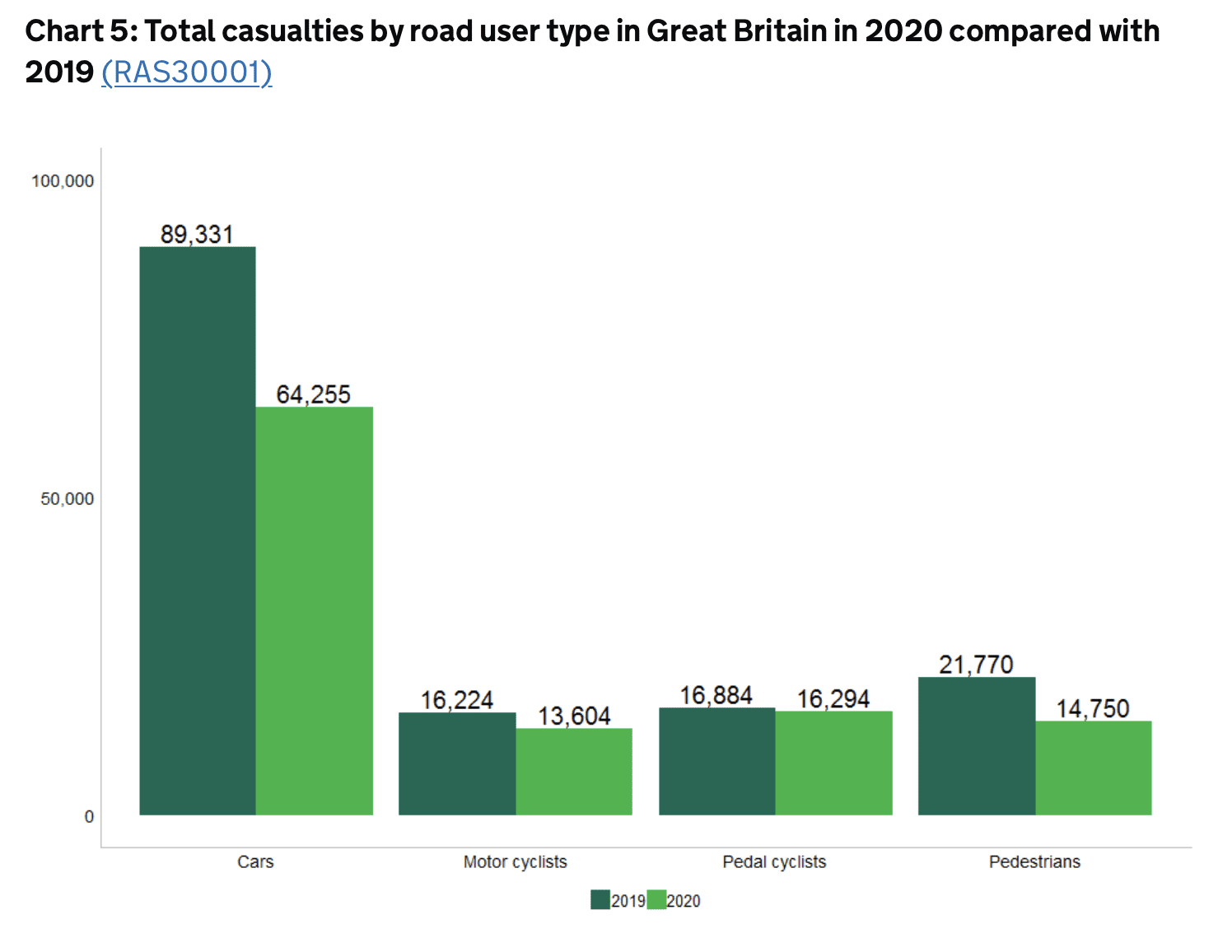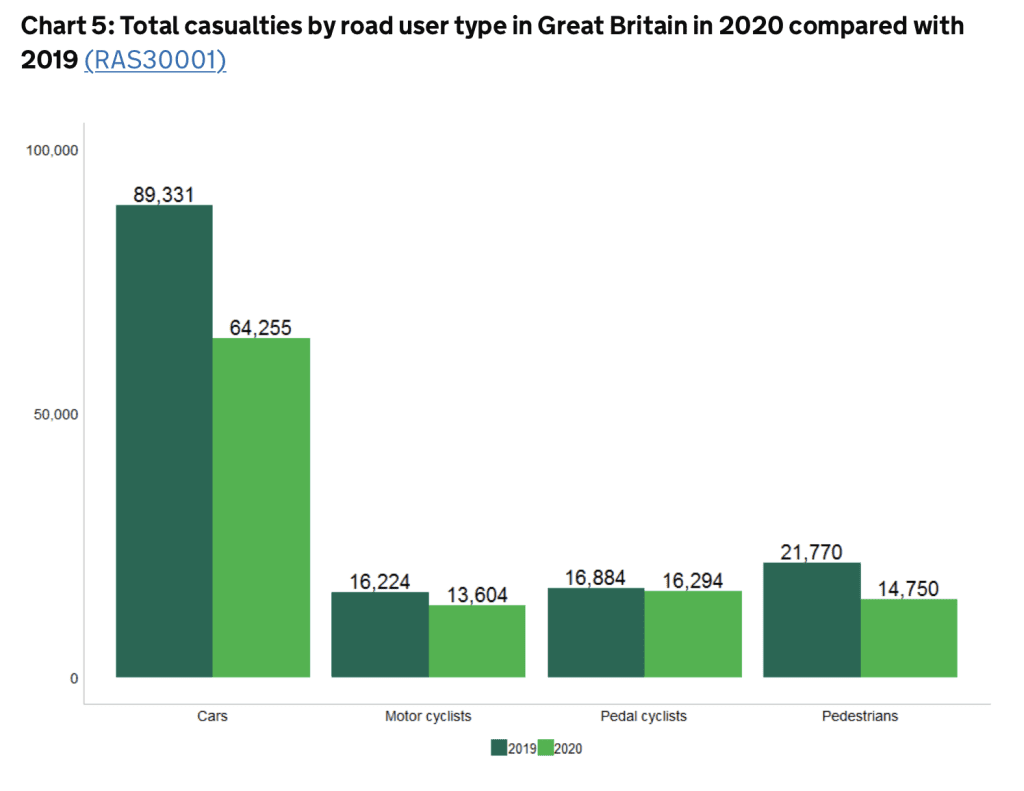 Useful Links Relating To Personal Injury Claims Payouts for a Cheekbone Fracture
We hope that this case study has provided you with a good example regarding the level of compensation you may receive for such a broken cheekbone claim. However, if you do require any further information, the links below will be of assistance. The first takes you to our guide on facial scar compensation amounts, and the latter reveals how much you could receive for broken bone compensation.
All about facial scarring compensation – What you need to know about this type of injury
Bone fractures – What you need to know about claiming compensation – Common brackets for payments for this type of injury.
NHS facial injuries – Some answers to frequently asked queries over facial injury.
We hope that reading this case study guide relating to personal injury claims payouts for a cheekbone fracture has proven useful. If you're seeking more advice on claiming for a broken cheekbone or other types of facial injuries or fracture injuries, then you can contact our advisors for more help. You can reach our advisors online or on the phone by using the contact details included in this guide.