By Mark Collins. Last Updated 16th August 2022. Welcome to our guide on domestic abuse compensation claims and domestic violence compensation claims. In it, we reveal compensation for domestic violence example payouts, as well as explaining how we could assist you in claiming compensation for domestic violence in the UK.
Domestic violence and domestic abuse are some of the most traumatic types of violent or abusive behaviour which people can face in their life. Whilst you should always seek help from the authorities, such as the police and domestic abuse charities, you should also find out if you are entitled to be compensated for what happened to you by making domestic abuse claims.
What could domestic abuse compensation help with?
Whilst we understand that getting some form of financial recompense can in no way go towards making up for the events which have happened, it can help to relieve any financial pressures which you are facing as a result of it.
Unfortunately, for many people, making a domestic violence or domestic abuse compensation claim can be a difficult and even traumatic experience. Whilst in most other types of personal injury claim, the choice to go ahead can often be easy, with a domestic abuse claim, it is not necessarily so. In most other types of claim, you have been injured as a result of negligent behaviour or a mistake on someone else's part and are compensated for this error.
However, in cases of domestic harm, the dynamics of the case are much different and more complicated. This can be due to the fact that the harm caused to you, the violence or abuse which you experienced was not due to oversight or error, but that it was a deliberate act which the perpetrator carried out on you, perhaps even over an extended period of time.
Help with claiming domestic violence compensation
The choice to make a compensation claim in these circumstances can often be very difficult to make. The violence or abuse will often have happened over a long period of time, and the perpetrator will often have instilled in the victim a sense of fear or one of them not being entitled to any other type of treatment.
This means that when making a compensation claim, the claimant is directly challenging the person they could be most afraid of. This fact alone can deter many people from making these types of claims and from getting both the justice and compensation that they deserve.
No matter whether the abuse you have been the victim of was physical, psychological, or even sexual, and no matter whether the perpetrator is a person or an organisation, you are able to make a compensation claim for the injuries that you have suffered. You could also file a claim for abuse suffered as a child or neglectful abuse suffered by someone who is elderly.
To find out more about domestic abuse compensation claims,  read our guide below. When you are ready to make an inquiry about a No Win No Fee claim, contact Accident Claims UK today on 0800 073 8801.
Select a section
A guide to domestic violence claims
When a person is physically harmed, attacked or hit, in a setting outside the home, it would simply be regarded as an assault. Injuries from attacks in a domestic setting can be just as violent and harmful as those which happen on the street, and the emotional pain, as well as the loss of trust in the perpetrator, can have far a more devastating psychological impact over the long-term.
Even after leaving the abusive partner or parent, people may still find it difficult to carry on with their lives as before, and the effects can impact the victim's ability to form new close relationships. This is why you may want to claim compensation for domestic abuse. To see if you're eligible, call our team on the number above.
Alternatively, here is more guidance on claiming compensation after an assault.
What is domestic violence and domestic abuse?
There are different definitions of domestic abuse, but the UK based domestic violence charity, Women's Aid, defines it as either an individual incident or a pattern of incidents over time that involve coercive, controlling, degrading, or threatening behaviour. It may also include violent behaviour, such as sexual violence, but this is not always the case, and instances that do not involve violence are no less serious. The perpetrator will usually be the partner or ex-partner of the victim; however, they may also be another family member or even a carer. The bulk of reported instances are those of women being abused by a man.
The domestic violence definition may include any of the following:
Exercising coercive control. This means building a pattern of intimidating behaviour which may degrade, isolate, or otherwise control the victim. There may be a threat of sexual or other physical violence.
Emotional and psychologically abusive behaviour. This may also include harassment.
Physical abuse or sexual abuse.
Financial abuse
Stalking in the real world or online as well as other abusive behaviours online.
Domestic violence compensation claims – how common is domestic violence in the UK
In the UK, domestic violence against women by men is much more likely to occur than the other way around. Women are also much more likely to experience more than one of these symptoms of abusive behaviour, and many will experience violence by an intimate partner, stalking or even sexual assault. Whilst domestic abuse and violence can happen irrespective of social class, race, ethnicity or religion, women in some communities may be more vulnerable to suffering abuse and less able to find help dealing with it. We can advise you on filing domestic abuse compensation claims in any such situations.
What are some of the common perceptions of domestic abuse?
Attitudes towards domestic violence can be seen in the Crime Survey of England and Wales. For the year to March 2017, the survey looks at the perceptions and attitudes of 4,564 adults who were questioned about domestic violence. Of these, the majority felt it was always unacceptable to hit or slap a partner. But some people thought violence was an appropriate response to cheating (7.1%), flirting with others (2.0%) or constantly nagging or moaning (1.5%)
If you have been affected by this, you could be entitled to claim domestic violence compensation. Talk to our team today to find out more about domestic violence compensation claims.
Domestic violence statistics for the UK
These are some of the headline statistics with regard to domestic violence in the UK.
In the UK, domestic abuse and violence affect as many as one in four women and one in six men over their lifetime.
On average, each year, 30 men are murdered as a result of domestic violence, whilst two women are murdered each week.
Police forces across England and Wales recorded a total of 1,459,663 domestic abuse-related crimes in the year ending March 2021.
5.5% of adults aged 16 to 74 who responded to the Crime Survey for England and Wales in the year ending March 2020 had experienced domestic abuse in the past year.
In 2019, Women's Aid supported 309 women who fled abusive situations at home. Of these, 44% sofa surfed, 14% stayed in emergency accommodation provided by the local authority, 4% stayed in a B&B, hotel or hostel and 7% slept on the streets.
59% of these women suffered further abuse from their partner as they waited for refuge space.
Additionally, each year as many as 400 people who have previously attended hospital due to injuries caused by domestic violence commit suicide. Of these, half will have visited the hospital for injury treatment on the same day as they commit suicide.
Further to this, more than 1/3 of violence against the person offences recorded in the year up to March 2021 were recorded as being domestic abuse-related. You can see the graph below for other numbers.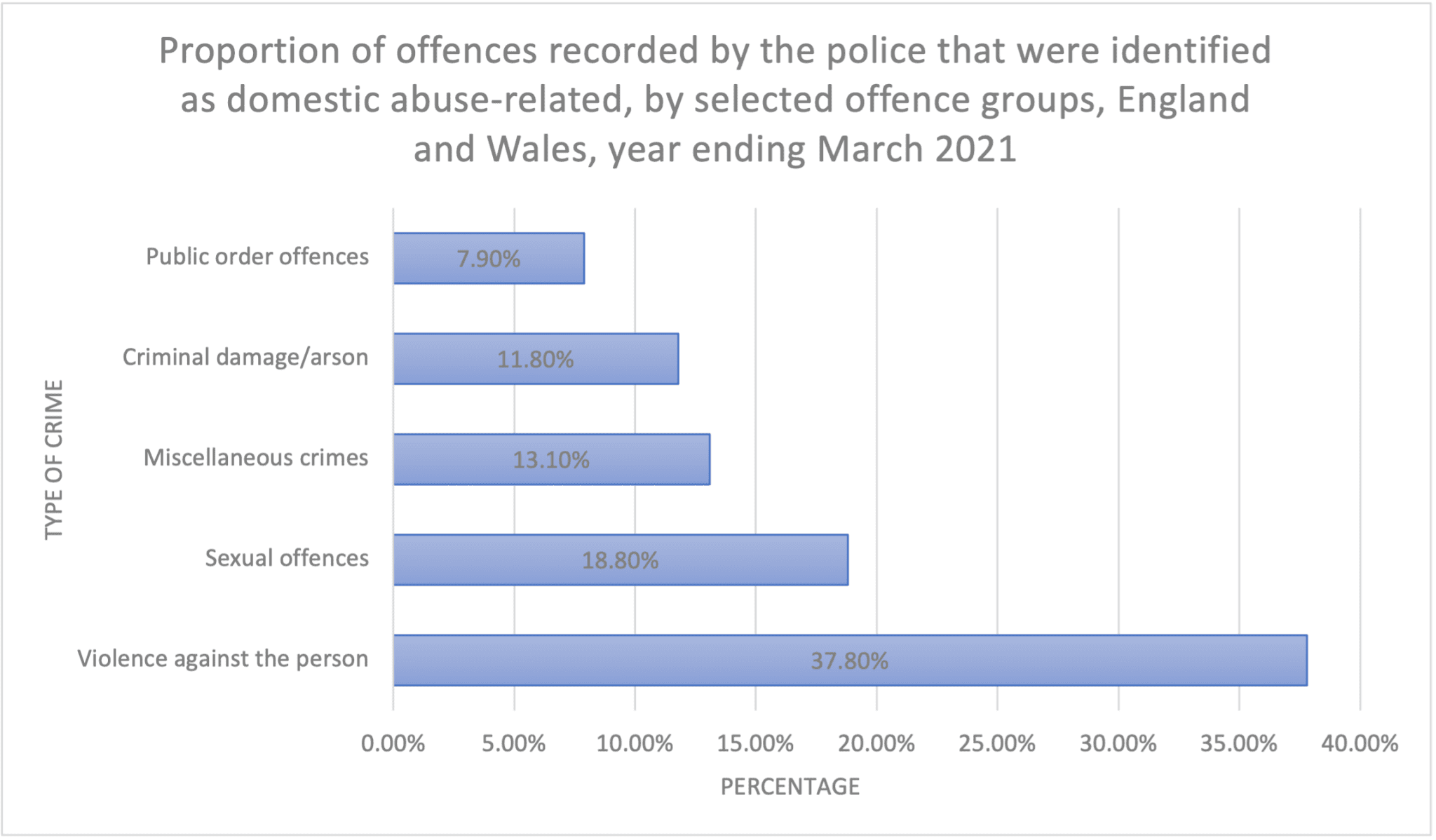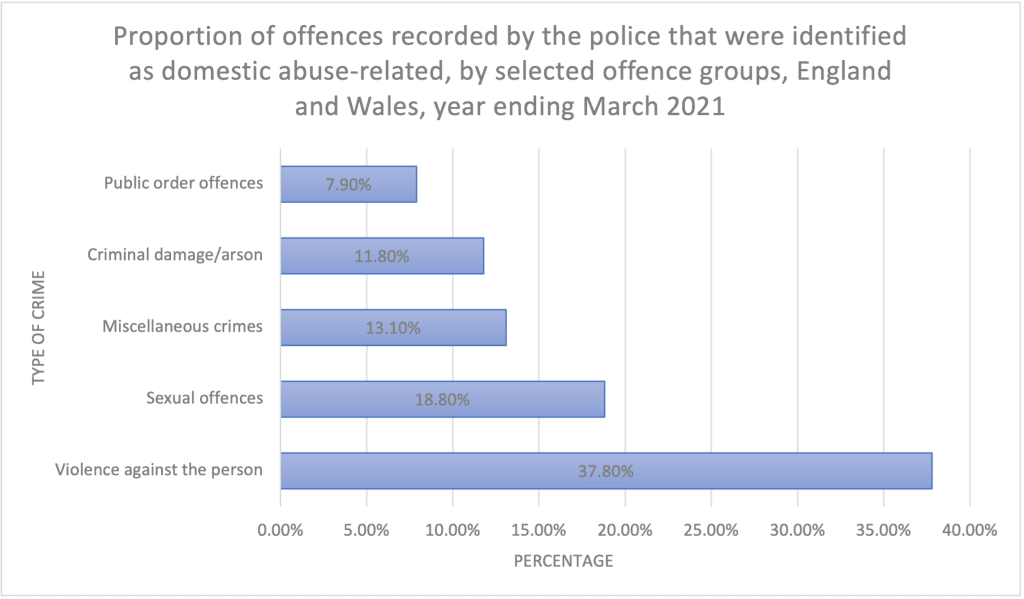 If you'd like to know more about the process of making domestic violence and domestic abuse compensation claims, please read on.
How to start a claim for domestic violence
In order to successfully make any type of claim, such as claiming domestic violence compensation, there are steps that you need to take. You need to be able to prove that the injuries you suffered were caused by the action of someone else; in cases of compensation for domestic harm, you will need to show that the violence happened, that you were injured, and that the other party was responsible.
Getting professional help with domestic abuse compensation claims
In itself, this can be a deterrent for many abuse victims. If you do choose to seek the compensation to which you are entitled, it is better to work with an experienced personal injury claims solicitor who can help in building a strong case.
The most important part of the service we provide is being empathetic to your situation, what has happened to you and the effect it has had on your life. All of this is important as we shape your domestic violence compensation claims.
Our solicitors also have experience with domestic abuse compensation claims and will know what steps you can take towards making a successful claim. To find out more about how our lawyers can help you, get in touch with us at any time.
How to hire a domestic violence compensation solicitor
The first step in the process of hiring a solicitor with Accident Claims UK will be to have an assessment of your claim and case. During this consultation, they will listen to the details of your claim and look at any supporting evidence that you have been able to collect. Good examples of evidence that can help you claim can include photographs of injuries you have sustained, the contact details of any witnesses who can testify in the claim if necessary, and examples of any threatening, harassing, or abusive messages you have received.
The solicitor will then assess how strong your claim may be and advise you whether they think your claim will be successful and whether you should proceed with it. If they think that you do have a strong case and that you could be awarded compensation, the solicitor which we could provide you will put together a case.
If you'd like to know more about domestic abuse compensation claims or domestic violence compensation claims from one of our legal experts, don't hesitate to contact us today.
How to collect evidence to support your claim
If you're unsure about what kind of evidence is needed to support domestic abuse compensation claims, then this section will be of great help to you. As outlined previously, there are several key pieces of evidence that could help to make your domestic violence compensation claim go quicker and smoother.
Photographic evidence, such as photos of your injuries, can help your case. You should also keep records of any threatening or abusive text messages, emails, or other communications you have received. Along with statements from witnesses, these all serve to strengthen and support your claim.
Medical records could also be helpful evidence, as they can outline the severity of your injuries and the impact they have had on your quality of life. If you make a personal injury claim, a solicitor can arrange an independent medical appointment for you, as part of the process. Our solicitors can help arrange this as locally to you as possible, for your convenience.
You should also retain copies of any medical costs (such as prescriptions) and details of the prescription. These all help to provide concrete evidence of any physical abuse suffered. Along with these, you should keep copies of any reports which have been filed with the police, as this also provides evidence to support your case.
If you do not have any of the evidence outlined above, don't worry. Whilst these types of evidence can all help to strengthen a claim, you can still make one without them.
Why you should claim compensation for domestic abuse or violence
For many victims of domestic violence, the act of escaping the immediate situation and abuse is enough. Whilst this could seem to some people like it is the easy way out, doing so can let the perpetrator off the hook whilst you are then left to deal with the emotional, psychological, and even physical consequences. Filing a compensation claim allows you to hold your abuser to account as well as getting you the compensation you may need to help you start a new life and to close this part of your life.
Compensation could be awarded for any pain or suffering you have experienced, any medical expenses such as prescriptions or even counselling, compensation for any damage to your property, and compensation for any lost income or benefits you experienced as a result of the abuse you suffered. Get in touch to ask any questions regarding domestic violence compensation claims.
The role of the Criminal Injuries Compensation Authority in claiming domestic abuse compensation
Domestic abuse compensation claims will often be paid out by the Criminal Injuries Compensation Authority (CICA). The CICA offers compensation to those who have suffered a criminal injury in England, Scotland and Wales. You can make a claim through the CICA if your perpetrator is unknown or they don't have the funds to compensate you personally.
To find out what levels of compensation can be paid out for domestic abuse compensation claims, read on to the next section.
Domestic violence and abuse compensation calculator
Domestic abuse and violence can have long-term and lasting effects on a person's ability to live a full work, personal, and social life. In some of the worst cases, the victim may experience the effects of post-traumatic stress disorder. Also known as PTSD, the condition can include some or all of the following symptoms, depression, anxiety, panic, anger, grief and even guilt. The symptoms of PTSD can also manifest physically as headaches, heart palpitations, and general aches and pains throughout the body. Many people will try to alleviate these symptoms with self-medication, such as prescription drugs or alcohol.
Can psychological injuries be included in domestic violence compensation claims?
These effects on you can all be weighed up in domestic violence compensation claims. When people are deciding whether or not to pursue a claim, one of their first questions is how much compensation they could be awarded for their physical, emotional, or sexual abuse. The first thing to say is that each and every case is different with circumstances, injuries and effects unique to that person. As such, we can not say exactly how much your claim may be worth.
Examples Of CICA Payouts – Compensation For Domestic Abuse
The table below shows examples of CICA payouts for domestic violence claims. The figures come from the Criminal Injury Compensation Scheme 2012. The amounts in the CICA tariff are set amounts for injury payments in claims.
| Type of injury or effects | Compensation amounts | Notes |
| --- | --- | --- |
| Disabling mental injury | £27,000 | Significantly disabling and permanent |
| Disabling mental injury | £19,000 | Moderately disabling, but permanent |
| Non-consensual intercourse which is vaginal and/or anal | £11,000 - £44,000 | Non-consensual sexual intercourse. |
| Sexual abuse and assault | £1,000 - £22,000 | Sexual assault or abuse of a victim of any age. |
| Sexual abuse and assault which results in the contraction of an STI | £5,500 - £22,000 | Awards for STI (sexually transmitted infections) including HIV, Hepatitis B or Hepatitis C. |
| Sexual abuse which results in pregnancy | £5,500 | Sexual assault which has resulted in the victim becoming pregnant. |
| Physical abuse of adults, including domestic abuse | £5,500 | Repetitive violence. There may be minor disfigurement. |
| Physical abuse of adults, including domestic abuse | £2,000 | Serious abuse - repeated physical assaults that result in an accumulation of healed scalds and wounds. However there is no appreciable disfigurement. |
You may suffer more than one injury from a domestic abuse incident. For multiple injury cases, you could receive 100% of the full tariff value for the most severe injury. From there, you could be entitled to 30% of the tariff amount for the second most serious injury. If there is a third injury, you could receive 15% of the tariff value.
However, as shown in the table, there are exceptions for if you are abused and it results in the loss of a foetus, a pregnancy or the contraction of an STI.
Contact us discuss how much you could get if you successfully claim compensation for domestic abuse. If you're wondering how to get a compensation evaluation, our advisors can also provide this completely free.
Compensation for domestic violence in the UK – special expenses
It could also be possible to claim through the CICA for domestic violence compensation covering special expenses. However, there are certain rules that underpin what special expenses you could claim for and whether you're eligible to.
If you are unable to work for a period of 28 or more weeks, you could apply for special expenses for financial losses caused by the injuries you sustained. However, you would need to prove these are reasonable, and cannot be compensated for from anywhere else.
If you'd like to learn about compensation for domestic violence in the UK and special expenses, we'd be happy to talk to you.
How long does a claim for compensation for domestic violence in the UK take?
This depends on the case. If you are claiming via the CICA there are targets that they try and meet in terms of timescales. However, if your claim is against the perpetrator or another party, your claim could depend on several factors. 
Please get in touch with our team to find out more.
No Win No Fee compensation claims for domestic violence
When facing domestic abuse and domestic violence, most people's main concern will be escaping their overall situation. When considering whether or not to seek the compensation that they are entitled to, the last thing which should be on a person's mind should be whether or not they can afford to do so. This is where No Win No Fee compensation claims come in. At Accident Claims UK, we have successfully handled a very wide variety of domestic abuse and violence cases through no win, no fee claims.
This type of contract means that you will only need to pay any type of legal costs or fees if you are awarded compensation as part of a successful claim. If we are not able to successfully pursue your claim, you will not have to pay anything to your solicitor as they take all of the financial risk. You won't need to make any upfront payments or have to pay a large bill at the end of any unsuccessful domestic abuse compensation claims.
No Win No Fee claims were designed to remove any financial pressures from a claimant. Our specialist team is on hand every day and can answer all your questions about how domestic violence compensation claims work on a No Win No Fee basis.
Why choose Accident Claims UK as your claims management service
The expert team at Accident Claims UK have years of experience in helping claimants to make a successful compensation claim. This means that we are uniquely placed to help you to seek compensation for your injuries and harm caused to you. Our initial free consultation will provide you with a risk-free way to begin your claim and to learn more about getting the compensation claim that you are entitled to.
This consultation will also help us to learn everything our team will need to know about how your abuse happened, the form it took and the time period it occurred over. During this, we may also be able to start to estimate how much you could be entitled to claim.
Remember, our expert team has years of experience in helping to process claims just like yours. We know that it is important to ensure that you feel listened to and comfortable with the claims process and will always be on hand to take your call.
Using a specialist solicitor in domestic abuse claims
As we have shown in our compensation table above, the amount of compensation paid to victims of domestic abuse varies widely. While the CICA scheme offers to help victims of violent crimes, it can't just issue compensation freely. Instead, all claims must be fully justified and backed up by supporting evidence. It's important to get the claims process right, though, as only one claim can be filed and once it's been settled, you can't go back and ask for additional funds.
This is why we believe you should let a specialist solicitor represent you. If your claim is taken on, we'll appoint a solicitor to work with you. They'll spend time to understand the full extent of your suffering so that they can try to achieve the maximum compensation for you. Throughout the process, your solicitor will act with compassion and at a pace that suits you. They won't put any pressure on you. Importantly, you won't need to discuss the case with anybody other than your solicitor. That is because they'll field all calls or queries from the CICA on your behalf.
What evidence do I need to claim domestic violence compensation?
A medical assessment will be required to discuss the psychological and physical impact of the abuse against you. This will be held in a comfortable location and your solicitor will book the appointment as locally as possible, so you don't need to travel too far.
To talk about starting a claim with us, please get in touch today.
Talk to us today about domestic abuse claims
If you are ready to find out more or to start making your domestic abuse compensation claim, you should call our expert team today. You can reach our team by calling 0800 073 8801. You can also reach our team by sending our team a message a contact form. To see other ways to contact Accident Claims UK about domestic violence compensation claims, view our contact details here.
Domestic abuse compensation claims- FAQs
How long do I have to make a domestic abuse compensation claim with CICA?
Usually, CICA claims should be made within two years of the incident occurring if you were an adult at the time. However, if you suffered from your abuse more than two years ago you may still be able to claim.
The time limit can be extended if you can show that exceptional circumstances stopped you from being able to claim beforehand. You should also be able to provide enough evidence that the application can be determined without a claims officer needing to make extensive enquiries.
If you were under 18 at the time of the abuse, and it wasn't reported at the time, then you have 2 years from reporting to make a claim. If it was reported at the time, you can claim up until your 20th birthday.
How long will it take for my claim to be settled? 
The time it will take for your claim to be processed will depend on a number of factors, and the more complicated your claim is the longer it will take CICA to make a decision. CICA won't make a decision on your claim until you've recovered from your injuries as much as you can be expected to.
If your claim is eligible then you will be paid but, because of the large volume of cases that CICA deal with each year, you can expect to wait up to 12 months for payment.
Can you claim compensation for mental abuse?
Yes, compensation claims cover both physical and psychological injuries.
How is compensation paid to a victim?
This generally comes in instalments, though there are scenarios where the payment is made as one lump sum.
Can you sue for childhood trauma?
Yes, children who suffer trauma are able to sue, either via a litigation friend or once they are 18 or over.
Should I accept the first offer of compensation?
We recommend that you don't do this because the first offer is never the largest offer possible.
What happens if I reject a settlement offer?
You will likely receive a second offer at some stage, though you can't accept the first offer later on.
Do victims of abuse get compensation?
If you have been the victim of abuse or domestic violence, you could be eligible to claim compensation. While we have focussed on claiming via the CICA in this guide, you could in some cases claim against the perpetrator.
Can you claim domestic abuse compensation for emotional abuse?
If you can prove the emotional abuse caused you to suffer a recognised psychological injury, you could be eligible for compensation. Please call our team to find out more.
How long does it take to get crime victims' compensation?
This depends on the case. The CICA attempts to decide on the majority of cases within around 12-18 months. However, in some cases, there could be delays. This could be particularly the case where the injuries are complex or severe.
What is court awarded compensation?
In some cases, when a criminal is prosecuted and convicted of a crime, they may be ordered to pay you compensation. The court could do this for reasons including personal injury, suffering and pain.
Will my claim for domestic abuse compensation be successful?
If you are wondering whether you could successfully claim domestic violence compensation, please speak to our team. We could give you a realistic view of whether your claim has a favourable chance of success.
Can I claim compensation for assault?
If you are an innocent victim of violent criminal activity, you could claim compensation for your injuries. In most cases, this would be via the CICA. However, in some cases, you could claim against an employer or the perpetrator.
Can I sue the mother of my child for emotional distress?
It is possible to make a claim against the mother for any distress caused within the relationship.
Your previous experience of domestic abuse may be from watching dramatic television programs where allegations of domestic violence are dealt with within a family unit, sometimes involving outside services getting involved. In some situations, previously many TV shows would portray someone accused of domestic violence or facing domestic violence charges being a very angry person, perhaps with a criminal record and in some cases, it was hugely dramatised. These days, however, the issue of emotional abuse is being covered to raise awareness of how this can affect victims and what the signs to spot it could be.
Emotional abusers could use any tools open to them to inflict harm on someone else. For example, they may cause trouble in a child custody case by making false or misleading statements about the other parent. Some parents face a custody battle so emotionally damaging to both themselves and their child that it could cause longstanding psychological harm. They could even feel it necessary to file restraining orders or protective orders to stop the perpetrator having access to them or their children. The victims of domestic abuse, emotional or physical deserve more than just the perpetrator facing criminal charges via law enforcement services. They also deserve compensation for the mental trauma they've experienced.
Do I need a lawyer to make domestic abuse compensation claims?
We recognise that you may be unsure as to whether you would legally need a solicitor to claim domestic abuse compensation. While you do not legally require a lawyer, many claimants prefer to have one. An experienced lawyer, authorised and regulated by the Solicitors Regulation Authority, could take the stress out of making such a claim. They could help build your case and take on the legal legwork for you. They could also handle the negotiations for a settlement on your behalf. This could give claimants the peace of mind that their claim was being taken care of professionally.
Do I need to use a local lawyer for domestic abuse claims?
If you want to make a claim and have decided to use a solicitor, you might think you would be restricted to using locally based lawyers. However, this would not be the case. In fact, you could use law firms and lawyers based anywhere in the UK. As you have so much choice, making a decision on who to use could be tricky. We would advise you to carefully look into your shortlist of solicitors to ensure you choose a reputable law firm. You could read past reviews and call them to check into their level of experience and success rate. We would be happy to talk to you about the lawyers we could provide you with and the legal services we offer. All of our lawyers work on a No Win No Fee basis, meaning you wouldn't have to pay any legal fees upfront to begin your claim.
Useful links Relating To Domestic Abuse Claims And Domestic Violence Compensation
Women's Aid
Find information and advice about how to deal with domestic violence and abuse, as well as how to get the help you need.
NHS Domestic Violence Help
Find out further information about how to get help and support if you have suffered domestic violence or domestic abuse with this guide from the NHS.
Government guidance on domestic abuse
Find out more about how to recognise domestic abuse, the kinds of abuse that people can be subjected to and reporting abuse, along with medical treatment options. And it covers how to report to the police about any harmful situations.
Our guide to claiming for psychological injuries such as depression, anxiety and PTSD.
Sexually harassed at work claims
This guide takes you through the process of claiming for sexual abuse at work.
Sexual abuse compensation claims 
This guide will tell you all you need to know about claiming compensation for sexual abuse, both recent and historic.
Thank you for reading our guide on domestic violence compensation claims and domestic abuse compensation claims. To make domestic abuse claims with us, please get in touch.