By Joanne Jeffries. Last Updated 6th October 2021. Welcome to our guide on how to make a probation period claim for accident compensation. If you're injured at work, and the accident was caused by employer negligence, you're probably aware that you could seek compensation for your injuries. But what if you sustain an injury during a probation period? Even though you're in a probationary period, you still have an employment contract and could be entitled to claim for any injuries in the same way as any other employee in your organisation. This guide will explain in more detail why you could make a probation period claim, how to claim and how Accident Claims UK could help you.
If you're already in a position where you know you want to claim, you can speak with one of our specialist advisors by calling 0800 073 8801 today.  They'll provide free advice about claiming. They could advise you whether your employer is in breach of contract, or whether they've been negligent, and you're under no obligation to proceed with bringing a claim against them.
Alternatively, if you'd like to know more about what do to following an accident at work, please carry on reading this useful guide.
Select A Section
A Guide To Dealing With An Injury At Work In An Initial Probation Period
If you have had an accident at work during a probation period, a claim for compensation could be possible. You would need to prove that your employer was negligent in protecting your health and safety at work. You could, in most cases, have 3 years from the accident date to make a probation period claim.
Suing an employer for negligence can be quite worrying for any employee but it can be even more worrying for a new employee still in their probationary period. It doesn't need to be though because, as this guide will show, a new employee has just as much right to claim for workplace injuries caused by negligence as a permanent employee.
Employers are not allowed to discipline any employee for making a probation period claim, so if you have been injured or suffered a preventable illness due to employer negligence you may have the right to pursue a claim for damages. Throughout this guide we'll try to provide you with information so that you can answer questions like:
"Can I be dismissed during my probation?"
What is good practice when it comes to dismissal during probationary period? What is the dismissal procedure
What does an employer need to know when dismissing an employee during their probationary period
"How long can I legally be on probation at my job? according to an employee's contract"
"Do I have employee rights when on a probationary period?"
"I was fired during my probationary period, what are my rights when it comes to an employment tribunal"
As well as information to answer those questions, we'll provide a compensation table to demonstrate the amount of compensation some injuries are awarded in a personal injury claim.
Before continuing, consider the following questions. They'll often be asked by a solicitor before taking on your case:
Did your accident occur because of employer negligence?
Were you injured during the accident?
Did the accident happen within the last 3 years?
If you've answered yes to these questions, you could be entitled to start a probation period claim. After you've read this guide and understand your rights more, please call one of our specialist advisors for assistance with beginning your accident at work claim.
We'll explain, later in this guide, that an employer cannot discipline any employee for making a claim. They'll have insurance in place to cover them, so don't feel put off from claiming compensation that you could be entitled to.

What Are Probationary Periods For New Employees?
A probationary period is used by employers to ensure that the new employee is able to do the job they've been employed to do. It essentially acts as a safety net for the employer and gives them time to assess someone's suitability.
The period will be agreed and form part of your employment contract. While you're still in the probation period, if you fail to meet the performance targets agreed and show that you're not as suited to the job as your interview suggested, the employer can terminate your employment without the risk of being accused of unfair dismissal or wrongful dismissal.
Legally, there is no limit to probation periods but typically they're 1, 3, 6 or 12 months. For those employed after April 2012, after 2 years employment you could seek an unfair dismissal claim.  Being on probation can be stressful as there is no guarantee we advise seeking a small probation period when starting a new job to relieve any distress it may cause.

When Might Probationary Periods Be Used?
Probation periods are used by employers usually because they want to check your suitability for the position. It gives them a set period of time in which they could assess your suitability to:
Complete the work you are contracted for.
Your professionalism.
The way you interact with colleagues and customers.
Your time keeping and attendance.
Employers use probationary periods because they realise that the recruitment process doesn't always deliver the best candidate. That might not be your fault, it could be down to their recruitment process. At the end of a probation period, an employer could suggest an extension if they still require more evidence of suitability.
Probationary periods could also be used if you've been promoted to a new role or if you've been part of a disciplinary process.

What Rights Do New Employees Have During A Probation Period?
It's a common misconception that you're not a 'full employee' while you're on probation but, in fact, you have the same rights as any other employee within the organisation.
This means that under workplace legislation:
Your working environment should be as safe as possible.
The employer should risk assess your tasks and take steps to reduce any risks identified.
The role that you're employed to do should be clearly defined.
You should be trained adequately to complete your work.
Safety equipment should be provided to help reduce any risks.
You should be trained to use any equipment or machinery before you're allowed to work alone with it.
You have the right to raise any concerns with a supervisor or management.
In effect, the same employment laws concerning health and safety apply to a member of staff in their probation period as any other staff. The difference being that the employer can use the period to determine the employee's suitability for the job.
The probationary period can not be used to dismiss somebody based on their gender, ethnicity, age, sexuality, religion or disability. This would breach recruitment law and could result in a probation period claim for unfair dismissal. However, gross misconduct could be used as a reason to dismiss.

Could My Employment Be Fairly Terminated During My Probation?
The whole point of a probationary period, from the employer's point, is that they can dismiss an employee without worrying about being sued. There are occasions when doing so would be allowed. If you are not suited to the job and you are not performing well then the probation period would be the time to evaluate your work and conclude if this is the job for you.
In these instances, an employer would be within their rights to terminate the employment within the probation period. Usually, you should be:
Entitled to a meeting to review your probation period and issues with your performance.
Allowed to bring somebody to the probationary review meeting with you (usually a colleague or union rep).
Provided with evidence and examples of your poor performance.
Be told what action the employer is taking in writing.
Alternatively, you could be given the option of extending the probationary period in which to prove yourself. You should then have another meeting after they extend the probation period.  If an employer does not invite the employee to a meeting after their trial period, and instead opt to terminate their contract without explanation, this could be considered wrongful dismissal. You might want to seek legal advice if this is the case.

When An Employer Should Not Dismiss Probationary Employees?
As discussed earlier, any act of discrimination used to terminate your employment could mean you're entitled to claim automatic unfair dismissal. That means if you are fired because of your age, sexual orientation, religion, a disability or your gender, you may be able to pursue a claim for damages.
The same is true if your employer decides to fire you because you made a personal injury claim for an accident at work in your probationary period. As long as the claim was valid and you had been totally honest your employer by law cannot discipline you for making a personal injury claim for an accident at work against them. That is not allowed under employment laws. If you're injured at work, due to employer negligence, then you could seek damages in the same way as other employees.
Employers can't put pressure on any employee not to make a claim. They can't discipline you, threaten you or treat you differently. The same is true for those on probation. The fact you made a claim against the company cannot be used as a reason to end your employment. If that is the sole reason, or one of the reasons, given to end your contract, please call an advisor to discuss seeking compensation for unfair dismissal.

Calculating Compensation For Work Injuries – Updated October 2021
If you're wondering how much compensation could be paid following accidents at work during your probation period, then the personal injury claims calculator table below could be useful.
Injury Type
Severity
Information
Compensation
Neck Injury
Severe
Injuries will scale from severe soft tissue damage, fractures, dislocations, fractures or damage to discs in the cervical spine to permanent spastic quadriparesis.
£42,680 to in the region of £139,210
Neck Injury
Minor to Moderate
Injuries will scale from full recovery in 3 months, soft tissue damage, exacerbated a pre-existing condition, disc lesion, cervical spondylosis to severe fractions and dislocation.
Up to £36,120
Back Injury
Severe
Injuries will scale from disc lesions or fractures of discs or of vertebral bodies, nerve root damage to severe damage to the spinal cord.
£36,390 to £151,070
Back Injury
Minor to Moderate
Injuries will scale from soft tissue, sprains, strains, ligament and muscle damage to compression/crush fracture of the lumbar vertebrae.
Up to £2,150 to £34,000
Shoulder Injury
Minor to Serious
Injuries will scale from soft tissue damage, frozen shoulder to significant disability.
Up to £45,070
Arm Injury
Severe
Injuries will scale from significant disability, injuries to the elbow, fractures of the forearm, serious fractures to injuries that short fall of amputation.
Up to £122,860
Arm Injury
Minor to Moderate
Injuries will scale from elbow injuries to fractures.
Up to £11,040
Wrist Injury
Very minor to Severe
Injuries will scale from soft tissue injuries, sprains, displaced fractures, permanent disability to complete loss of function in the wrist.
Up to £56,180
Hand Injury
Serious
Injuries will scale from significant impaired function to reduced 50% capacity.

Up to £56,180
Pelvis/Hip Injury
Minor to Severe
Injuries will scale from hip replacement, hip surgery, permanent disability, fractures leading to degenerative changes, fracture dislocation to extensive fractures of the pelvis.
£122,860
Leg Injury
Less Serious to Moderate
Injuries will scale from fractures of the tibia and fibula, fracture of the femur, incomplete recovery to multiple fractures.
Up to £36,790
Knee Injury
Moderate to Severe
Injuries will scale from dislocation, torn cartilage or meniscus, instability or deformity, permanent, limiting movement to serious knee injury and disruption of the joint.

Up to £90,290
Ankle Injury
Modest to Severe
Injuries will scale from sprains, twists, soft tissue, fractures, ligament tears to significant residual disability.
Up to £46,980
Foot Injury
Modest to Severe
Injuries will scale from simple metatarsal fractures, permanent deformity, leading to continuing pain from traumatic arthritis to severe degloving, extensive surgery, heel fusion.
Up to £65,710
Scarring
Significant Scarring
Effects will be reduced by plastic surgery but will leave cosmetic disability.
£8,550 to
£28,240
Scarring
Trivial Scarring
Minor small scars.
£1,600 to £3,310
Food Poisoning
Serious but Short Lived
Diarrhoea, vomiting, disturbance of bowel function.
£8,950 to £18,020
You'll notice that the amount of compensation is linked to the severity of your injuries. That means that your personal injury solicitor needs to present evidence to support your claim. They could use medical evidence from a GP or hospital if you visited one. They could also use a report from a medical assessment. This will demonstrate what injuries you suffered, the effect they had on you and what impact they could have in the future. The amount you receive will have no bearing at all whether you were on probation or not as all amounts are taken for the Judicial College Guidelines.
Each claim is unique and includes other elements beside those listed in the table (see the next section). Therefore, to get a true indication of the compensation you might be entitled, it's best to speak with one of our advisors. You could be provided with an estimate once your probation period claim has been fully assessed.

Other Damages You Could Be Compensated For In A Probation Period Claim
Following an injury at work during a probation period, your solicitor is able to build your claim based on a number of different elements. These elements are based on how you were affected by the accident, both physically and financially.
The different elements that might be used include:
General Damages for a probation period claim

The table in the previous section shows amounts paid under general damages. They are used to compensate you for the pain and suffering caused by your injuries.
Special Damages for a probation period claim
Travel Costs
You may find that following your accident, you need to travel to and from medical appointments regularly. Therefore, you could claim the fuel and parking costs associated with the appointments.
Damaged Property Costs
In some accidents, personal property becomes damaged. That could mean clothes are ripped, jewellery is damaged, or your phone screen is cracked. In these cases, you might be able to claim the cost of replacing the items.
Medical Costs
While you'll probably receive treatment on the NHS, you could have to pay out for prescriptions and other medication. That means you could include those costs in your claim.
Loss of Earnings
Some employers don't pay full sick pay, or it is only available for a specific time period. If you need time off to recover or attend medical appointments which means you lose some of your wages, you could claim the loss back.
Future Lost Income
With more serious injuries, you may not be able to return to work for a long time (if ever) or you might have to change role. In these scenarios, you could seek back any future lost income. 
To help your solicitor prove the special damages part of your claim, you should try and keep receipts, bank statements or wage slips. Try to keep a running log of any expenses and why they were linked to your accident.
Also, before agreeing to any expenditure, you should check with your solicitor to see if they think you could include the cost in your injury claim.

No Win No Fee Probation Employee Compensation Claims
If you're worried about the cost of making a personal injury claim or hiring a personal injury lawyer, then you shouldn't. That's because our panel of accident claim solicitors work on a no win no fee basis for all claims they take on. Essentially, this means you don't pay them anything unless they win your case and you receive compensation.
That means:
No upfront fees for the claim to begin.
Nothing to pay your legal team if they lose the case.
A success fee will be paid to the solicitor if they achieve a successful outcome.
One good thing about no win no fee agreements is that, even if you win, you don't have to find the funds to pay the solicitor. That's because their success fee is automatically deducted from the compensation. Success fees pay the solicitor for their work and are limited to 25% of any compensation you receive.
We believe no win no fee allows more people to claim because it reduces the financial risk and removes a lot of the stress involved with making a probation period claim.

Contact Accident Claims UK About A Probation Period Claim
If you've been negligently injured at work during a probation period and would like to begin a no win no fee compensation claim, then please get in touch with us today. We can be contacted by:
Calling our advisors on 0800 073 8801. We're available 24 hours a day 7 days a week to answer your queries.
Sending our team an email to office@accidentclaims.co.uk
Using the live chat feature found on any page of this website.
Or you could request a call back at a convenient time by filling in this online form.
Our specialist advisors will assess your injury at work claim for free. They'll help you decide whether you could seek compensation or not. If you have questions or concerns, please get in touch, we won't pressure you into making a claim and you're under no obligation to proceed.

Workplace Accident Guides Relating To A Probation Period Claim
We hope you've found this guide useful and now know what to do if you suffer an injury at work during a probation period. To help you further, we've linked to some more relevant and useful guides and links below.
Employment Contracts – Various guides from the UK government on contracts of employment and working hours, as well as maternity leave and why you can't be dismissed for being a member of a trade union.
The Health and Safety at Work Act 1974 – Guidance from the HSE about the primary piece of legislation used to ensure employee safety at work.
Employer Liability (Compulsory Insurance) Act 1969 – This legislation means employers have to have insurance to cover them for accident at work claims.
Accident at Work Claims – A guide that explains when personal injury claims could be possible following an accident at work. Not just for staff on probation periods.
Assaulted at Work – Information on when you could make a claim if you are assaulted by a colleague, a customer or a visitor to your workplace.
Manual Handling Claims – This guide provides advice on what to do if you suffer an injury caused by manual handling while at work.
FAQ About Making A Probation Period Claim
How Common Are Workplace Accidents?
If you take a look at the below workplace injury statistics from the HSE, you'll see the number of workplace accidents isn't small. In fact, 693,000 workers were reported to have sustained a non-fatal work-related injury in 2019/20.
The below table shows you the types of accident that led to these injuries.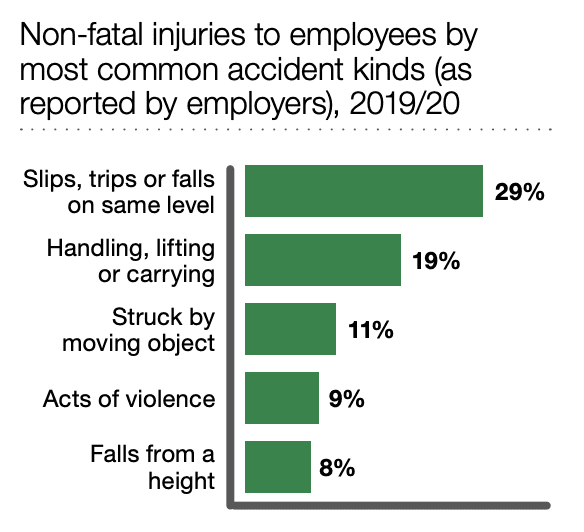 As you can see, the biggest issue is slips, trips and falls, but manual handling injuries are also common in UK workplaces.
How Employers Could Avoid A Probation Period Claim?
According to Health and Safety at work legislation, employers have a responsibility to ensure that a person's workplace or work activities don't put them at risk of harm. There are several ways in which an employer could attempt to avoid putting employees at undue risk, including:
Ensuring they receive adequate safety training on how to use the workplace and any equipment safely. Proper training should be given in manual handling if employees are likely to undertake these types of tasks, for example.
Making sure they give employees PPE where it could reduce the risk of injury. However, the PPE they issue must be up to the job, and employees must be shown how to use it.
Ensuring the workplace is free of removable hazards. This could include removing stray wires so that people don't trip. It could also include making sure there was sufficient lighting in stairwells to avoid people falling.
Maintaining work equipment so that it is safe to use – employers should regularly review equipment to make sure it is in good working order. They should replace broken or faulty equipment and should not allow employees to use it.
Could I make a probation period claim for a fatal accident?
Unfortunately, some people never recover from injuries they sustain in accidents. In 2020/21, according to the HSE, there were 142 people who were killed at work in fatal accidents. We include some statistics as to the causes of these injuries below.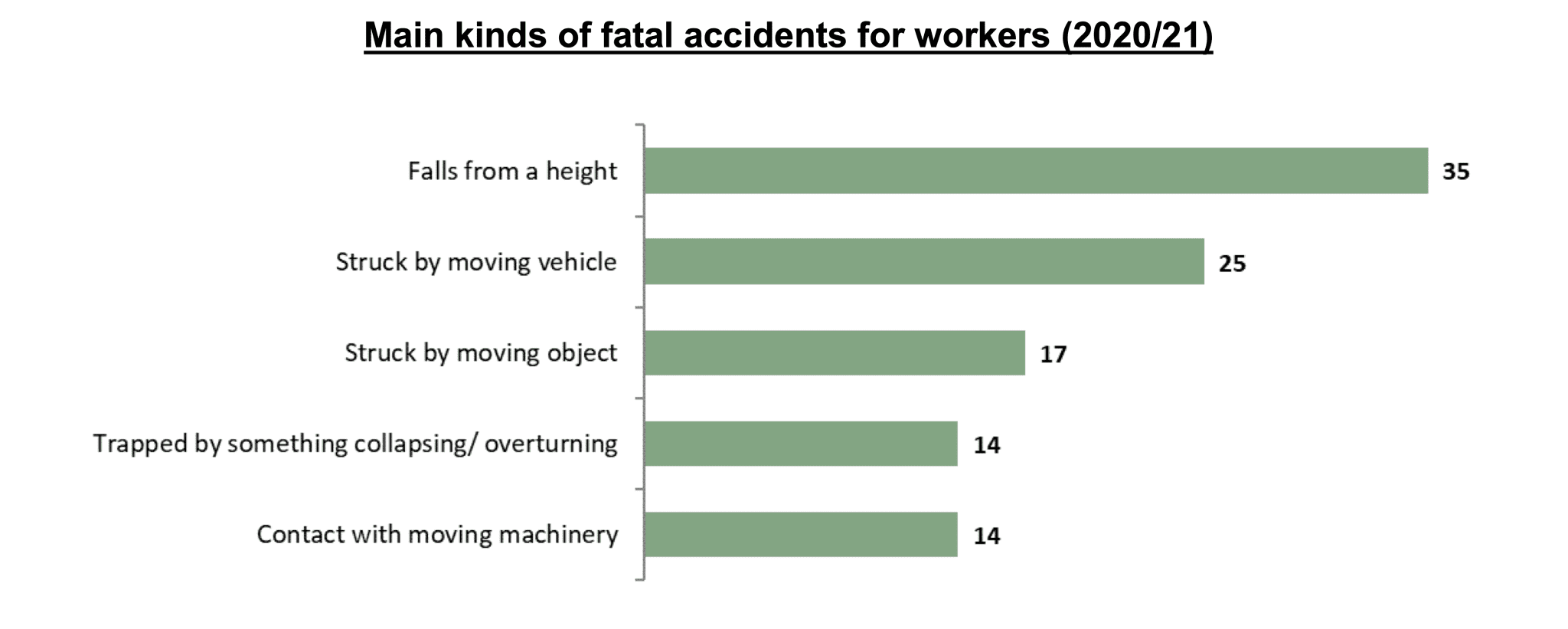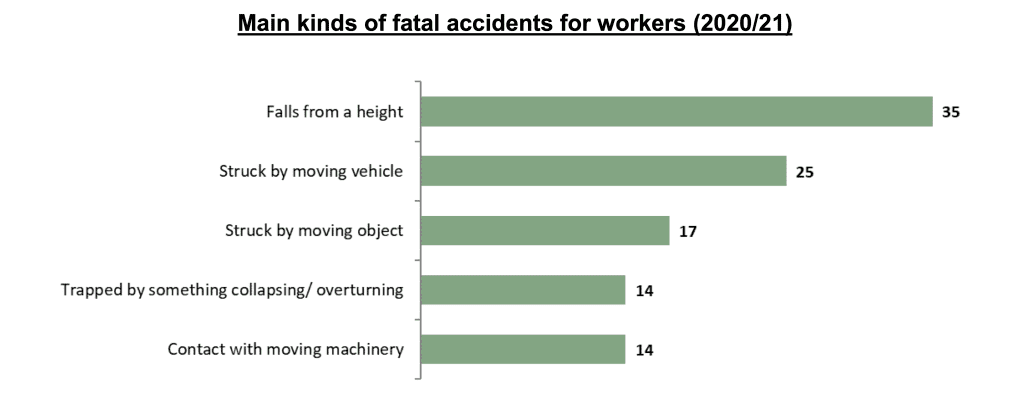 Whether a loved one was killed in a probation period accident instantly or their injuries led them to pass away, you could claim on their behalf for compensation. You would need to prove that the employer was at fault for failing to protect your loved one's health and safety at work to claim. Depending on your relationship with the deceased and whether they financially supported you, you could receive a bereavement award and damages for wrongful death could also include funeral expenses. While no level of compensation could erase the damage that has been done to a family after a fatal accident, it could help you to ease the financial burden of a loved one's passing.
What rights do you have during a probation period?
In terms of health and safety, you would have the same right to work in a place that did not pose undue risks to your health and safety. You also have the right to claim compensation if negligence on the part of your employer led you to be injured in a workplace accident. If you would like to exercise your right to claim compensation for injuries sustained during your probation period, we'd be happy to assist you.
If you require any further information or have suffered an injury at work during a probation period and have concerns about making a probation period claim, please get in touch to discuss your options.