By Joanne Jeffries. Last Updated 8th July 2021 2021. Welcome to our guide on death caused by dangerous driving claims for death due to dangerous driving compensation. Danger is present on every road in the UK, and road traffic accident statistics show that there are a good number of these accidents that lead to serious injuries and even in some cases, death.
If a person you love has been killed in a road traffic accident, it can be so hard to cope with and can be even worse if the person driving the vehicle that caused the accident that killed your loved one was driving dangerously. You may feel lost, angry and extremely desolate at this time, and it is also likely that if you were financially dependant on the person that has been killed, you might be suffering in this way also.
Legislation is in place for those who have lost a loved one in this manner – death caused by driving dangerously – to claim fatal accident compensation through fatal accident claims that obviously would not bring back their loved one but may help you try to pick up the pieces and move on after this dreadful incident.
Accident Claims' advisors on 0800 073 8801 can help listen to what has happened to your loved one, make sense of the legalities and advise you on claiming death due to dangerous driving compensation, as well as connecting you with a solicitor with experience in this area of the law.
Our guide below on death due to dangerous driving compensation has been written to provide the information most requested for car accident claims of this type, but if you need anything clarifying or are ready to go ahead with a no win no fee claim, then our team are on hand to help you achieve maximum compensation.
Choose your section
Your Guide To Making A Compensation Claim For Deaths Caused By Driving Dangerously
Losing a loved one is a devastating experience, whatever way they pass away, but if their passing could have been prevented if a person had obeyed the rules of the road, then it can lead to extreme anger and sorrow that the person need not have lost their life in this manner. If your loved one has passed away and their death caused by driving dangerously, whether they were a passenger or another driver, or even a pedestrian, then you might not be aware that you can claim compensation for death in a car accident as a dependent of the person who has lost their life. But how do death caused by dangerous driving claims work for dependents of the deceased?
This guide takes you through bereavement compensation, how to claim death due to dangerous driving compensation, and how much wrongful death compensation UK you as a dependent could expect to look at receiving, although obviously, all claims depend on the unique circumstances that surround them. Personal injury claims can be made by those left behind in such situations, but as they can be complex, it is recommended you have a personal injury lawyer with experience in this area to help. Accident Claims can help with this. We can provide a personal injury solicitor who would be able to help you claims death by dangerous driving compensation in order to help you try to move forward after such a horrendous incident.
While no amount of death due to dangerous driving compensation will bring back your loved one, it may help you rebuild your life in some way and provide for any other dependents there might be that would otherwise be financially worse off. If you'd like more information on death caused by dangerous driving claims, then read on to find out more.
What Is Dangerous Driving?
Death caused by dangerous driving claims could be launched by those who have suffered the death of a loved one. A claim could include funeral expenses and compensation for the loss of your loved one.
There are two main types of dangerous driving, one is careless, and the other is classed as dangerous. In terms of careless driving, this would often be called driving without the relevant care and the attention needed to operate a vehicle safely. This includes:
Tailgating
Becoming avoidably distracted – such as putting on lipstick, lighting a cigarette
Pulling out ahead of someone
Undertaking someone
Messing with the radio
Accidentally running through a red light
It is important to note that this is somewhat of a grey area in the law and the examples above are illustrations of what HAS in some cases been classed as careless driving.
The way in which these careless driving cases are classed is by the standard of a person's driving falling below that of a competent and safe driver, and this is measured by what a standard driver should expect to be doing, and for whatever reason, such as incompetence, inadvertence or lack of experience, the standards were not met.
When it comes to dangerous driving, this is somewhat more serious. The standard has to fall well below the levels expected of a competent and safe driver, a fall which would be obvious to a person who is a competent and safe driver that this level had fallen.
Again, to give you a few examples, these actions may be classed as dangerous driving:
Ignoring road signals
Driving when not fit to do so
Overtaking in a dangerous manner
Racing
Being dangerously distracted
The penalties for driving dangerously are harsher than those of a careless driver, but this will not lessen the effect if you have lost a loved one to someone driving carelessly or dangerously. Death caused by dangerous driving claims may well highlight the cost in financial terms to those left behind, but it is very likely that you will want justice to be done in terms of the legal system punishing the driver where appropriate too – whether this is by points on the licence, a fine, or even imprisonment.
Statistics For Deaths Caused By Driving Dangerously
Deaths caused by driving dangerously do happen, and when they do statistics are recorded. Here, you can see the number of deaths by driving dangerously has risen in recent years. In fact, in 2016, the number of offences of this type recorded was 623.
Types Of Dangerous Driving Fatal Accident Claims We Can Conduct
Any type of dangerous driving claim could be handled by provided accident claims solicitors from Accident Claims. We take a look below at some of the more common death caused by dangerous driving claims in more detail, but it is important not to see this list as being exhaustive. Claims outside of those listed below include:
Overtaking Dangerously – If done when it shouldn't, overtaking can cause people to crash head-on or even sideswipe other cars. It can also cause injuries to pedestrians.
Driving an unsafe vehicle – Road users have a responsibility to drive vehicles that are fit for use on the roads. Should they knowingly drive unsafe vehicles, they can cause accidents.
Driving Aggressively – Being able to control one's emotions is a big part of diving safely. If someone drives aggressively, they put road users at risk.
Ignoring relevant signage – Not taking notice of signs and lights on the roads can cause accidents and injuries.
Consuming illegal drugs then driving – consuming drugs that are illegal and then getting behind the wheel of a car is reckless and can endanger other users of the road.
If you've lost a loved one due to any of the behaviour listed above, get in touch with us today to see if you could claim death due to dangerous driving compensation.
Dangerous Driving – Speeding Leading To Fatal Accidents
Sadly, even though there are speed limits clearly marked for our roads, and most people obey the speed limits, there are always those that do not stay within the limit. Either from not paying attention to the speed limit or ignoring it deliberately, speeding is one of the top causes for death by dangerous drivers. Cars that travel at a higher speed than intended can cause much damage, and the human body is ill-equipped to cope with a collision with a large piece of metal machinery such as a car or van. Whether your loved one lost their life as a consequence of being a passenger, another driver or pedestrian, if another driver was speeding and caused an accident, they may well be held liable, and you should be able to claim.
Dangerous Driving – Deaths Caused By Driving Intoxicated
In today's drink-heavy culture, it is not unknown for people to be caught drink driving, or driving while intoxicated. However, if someone is not stopped from drinking and getting behind the wheel of a car, the consequences could be much worse than a few points on a licence, fines and possible imprisonment. People could lose their lives because of a drunk driver. If your loved one lost their life due to an intoxicated driver, then you are likely to be feeling much anger towards them. Letting go of the anger is likely to be difficult, but it is important to try and carry on living after loss. While it will not help your loved one, compensation for death by dangerous driving may help you try and pick the pieces up after your loss.
Dangerous Driving – Deaths Caused By Texting When Driving
While phones have their uses, they can serve as a huge distraction to drivers, which is why the law prohibits texting by driving. However, this can be quite difficult to prove. An experienced lawyer will know only too well the complexities of this type of case and should be able to put a case together that will bring you death due to dangerous driving compensation for the loss of your loved one.
Deaths Caused By Driving Dangerously Whilst At Work
You would think those road users who drive for their job would be more careful than most, but this is not necessarily the case, and there are people who make mistakes with their driving or even ignore road rules while at work on the road. If one of these people has caused the death of your loved one, you may wonder whether your death caused by dangerous driving claims are against the insurance company of the other driver, or against the company they work for.
Sometimes, if the driver's training was seen to be not to the standard it should be, the company itself might be found at fault, whereas in other cases, the driver may be held as liable. Either way, an Accident Claims provided solicitor should be able to let you know who your case is against and whether you'd be likely to have a successful claim for compensation.
Deaths Caused By Driving Dangerously On General Public Roads
You may wonder what would be classed as a public road. Simply put, this is anywhere people visit, such as hospitals, shopping centres, football stadiums and others. Sometimes, in these cases, the owner of the facility in question can be liable for accidents caused by dangerous driving that happen on these types of premises. This is because it is their duty to ensure the safety of users of these facilities. Your solicitor should be able to educate you on who would be liable for your loved one's fatal accident due to dangerous driving.
Sentencing for deaths caused by dangerous driving
Death due to dangerous driving compensation can be helpful in the wake of a loved one's death, but it isn't able to bring the person you've lost back. Often, it doesn't even bring a sense of justice to the situation.
Causing death by dangerous driving in Scotland, England and Wales, as well as other countries could result in a prison sentence for the person who's responsible. If they've been found guilty of dangerous driving, it means the standard of their driving was so poor as to create a clear risk of danger.
When someone found guilty of causing death by dangerous driving is being sentenced, there are several things that will be taken into account. This includes their level of responsibility for what happened, any history of previous offences and any other offences that were committed at the same time, such as driving a stolen vehicle or driving while drunk.
The maximum prison sentence for someone found guilty of causing death by dangerous driving is 14 years. The maximum sentence is usually reserved for cases where an exceptionally high level of blame can be placed on the offender. They'll serve half of their sentence in prison and half of it on license in the community. Further offences or a breach of any of the conditions that have been set for them will result in them returning to prison.
Who Is Eligible To Claim Compensation For The Death Of A Loved One?
When we mention a loved one, it can often be misconstrued as anyone who loved the deceased. However, for legal purposes, there are certain people and entities that can make claims for the death of someone, and others that cannot. In short, if you were the dependent of the loved one, you would almost certainly be able to claim. This is because you were financially dependent on the loved one, and their death has caused you financial harm. However, it isn't just financially dependent parties that can claim. Other immediate family members can claim if they are affected emotionally from the passing of their loved one.
As well as these, businesses that have suffered financial loss due to the person (usually the owner of the business) who has passed away may also claim.
If you are unsure as to where or whether you fit into these categories, then call our team, and we'll explain it all to you.
What Should You Do If A Family Member Is Killed By Someone Else Driving Dangerously?
At first, the passing of a loved one can be intensely overwhelming, and many people feel that they are unable to do anything for a time. However, once ready, there are some things you should do – practical things that can not only take your mind off the pain but also serve to help you and your family move on a little. These include:
Reporting the accident if it has not already been reported. You might want to write down what has happened as soon as you can to save your memory becoming confused over time.
Gather details such as witnesses contacts, licence plates, photographs wherever possible.
Gain access to the medical report. This can be upsetting, and you may not wish to read it, but it could serve as crucial when it comes to your death caused by dangerous driving claims.
Find out the financial implications and gather documents pertaining to them – this could include funeral expenses and any other costs.
What Can You Claim For After A Fatal Accident Caused By Driving Dangerously
While many people think it is only funeral and burial costs that can be claimed for after the death of a loved one by dangerous driving, there are other costs and damages that can form part of a claim for death due to dangerous driving compensation. These include:
Damages – General – Covers pain, suffering, emotional distress
Expenses – Medical – If these were present before the victim died
Damages – Special – These cover things like holidays that can no longer be taken, cancelled trips or parties, and for businesses financial losses due to the death of the owner. If you're wondering whether a certain cost can be covered by a death caused by dangerous driving claim, then our expert advisors can help.
Compensation Calculator For Deaths Caused By Driving Dangerously – Updated July 2021
If you're wondering if there is a personal injury compensation calculator that can give you an exact figure you're going to receive for a successful claim, we're sorry to tell you this doesn't exist. This is simply because the claim you put in will differ in certain ways to the next one, and the one that preceded it. There will always be complex differences that affect the compensation you'd receive. However, we can illustrate to you common brackets for payments. Please see these below:
| Type | Rate | Note |
| --- | --- | --- |
| Death (Brief time of awareness then becoming unconscious) | £9,870 to £10,010 | Victim falls unconscious after 3hrs – death occurs within a fortnight. Other damages are applied |
| Death (Immediate unconsciousness and death in a period of six weeks from incident) | £3,530 to £4,120 | Other damages are applied |
| Death (Immediate unconsciousness and death in a period of a week) | £1,290 to £2,620 | Other damages are applied |
| Death (with full victim awareness) | £11,770 to £22,350 | Short time of full awareness. Consciousness fluctuates for between 4-5 weeks then victim passes. Other damages are applied. |
| Anguish | £4,380 | Impending death is thought of and feared |
| Costs of Funeral | From £3,000 to £10,000 | Could be more |
| Tetraplegia | £304,630 to £379,100 | Also known as tetraplegia. With expectation of life of 25 years or more claimants would find the middle of this bracket. |
| Paraplegia | £205,580 to £266,740 | Severity and impact on life expectancy would be assessed. |
| Shorter durations of paraplegia/tetraplegia | Around £42,090 | Shorter duration of life for unrelated reasons. |
If you wish to know more about any aspect of the figures above or to find out more about death due to dangerous driving compensation, don't hesitate to call.
How To Make A Personal Injury Claim For A Death Caused By Driving Dangerously
You are sure to be in a position of grief after the passing of your loved one, so we make the claims process as simple as we possibly can for you. All you will need to do is call our team. We know you may find it hard to talk about what's happened and we will be patient in asking questions and getting answers so that we can best advise you. We will then, after checking on the viability of any claim, offer to provide you with an experienced solicitor. They will then help to take your claim forward, keeping you informed of developments and most likely then furnishing you with your compensation once your claim is settled.
No Win No Fee Claims For Deaths Caused By Driving Dangerous
Being put in a dire financial circumstance with extra costs such as funeral expenses at a time when you are grieving for your loved one seems so unfair, and this is why there are ways for you to make a claim for compensation that do not require money upfront. No win no fee death caused by dangerous driving claims exist to provide a level playing field for those that want justice for themselves and their loved ones after a death by dangerous driving incident.
By signing an agreement with a no win no fee lawyer, you'll agree to pay them a certain percentage of your compensation payout when your claim is settled. If it isn't for any reason, then you won't find a legal bill landing on your doorstep. You won't have legal fees to pay when you pursue a claim in this manner.
Why Make A Claim For A Death Caused By Driving Dangerously With Us?
Aside from the approach below, which negates financial risk for you, there are other reasons you should consider using Accident Claims for your death by dangerous driving claim. Our team have industry experience and are legally trained to offer advice that you can count on. We will handle your query or your claim with compassion and sympathy but with a high degree of professionalism as well as this. We also have access to some of the top legal minds in the country and can provide these solicitors to you to handle your claim for death due to dangerous driving compensation. Finally, one of the most important aspects of our service is that our previous clients recommend us. This, we feel, is the highest compliment we can get from our clients and shows us that we do our job well.
Speak To Accident Claims UK Today
Whether it is today, tomorrow or next week, whenever you're ready to talk, we're ready to listen. We won't rush you into making any kind of decision on your claim; we will simply answer your questions and tell you what we can do for you. Dial 0800 073 8801, or alternatively, you can complete the callback form, and we'll call you. We're here when you need us to be.
Helpful links and resources
We understand you might be looking for more guidance on death caused by dangerous driving claims, so we have provided a couple of examples below. You can also gain more information on other guides on our site.
Accidents that are fatal – When you require fatal accident advice, we can help. Our guide provides more information.
Accidents in cars – Guide to RTAs
Electric shock injury– claiming compensation following an electric shock
NHS – Coping with bereavement – This NHS guide is about coping with bereavement.
Cruse.org.uk bereavement – View the Cruse help guide on bereavement
Death Caused By Dangerous Driving Claims FAQs
What happens when someone is charged with death by dangerous driving?
The instigator could be liable for a prison team, and they become unable to drive for at least two years if a conviction is the end result.
Will I go to jail for dangerous driving?
If there is sufficient evidence against the driver, they could end up receiving a prison sentence.
What is the sentence for death by careless driving?
Careless driving causing a death could lead to a five-year sentence. However, the maximum sentence for a careless driver under the influence is fourteen years.
What is the difference between death by dangerous driving and death by careless driving?
In the former, their driving must be far below the required standards of a careful driver. But in the latter case, it's simply a drop in driving standards generally.
Who is liable to pay compensation in case of death?
The owner or owners of the vehicle are liable to pay any compensation.
Can someone report you for dangerous driving?
Yes, you can call 101 to report dangerous driving to the non-emergency police department.
How do you prove dangerous driving?
Proof of exceeding speed limits, alcohol/drug consumption and a lack of insurance or a licence are amongst the potential forms of evidence.
How many points is dangerous driving?
The driver could receive between three and eleven points for up to 4 years after a conviction.
Road Traffic Accident Latest Statistics
To give you an idea of how the statistics stack up for road traffic accidents in 2019/20, we can look to the government's publication of provisional figures from 2020. Obviously, due to the pandemic and subsequent lockdowns, there was less traffic on our roads. According to these provisional figures:
It was estimated that 1,472 people suffered a road death
There were 23,486 people estimated to have been killed or suffered serious injuries within the same period
In terms of the figures for all injuries, the estimate was 115,333 injuries of all severity levels ( this represents a drop of 25% from the previous year)
The highest numbers of injuries were that of car occupants, with 624 of those in cars being killed on UK roads in 2020. A further 355 pedestrians lost their lives in road traffic accidents, while 282 motorcyclists and 140 pedal cyclists were fatally injured.
You can see the comparison of road user types between 2019 and 2020 in the graph below. As you can see, the rates of pedal cyclist fatalities were higher in 2020. However, this is because there was an increase of pedal cyclist traffic of a staggering 46% in 2020.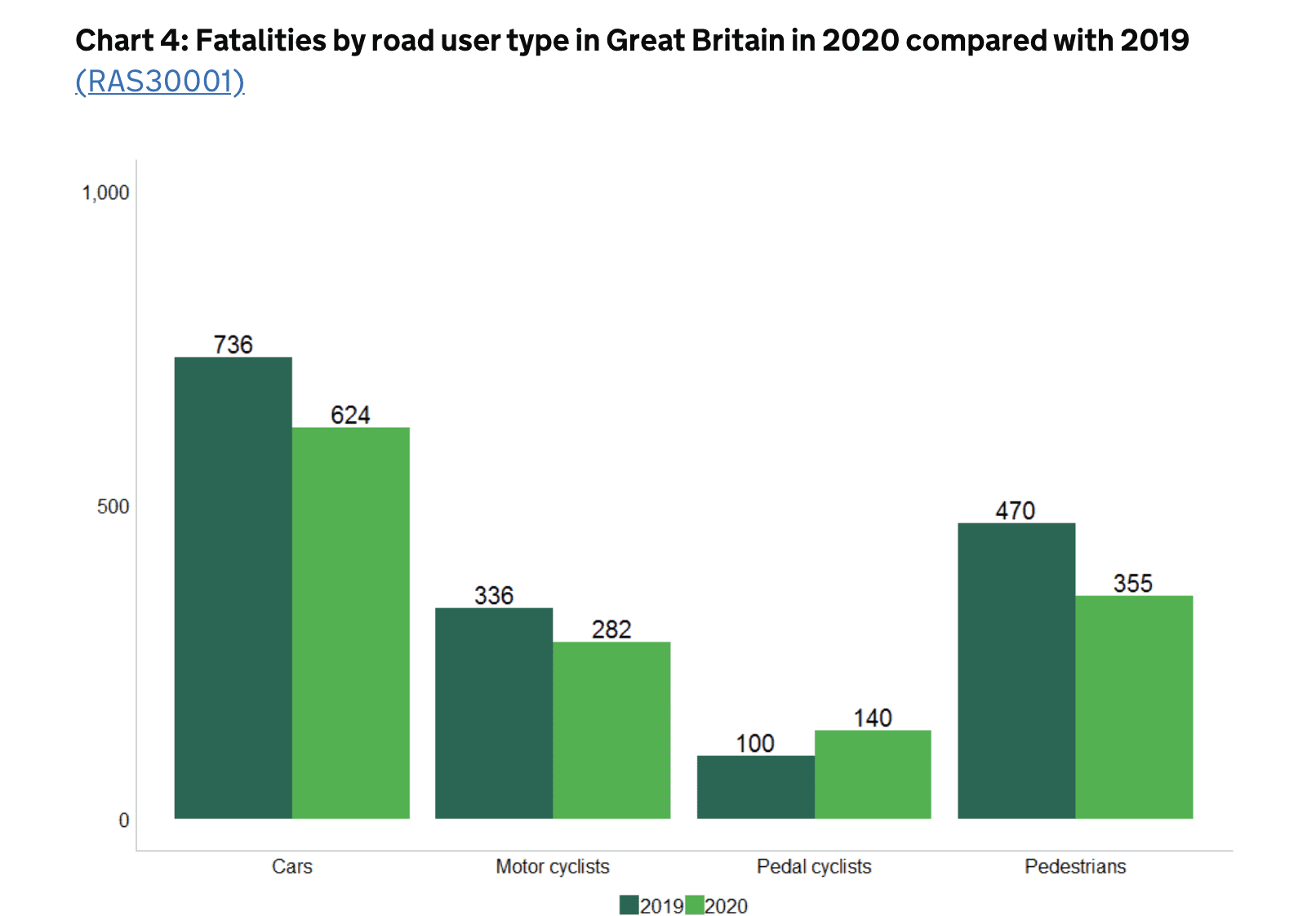 Source: Reported road casualties Great Britain, provisional results: 2020
Whether your loved one was fatally injured as a pedestrian or lost their lives in an accident on a motorcycle, pushbike or in a car, if someone else was at fault, you could be eligible to claim compensation.
Thank you for reading our guide on death caused by dangerous driving claims. Get in touch with us today for more information or to start your claim for death due to dangerous driving compensation.