By Joanne Jeffries. Last Updated 2nd November 2021. Welcome to this guide including information relating to personal injury claims payouts for a broken pelvis.
This is a case study in which we look at the case of a motorcycle rider who was involved in a serious road traffic accident. The case was researched by our research team.
The claimant sought compensation for a broken pelvis which he suffered after being hit whilst riding his motorbike. The road ahead of the rider was clear and the rider had right way, putting them in the right. A 4×4 driver travelling in the opposite direction made a sudden turn across his path without giving any warning or signal. This led to the motorcyclist colliding with the 4×4 at speed and suffering extensive damage to his pelvis. Below we will look in more detail at this type of accident and injury, as well as how much compensation you could get for a fractured pelvis. We hope to show why you should choose a good solicitor and why it is important to make a personal injury claim.
Accident Claims UK have helped many people to claim compensation in similar situations, making sure that the person or persons responsible were held to account by being found liable and having to pay appropriate compensation to the victims. At the bottom of the article we have provided the various ways you can get in contact with our team, as well as links to relevant guides on our site and useful external resources.
How Common Are Motorcycle Accidents In The UK
Sadly statistics show that motorcyclists are one of the most vulnerable groups of road users and are involved in a disproportionate number of accidents and injuries. We can see from statistics for road traffic accidents and injuries between 1999 and 2010 motorcycles accounted for one percent of traffic in Great Britain. However, they were involved in twenty-one percent of fatal road accidents. This makes motorcyclists sixty-one times more likely to suffer a fatal accident than the road users in a car. Motorcycle accidents are also more likely to happen at the weekend or during weekday rush hours. This follows a general pattern seen across accidents on the road.
The government motoring safety website 'Think!' has advice on how to keep safe when riding a motorcycle as either the driver or as a passenger. You can also find advice here for other motorists and road users, reminding them of how to best remain vigilant and alert for motorcyclists.
Serious Pelvis Injuries
As a result of the motorcycle accident, the claimant suffered serious and extensive injuries as well as secondary symptoms caused by those injuries. The most serious was his pelvic fracture. Also known as a broken pelvis, the injury was diagnosed as what is called an 'open book' fracture. Open book fractures are fractures to the pelvis which cause significant disruption to the pelvic ring. They cause a widening of the pelvis and damage to the soft tissues. In this case, the claimant sought broken pelvis compensation for fractures on both sides of the pelvis. The fractures were caused by the bikes petrol tank being pushed into this area. The claimant required internal fixation through surgery. Subsequently he was discharged from hospital, though faced a lengthy recovery period.
You can learn more about fracture and other injuries to the pelvis in this NHS guide. If you have suffered a similar injury and wish to seek pelvis and hip injury compensation, please contact our team.
What Were The Long Term Effects On This Claimant?
As the claimant had suffered extensive injuries, the most serious of which was the broken pelvis, there were several ways in which he was affected over the long-term. Notably the claimant was not able to live in his own home whilst recovering. His use of a wheelchair meant he needed to live, temporarily, in a single story home.
The claimant also found that he experienced sexual dysfunction. This is commonly seen in fractures or breaks of the pelvis. You can find information about urinary and sexual problems after pelvic fracture or other injuries in this NHS PDF guide produced by South Tees NHS Foundation Trust. This was taken into account in the allegation and hip injury compensation settlement received. The claimants medical report stated that this could be managed through prescription medication. This was included in the settlement. The claimant also suffered long-term effects from the dislocated sternoclavicular joint (the joint where the sternum and clavicle meet). The medical report stated that it may be necessary for surgery to be performed on this in the future. It was also recommended that the claimant undergo both physiotherapy for his physical injuries and counselling for his psychological injuries. In determining how much compensation for his pelvis injury the claimant should receive, these long-term factors were taken into account.
What Broken Pelvis Compensation Settlement Was Reached?
Each and every claim is different. Whilst there are compensation guidelines for personal injury claim settlements produced by the Judicial College, there can be a lot of variation within these recommendations.
In this case the claimant was awarded a total of £100,000 compensation for a broken pelvis. The pelvic fracture settlement took account of the pain and suffering which had been caused by their injuries and the effect that this had had upon the claimant. The compensation also took account of the other injuries which occurred to the claimant as well as costs related to medication for sexual dysfunction and temporary accommodation whilst in a wheelchair. The settlement also took the claimants lost earnings into account, compensating them for this and expenses as help around the home as well as travel costs. The total of this was the £100,000 settlement. The
No Win No Fee
Compensation Claims For A Broken Pelvis
If we are confident that you have a legitimate personal injury claim and could be awarded compensation for a broken pelvis or other type of injury, we may be able to offer you a No Win No Fee  agreement. No win no fee agreements are a way for people to take legal action against the person liable for their injuries, without having to pay any legal fees or costs till the case has been settled and and the broken pelvis compensation has been awarded.
The No Win No Fee agreement will set out things such as:
What work the solicitor will do for the claimants – what services will be provided.

Under what conditions the claimant will need to pay the solicitor.

That if the claim is not successful, no fees will need to be paid.

What the solicitors fees are.

How these fees will be paid.
Before you agree to work with a solicitor under such an agreement they will take you through the contract, ensuring that you fully understand what you are signing up to, how much you will need to pay in the event of a win, and answer any other questions you have in regard to this type of agreement.
Begin Your Claim With Accident Claims UK Today For 
Personal Injury Claims Payouts For A Broken Pelvis
Accident Claims UK have produced one of the most comprehensive and informative sets of information for people who have been injured and need to make a personal injury claim. Our online resources include guides to different types of accident and injury, how to make successful compensation claims and information on how much a settlement, such as compensation for a broken pelvis, may be. Our site contains a range of different resources, enabling you to be the most informed claimant possible before you even pick up the phone.
The best way to start a pelvis or hip injury compensation claim is to contact Accident Claims UK. We are here every day to take your call or answer your emails. You can reach us by calling 0800 073 8801, emailing office@accidentclaims.co.uk, using the 'online support ' feature on this page, or by filling in the form on this page to request a call back. Whatever way you choose to get in contact with Accident Claims UK, we look forward to hearing from you.
How can I maximise personal injury claims payouts for a broken pelvis?
If you've suffered a broken pelvis, whether in a car accident, an accident at work or due to medical negligence, we could help you maximise your Personal injury compensation payouts. Choosing a lawyer can be a tricky thing to do. You want to make sure that the lawyer did you select for your case has years of experience and can take on your claim on at no win no fee basis. Other considerations you might want to make are whether they are authorised and regulated by the Solicitors Regulation Authority and registered in England and Wales. When you start to search for a solicitor you will find that many law firms and lawyers appear to offer the same level of service. It may be worth digging a little deeper to look at reviews that previous claimants have left them. This way you could get an idea of the level of service you would receive. We would be happy to assess your case for free, and could provide you with details of the solicitors we could connect you with. All of our solicitors work on a No Win No Fee basis. Please get in contact with us if you would like to start a claim.
How important is medical evidence in maximising personal injury claims payouts for a broken pelvis?
It is essential that you get a complete picture of your injuries and your prognosis when presenting a personal injury claim. During your claim, you would attend a medical examination appointment with an independent medic. They could review your past medical notes, if they are relevant, and could take a look at your injury and ask you questions. This could all help them build a bigger picture of your injury and they could detail this in a medical report. The independent medical report could have a significant impact on personal injury compensation settlements in the UK. Courts and lawyers could use this documentation alongside the Judicial College Guidelines. This is a publication that courts and lawyers could refer to when ascertaining how much compensation could be appropriate for a claim. This is why the medical evidence is so important to your case. Your solicitor could arrange for you to visit an independent medical expert near to you, no matter where your solicitor is based.
How common are personal injury claims payouts for a broken pelvis from a road traffic accident?
If you're wondering how common broken pelvis is are in road traffic accidents, we do not have figures pertaining to this. However, we can tell you that in 2020, 115,000 people suffered injuries in UK road traffic accidents. The figures from the Department for Transportinclude details of the categories of road users that have been injured. You can see a breakdown of this below. It may be worth keeping in mind that in 2020 there were four months where the UK was in national lockdown due to the coronavirus pandemic.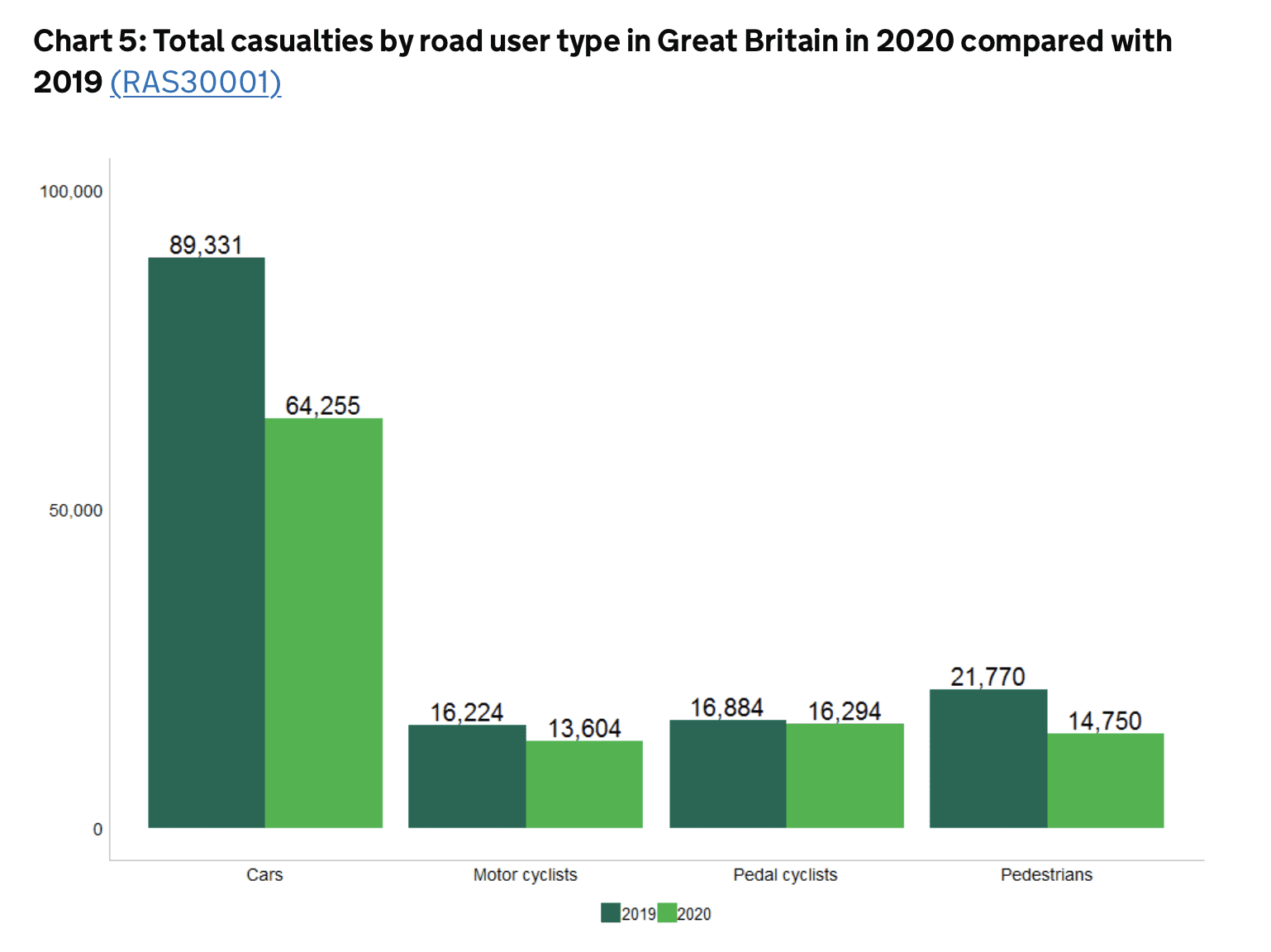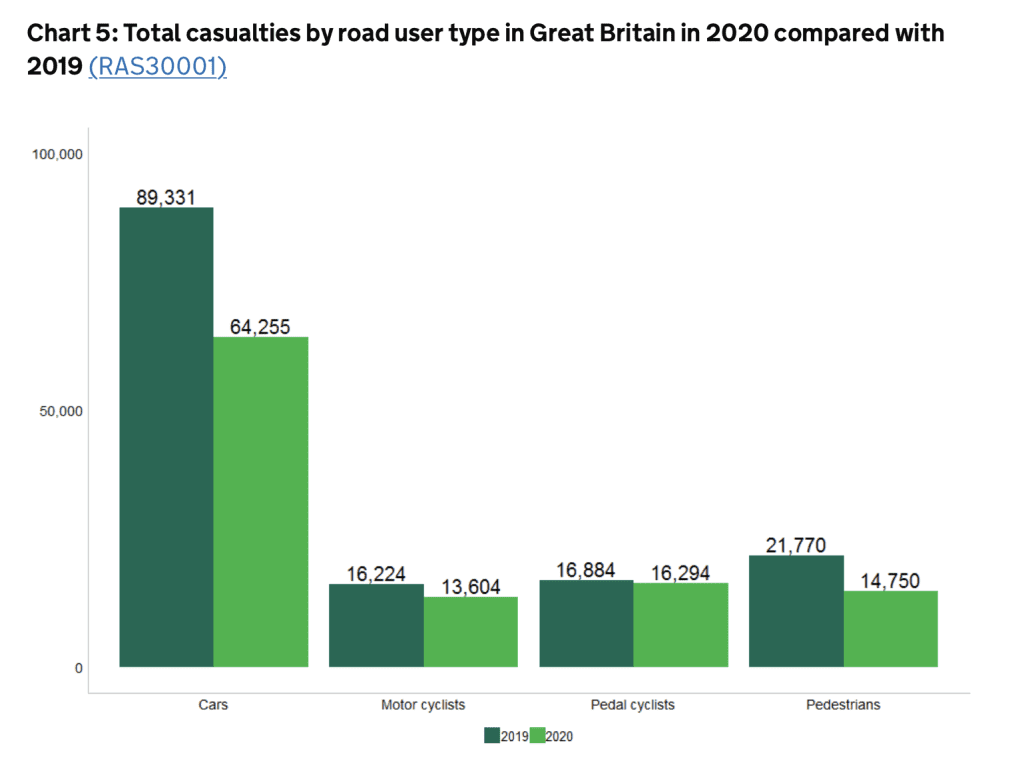 Useful Links Relating To Personal Injury Claims Payouts For A Broken Pelvis
Broken Bone Compensation Claims
Have you experienced a broken or fractured bone as a result of an accident which was not your fault? Find how much a claim, such as a pelvic fracture settlement could be worth in this guide.
Motorcycle Accident Claims
Have you been injured in a road traffic accident whilst riding a motorcycle? Find how how to claim compensation for injuries such as for a broken pelvis or hip in this guide.
Hip Injuries
Injuries to the hip or pelvis can be extremely serious and may take a long time to recover from. Learn more about this type of injury in this NHS article.
Be A Better Biker
Motorcyclists are one of the most vulnerable groups of road users. Find out how to stay safe and how to be a better biker in this guide from the government.
Thank you for reading this case study on personal injury claims payouts for a broken pelvis. If you'd like to make a successful claim for a pelvic injury, an injury from a hip replacement surgery gone wrong, or even pelvis fractures relating to workplace accidents, we could provide you with a personal injury solicitor who could help with no win no fee claims for general damages and compensation amounts for loss of earnings and other costs.