By Joanne Jeffries. Last Updated 16th November 2021. Welcome to this case study surrounding personal injury claims payouts for hair loss.
The worst result we assume we will have when we go to a hair salon is that we may have chosen a cut that didn't quite suit us and will have to grow out. However, this was not the case when a woman was awarded £8,500 for a salon accident that left her with hair loss.
The young woman, just 24 at the time of the accident, was left with both alopecia and contact dermatitis when the products used on her hair were not the natural products she had requested, already having suffered from dermatitis previously, but chemical bleach products that caused the salon accident. The beauty salon negligence was proven, and the client received a payout for the salon accident of £8,500.
This personal injury compensation case we have used while researching other salon accidents is a good example of the types of case we at Accident Claims can assist with, and will be able to help you with should you wish to pursue hairdressing compensation claims for your own hair salon negligence. For this reason, we look a little deeper into this personal injury claim, to being you information you might find useful if you are considering a lawsuit for damaged hair. Read further on to find out how common hairdresser accident claims are, and how this case came to its successful conclusion.
How Common Is Hair Loss Or Damage From Salon Bleach Burns?
Whilst you might think that this would be an isolated incident, it seems many people have cause to file a salon accident claim, and not all of these are from customers. According to the HSE, up to a huge 70% of hairdressing salon workers have suffered with skin damage that is related to their work. Should their training not have included dermatitis prevention, or their employer did not tell them to wear gloves, then they may well have cause to put forward a no win no fee hairdresser injury claim against the salon itself.
In terms of customers that have suffered a salon accident like the lady we mention above, many of them comes from the use of hot tools and chemicals on the hair. There are rules about this type of treatment, and section 3 within the Health & Safety at Work Act necessitates a patch test be completed on any new client prior to any colouring or bleach treatment. It is important to note that this is still the case even if a client has coloured or bleached their hair before, as not all products are the same and reactions can not always be predicted. Any salon not completing a patch test in this way would be subject to a fine, as well as the compensation they would have to pay should they be in receipt of a salon accident claim.
Another piece of information that is relevant here is the fact that often the condition of hair could be rendered fragile should regular bleaching or colouring occur. Signs of this can be the breaking of hair when brushing it, as well as looking and feeling very dry. However, damage to the hair by burning can render any damage a lot worse. If your scalp becomes burnt, then as well as causing you a lot of pain, it can mean that hair follicles become damaged, and this means that your hair may not recover, leading to hair loss.
What Was The Extent Of The Hair Damage From Bleach Burns?
In the case we're talking about, the claimant had a prior history of dermatitis, which was communicated to the salon in question. The client requested that only natural products be used on her hair, and a patch test using these products was done, which had no ill-effect to the woman. When she returned to the salon, however, the same chemicals for the patch test were not used on her hair, and since the results expected did not occur immediately, the hairdresser used more than one application of bleach, which also did not achieve the colour she wanted. The hairdresser then dyed the claimant's hair with a darker colour so that the client was not so disappointed with the end result.
Almost immediately on leaving the salon, the woman began to feel symptoms of damage, with her ears, scalp and cheeks becoming red. Her ears and scalp also started to swell. Upon experiencing those symptoms, the claimant went to her local hospital, whereupon painkillers and steroids were administered. Over the next two days, the claimant's scalp appeared to be infected, with cuts on her head and damage to the hair. Alopecia areata then developed, leading to bald patches on her head, necessitating the use of a wig. The hair loss after salon accident was evident.
The claimant was diagnosed by a dermatologist as having acute dermatitis which was the result of skin's exposure to excessive chemicals. Whilst the hair did grow back over the course of 3 years, the claimant suffered some psychological reactions too, which included self-harming, mood changes and anxiety.
How Was The Hairdresser Claim Conducted?
The hairdresser was said to have been negligent due to the excessive application of chemicals, and the result was that the claimant suffered alopecia, acute dermatitis and contact dermatitis, as well as having wounds and burns to the scalp. There were also psychological ill-effects to the claimant, and this was also due to the salon accident and the excessive use of bleach. Had this not been the case, and had the damage to hair following over bleaching not happened, it was said that the claimant would not have suffered these psychological effects. The case did not have to go to court as the defendant admitted liability.
What Hairdresser Injury Claim Settlement Was Made?
The settlement of £8500 not only covered the suffering and pain that the client has experienced, but also expenses and interest were added to this. In addition to this, it was thought that there was a need for future therapy, and this cost was also included within the settlement. It is important to note that within any salon accident claim or personal injury lawyer led case, the damages can include several factors. These include not only the initial injuries and the pain that a person has suffered but also ongoing costs, perhaps loss of earnings, and other medical and travel costs that would not have arisen had the salon accident not happened.
No Win No Fee Hair Salon Negligence Claims
No win no fee solicitors are available all over the UK now, and it is entirely possible to begin hairdresser claims risk free. Before, hiring a personal injury solicitor for a hair salon injury could have meant paying upfront for any legal costs, without the safety net of knowing you would receive compensation. However, now, your claim can be begun, and you can go forward with your hairdresser injury claims, knowing that if you don't receive any compensation payment, then you won't be left with a bill for solicitor fees that you can ill-afford. This works by way of an agreement that you and your solicitor will sign, and this will detail the percentage level of compensation that your solicitor will receive in a successful claim. It will also tell you that you won't have to pay out for your solicitor should the case fail to result in salon accident compensation. If you call us here at Accident Claims, we'll be able to go through this with you in more detail, as well as talking to you about what's happened and advising whether we feel you have a claim to put forward that would likely result in compensation.
Speak To Us About Personal Injury Claims Payouts for Hair Loss
You can speak to us on 0800 073 8801 to talk over your experience and why you think you might have a valid claim, and we will always strive to be honest, professional and sympathetic. After all, you've been through a horrible experience and we know you may be feeling a little overwhelmed. We can help to make sense of the legal position you're in, and we can even connect you with a lawyer that has worked on a lot of cases similar to that which you are looking to pursue. We're friendly, capable and experienced, and we're here to help. Why not get in touch today to see what we could do for you?
Could personal injury claims payouts for hair loss include psychological damages?
There are various types of damages that could make up a compensation payout for hair loss. These could include the general damages that you could receive for your suffering, loss of amenity and pain. This could relate to not only physical injuries but psychological harm as well. If you have suffered anxiety, depression or even PTSD after an incident in which you suffered hair loss, and you could prove it was someone else's fault, you could make a claim for compensation. As well as this, you could claim special damages. Special damages relate to any pecuniary losses and costs of your injuries and the accident you were involved in. They could include care costs, if you've required care at home, medical and travel expenses and even loss of earnings. After all, if you have had to take time away from work to recover from your injuries, you may have lost out on income. A loss of earnings payout could include not only your usual wage but any regular overtime and bonuses too. If you would like to learn more about what damages could make up compensation payouts in the UK, please do not hesitate to call our team for free legal advice. We could also check your eligibility to claim, and could provide you with a solicitor on a no win no fee basis.
Should I use a compensation calculator to work out personal injury claims payouts for hair loss?
There are many online tools that can help with a variety of things these days. You may have noticed that on some websites there may be a compensation calculator. This could be an online tool that could give you an approximation of your compensation payout. However, it is likely not to be able to give you an accurate sum. This is because in complex personal injury cases such as those for hair loss, an online tool would not be able to assess all of the specific facts and evidence surrounding your claim. Therefore, the sum they could provide you with would not really be based on the specifics of your case. When calculating personal injury compensation settlements in the UK, the medical evidence could severely impact the amount of compensation you could receive. This medical evidence would need to come from an independent medical expert, who would see you as part of your claim. Once they had examined you and spoken to you about your injuries, they would provide a medical report that could be used in evidence. Lawyers and courts could then use this to arrive at an appropriate compensation settlement for your injuries.
Could I also receive personal injury claims payouts for hair loss caused by clinical negligence?
If you could prove that negligent medical advice and treatment had led you to suffer hair loss, you could make a claim for clinical negligence. We could help you with such claims. In 2020-2021 the NHS paid out a large sum of money in clinical negligence claims payouts. You can see the figures in the graphic below. If you believe you could have a claim for compensation, please contact our medical negligence team. We would be only too happy to assist you.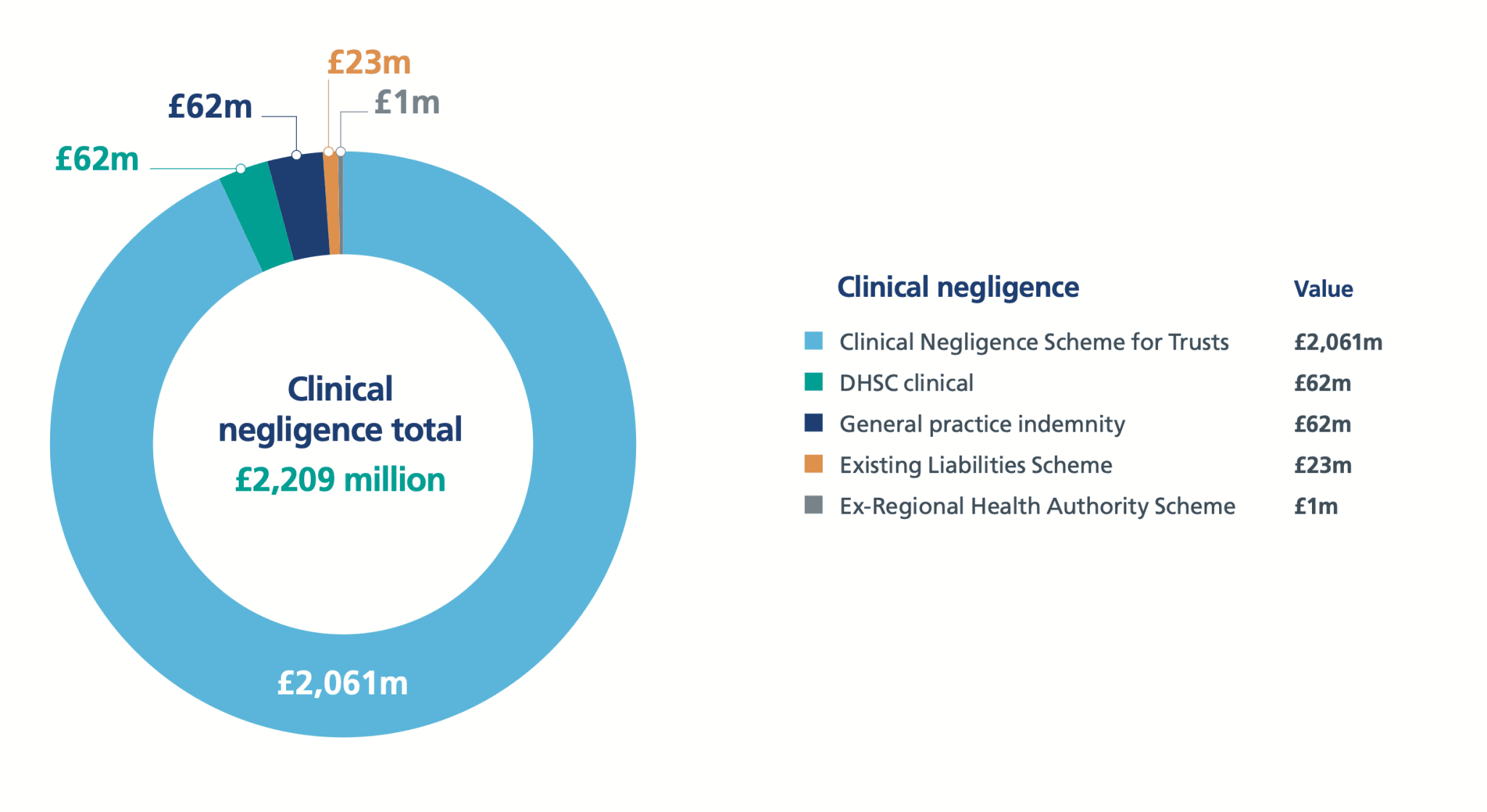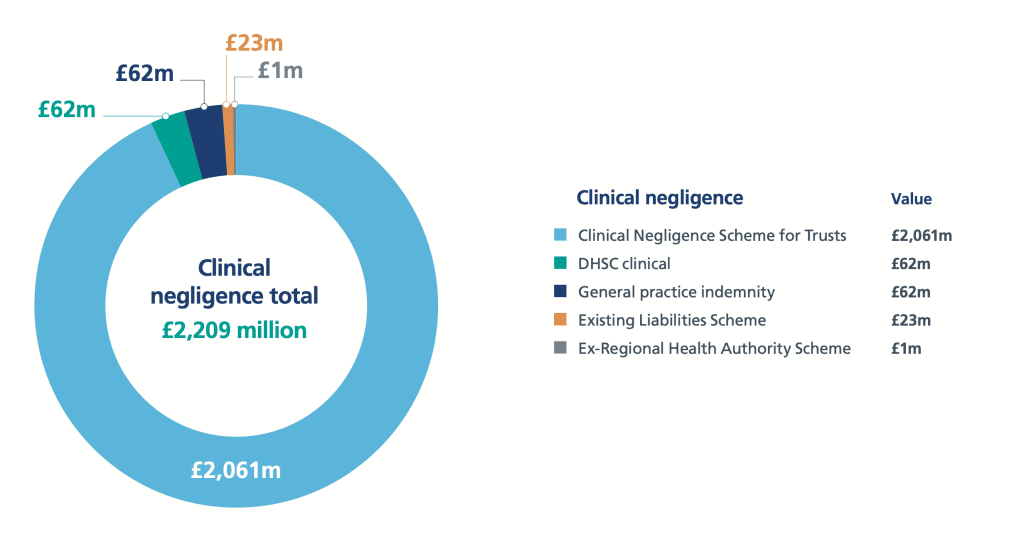 Useful Links Relating To Personal Injury Claims Payouts for Hair Loss
Whilst you can call us to discuss what's happened, we know you might want to educate yourself further about this situation and similar types of claims. If this is the case, then the links we have given below should be of use.
Beauty treatment negligence – How to make claims – We have compiled a guide of all the information you're likely to need to know about this kind of negligence and how to claim.
Injury at the salon – How to claim – Injuries are actually not uncommon at the salon, but you may need more information on what to do about them. This should help.
HSE Hairdressing information – HSE and dermatitis information, regarding prevention etc.
Dermatitis – NHS – All the information you're likely to need from the NHS about this condition.
We hope this case study relating to personal injury claims payouts for hair loss has been useful. We could help you whether your hair loss injury resulted from an accident at work or salon negligence. Whether you've suffered brittle hair, or permanent hair loss due to the side effects of medication, or negligent use of hair dyes, hair loss claims could bring you damages compensation to help you financially after such an incident.